Super glue is one of the most helpful, inexpensive tools for small DIY projects around the house. However, using the product sometimes leads to accidental super glue stains on metal surfaces. Educating yourself on how to remove super glue from metal may seem like a mundane task that is almost impossible to achieve.
But, with the correct solvents, getting super glue off metal surfaces is quick and easy. Improper adhesive removers lead to damage to the metal surface, so you must know what cleaning agents to use.
In this helpful article, we show you how to treat glue stains on metal properly. You may be thinking that adhesive removers are expensive and require a special trip to the home improvement store.
However, many familiar household products double as super glue removers. Items like nail polish remover, liquid dish soap, vinegar, and baking soda treat a glued area effectively while causing no metal damage.
No matter how limited you are on cleaning supplies in your house, we have a way to get super glue off metal.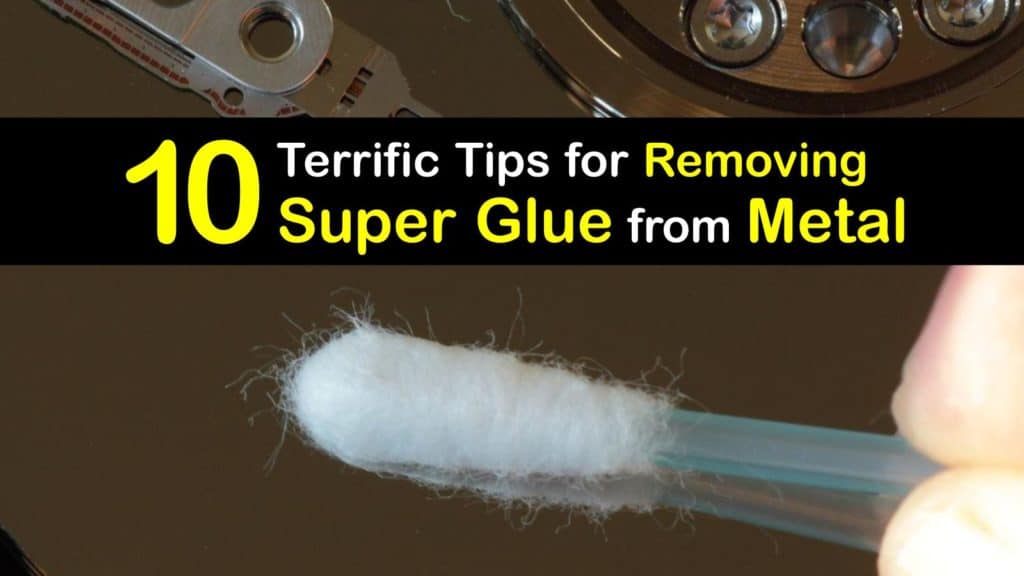 How does Super Glue Work?
At first, it seems unlikely that you can remove a super glue stain. Super glue is a cyanoacrylate, which forms strong, quick-drying adhesive bonds for household, industrial, or medical usage.
It is essential to find products that break down the adhesive that is stuck to your metal surface.
The great thing about the tips and tricks we provide is that they also remove old stickers or any other adhesive residue on metal countertops, floors, and other surfaces.
If you need to get rid of a super glue stain, continue reading to find the best solvent that breaks down adhesive bonds.
How to Remove Super Glue from Metal with Nail Polish Remover
Before you use nail polish remover to remove any unwanted glue stain, ensure the solvent contains acetone. Acetone is the nail polish remover ingredient that liquifies the adhesive and makes it simple to wipe away.
To remove sticker residue or super glue residue from metal, soak a cotton ball or cotton swab with nail polish remover.
Cover the affected area thoroughly and let the solvent sit on the glue stain for five to ten minutes. Use a scraper to remove the adhesive with ease. Clean the area with warm water and a dry cloth to finish the process.
Coconut Oil is a Great Way to Get Super Glue off Metal
Combining the adhesive removing powers of coconut oil and baking soda is an excellent way to remove super glue from metal without acetone.
Baking soda dissolves adhesive bonds, while coconut oil loosens the grip that adhesive forms on a metal surface. Because baking soda is so powerful, test a small area to ensure discoloration does not occur. This simple remedy is also ideal to remove super glue from your hands quickly.
The amount of coconut oil and baking soda you choose to use depends on the size of the affected area. After mixing the two adhesive removers, the way to get glue off metal is to rub the paste on the glue stain and let it sit for about ten minutes.
Use fine-grade sandpaper to break off the super glue residue. Rinse the area with warm water to clean the remaining super glue off metal.
Getting Super Glue off Metal Surfaces with Petroleum Jelly
Petroleum jelly is a fantastic way to start the super glue removal process or for removing spray paint from metal. When you apply a generous amount of petroleum jelly on a super glue stain, it helps loosen the adhesive's grip.
Although petroleum jelly is unlikely to remove an entire super glue stain, it is an effective method to combine with another to make cleaning easier.
Another benefit of keeping petroleum jelly around is that it is safe to remove super glue from your skin or to remove super glue from car paint. When using super glue, small amounts may stick to your fingers.
Rub petroleum jelly on your skin, and the super glue slides right off while causing no damage to even sensitive skin on fingers.
How to Remove Super Glue with Rubbing Alcohol
An easy-to-find super glue and spray paint cleaner is rubbing alcohol. The high percentage of alcohol volume in the solvent liquifies paint and strong adhesive bonds, making it simple to clear away old stains.
When getting super glue off metal surfaces with rubbing alcohol or removing super glue from plastic, mixing it with water is the best way to prevent metal damage.
To get residue off metal after combining the liquids in a spray bottle, spray the solution on the affected area and let it work for at least five minutes.
Use a razor blade to lift the super glue stain off the metal. If the entire stain is not removed, repeat the steps until your metal surface is spotless.
Loosen Super Glue with Olive Oil
Olive oil, or any other oil in your kitchen, is one way to quickly get super glue off metal. The fatty oils loosen the bond that super glue adhesive forms. Another advantage of having olive oil in the house is that it works safely to remove super glue from your skin.
Dab a soft cloth in the oil of your choice and cover the affected area with the substance. Let the oil sit on the super glue for about five minutes before using a razor blade to remove the stain.
Clean the remaining oil off the metal surface with soapy water. Learning how to remove super glue from metal with oils is simple when you know what to do.
How to Remove a Glue Stain with Hydrogen Peroxide
One popular household product that you likely already have in your cupboard is hydrogen peroxide. This diverse cleaning product also makes an excellent homemade chrome polish and removes glue stains on metal.
The ingredients in hydrogen peroxide dissolve glue adhesive and make it easy to clean. Soak a soft cloth in hydrogen peroxide and cover the glue with the solvent for ten minutes.
Lift the glue with a scraper before cleaning the surface with warm soapy water. Hydrogen peroxide is a strong oxidizer and sometimes damages metal surfaces. To protect metal, test a small area before treating a glue stain.
Breaking through Adhesive Bonds with White Vinegar
The acidity of white vinegar allows the liquid to cut through even the most aged super glue stains. Vinegar is safe to use on surfaces like plastic or wood. Note that some metals are sensitive to the acidic nature of vinegar.
Dab a dry cloth or a piece of paper towel in vinegar and rub the affected area in a circular motion until the entire glue stain is covered. Let the vinegar sit for five minutes before scraping the glue stain off the metal.
Using Toothpaste to Loosen Super Glue Adhesive
If you are short on cleaning supplies, do not worry! Toothpaste is a creative way to clean super glue off metal. Although using toothpaste to remove dried super glue may take a little more elbow grease than other methods, it still works just as well.
Loosen the dried glue by setting a clean cloth soaked in hot water on the stain. Spread a little toothpaste on the area and work it into the stain with an old toothbrush. Continue scrubbing with an emery board until the glue stain is gone.
Getting Rid of Super Glue with Dish Soap
Dish soap and lemon juice are agents that disinfect while also loosening a dried super glue stain. Dish soap cuts through adhesive bonds while the citrus in lemon essential oils disinfects and adds a pleasant scent to the cleaning agent.
Combine the essential oil, water, and dish soap in a bowl and mix them. Soak a dry cloth in the mixture and soak the stain for five minutes. Reapply the solvent to the glue and use a razor blade to lift the loosened super glue.
How to Clean Super Glue off Silver Surfaces
Silver requires specific cleaning agents to remove super glue to protect the metal. To clean super glue off silver, use acetone to get the job done correctly. Pure acetone removes even the oldest super glue while protecting silver.
If the silver is small, place it in a bowl of acetone for five minutes to loosen the adhesive bonds. For bigger pieces of silver, dab a cloth in acetone and cover the glue for five minutes before using an old toothbrush to break off the super glue.
You do not have to let a super glue stain ruin your day. When you have a metal surface with an unwanted super glue stain on it, several household cleaning products double as adhesive removers.
Products like dish soap and hydrogen peroxide are not only used to clean other surfaces in your house, but these agents are also a way to get super glue off metal.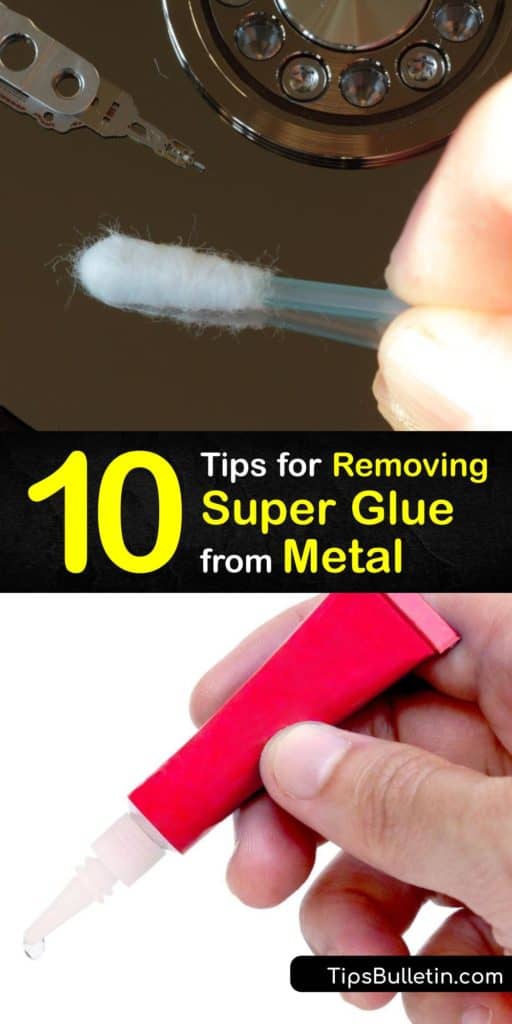 If you learned how to remove super glue from metal, share these tricks for getting super glue off metal surfaces with your friends on Pinterest and Facebook.