Super glue is especially helpful in forming a stronger adhesive bond on materials than regular glue or tape. However, it often sticks to your skin after using it, making it essential to know how to get super glue off your fingers. Many people often use super glue to fix a wide variety of objects, some being relatively small.
When gluing small items, it is easier for the adhesive to get on your hands and fingers. This article provides you with excellent DIY home remedies for you to use to remove super glue from your fingers and skin. Additionally, we give you ways to remove the glue if you have sensitive skin safely, so the super glue does not peel off skin layers.
Using everyday ingredients found around your home, like lemon juice and peanut butter, you will know how to remove super glue from all areas on your hands successfully.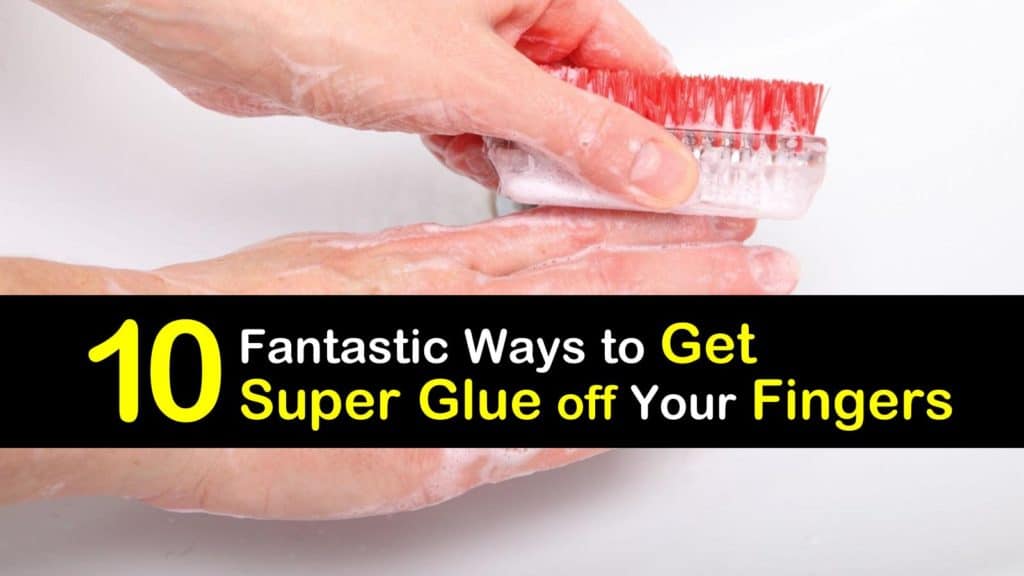 Easy Ways to get Glue off Your Fingers
Super glue brands like Krazy Glue are designed to work immediately – the substance dries in under 30 seconds. The fast drying time makes it incredibly difficult to get the super glue off your fingers and nails before it finishes drying.
We teach you simple remedies for how to get super glue off nails and fingers using items you probably already have around your house.
Remove Super Glue from Fingers with Warm Water and Soap
Warm water and hand soap are ideal for getting super glue off fingers or get Gorilla Glue off skin relatively quickly. The warm water helps loosen up the super glue that has dried to your fingers.
Place the affected area with superglue on it under warm running water. Then, lather your hands with antibacterial soap. Let your hands soak in the warm soapy water for 30 seconds to one minute.
After you have finished washing your hands with warm soapy water, peel away at the remaining dried glue stuck to your hands or fingers. Getting super glue off fingers is quite simple using this method, as so few ingredients are needed.
Removing Super Glue if You have Sensitive Skin with Lemon Juice
It's almost effortless to clean super glue off fingers using the natural cleaning ingredients found in lemons. Because lemons are acidic, they break down dried glue.
Pour water and lemon juice into a small dish and mix well. Scrub the glued area with an old toothbrush and the lemon juice mixture.
Continue cleaning at the affected area of the skin until the super glue falls off. This technique is ideal if you have sensitive skin, as lemon juice does not eat away at your skin.
Using Oils as a Natural Glue Remover
Olive oil, mineral oil, and coconut oil are effective items to remove super glue from fingers. The oil's ingredients effectively loosen the glue's hold. After the dried glue loosens from your skin, the lubricants in oil make it a simple way to clean Gorilla Glue or Super Glue off your fingers.
Put a liberal amount of olive oil, mineral oil, or coconut oil on the affected area and rub the oil on the dried glue gently for 30 seconds. Rinse your hands with hot water. You may need to peel away some of the super glue if it doesn't thoroughly rinse off.
Knowing how to get super glue off your fingers is not the only purpose oils have in removing sticky materials. The ingredients in oils also gets slime out of hair quite effectively.
How to Get Super Glue off Nails using Acetone
If you use super glue to fix very intricate and small pieces, knowing how to get super glue off nails is critical. Acetone is a common ingredient found in nail polish remover and is the best product out there to remove nail polish from your nails or accidental spills.
Acetone helps turn solid materials stuck on nails, like polish or glue, into a liquid, so the substance is easily wiped away. You can still use acetone if you have sensitive skin.
Before putting the nail polish remover on your nails, cover your finger's surrounding area with petroleum jelly. Petroleum jelly repels the acetone from seeping into your skin.
Soak a cotton swab or cotton ball in nail polish remover, then use the acetone to scrub away the dried glue on your nails.
Make sure your nail polish remover includes acetone, as some do not. Removing super glue from fingers without acetone will not get rid of the glue on the affected area.
Using Peanut Butter as a Natural Alternative to Remove Super Glue
Remove super glue from fingers or get Gorilla Glue off your hands using peanut butter. This alternative is great if you do not have any of the other materials. Peanut butter contains oil, similar to a lotion, that allows the substance to clean super glue off fingers.
Scoop out enough peanut butter to cover the affected area. Rub your hands together with the peanut butter to let the ingredients work. Either smooth or chunky peanut butter acts as an effective glue remover.
How to get Super Glue Off Your Fingers using Paint Thinner
Glue products like Loctite are designed to form powerful adhesive bonds. The ingredients in paint thinners break down the connecting bonds so that you clear your skin of dried glue.
Removing super glue from fingers with paint thinner or mineral spirits is a powerful way to eliminate glue, as well as being a preferred carpet glue stripper.
Fill a small dish with mineral spirits and soak all the hard surfaces on your hands in the liquid for 20 to 30 seconds. Remove the paint thinner with an old rag and peel away any remaining glue stuck on your fingers.
Using Goo Gone to Remove Super Glue Stuck to Fingers
Remove super glue from fingers with Goo Gone, as it is specifically crafted to remove sticky substances from both your skin and your hard surfaces like countertops.
The product contains a citrus concentrate that breaks through the super glue, making it easy to wipe away dried glue after letting the Goo Gone work.
Take a small amount of Goo Gone and spread it on the affected area, and let it sit for 5 to 10 minutes. Wipe away the residue. Getting super glue off fingers or countertops this way is easy.
Scrape Away Excess Super Glue with an Emery Board or Pumice Stone
No matter the technique you use to get super glue off fingers or hands, you probably need to scrape away the excess adhesive that remains on the skin. Utilizing either a pumice stone or an emery board sheds excess super glue without damaging your skin.
Before using these tools, soak your hands in hot water for at least a minute. Gently rub the surface of the affected area with either the pumice stone or the emery board.
Dried glue is quickly removed from the skin after breaking away the super glue with a nail file. We recommend that you not use these tools on sensitive skin areas, as they may further damage the site.
Remove Super Glue from Hard Surfaces with Rubbing Alcohol
Knowing how to get super glue off fingers is crucial. However, it's also essential to understand how to remove super glue that may have stuck on unwanted areas of your countertops or hard surfaces.
Rubbing alcohol contains ingredients that break down the sticky materials on surfaces, including glass. To clean super glue off glass, pour enough rubbing alcohol on the affected area to cover it and let the liquid sit for 5 to 10 minutes. Wipe away the adhesive with paper toweling.
If there's still a little bit of super glue stuck to the surface, scrubbing the area with a toothbrush and repeating the process a second time helps remove the entire spot.
Dab some alcohol at your hairline or on your fingers after dyeing your hair, too. It takes hair dye off skin with ease.
Removing Super Glue Stuck to Clothes
As you use super glue, a small amount may get on your clothes. Unfortunately, the usual way you wash your clothes does not remove a glue stain. However, regular laundry detergent can remove the super glue from your clothing.
Add a few drops of laundry detergent to the affected area and rub the detergent into the clothing using your fingers. Wash the garment as you regularly would. Do not dry the clothing article after washing it, as small fragments of super glue may permanently dry into the clothing.
Super glues are a cyanoacrylate, which means they are designed to form considerably strong and rapid drying bonds on whatever material they are exposed to.
When gluing small objects together, it's possible that small amounts land on your fingers and hands. If any amount of super glue gets into your eyes or mouth, immediately consult a health care professional.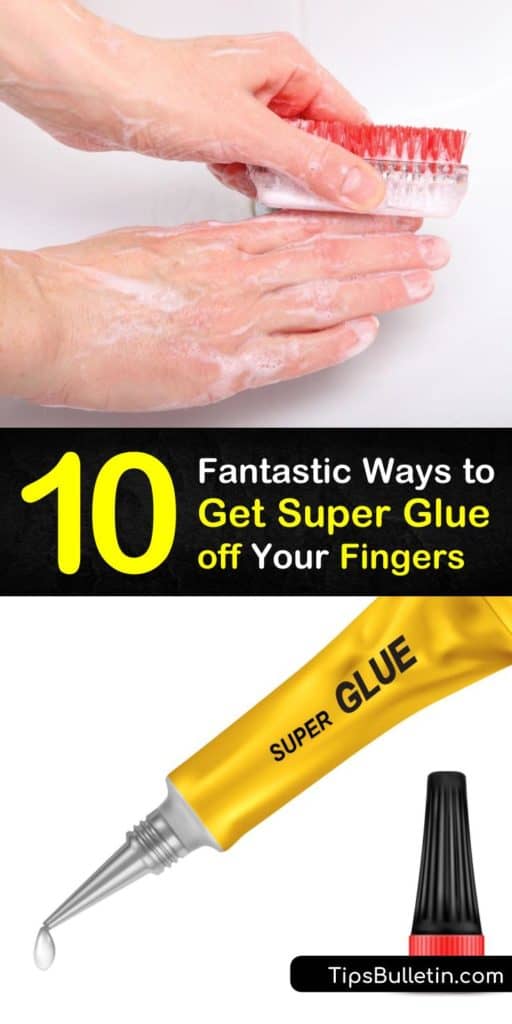 If this article successfully taught you how to get super glue off your fingers or hands easily, spread this helpful information with tips for getting super glue off nails and skin on Pinterest and Facebook with your friends.