Maybe it's an old sticker on a car or high school locker, perhaps it's dried-up gunk, or it may be Super Glue spilled during a DIY project. Whatever the situation, you want to find out how to remove adhesive from metal to enjoy a clean metal surface once again.
There are three main ways to get adhesive off metal: scrape with a tool, use a solvent to dissolve the glue or adhesive residue, or apply heat. Scraping and heating are relatively self-explanatory.
With stainless steel, in particular, avoid scrubbing with abrasive products like steel wool and scrubbing pads. Although scraping may be enough for some patches of adhesive, in many cases, you'll also need to apply a solvent.
The term solvent may sound intimidating, but it just means any substance that dissolves another substance. For glue, solvents include chemicals like nail polish remover and WD-40, but also oily foods like peanut butter.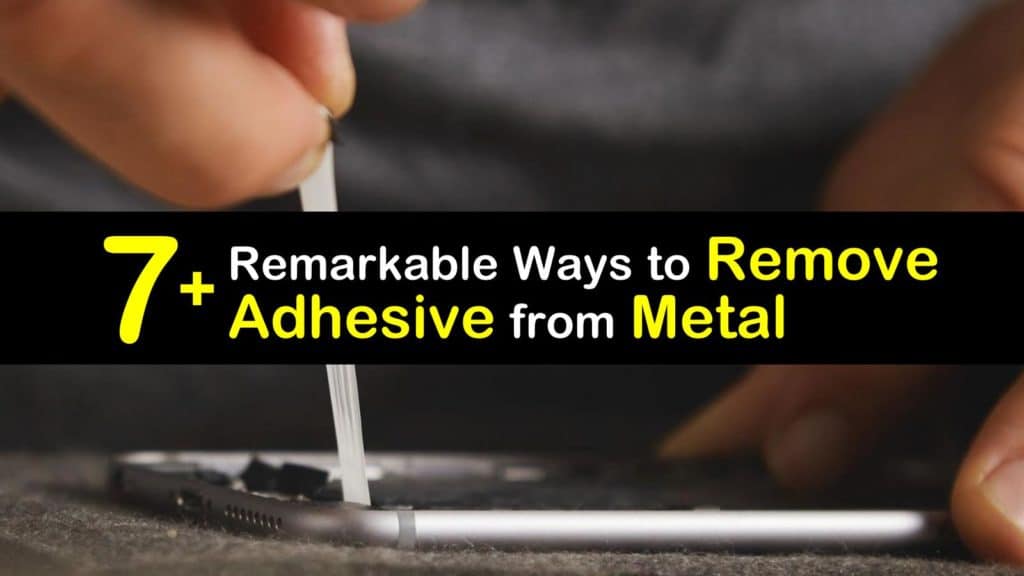 How to Get Adhesive off Metal the DIY Way
With so many easy options for how to remove adhesive from metal, there's no need to fork over the money for a specialist product like Goo Gone. Try one of these methods for removing stickers, price tags, glue stains, and more from metal.
Scraping to Remove Adhesive Residue from Metal
On its own or combined with another method, scraping is one of the major ways to get adhesive off metal. Depending on the situation, you may want to loosen the adhesive with a solvent first.
Before employing any tool, it's worth trying to roll the glue into a ball with your fingertips. If you use a dull-edged tool, apply firm pressure, and be careful not to scratch or otherwise damage the metal.
Many sites recommend using a razor blade to peel off blobs of dried glue. If you're afraid of scratching the metal or paint, it's possible to get plastic razor blades at home improvement stores.
Alternatives to a razor blade include a putty knife, a plastic pot scraper, and an old credit card. A pencil eraser is surprisingly effective at scrubbing off adhesive. You may also smooth down dried glue with fine-grade sandpaper.
How to Remove Adhesive from Metal with Oily Foods
For an unusual yet effective DIY glue cleaner, try cooking oil, such as vegetable or canola oil, and peanut butter – both break down adhesive. The benefits of using one of these products are obvious. You probably already have them in your pantry, and you know what's in them.
One option to remove sticker residue from metal is to spread the oil or peanut butter on the patch of glue. Let it sit there for about one hour, then wipe it off. Clean the item with soapy water, then buff it to a shine with a clean cloth.
You could also pour some oil onto a rag and press the cloth onto the sticky residue. Let it work for several minutes before scrubbing gently. Finish by washing with a cloth and soapy water. This trick also works well as a way to remove duct tape residue.
Use Rubbing Alcohol to Remove Adhesive Residue from Metal
Rubbing or isopropyl alcohol is a common ingredient to use if you want to remove adhesive residue from metal, particularly for tough stains, as well as cleaning metal mini blinds to bring back the shine. Pour a little of the liquid onto a cotton ball or cloth. Press it against the glue and let it soak in for a few minutes.
For removing adhesive residue from car paint, gently rub at the stain, working in the same direction as the metal's grain. Rubbing alcohol dries quickly, but to be certain to leave a clean surface, wipe it with a damp cloth and soapy water.
How to Get Adhesive off Metal with Nail Polish Remover
Will acetone remove paint from metal? Acetone, found in many brands of nail polish remover, is another powerful adhesive remover that won't damage the paint. It's a great choice if you're dealing with dried Super Glue. Nail polish remover also makes an effective homemade whiteboard eraser for removing marker stains.
When handling chemicals, wear rubber gloves and open windows and doors to ensure adequate ventilation. It's also a best practice to test the cleaner on a small area to check that it does not react poorly with the metal.
Wet a rag with a little nail polish remover and press it against the glue to soften the adhesive. Wipe away the glue. It may be necessary to scrape carefully with a razor blade.
Remove any remaining adhesive with paper towel or a dry cloth. Finish by buffing the metal with a clean cloth.
Use a Different Solvent to Remove Adhesive Residue from Metal
Various liquids get adhesive off metal. You may need to try several. In most cases, follow the same procedure as for rubbing alcohol: pour the liquid onto a cloth, press it against the adhesive, scrub, then wipe clean.
For WD-40, spray directly onto the adhesive or as a way to get Gorilla Glue off metal. After a few minutes, rub with a cloth. If necessary, repeat the process. Rub off the remaining WD-40. Clean up any oily residue with a little dish soap on paper towel. Dry the metal immediately.
Note that you should not use WD-40 if you plan to paint the metal later. If you are cleaning a painted metal surface, remove adhesive with a spray lubricant. After cleaning a car exterior, it's a good idea to wax it to restore its shine.
Remove a Sticker with Vinegar and Nail Polish Remover
White vinegar comes in handy in most cleaning situations, so it's not surprising that it dissolves stickers and sticker residue. This natural metal cleaner has a whole host of other uses, including cleaning blinds with vinegar.
For a plastic or foil sticker or newly applied paper sticker, start by running a fingernail or scraper under one of the edges and carefully lifting off what you can.
Next, press a vinegar-soaked cloth against the sticker until it becomes saturated. Rub the fabric toward the center to remove the remaining sticker and glue. If necessary, scrub off the glue with your fingers.
Wipe off the vinegar with a clean cloth. Soak a cloth in acetone-based nail polish remover, then let it sit on the adhesive for a few minutes. Remove any sticker residue with a scraper. Wash the metal with warm water and soap, then wipe it dry with a soft cloth.
Use Coconut Oil and Baking Soda to Eliminate Stickers
Start by applying a damp cloth to the sticker and letting the moisture soak in. Rub the wet sticker with the cloth to remove the top layers. If the sticker is still stuck, gently lift the edges with a razor blade to take off as much as possible.
Combine the coconut oil and abrasive baking soda in a small bowl. Apply the paste to the metal surface with a cloth, then rub to work it into the adhesive. Wipe the metal clean with a damp cloth.
If it still feels tacky, rub with more of the paste, then clean again with a cloth. Mixing coconut oil and baking soda is an excellent approach for how to remove adhesive from metal if you're trying to avoid harsh chemicals.
Try this DIY mixture for removing adhesive from plastic surfaces, too.
Remove Adhesive Residue from Metal with Heat
Although most suggestions for removing glue from metal involve applying a solvent, heat is another way to soften the adhesive to clean off Super Glue from metal. This solution is handy for delicate surfaces that you do not wish to scratch or damage with a harsh chemical.
Use a hair dryer on the warm—not hot—setting and hold it several inches away from the metal for one to two minutes to get a sticker off metal. Wet a cloth with hot water that's as hot as you can handle. It helps to wear rubber gloves. Rub away the glue residue with the cloth.
Safety Precautions for Using Chemicals to Remove Adhesive Residue from Metal
Chemicals like rubbing alcohol, acetone, mineral spirits, denatured alcohol, hydrogen peroxide, WD-40, and spray lubricant powerfully remove tough glue stains. However, they also come with risks. Read the package carefully, and test a small area first.
Work in a well-ventilated area and wear gloves and goggles. For mineral spirits and denatured alcohol, also wear a respirator. Remove contaminated clothing immediately and wash your skin with soap and water upon contact.
These chemicals all cause skin and eye irritation, plus harm if they're inhaled or swallowed. WD-40, denatured alcohol, and spray lubricant may be fatal if ingested.
Frequent exposure to denatured alcohol or overexposure to mineral spirits may also cause death. Mineral spirits also contain a possible carcinogen.
Read the product's storage instructions, but a cool, dry, dark, well-ventilated location is generally safe. All of the chemicals mentioned, other than hydrogen peroxide, are flammable.
There are numerous ways to remove adhesive from metal without resorting to commercial adhesive removers.
Scraping and heating are often effective at getting rid of sticker residue and spilled glue. There are also several different solvents for adhesive, from WD-40 to peanut butter.
Now that you've learned how to remove adhesive from metal, it's time to put that knowledge to work. It may take several attempts, but you're sure to find a successful solution for your sticky situation.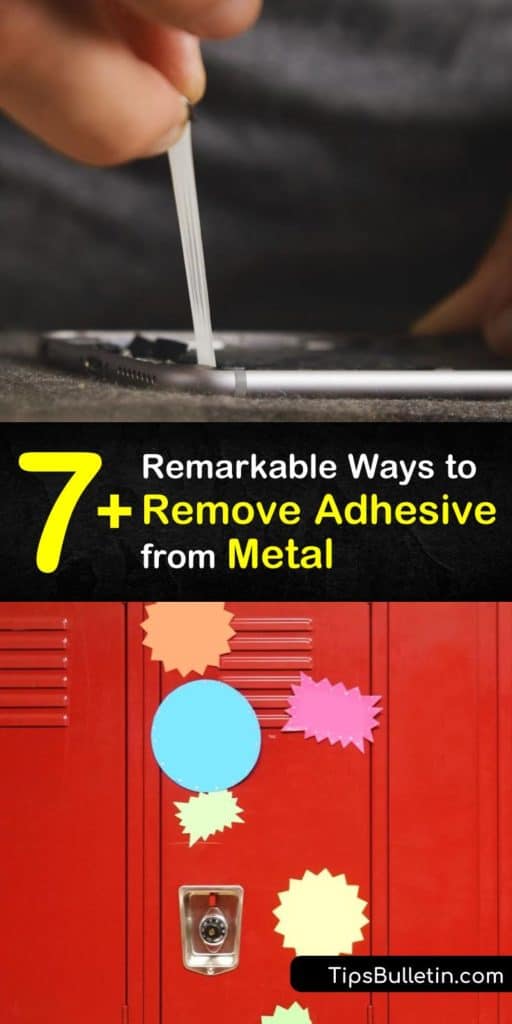 If you found these adhesive remover tips helpful, please share these metal cleaning tips with your friends on Facebook and Pinterest.