Vinyl flooring, also known as linoleum, is affordable and straightforward to install yourself. But, it quickly becomes outdated and worn, forcing homeowners to replace the old flooring. Learning how to remove vinyl floor tiles from concrete helps you tackle the task without calling an expensive tile removal professional or slowly chipping the tiles and glue away.
If you feel ready to replace your tile flooring, you must first remove the old vinyl. Laminate isn't repairable. It's much better to replace the flooring.
You might install a new floor directly on top if the current vinyl is still in decent shape, but the process comes with other considerations as well. Changing the height levels could disrupt unforeseen things and make the floor harder to walk on safely.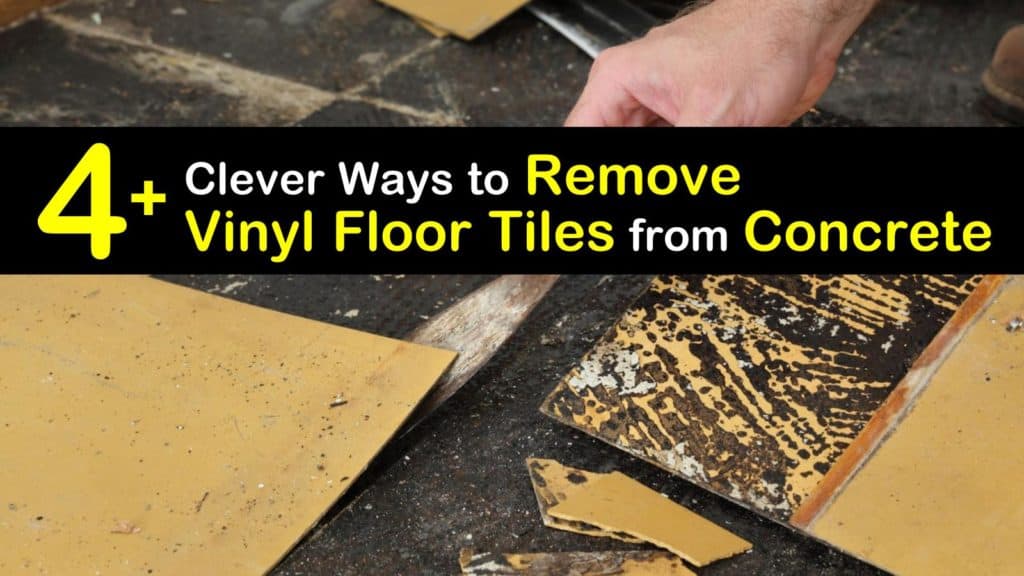 Clever Ways to Remove Vinyl Floor Tiles from Concrete
Dated or over-worn vinyl flooring, however, requires replacement. Skip the chemical adhesive removers and liquid strippers. We'll show you a few smart ways to remove tile glue from a wall and concrete floors after removing vinyl floor tiles.
Rather than clean paint off vinyl floor or remove a lot of other stains, it may be best to replace the flooring. Learning how to remove vinyl floor tiles from concrete is a simple enough DIY home improvement task for most homeowners. Before you start, make sure to clean vinyl floors and clear the work area of all furniture.
The same type of DIY house washing solution is often appropriate for general cleaning of a vinyl or laminate floor.
Empty the room and remove your baseboards to get to the edges of the laminate flooring. A prybar and rubber mallet help remove them without causing harm to the trim.
Gently pry them away and mark each location if you plan to reuse the baseboards later. A woodblock protects your wall from damage.
Cut and Scrape the Vinyl Floor Tiles
The primary way most people remove carpet glue from wood or concrete floors is to scrape. A vinyl sheet is more painless to pick up. Cut the tile into six-inch-wide strips using a utility knife or floor stripper. Pull pieces of the linoleum floors to reveal the glue underneath.
Some people prefer to roll the vinyl strips. Scrape any remaining floor tiles or glue with a 5-in-1 floor scraper. A prybar or putty knife may also help you remove linoleum from concrete.
Some projects also require you to remove the grout from old vinyl floor tiles, particularly if you hope to lay down porcelain tile. If you use a scraper to push the tiles using a 45-degree angle, the grout should come up.
Pull Vinyl Tile from the Middle Out
Begin working in the middle section of the vinyl floor tiles, as this area typically has little to no adhesive. Vinyl flooring is perimeter installed, meaning the outside layer might stick the most. This method is much faster than scraping the tiles.
Start by cutting the laminate flooring around the outside perimeter at least eight inches from the walls. Each cut should run parallel to the walls. Check to see if the center pulls up with ease.
If so, use a bit of elbow grease to pick up the tile by hand. Grip the flooring, pulling toward you or straight upward for the best results.
Remove Vinyl Tile with Heat
If the strips don't come off, try using a heat gun to soften the tiles. Like when you are getting glue off walls from paneling, high temperatures help you pull the vinyl tiles from the concrete more comfortably. The heat helps loosen tough to remove adhesive. Turn the heat gun to low, allowing it to reach full temperature.
Move the heat around the floor in small sections and between the underlayment and the tiles. Pull each section back to remove the tiles. A hair dryer may also work if you can't access a heat gun. Put the hair dryer on high heat.
Lay New Vinyl Flooring on Top
An alternative to removing the vinyl floor tiles is to lay new flooring directly on top. If the vinyl is in decent condition and relatively smooth, there are a few options. Your new flooring options include hardwood, laminate, or engineered flooring.
You can also either lay underlayment from your local hardware store, use a patch for small fixes, or lay an entire new plywood layer. The best choice depends on the smoothness of your vinyl flooring.
Either layer the vinyl flooring with ¼-inch plywood to create a new base or use a patch product like FixAll to help smooth any uneven areas.
Wonky flooring may require you to raise the entire old floor with a 1/8-inch-thick self-leveling concrete, then lay the new floor over it.
After laying the new flooring, use a homemade floor cleaner for vinyl to make your floor shine.
How to Remove Vinyl Floor Tiles from Concrete: Equipment Needed
Depending on the method you use, you might require a wide range of home improvement equipment. If your flooring removal process is tough, additional tools and elbow grease come in handy. A saw, hammer, and drill might come into play.
How to Remove Vinyl Glue from Concrete
After you remove the vinyl floor tiles, the glue or adhesive holding the tiles in place also requires removal. This task is difficult, which is why many homeowners turn to tile professionals. But, how you remove vinyl glue from concrete depends on your needs.
Many subfloors below the vinyl tile surface use porous wood, which absorbs the glue and is harder to remove. Wood floors require special care.
Luckily, concrete is the easiest type of subfloor to scrape, and removing grease from concrete is even much less time-consuming than other subfloors.
However, it's essential to remove the adhesive from the subfloor and vinyl flooring before installing the new floor. Use a homemade floor adhesive remover or purchase one from your home improvement store.
New tile becomes brittle when laid on old tiles and adhesive. The old glue may also discolor or break off, causing cracks, bumps, and a wide range of other failure issues.
Use Caution when Cleaning Tile Adhesive from Concrete Floor
For safety, check to see when the vinyl flooring was installed before pulling off the tiles. Some old linoleum adhesives from the 1980s and earlier contain asbestos.
There is a considerable health risk when working with possible asbestos fibers, so always use caution before you start cleaning tile adhesive from concrete floor. If you're not sure how old the flooring is, try breaking off a tiny corner of the tile.
Wear protective gloves and use a respirator if possible. Wet the tile before breaking a chunk off to keep dangerous fibers from taking flight. Place the piece in a plastic bag. Test the laminate by taking it to your local asbestos abatement firm.
Only remove vinyl floors yourself if there is no asbestos present. Doing so could harm your health and even cause lung disease. If there's no asbestos in your floors, start by cleaning concrete floors with vinegar or soak them overnight in soapy water to help soften the glue.
Use a paint scraper to scrub the adhesive. Make sure to clean cement floor thoroughly before applying the new tile. Vacuum the work area after replacing the tiles as well.
Another alternative some people choose is to reuse the vinyl flooring. Sheet vinyl isn't recyclable, and many communities don't accept building material with the weekly trash pick up.
Unless you want to take the laminate to a waste disposal site, upcycle the flooring in a workshed or another DIY project.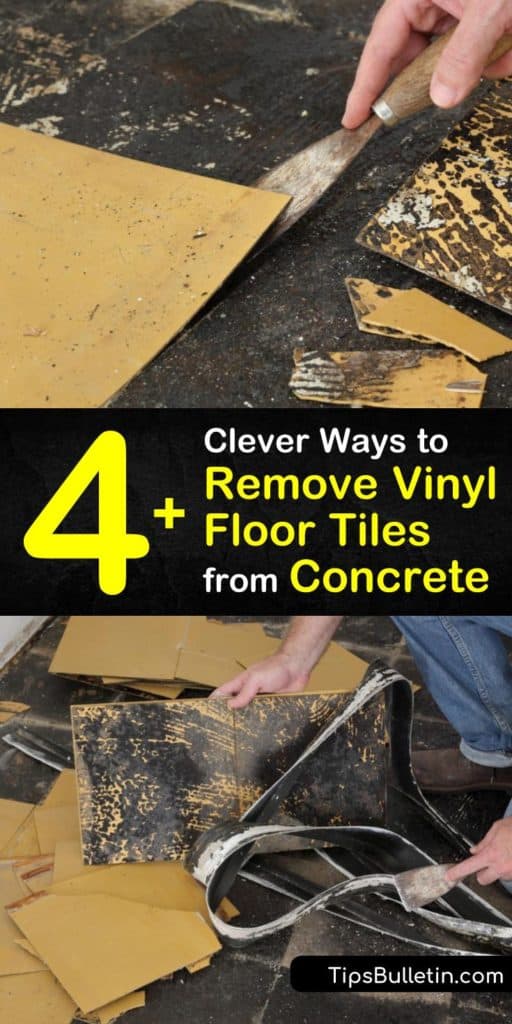 If you enjoyed learning how to remove vinyl floor tiles from concrete, please feel free to share our clever ways to remove the laminate with your friends and family on Facebook and Pinterest.