Home improvement projects are fun and a great way to make your house more inviting and beautiful. Unless, of course, you're dealing with challenging tasks such as removing old vinyl and linoleum from a concrete slab. We'll show you how to remove linoleum from concrete and clean adhesive from the surface for a smooth floor.
Installing a new countertop or flooring in a home gives it a facelift uncomparable to other home projects. Many people like to take the most straightforward way and slap new linoleum over vinyl tile or linoleum flooring, but starting with a clean slate is the proper way to go.
However, this means that you have more work ahead of you. It's easy to take on more than you bargained for if you're a do it yourself type of person.
What looks like an uncomplicated job of removing old linoleum turns quickly into a headache when the linoleum glue refuses to budge from an old floor, whether it is the subfloor, hardwood floors, or other flooring material. While this task is difficult, it is not impossible.
Removing Linoleum and Adhesive from Concrete Surfaces
Starting a project only to discover that it's not quite what you imagined is stressful, especially if half of your floor is in shambles.
Not to worry, though, as a little elbow grease, the right tools, and a possible trip to a hardware store like Lowes are all that are required to get the job done.
Ways to Remove Linoleum from Concrete
Linoleum typically lasts a long time. If you have tried the best way to clean linoleum and it still looks dingy and dull, it may be time to replace it.
Trying a homemade floor polish for linoleum may yield better results but sometimes, enough is enough. A new floor is needed. There are many ways to remove linoleum from concrete, and some of them are easier than others. It all depends on the tools you have available to you at the time of the job.
The easiest way to remove vinyl flooring, ceramic tile, or laminate flooring is with proper tools. Unfortunately, many homes do not have the items necessary for the work.
However, there are a few things around your home that get the project done. A utility knife is the one essential item. This knife has a sharp blade that allows you to work in small sections to remove the flooring.
A scraping machine takes the work out of scraping chunks of tile off the floor, but a hand-held scraper or putty knife works just as well with a little bit of extra elbow grease.
A heat gun softens the topper, making it pliable and straightforward to remove, but a wallpaper steamer or hair dryer works as a good substitute. Finally, try to have a large garbage can and heavy duty trash bags on hand for quick clean-up.
Removing Linoleum from Concrete with Standard Tools
Removing linoleum from the floor is pretty straightforward if you arm yourself with the basics, and is the first step in a floor remodeling process. Clear the work area, grab a utility knife and heat gun, and get started.
Use a utility knife to slice the linoleum into twelve-inch strips. Use a heat gun to warm the top layer of a strip, and then slide a hand scraper beneath the tile.
Pull the strip away while using the scraper for assistance. Apply a small dab of petroleum jelly on the scraper machine's blade and then slide it beneath the next pre-cut strip while lifting the linoleum with your free hand.
Continue with each strip, while discarding the pieces in a large garbage can, until you remove all the flooring.
Removing the Linoleum Paper Backing
Beneath old linoleum, there is underlayment or tacky paper adhered to the subfloor or concrete. This is easy to remove, but if you discover black mastic beneath old linoleum, it's critical to have it tested for asbestos.
Dust and debris get kicked up doing this process, so wearing goggles and a mask is essential. Start at one side of the floor and scrape the paper backing away from the surface. Put the pieces into a heavy-duty garbage bag, and continue removing the paper, one section at a time.
For stubborn spots, heat the area using a heat gun and apply moderate to extreme pressure to remove the underlayment. Repeat with the rest of the floor to remove the remaining paper and adhesive debris.
Cleaning Linoleum Adhesive from Concrete
After removing the linoleum and paper backing, it's important to use an adhesive remover to finish the project. Cleaning linoleum adhesive from concrete is simple using hot water. This step is also useful for removing carpet glue from concrete floors.
For a simple but messy carpet tile adhesive remover or to get rid of glue from laminate tiles, spread old towels on the sections of adhesive. Boil a large pan of water and slowly pour the boiling water over the towels to get them wet.
Doing this prevents the hot water from spilling over and creating more of a mess than is needed. Remove the towels after 15 minutes, one section at a time, and use a large, manual scraper to pry away the soft and loosened adhesive.
Removing Linoleum Adhesive with a Wallpaper Steamer
If your flooring is being particularly stubborn during the removal process, consider using a wallpaper steamer. The heat and steam make the job faster and easier than trying to remove dry linoleum.
Begin by cutting twelve-inch strips into the linoleum with a utility knife. Preheat the wallpaper steamer, press the applicator pad over one section of the floor, and steam it for one minute.
To get adhesive off concrete, move the steamer to the next section, and while it is heating, use a scraper to pry the first section away and discard the tile in a large trash can. Repeat these steps until the whole floor is complete.
How to Remove Linoleum from Concrete with a Hair Dryer
Other household items are useful if you find yourself missing the right tools for removing a vinyl or linoleum floor. A hairdryer is an ideal substitute for a heat gun and works effectively to loosen the floor adhesive.
Use a multitool or utility knife to cut the linoleum into manageable sizes. Twelve-inch strips are ideal for quick removal. Plug in a hairdryer close to the first section and turn it on high heat.
Slowly move the dryer in a side to side motion across the surface of the strip for one to two minutes and then slip a putty knife beneath one end of the tile, while using your other hand to pull it away from the floor gently.
Keep a garbage can nearby and toss the tile pieces into it as you move from section to section. Repeat the heat and prying steps until you remove all of the linoleum.
Using a Chemical Stripper to Remove Linoleum Adhesive
Removing all adhesive is a vital step in the floor remodeling process, whether you are removing carpet glue from concrete floor or adhesive from linoleum.
It is necessary to ensure the floor has a clean and even surface, whether you leave the concrete as is or install new flooring.
Follow the instructions for your chemical stripper, apply it to the stubborn adhesive as directed, and use a putty knife or hand scraper to pry away the glue.
Throw the debris into a trash bag as you work for fast clean-up. Once the tile flooring is clean of linoleum, paper backing, and adhesive, consider using a homemade cement cleaner to ensure a smooth surface.
Cleaning a Concrete Floor after Removing Linoleum
Now that the floor is clear of linoleum, underlayment, and adhesive, it's time to give it a last cleaning to remove all dirt and grime. Cleaning concrete floors properly provide them with a finished look and prepares them for new tile or flooring.
If there are still rough patches of adhesive on the concrete floor, consider sanding the spots to remove tough glue. After you're satisfied that the floor is ready for cleaning, fill a large bucket with hot water and a small amount of detergent.
Dunk a scrub brush into the soapy water and scrub the floor in sections, from one side to the other, making sure to remove grease from concrete if you discover a patch. Dump the bucket of soapy water and fill it with cold water.
Use a sponge to rinse the floor with the clean water to remove all residue. Open the windows and aim a large fan over the surface of the floor until it is dry.
Old vinyl, linoleum, and laminate surfaces have a dated and faded appearance, and replacing them makes the space look new and fresh.
However, no one said that DIY projects like removing epoxy stains from concrete and pulling up linoleum tiles are easy. Fortunately, using the right tools and methods make the job quicker, with a lot less stress.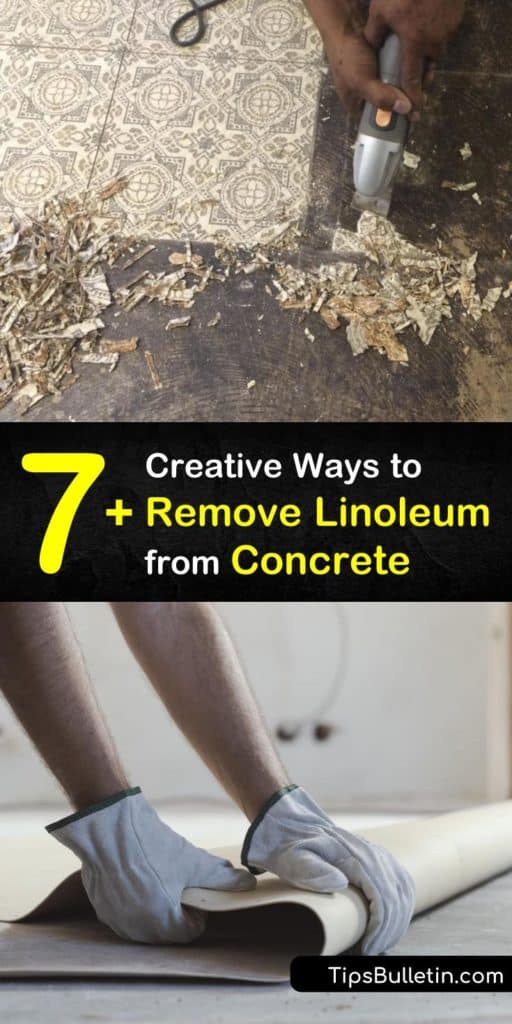 Knowing how to remove linoleum from concrete the right way is the difference between a feeling of accomplishment and a headache, so why not share our linoleum removing tips with your DIY friends and family on Facebook and Pinterest?