Avocados became a superfood phenomenon over the past decade, which meant learning how to store avocados became an essential piece of information. Storing avocados has been especially tricky. We bet you've heard friends and family complain about how quickly avocados ripen.
It seems like we only have a split second of perfect ripeness before they brown and rot. That's why knowing where to store avocados is such a critical piece of knowledge.
Avocados are fruits with dark green, leathery exteriors, and creamy, green insides. Better yet, they complement just about everything. They're perfect for making into dips, putting in wraps, salads, and smoothies, and desserts like brownies and ice cream. We don't blame you for taking full advantage of these savory fruits because there is too much to love.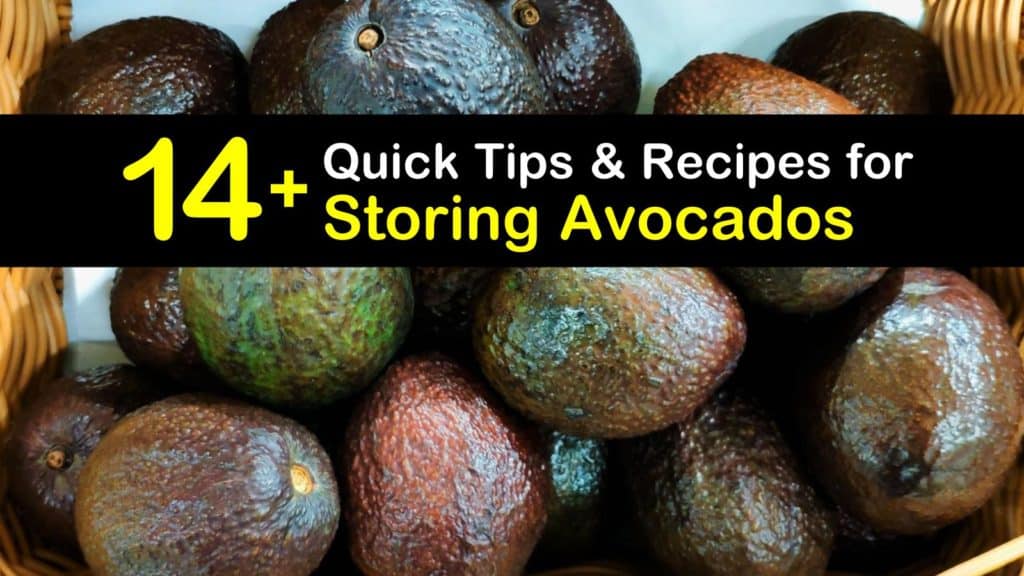 Benefits of Avocados
Avocados grow in warm weather climates and are incredibly versatile and healthy. One serving size, one-fifth of a medium-sized avocado, contains only 64 calories and less than a gram of sugar. Avocados are rich in critical vitamins B, C, E, and K.
They have a high source of folates, magnesium, potassium, and omega-3 fatty acids. Don't be alarmed by the six grams of fat found in avocados, however.
The many different types of avocados contain beneficial fats that make you feel full, stabilize blood sugar levels, support skin health and absorb fat-soluble vitamins and minerals. The list of benefits doesn't stop there.
Avocados help maintain heart health, protect your eyes from ultraviolet light, support bone strength, protect against cancers, lower risk of depression, improve digestion, naturally detox your body, and so much more. Still, with all those perks in mind, it doesn't hurt that avocados are undeniably delicious.
Tips and Recipes for Storing Avocados
This article not only provides you with advice on storing avocados but also gives you mouthwatering recipes to try along the way. Read more if you want to know the best way to store avocados.
Get Handsy when Picking Produce
Once avocados leave the tree, they produce ethylene gas that triggers the ripening process. When you're at the grocery store, don't be afraid to feel the produce.
One popular way to determine an avocado's readiness is to feel how soft it is. Ripe avocados are almost black and slightly soft, while unripe avocados are rock hard, and overripe avocados are too mushy.
Choose the Perfect Ripeness Level
A bag filled with ripe avocados sounds good on paper but isn't practical unless you're making a huge batch of guacamole for a party that night. Try to pick out a variety of ripeness levels.
How long are avocados good for? Harder avocados ripen after a couple of days for meals planned later in the week, while softer, more ripe avocados are best for next-day use. This technique helps you eat perfect avocados throughout the entire week and prevents you from tossing the ones that ripen too quickly.
Check under the Stem
Another tip for finding the perfect avocado at the store is to take off the stem on the top of the fruit. If it pops off easily and has a light green color, the avocado is ripe.
If the shade under the stem is brown, avoid it at all costs. If the stem doesn't come off easily, it is underripe.
Where to Store Avocados
The ideal place to store fresh avocados is on the counter. This location forces you to see them and reminds you to eat them before they go bad.
Avocados stay good at room temperature for two or three days, depending on ripeness. A cold, dark place around 68°F is an excellent location.
When to Store Avocados in the Fridge
Once ripe, place whole avocados in the crisper drawer of your fridge. The colder temperature slows the ripening process. Refrigerate them for one to two weeks. Do not put unripe avocados in the refrigerator, or run the risk of them not ripening at all.
The refrigerator is also the best place to store a whole head of cabbage. Add it to a plastic bag and put it in the crisper.
Speeding up the Ripening Process
Other than storing fresh avocados, you'll likely find yourself at a point in time when you need to ripen avocados.
To speed up the process, place whole avocados in a brown paper bag with apples or bananas. The extra ethylene gas helps ripen them over the next day or two.
How to Store Avocados with Acid
Lemon juice and lime juice are both filled with acids that protect avocados from turning brown. When you refrigerate a cut avocado, the air immediately starts making the flesh of the fruit brown.
Although this doesn't mean it's unsafe to eat, it is often unappealing to the eye. Cut a whole lemon or lime in half and squeeze the juice into a small bowl. Dip a pastry brush in the lime juice and brush it over the cut avocado.
If there are two avocado halves, place them back together and wrap the entire avocado in plastic wrap. Store the pieces in the fridge and consume over the next two or three days.
Long-term Avocado Storage
If you find yourself with a load of ripe avocados and no way to eat them before they go bad, freezing avacados is the only way to achieve long-term storage.
In a medium bowl, mash the fresh avocados with one tablespoon of lime juice. Pour a small amount of the avocado mash into a silicone ice cube tray. Silicone trays are essential so that the cubes easily slide out.
Wrap the entire tray in plastic wrap and set in the freezer for up to three months. Over the three months, press out cubes as needed and add them to dips, smoothies, and dressings.
You can also freeze whole avocados as long as you wrap them tightly with plastic wrap. They will keep for up to six months.
Freezing works well for many fruits and vegetables. Freeze peaches without sugar – or with it, tomatoes, green beans, and berries of all kinds.
Pickling Avocados
People pickle anything they get their hands on these days, and avocados are no exception. This storage method is perfect for slightly under-ripe avocados and lasts for up to a week in the fridge.
Bring one cup of tap water and one cup of vinegar to a boil in a small saucepan. Dissolve one tablespoon of salt and one-third cup of sugar in the solution. When the salt and sugar dissolve, turn the heat off and set the pan aside to cool.
In a clean Mason jar, add one teaspoon of red pepper, one clove of garlic, and a few fresh cilantro sprigs. Peel and slice your avocado and set the slices in the jar.
Pour the brine into the jar until the avocado slices are completely covered and tightly seal the lid. Refrigerate for 24 hours before serving.
According to many, pickling is the best way to store jalapeno peppers, too. The flavor combinations are delicious.
Say No to Canning
Although storing all kinds of veggies and fruits by canning is popular, as tempting as it sounds, don't try water canning or pressure canning avocados. The fruit doesn't stand up to the heat and leaves you with unappetizing mush.
Utilize Silicone Food Covers
Silicone food covers are an environmentally friendly alternative to plastic wrap. These are available for purchase online and at your local home goods store.
These food-saving products come in a range of shapes, sizes, and colors and fit tightly over cut avocados, making them safe to store in the refrigerator.
Turn Avocados into Smoothies
Utilizing your avocados in new ways is half the fun in storing avocados. There are endless recipes to try, and making a smoothie is a great way to get your nutrition in for the day.
Toss all the listed ingredients to a blender and blend on high until smooth and creamy. Splash in some more milk or water if the smoothie is too thick. Smoothies are a fun way to add new ingredients, so don't be afraid to mix it up.
Make Tasty Dips
Guacamole is a beloved snack. It goes well with chips, on tacos and sandwiches, and is packed with flavor. Scoop leftover dip into an airtight container. Before putting on the lid, cover the guacamole in plastic wrap.
Use your hand to press down on the wrap, so there is no air touching the guacamole. Keep the plastic wrap on it and put the airtight lid over the top. Store in the fridge for up to four days.
Mash together the avocados, salt, and lime juice in a medium bowl. Stir in the onion, cilantro, tomatoes, and garlic. Store the guacamole in an airtight container and refrigerate for one hour before serving with chips.
Don't Ditch the Pit
Many home cooks swear that keeping the pit in guacamole or other avocado-based dips is essential for preventing browning. When finished making the dip, throw the pit back in the bowl and store it in the fridge.
Make Avocados Fun
The limits for avocado recipes are truly endless, but what's better than good old-fashioned avocado toast? Top your favorite toasted bread with avocado mash, cheese, greens, fruits, and proteins.
There are hundreds of creative possibilities. Listed here are three avocado toast recipes you can try.
Classic Avocado Toast
The chances are high that you've experienced the magic of a traditional piece of avocado toast before. Whether you top it with egg and spices or eat it plain, it becomes clear that this is a brunch staple for a good reason.
Mash half of a ripe avocado with a fork and a light squeeze of fresh lemon juice, salt, and freshly cracked black pepper.
Spread the avocado mash on the toast pieces and top with red pepper flakes and more salt and pepper to taste. Add a poached egg on top of everything and scarf it down.
Sweet Avocado Toast
It's not too often that you find yourself eating a piece of avocado toast with fruit on it, but this recipe is a fun way to try something new and surprise your taste buds with something sweet and fresh.
Mash the avocados, a pinch of salt, and a squeeze of lime juice in a small bowl. Spread the mixture over the toast slices. Top each piece of toast with equal parts pomegranate and grapefruit. Sprinkle the feta cheese over the top and eat immediately.
Savory Avocado Toast
Turn avocado toast into a delicious dinner by adding a hardy protein like chicken. This recipe is fabulous when you're looking for a quick but filling dinner.
Combine the avocado, olive oil, green chili, scallions, salt, and black pepper in a bowl. Top the toast with the mixture. Put ¼ cup of shredded chicken on top of each slice and sprinkle the top with the dill and more salt and pepper. Serve and enjoy.
Knowing where to store avocados is essential in prolonging their shelf life and saving yourself from throwing out overripe produce. Storing avocados is much simpler than people think, and there are plenty of recipes to taste test.
If the flavor isn't enough, don't forget about the surplus of health benefits that avocados provide. It's no wonder that this pure fruit has been named one of the world's favorite superfoods.
Regardless of your storage preferences, though, we think that the perfect place to store avocados is in your belly with tortilla chips!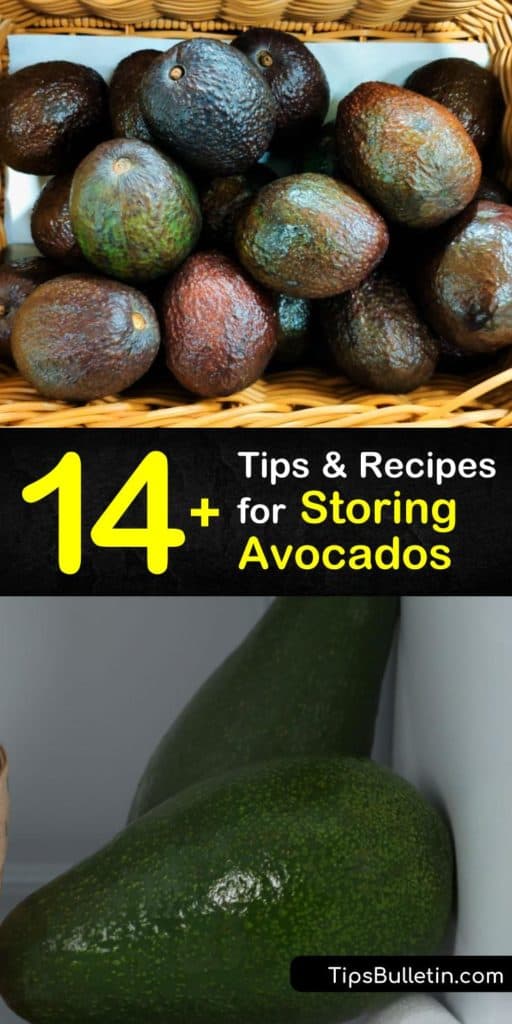 If you found these suggestions for how to store avocados helpful, feel free to share these tricks for prolonging avocados on Facebook and Pinterest.