There is nothing more satisfying than gathering armfuls of fresh vegetables from the garden or farmers market – from eggplant, summer squash, and zucchini to cauliflower, avocados, and green beans. Unfortunately, different types of veggies require different storage methods. We'll show you how to store vegetables properly, depending on the kind of veggie and length of storage.
Various vegetables require separate storage techniques to keep them fresh. Root vegetables, such as sweet potatoes, radishes, turnips, and parsnips, store differently than leafy greens such as kale, spinach, lettuce, and collard greens. As far as storage goes, there is really no difference between kale and collard greens.
It's essential to store fruits and vegetables under the right conditions to ensure that they stay fresh and tasty. Some vegetables, such as winter squash require a cool, dry place to prevent spoilage while others are happy at room temperature. As far as storage goes, are rutabagas and turnips the same? These root veggies both like dry, cool areas like other squashes.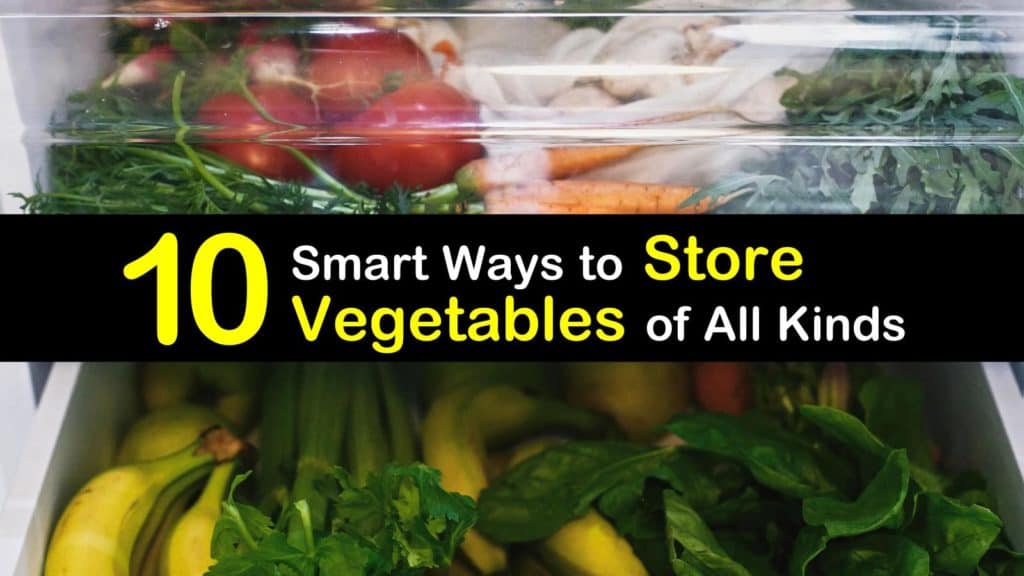 Storing Vegetables to Keep them Fresh
The refrigerator is usually our "go-to" when storing food until we are ready to use and eat it. Does coffee last in the fridge? While the fridge is not the best place for your coffee, it's ideal for fresh veggies. Fruits and veggies such as watermelon, cantaloupe, bell peppers, and summer squash require cool humidity to slow the ripening process.
Whether you have a bountiful harvest of outdoor or indoor growing vegetables or you bought them from the grocery store or farmer's market, you need to know your storage options. The primary difference between fruits and vegetables regarding storage is what you need to keep fresh and your options for proper placement.
Here are several ways to store veggies to keep them fresh, whether you store them on the counter or in the fridge, freezer, or root cellar. For long term storage, consider canning, pickling, or drying your veggies for year-round enjoyment.
How to Store Vegetables from the Garden
Many types of vegetables and fruits prefer resting in room temperature conditions such as the countertop, cupboard, or pantry. The key is to keep the area dark and dry, like where to store coffee grounds or beans.
Countertop and Pantry Storage
All types of potatoes, tomatoes, rutabagas, onions, shallots, and hard squash are perfect for pantry storage. When comparing parsnips vs potatoes, the same applies to parsnips. So is storing fresh garlic bulbs, as long as you will use them within a couple of months.
Do onions go bad? What about potatoes? All vegetable varieties can spoil depending on their age and storage conditions.
Do not store onions and potatoes together. Both of these veggies release moisture, and the potatoes are sensitive to ethylene gas, which leads to faster spoilage.
Vegetables should not be in direct sunlight, either. The veggies think they are outdoors, and begin to sprout. Set them in a dark area of the kitchen or a designated pantry or cupboard. Place them in a breathable paper bag if you do not have a dark corner of the kitchen.
The ideal temperature for storing vegetables in this manner is 50 to 70°F. They last a week or more in the pantry. During colder months or if you keep the temperature cooler, the veggies last up to one month.
Ways to Store Vegetables in the Refrigerator
There are a variety of ways to store vegetables, depending on the type. Refrigerate vegetables such as bell peppers and cucumbers and fruits such as stone fruits (nectarines and apricots), and kiwis for the freshest flavor. It's also where to store jalapenos and other spicy peppers.
How to store squash and other types of these vegetables store best in the crisper drawer of your refrigerator, and they all have varying times of freshness. Summer and yellow squash, broccoli, green beans, and Brussels sprouts last three to five days.
Leave ears of corn in their husks for one to two-day storage. Eggplant, celery, zucchini, artichokes, and cucumber last up to one week in the fridge. How to store cauliflower in the refrigerator involves keeping the core in place and using the crisper drawer, too. Store green peppers for about seven days, too.
The best way to store mushrooms is in the fridge is in a paper bag to extend their shelf life up to five days. Put parsnips, carrots, beets, turnips, and radishes in a plastic bag and store vegetables in fridge for up to two weeks.
Keep your fruits separate from your veggies. Fruits produce ethylene, which causes the veggies to spoil faster.
Storing Long Stalk Veggies
Asparagus, green onions, and other long stalk veggies need special treatment when storing them in the refrigerator. This is also true for fresh herbs, such as cilantro and parsley.
Remove the rubber band from your asparagus and cut an inch off the bottom of the stems. Green onions do not need trimming before storing them in this manner.
Pour an inch or two of cold water into a Mason jar and place the veggie bottoms into the water. Cover the top of the vegetables with a plastic bag and store them on the refrigerator shelf for up to seven days.
How to Store Leafy Greens
Each type of leafy greens requires specific means of refrigerator storage. What works for storing lettuce does not work as well for Brussels sprouts or kale varieties and may not be what keeps basil fresh either.
Lettuce must have air circulation and humidity to stay as fresh as possible. Wash and spin-dry the lettuce and place it in a perforated container on the fridge shelf. Store kale in the same manner except put it in a perforated plastic bag.
Wrap kohlrabi leaves, spinach, turnip greens, collard, and Swiss chard in a damp paper towel inside a perforated plastic bag and put them in the crisper drawer. Store unwashed Brussels sprouts in a paper bag in the drawer if you plan on using them in three to four days.
Storing Fresh Vegetables in the Freezer
If you have too many vegetables and not enough room in the pantry or fridge, storing fresh vegetables by freezing them is the way to go. Some veggies are suitable for raw freezing, while others require blanching to prevent losing their crunch.
Freezing lettuce doesn't require blanching, Neither do onions and peppers and they are the easiest to freeze. Store Brussels sprouts with blanching or not.
Whether you are freezing Brusselss sprouts or another type of vegetable, wash the veggies and pat them dry with a paper towel first. Slice them into desired sizes and put them into a freezer bag or wrap them in aluminum foil. Label the bag and freeze them for up to ten months.
If the veggies require blanching, wash and slice them to the desired size and set them aside. Fill a bowl with water and ice. Fill a pan with water, bring it to a rapid boil, and add the vegetables.
Boil them for two to three minutes and then move them to an ice water bath for another three minutes. Strain and dry the veggies, and then place them into freezer bags. Label the bags and freeze them for ten months.
Freezing is one of the best ways to store fresh green beans and the process ensures a delicious veggie whenever you thaw it out and cook it.
Storing Vegetables in the Root Cellar
The best way to store root vegetables is in a root cellar. This type of storage ensures that your veggies sit in the perfect climate to keep them fresh for the longest time.
A variety of vegetables store well in a root cellar, including beets, parsnips, and rutabagas. There is not much difference between potatoes and turnips regarding storage. They both last nicely in the root cellar, too.
Storing fresh carrots in the root cellar is also best for these long veggies. Brush off any dirt from the root vegetables but do not wash with water, and remove the leafy tops.
Place the vegetables in a single layer, with space between each veggie, in either a crate or large bucket and cover with damp sand, sawdust, or straw. Check the veggies periodically and wet them with a water spray bottle to keep the packing material damp but not wet.
When storing vegetables this way, the difference between parsnips and potatoes and other veggies does not matter. They all keep the same way.
Storing Vegetables in the Basement
If you don't have a cellar and live in a northern climate, it's easy to store many of your favorite root veggies in the basement. This area of the home often provides cool and damp conditions for storing vegetables.
Pack root crops in a single layer and cover with damp peat moss or sawdust. Make sure that the veggies do not touch to prevent them from rotting. Layer different roots in the same container, and put the ones you plan on eating first at the top.
Keep the packing material damp but not wet. Radishes and carrots store for four to six months, radishes and rutabagas for two to three months, and beets last four to five months.
Canning Veggies for Long Term Storage
Storing your vegetables in the fridge, freezer, or root cellar is a great way to enjoy fresh veggies, but canning is perfect for storing them long term to ensure that your crop does not go to waste. The suggested veggies are optional and are easy to switch with your favorites.
Follow the instructions for your canner and sanitize the jars and lids. Wash the vegetables under cold water and peel, trim, and cut them to desired sizes. Put four inches of hot water into the canner and set it on the stove over low heat.
Pour water into a pot, add the veggies, and bring to a boil for five minutes. Pack the jars with the hot vegetables and add enough of the hot water to cover them, leaving an inch of headspace.
Put the jar lids in place, and set them into the canner, and leave the weight or valve open. Turn the canner to high heat and allow the steam to escape for ten minutes. Put the weight on and build pressure to eleven pounds. Once the pressure reaches ten, process the jars for 75 minutes.
Turn the heat off on the canner and let the pressure drop to zero before opening. Remove the canned vegetables and let them cool before checking to make sure that the lids seal properly.
How to Pickle Vegetables
Pickling is an excellent way to preserve veggies and for storing zucchini, and they taste great with just about anything, from barbecue chicken to grilled hamburgers.
This quick pickle recipe is excellent for storing your vegetables in the fridge and takes only 20 minutes to prepare and cook.
Wash and slice the veggie of your choice, or mix different vegetables. Pour the water, vinegar, sugar, and salt into a large pot and bring it to a boil before removing it from the heat.
Place half of the garlic and spices into each jar and pack them with the veggies. Cover the top of the vegetables with the hot brine, leaving an inch of headspace.
Cover and allow the jars to cool for about an hour before placing them in the fridge. These quick pickled veggies last two to three weeks in the refrigerator unless you eat them before then.
Drying Veggies for Long Storage
Drying vegetables is a great way to store them long term. They are easy to dry, and the finished product takes up less space in the kitchen. Dried veggies are also easy to add to soups and stews.
Clean and slice your vegetables of choice. Try to keep all of the veggies at the same thickness to ensure even drying. Before using one of the ways to preserve cauliflower, celery, carrots, peas, corn, broccoli, and potatoes, blanch them for three to five minutes before drying.
Place the sliced veggies on the dehydrator trays in a single layer and start the dehydration process. Check the owner's manual for your unit for proper drying times. The vegetables are generally dry after eight to twelve hours. Cool the slices completely before placing them into an airtight container.
Fresh produce only stays crispy and delicious if you store it properly, and it's essential to understand the different ways of storing them, depending on their needs. Some vegetables store best when unwashed, while washing vegetables of other kinds and peeling them helps them last longer.
Some prefer a dark place to rest, and others want their feet in cold water. Using the right storage for your veggies means that you have more time to benefit from their tastiness.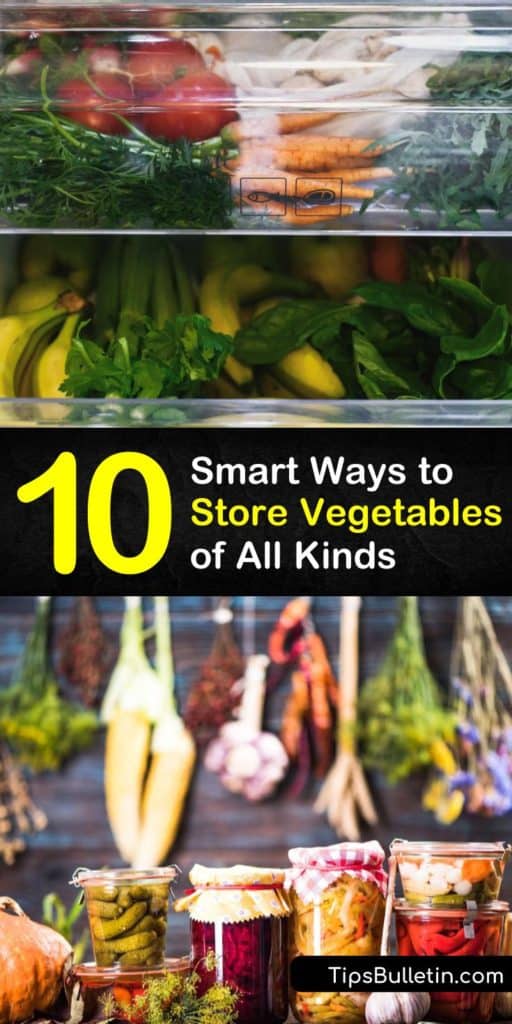 Now that you learned how to store vegetables so that they stay fresh and tasty, why not share our veggie storage tips with your family and friends on Facebook and Pinterest?