Many people wish they could eat pasta for all three meals each day. Unfortunately, this isn't the healthiest option, which is why some are turning to spaghetti squash as an alternative. Learning how to store spaghetti squash makes all the difference in the shelf life of your veggies.
There isn't necessarily a best way to store spaghetti squash because you can do many different things to help them last longer.
These storage tips allow you to store other winter squash types like butternut squash or acorn squash, too. Either way, following a couple of these storage tips for preserving spaghetti squash can add days to their shelf life.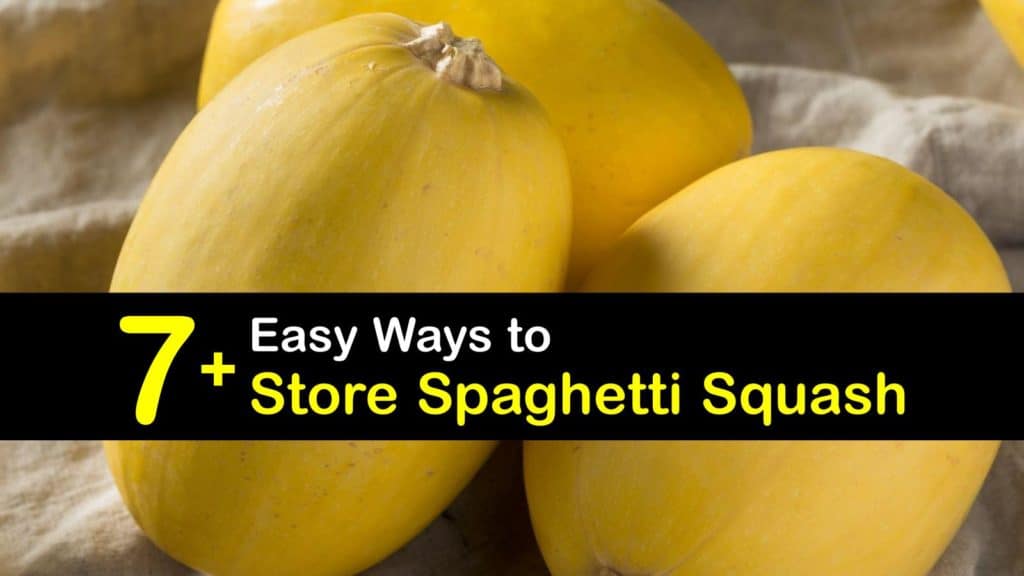 About Spaghetti Squash
Raw squash is known for its numerous health benefits and helps people worldwide make better food choices. One cup of cooked spaghetti squash is low carb with only ten grams of carbohydrates.
Squash is also full of potassium, manganese, calcium, and beta-carotene, working as an antioxidant that gives it its signature yellow-orange color. Incorporating squash or zucchini into a gluten free diet is popular.
Learning how to store spaghetti squash is a simple way to ensure that your food stays fresh as long as possible. Are there things you should avoid when storing spaghetti squash? Absolutely.
We will walk you through every step of the process, from buying it at the store to cooking it. By the end of this squash storage article, you'll know the best way to store spaghetti squash, whether raw or cooked.
How to Store Spaghetti Squash
To store fresh spaghetti squash before cooking it, you should know all the best tricks to keep it fresh and save the delicious, stringy squash strands inside. Let's look at some of the top tips for veggie storage.
Buying Spaghetti Squash
Good storage techniques begin before you even bring home your veggies. Start by picking out a whole squash from the store or local farmer's market with a thick, hard outer rind free from mold or blemishes.
If you grow these winter veggies in your own garden, the same rule applies. The more soft spots the squash has, the faster the entire thing spoils.
Storing Spaghetti Squash Whole
Most people don't know where to store spaghetti squash once they bring it home. If you aren't planning to cook spaghetti squash before storing it, the best place to keep it is in a fairly cold, dry place.
However, you benefit from leaving the squash in a sunny window for two weeks to help the skin harden. Once hard, transfer the squash to a basement or cellar that is around 60 degrees Fahrenheit.
The squash should last about three months when stored this way. Perform a weekly check-in to ensure that it hasn't started to rot.
Storing Spaghetti Squash at Room Temperature
We don't all have access to a cool room in the house, so it's good to know it is perfectly safe to store squash at room temperatures. Try to keep the squash in a dark cabinet to help it last up to one month.
Canning spaghetti squash with a pressure canner is another storage option for this tasty squash variety.
How to Store Spaghetti Squash in a Refrigerator
The refrigerator is a lifesaver for extending the shelf life of food and is one of the best ways to preserve butternut squash or spaghetti squash. Another option for storing spaghetti squash is to wrap the entire thing in plastic wrap, airtight container, or regular freezer bag before putting it into your fridge.
The plastic wrap keeps air from ruining your veggies. This method to store spaghetti squash in the fridge works exceptionally well if you're working with squash halves. Cut raw squash should stay fresh for about five days before you need to cook it.
Cooking Spaghetti Squash
We believe that the greatest method to store spaghetti squash is to cook it beforehand and then store the stringy insides for the future. Cooking spaghetti squash is possible in an oven, crockpot, or instant pot.
Warm your oven to 400°F and prep the squash by setting it in a colander and running cool water over the outside. Once rinsed, cut the squash in half lengthwise. Scoop out all of the seeds on the center of each of the squash halves.
Drizzle a good amount of room temperature olive oil over the cut side. Sprinkle the tops with salt and pepper, and place the halves cut side down on a baking sheet.
Set the prepared baking sheet in the hot oven and let the squash roast for 30 to 40 minutes or until the halved squash becomes lightly browned and tender when poked with a fork.
Remove the hot halves from the oven and allow them to cool before scraping out the insides. Put the squash in freezer bags and set them in the freezer, or mix the hot flesh with pesto and top it with parmesan cheese for a tasty side dish or main entrée.
The Best Way to Store Spaghetti Squash
Store your cooked squash in a freezer bag or airtight container before placing it in the freezer. Don't forget to label your bags whenever possible so you know how old everything is when you pull it out in the future.
Thaw the frozen spaghetti squash before tossing it with your favorite ingredients. Basic roasted spaghetti squash is the perfect base for many different dishes.
Spaghetti squash is great as a pasta alternative but can also be tossed into a stir fry or other recipes for extra nutrition. Here is one of our favorite recipes.
Bring a few inches of tap water to a boil in a large pot. Set a steamer basket inside the boiling water pot and add the broccoli florets to the basket. Cover the steaming pan and allow the broccoli to steam for six to eight minutes until crisp yet tender.
Remove the broccoli and set it aside. Steam the frozen edamame according to the package directions. Add the cooked squash noodles to a plate with the edamame and broccoli.
In a smaller mixing bowl, whisk the soy sauce, oil, vinegar, ginger, and garlic. Pour the sauce over the veggie mixture and toss everything to coat. Transfer the stir fry to individual plates and top each one with sesame seeds.
Storing Cooked Spaghetti Squash
While the icy freezer is the best place for cooked squash, it is common to put the food in the fridge. Remember to keep the cooked veggies in an airtight container to minimize exposure to air.
How long does spaghetti or butternut squash lasts in the fridge after cooking? Cooked squash lasts for several days when stored this way.
How to Tell if Spaghetti Squash is Bad
Avoid cooking, using, or eating spaghetti squash if it is past its prime. Signs of a bad squash include a black, moist, or shriveled stem. These are signs that the squash is already rotting.
When you look at the rind, it should be pale yellow or light orange and have a very dull sheen. If it is shiny, cracked, or looks watery with dark brown and yellow spots, opt for something fresher.
When you feel the rind, it should be very hard. Try to pierce the outside with your fingernail. If it is hard to scratch, that is a sign it is safe to eat.
Don't forget to rely on your other senses as well. Smell the squash near the stem. Fresh squash should not have a pungent odor. If anything smells funky, it is probably decaying from the inside out.
The inner flesh of the squash should look solid and have a bright color that is free from any spots or discolorations. Do not eat it if the flesh is soft, mushy, or dry.
You don't have to only rely on smell. Sometimes a fruit or veggie looks appealing but tastes funny. If you cook your squash and it doesn't taste as fresh as you thought it would, it's okay to discard the squash.
After all, it is better to avoid getting sick than to force yourself to eat something that might not be as fresh as it looks.
Spaghetti squash is an excellent ingredient to use in the kitchen. There are dozens of squash varieties, and it just so happens that this one is nutritious and one of the most popular.
There are many ways to cook with it, and we think that the better care you give your produce, the tastier all of your meals will be.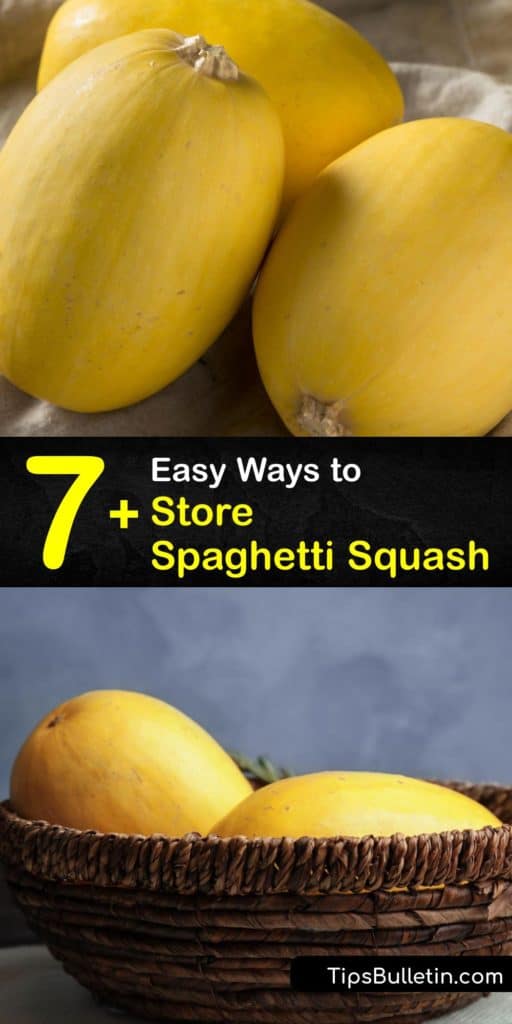 If learning how to store spaghetti squash properly has helped you serve only the freshest veggies to your family, share these tips for storing spaghetti squash for longer shelf life on Facebook and Pinterest.