Slugs and snails will treat your vegetable garden like an all-day buffet if given the opportunity. While they're not the most dangerous pests in the garden, they make their presence known by devouring tender, vulnerable plants at an alarming rate. Discover how to use diatomaceous earth for slugs and snails in a responsible integrated pest management routine.
Diatomaceous earth is a sedimentary rock made from diatoms or ancient single-celled algae. These unicellular algae have a silica shell. Over thousands of years, these little shells collect in riverbeds and compress to make a chalky-looking powder we know as diatomaceous earth.
There are vast deposits of diatomaceous earth in North America, and we mine these deposits for use in products like insulation, paints, varnishes, abrasives, and pest management. It sounds intense, right? Don't worry; diatomaceous earth is inexpensive, easy to use, and works wonders against garden pests like slugs and snails.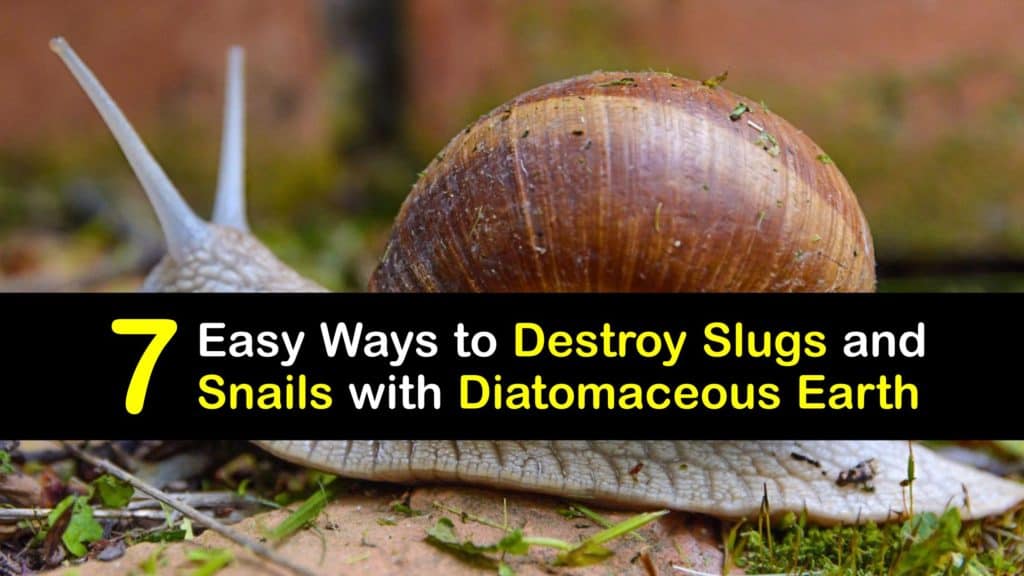 Learn About Slug and Snail Control with Diatomaceous Earth
Learn how to use diatomaceous earth (DE) for slugs and snails and how to end sneaky snails in the garden. Using DE on plants with these fantastic tips and tricks will stop snails in their tracks.
How to Use Diatomaceous Earth for Slugs and Snails
Snails are gastropods with a protective shell; a gastropod without a shell is usually called a slug. Snails and slugs play an essential part in our ecosystem, which means it's impossible and inadvisable to try and eradicate them all. However, we can take steps to stop slug damage on vulnerable plants from progressing past a manageable point.
DE for slugs and snails works by drying and absorbing the oils in the joints, tissue, and exoskeleton. On a microscopic level, one teaspoon of diatomaceous earth has a billion pieces of shells and sharp edges. These sharp edges create abrasions that dehydrate the garden snails, causing death in about 48 hours.
Be careful using diatomaceous earth around garden plants that beneficial insects frequent. Diatomaceous earth does not discriminate; bees, ladybugs, and butterflies are all susceptible, so use DE with care. Always use food-grade diatomaceous earth and wear a protective face mask; you don't want to inhale anything that may irritate.
Make a Barrier with Wood Ash and Diatomaceous Earth
Slug and snail control with diatomaceous earth is pretty straightforward. Diatomaceous earth is not a poison and doesn't need to be ingested to be effective; therefore, it's vital to choose targeted areas you know the snails are visiting.
Look for irregular holes in leaves and affected plants, and keep a watchful eye for the tell-tale mucus trail on the soil surface. Keep the slugs and garden snails away by creating a barrier with DE and some wood ash.
It's as simple as sprinkling some diatomaceous earth around the base of an individual plant or high-traffic area. Slugs and garden snails don't like the alkaline content of wood ash, either, and it's a good idea to mix in some ash from the fireplace as an extra deterrent.
Set Up Some Good Hiding Places
Many gardeners use diatomaceous earth to kill slugs and snails because it is less chemically impactful on the environment. Controlling slugs and targeting individual plants or places without disturbing the surrounding vegetation is also easier, and we know precision counts in pest management.
Snail control is as simple as setting up a few good hiding places for them to congregate. Set up a damp piece of wood and treat the soil surface underneath with a good sprinkling of diatomaceous earth. The slugs may drop by to hang out in what appears to be some safe hiding places, but DE will be waiting to do slug control.
It's easy to make a DIY slug repellent spray or you can make a more passive trap system that you set up and monitor.
Beer and Diatomaceous Earth to Kill Slugs
Does diatomaceous earth kill slugs and snails? Yes, and so does a bit of beer. Beer traps are probably the least invasive trap system for any garden bed and fall under the "integrated pest management" category for their minimal impact on biodiversity. Discover how to make a simple beer trap to keep the slug population in check.
Get a small container you won't mind filling with dead slugs, at least six inches deep. Slugs enjoy the yeast smell from beer, so fill the container to the top to attract garden pests effectively.
Choose a popular space in the garden where the slugs are known to appear, bury the container in the soil, and sprinkle a barrier of diatomaceous earth to encourage pests to funnel into the trap.
Leave at least one inch of the trap above the soil surface. Otherwise, you risk drowning beneficial insects like ground beetles. The humble ground beetle is one of a few natural predators that actively eat slugs and snails, so it's important to minimize any impact on their population. Check the traps regularly, dispose of dead slugs, and repeat as needed.
Eggshells and Diatomaceous Earth for Garden Snails
Let's talk about crushed eggshells and how to use diatomaceous earth for slugs and snails as an effective deterrent. There seems to be a lot of anecdotal evidence that crushed eggshells work, but when bolstered with diatomaceous earth, the results are even more favorable, whether you use diatomaceous earth for plant gnats or other critters you don't like.
Crush the eggshells to a medium consistency, mix with a couple of tablespoons of diatomaceous earth, and sprinkle the mix around the base of an individual plant or specific garden areas to use diatomaceous earth to control plant pests like snails and slugs. Controlling chiggers with diatomaceous earth works the same way.
Some gardeners swear by coffee ground material and set out coffee grounds to keep the snails away. Expect varying levels of success depending on the slug and snail varieties in your garden.
Copper Flashing and Diatomaceous Earth
Many animals and garden pests find compounds in copper toxic. However, copper also creates an unpleasant electrical charge that deters soft-bodied pests like slugs and snails.
Slug and snail control with diatomaceous earth is easy, though it only works when dry. Add an extra layer of protection with small strips of copper flashing placed around plant pots and garden bed crops.
Iron Phosphate Baits for Slugs and Snails
Using diatomaceous earth to kill slugs is smart and is even more effective with some iron phosphate baits to ramp up your pest control routine. Iron phosphate snail baits have been used in Europe for ages and have been tested and registered in America since 1997.
Iron phosphate baits have low mammalian toxicity levels and are considerably less dangerous than traditional baits containing metaldehyde.
Pellet baiting is the way to go for fruit and vegetable plants and works best if you water it into the ground after application. Moisture makes great snail bates and draws the slugs out of the soil during the evening.
Enhance your slug bait set up, and add a few barriers of diatomaceous earth to more effectively control slugs and create an attack on two fronts.
DIY Slug Trap with Diatomaceous Earth
Snail control is super-easy when you let a trap do the work. There are professional traps on the market, such as the Slug Saloon, but making your own is way more satisfying and affordable. This slug trap requires very few supplies, and they're probably in the kitchen cabinet already.
Pour the sugar, flour, and dry yeast into a cup of water and mix it thoroughly; this is the slug bail solution for your DIY trap. Get a plastic food container you can cut holes in, such as an old sour cream or yogurt container with a lid. Cut several rectangular holes along the base of the container, about an inch and a half up.
Make sure the trap's holes are large enough for whatever variety of slug you're catching. Bury the container up to the holes, pour your slug bait solution, and pop the lid on. An extra layer of diatomaceous earth adds additional snail control to this trap.
We hope you feel confident and ready to use diatomaceous earth as part of a responsible, integrated pest management strategy. Knowing how to use diatomaceous earth for slugs and snails is only part of the solution.
Minimize the presence of garden pests by ensuring good spacing and airflow between plants. Keep your soil surface free of organic matter and attractive hiding places, and use coarse mulch like shredded cedar. You're ready to get out there and start your snail patrol!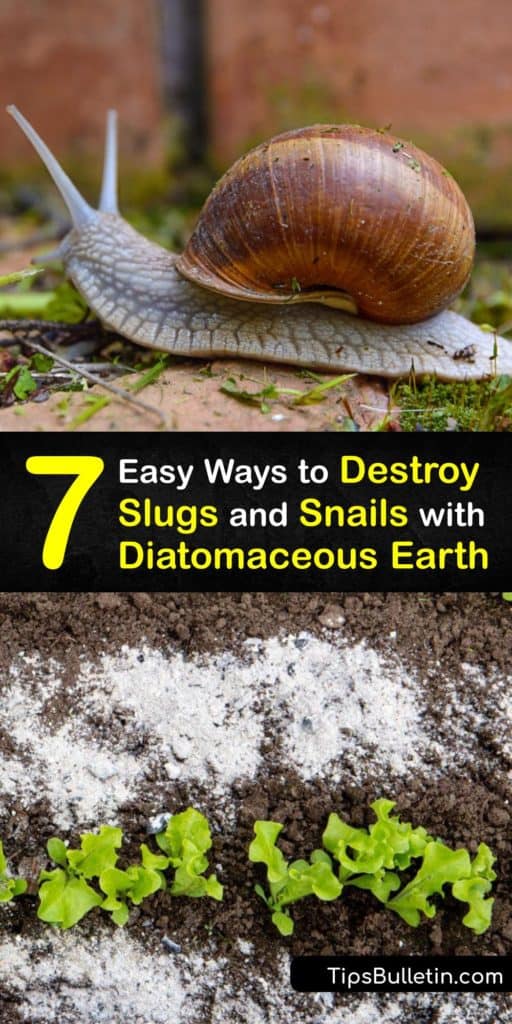 If you enjoyed learning how to use diatomaceous earth for slugs and snails, share this article with a friend on Pinterest or Facebook who's struggling with slugs and garden snails.