Neem oil is an effortless, affordable, and efficient way to get rid of pesky roaches in your home.
Here's a quick guide to using Neem oil for roaches:
Purchase Neem oil: Ensure it's pure and unrefined for maximum effectiveness.
Mix the insecticide: Add a small portion of Neem oil to water in a spray bottle and shake well.
Apply the mixture: Spray the solution in all areas where roaches frequent, like underneath appliances, or spray directly onto them when visible.
Utilize the powder: Alternatively, you could sprinkle Neem oil powder in affected areas at night, repeating until roaches are gone.
Prevention: Regularly use this blend in prone areas and maintain cleanliness to prevent future infestations.
Let's dive into details:
Firstly, you need Neem oil. Look for an organic and cold-pressed version for high quality. This oil is derived from the extract of Neem tree seeds and is famous for its insect-repelling properties. Mix the oil with water in a spray bottle; typically, a few drops of Neem oil per ounce of water should suffice. Shake the mixture to ensure that the Neem oil is well dispersed.
Once your Neem spray is ready, start applying it to the areas you suspect roaches are living or feeding. Common spots are in the kitchen, under sinks and appliances, in cracks and corners, and any other place where roaches can hide. If you see a roach, you can also spray directly onto the roach for immediate results.
If you opt for Neem oil powder, you can sprinkle it over the infested areas during the evening and repeat the process until you see no more roaches.
Prevention is the ultimate key. Regularly clean your house, remove any standing water and food residues, and discard the garbage daily. Spray your homemade Neem oil insecticide periodically, focusing on roach-infested and susceptible areas. This practice can help curb roaches' growth and prevent them from reproducing, resulting in a roach-free home.
Just like that, you've used Neem oil to get rid of roaches. It's a speedy, efficient, and economical solution for your roach problem.
You may try to avoid filling the home with synthetic insecticides and other harmful chemicals when you have a bug problem. While using the strongest bug spray possible when dealing with a roach infestation is tempting, there are natural ways to eliminate these pests, and Neem oil is one of our favorites. Learn how to use Neem oil for roaches to get rid of them forever.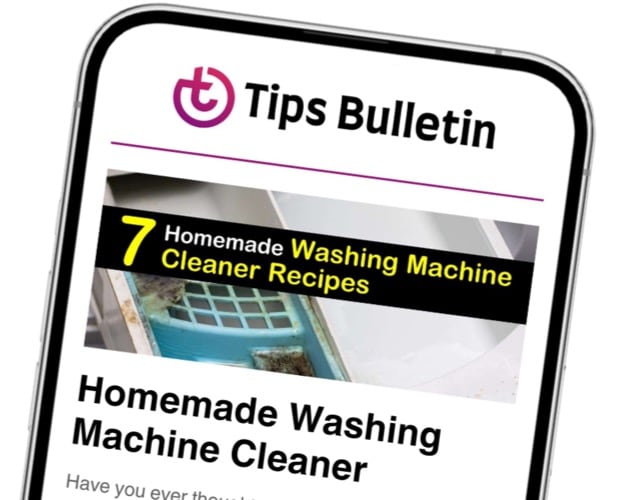 Finally, an email that Transforms Your Home.
Get the latest home and garden tips from our experts, delivered straight to your inbox.
Discovering cockroaches and egg cases in the house is a concern since the roach is an insect pest that quickly becomes an infestation if left unchecked. The German cockroach and American cockroach are two common species that invade homes, and it's vital to eliminate them immediately.
Neem oil kills and repels various insects, from bed bugs and spider mites to fleas and cockroaches. It works as well, if not better, than essential oils, boric acid, and other natural pest control solutions, and it is non-toxic to animals, birds, and beneficial insects like bees.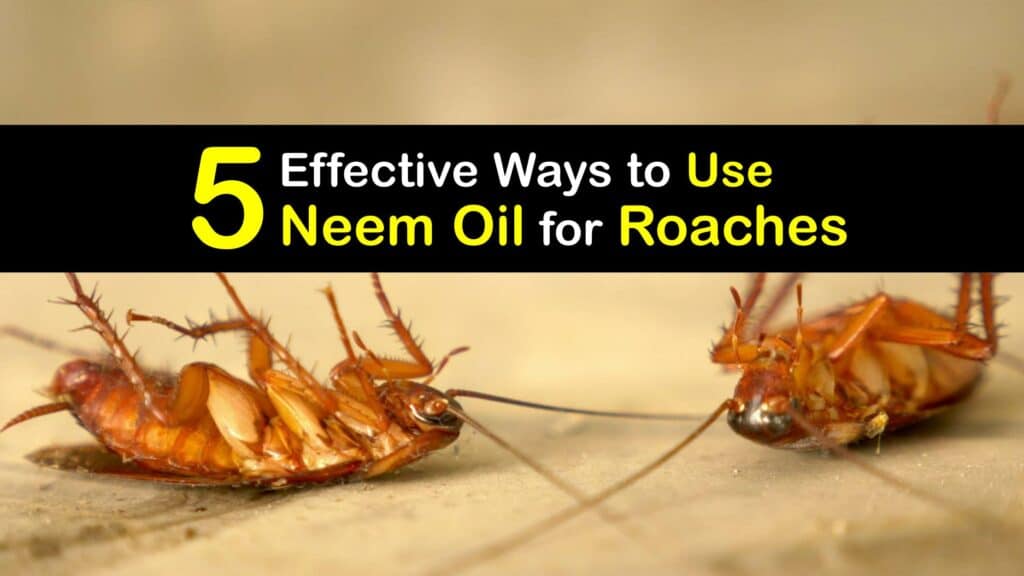 Getting Rid of Cockroaches with Neem Oil
A cockroach infestation is something every homeowner fears since these nasty bugs are one of the most challenging to kill. Fortunately, there are several ways to use Neem oil to eliminate and repel roaches and create a homemade roach killer that's safe for pets. Neem oil is often favored as a pest control product as it's natural and non-toxic.
What is Neem Oil?
Does Neem oil kill roaches? No one wants bugs in the house, and Neem oil is a natural home remedy that kills all types of insects, including the dreaded cockroach. It's only one of the amazing uses of Neem oil for indoors and out. Discover what this oil is and how it works to deter roaches.
Neem Oil
According to the National Pesticide Information Center, Neem oil comes from the extract of Neem tree seeds. This tree is a native of the Indian subcontinent, and the Neem leaf extract is popular for treating lice. However, the seed oil has a garlic/sulfur scent and bitter taste that insects hate.
It is a popular botanical insecticide, and using Neem oil to kill roaches is safe, natural, and effective. In addition, it contains the active ingredient, Azadirachtin, which is lethal to young cockroaches and prevents the adult cockroach from reproducing.
Mix some water, dish soap, and Neem oil. Use Neem oil as a soil drench for fungus gnats in your houseplants or if you have another bug problem in your greenery. It also kills bed bugs, spiders, silverfish, and more. Make a Neem oil based mosquito repellent recipe to keep handy on the deck so you can enjoy the outdoors in peace.
How to Use Neem Oil for Roaches Indoors
Take immediate action once cockroaches get inside your house. Here are some ways to utilize Neem oil to repel roaches in the home and keep your space safe from an infestation.
To make a cockroach spray to deal with a kitchen infested with roaches or if you find them elsewhere, fill a bottle with water and add a small amount of Neem oil. Close the container, shake it and spray anywhere you suspect roaches hang out or spray the bugs directly when you see them.
To use the powder form, sprinkle Neem powder over the infested area at night and repeat each evening until all the roaches are gone. The bay leaf is helpful for keeping pests away, and crushing bay leaves in places where you notice roach activity often works to repel cockroaches.
Outdoor Roach Control with Neem Oil
Roach control with Neem oil works well indoors and outside, and the best way to keep your home safe is to eliminate cockroaches before they make their way inside. Use the oil to create a natural roach deterrent to keep these pests out of the yard.
Combine equal amounts of Neem oil and water in a garden sprayer and spray the solution around the perimeter of your home. Pay special attention to crevices and dark areas where roaches spend most of their day.
Another way to eliminate outdoor cockroaches is to spread Neem powder. When you don't anticipate rain, sprinkle the powder over the ground around your home's foundation and garden to kill young cockroaches and prevent adults from breeding. The application is also helpful in eliminating powdery mildew on a garden plant.
Essential Oil and Neem Oil to Kill Roaches
While Neem oil is sufficient alone, combining it with other natural insecticides creates a powerful insect spray. Use essential oils and Neem oil to kill roaches in and around the house.
Fill a glass bottle with water, add a small amount of Neem oil and coconut oil, and add several drops of tea tree, clove, eucalyptus, or peppermint essential oil. Roaches hate the scent of these oils, and clove oil, or eugenol, works well to keep pests out of the area.
Spray directly on the bugs when you see them and in areas where they spend most of their time, like beneath appliances and under sinks. This DIY way to get rid of roaches overnight is easy and takes little time to prepare and use.
Ways to Prevent Cockroaches in the Home
While there are several effective ways to kill cockroaches, pest control is not high on our list of things to do. Roach prevention is the best way to ensure this insect stays out of living areas.
The easiest thing to keep cockroaches out of the yard and your home is to grow roach-repellent plants. Roaches hate the smell of peppermint, rosemary, bay leaf, lemongrass, catnip, chrysanthemums, and garlic plants, and avoid areas where you plant them.
Another way to prevent roaches is to keep a tidy yard and house. Clean up leaf litter, mulch, and wood piles around your home, remove standing water, and keep the lid on your outside garbage can.
Wash your dishes regularly, take out the trash every night, and wipe down kitchen counters to remove food crumbs and spills. Periodically perform roach control with Neem oil applications, cockroach bait, or insecticidal soap to stop these pests from breeding.
If you spot one roach in the house, there is a good chance there are others, so it's essential to take action immediately to prevent an infestation. Luckily, Neem oil is an excellent roach killer and natural cockroach repellent that keeps your home bug-free.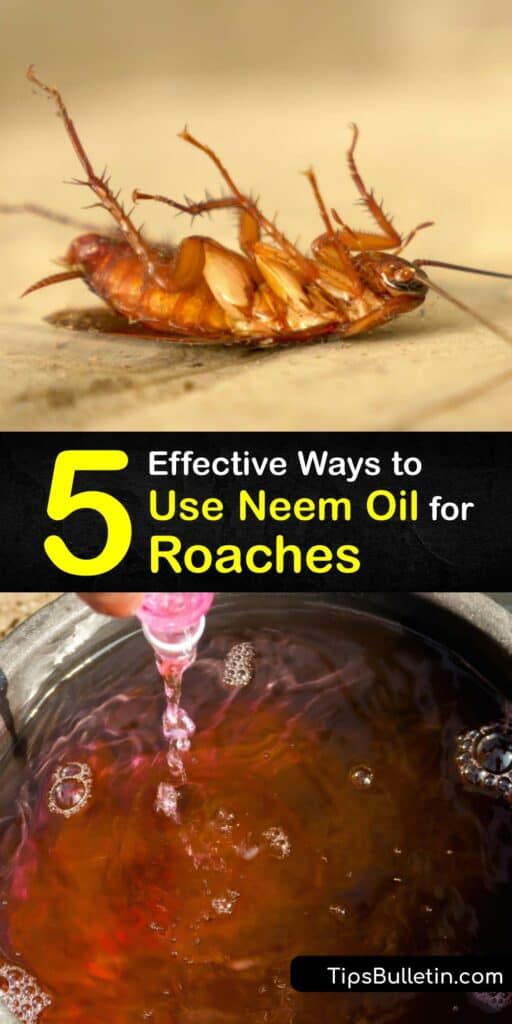 Now that you understand how to use Neem oil for roaches, why not share our cockroach Neem oil home remedies with your family and friends on Pinterest and Facebook?