All houseplants struggle against invasive insects, especially in the warmer months when pests make their way in through open doors and windows. We all want something natural, biodegradable, and non-toxic to use in the house, and neem oil might be the answer. Discover how to use neem oil on houseplants safely and effectively with this informative how-to guide.
The unique neem tree (Azadirachta indica) hails from tropical forests, especially those in India, Sri Lanka, and Burma. Neem oil, a product of the neem tree, is world-renowned for its many applications ranging from practical medicinal uses to cosmetics, shampoo, and toothpaste.
Neem oil is probably most famous for its efficacy as a botanical insecticide. Just as some plants have antifungal properties, others have insecticidal bonuses. Neem oil works well in the garden because it doesn't build up in the ecosystem like some synthetic pesticides. Using neem oil on houseplants is safe – let's get started with the most informative tips.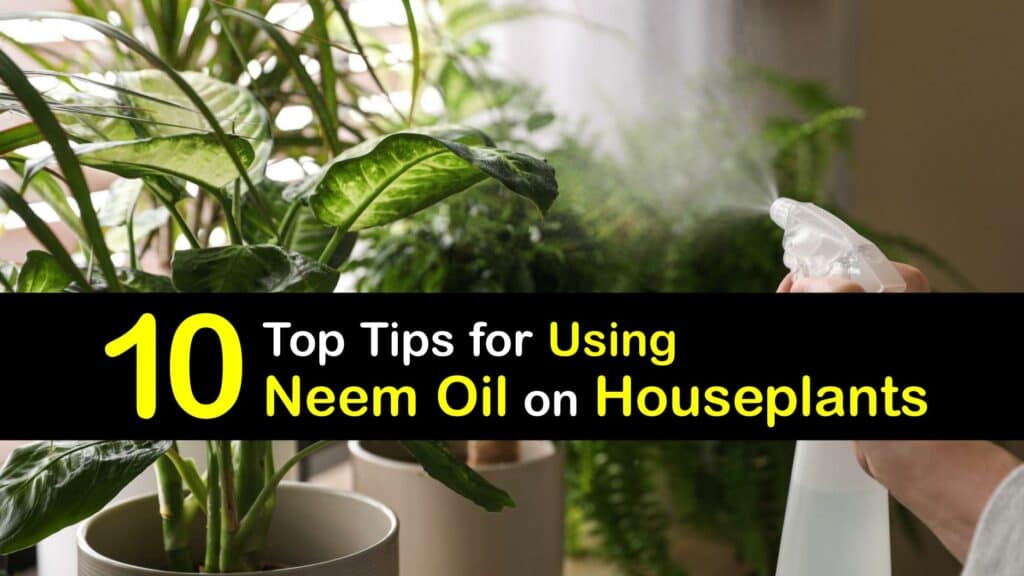 How to Use Neem Oil Mix for Houseplants
You're in the right place if you love organic gardening and integrated pest management strategies. Pest control doesn't have to be full of chemicals or complicated.
Neem oil gives you the freedom to try non-toxic, biodegradable pesticide alternatives. Learn helpful hints about neem oil mix for houseplants, best use guidelines, and a few creative tips along the way.
How Does Neem Oil Work?
Neem oil seems almost too good to be true, but the one shortcoming of neem oil is that it takes a bit of time to work its way into the lifecycle of the pests that are plaguing your plants.
Neem oil coats the plant tissue that the houseplant pests eat, and it then interferes with the hormones for reproduction and growth; this cycle takes a few days. The primary ingredient acting as insecticide and repellent is azadirachtin, naturally found in neem seed oil.
This ingredient is effective against all stages of insect development; egg, larvae, and adult. Neem oil solution also acts as an antifeedant, making the insects feel less hungry until they stop eating altogether. Using neem oil mix for houseplants disrupts and destroys the life cycles of aggressive houseplant pests for good.
What Kind of Insects Does Neem Oil Work Against?
While not considered a broad-spectrum pesticide, neem oil is effective against 200 species of pests that commonly plague our gardens and harvests. Common offenders include aphids, fungus gnats, spider mites, mealy bugs, and many more.
Neem oil works best when ingested, which is why it works so well against bugs that eat your leafy greens and lush houseplants. Stick around for some essential tips about how to use neem oil on houseplants for safety and success.
Tips About Neem Oil Varieties
Humans have been using neem oil for hundreds of years, and we've found different ways to mix, clarify, emulsify, and otherwise include it in an array of innovative products. Many neem oil commodities are on the market, and it can be hard to know what you're getting.
Pure organic neem oil comes from neem seeds. The seeds are split and cold-pressed, like other vegetable oils, and then available for use as an effective organic insecticide.
The remains are often pressed again and mixed with other solvents to create further extraction, and the quality tends to be much lower. Always look for 100% cold-pressed pure neem oil; it's the best neem oil available.
When to Spray Neem Oil on Houseplants
As soon as you notice aphids or mites, it's time to begin a pest control routine. Use a premade neem oil mix for houseplants like Bonide neem oil if you prefer not to mix your own neem oil solution. Any pest infestation lets you know when to spray neem oil on houseplants.
Always follow the manufacturer's directions. As a general rule, apply your neem oil treatment in the morning and evening for a week, and then reassess your pest problem. Houseplants may be sensitive to neem oil, and it's always best to do a test patch before dousing the entire plant.
Make or purchase a neem oil spray to treat aphids on roses and other outdoor plants, as well. Do not spray the flowers but focus on the stems and leaves.
How to Use Neem Oil on Houseplants and Indoor Herbs
Houseplants and herbs that like deep watering are vulnerable pests that thrive in moist soil like fungus gnats. It changes the game as soon as you know how to use neem oil on houseplants and herbs. There are many pre-mixed insecticidal soap options on the market, but it's easy to mix neem oil into a helpful foliar spray as part of a natural aphid treatment on roses or for any of your houseplants.
You might recall that lesson from science class about how oil and water don't mix; that's where the dish soap comes in. A mild liquid soap helps the ingredients emulsify into a diluted neem oil foliar spray.
After mixing, spray your infested plant leaves lightly in the evening, and see how they manage overnight. Some herbs, particularly the ones with fuzzy leaves, are prone to sensitivity. Be vigilant and use your best judgment to decide when to spray neem oil on houseplants.
Use Neem Oil for Overwinter Pests
Some annoying pests like aphids, mites, and scale insects sleep in your potting soil over the winter, and neem oil is a great way to treat those sneaky bugs. Use neem oil during the dormant season to disrupt the lifecycle of anything waiting for warmer weather.
Use an overwinter neem oil mix for houseplants applied as a foliar spray. Treat your house plants bi-weekly or monthly to keep prevention high in your vulnerable plants.
Tips for Using Neem Cake
Did you know that neem oil comes in cake form? Not for eating, of course, but as organic fertilizer with insecticidal properties. Neem cake organic manure is an interesting byproduct of the neem oil cold-press process.
Neem oil cakes are considered an organic fertilizer in their home country of India and show promising science regarding organic pest control, nitrogen inhibition, and reduction in soil alkalinity.
Neem cake boosts the immunity of vulnerable plants and protects the root system from nematodes, termites, and soil grubs. Chemical and synthetic pesticides often build up in the ecosystem and leave a level of toxicity behind. Neem oil cake is a completely biodegradable pesticide and organic fertilizer in one; it's pretty inexpensive, too.
Neem Oil Spray for Fungal Diseases
Neem oil insecticide does so many beneficial things for indoor plants, including being an effective fungicide. Powdery mildew doesn't stand a chance against a neem oil fungicide spray, and we've got a super-easy recipe to help you fight that fungus.
Mix the neem oil, Castile soap, and warm water in a clean spray bottle or garden sprayer and multiply the recipe for larger areas. Use this spray on most common garden fungal infections such as black spot and leaf spot. Spray neem oil for powdery mildew, too. Experts recommend a weekly application until the fungus subsides.
You can also use this mixture to make a small neem oil drench for fungus gnats that may be on your plants. Pour some around the base of your plants so they take it up through the roots. When the bugs eat the plant, they die off.
Neem Oil and Beneficial Insects
Many houseplant parents pop their containers outside for a bit of extra sun in the summer. If your houseplants spend any time outdoors during warm weather, you'll want tips for safe use around beneficial insects. Neem oil targets bugs that feed on leaves, so it is important to coat the whole plant.
However, neem oil doesn't discriminate between beneficial insects and pests. Neem oil is deemed incredibly safe for humans and other mammals but may still affect beneficial bugs if you spray them directly or near the flowers they feed on.
Always use neem oil in the evening when helpful insects are less active. Since neem oil is also slightly toxic to fish and amphibians, be careful around water and aquatic ecosystems when applying neem oil to indoor and outdoor plants.
Potential Things to Watch for with Neem Oil
While neem oil is easy to use, it's essential to check the label and ensure you've got 100% cold pressed neem oil. Some mixtures don't disclose other unwanted chemicals that may be mixed with the neem.
There are best practices for neem oil use and common concerns, so learn how to use neem oil on houseplants safely and effectively.
Neem oil is also prone to evaporate very quickly in the sun's heat, and it's recommended to stick with morning and evening applications. Additionally, neem oil makes some plants photosensitive, which means the sun burns their leaves and tissue.
Always store your neem oil in a dry, dark place, away from children. Remember to shake the bottle for ten seconds before use to ensure an even mixture for your houseplant application.
Now that you have found out how to use neem oil on houseplants, you can make a formidable pest-control plan. This age-old repellent and botanical insecticide is non-toxic, biodegradable, and doesn't linger in the environment after use.
Use diluted neem oil to spot-treat pest-prone plants or as part of an overwinter prevention plan; conscientious pest management is at your fingertips.
We hope you liked discovering the many applications of neem oil and feel inspired to make the important switch from synthetic fertilizers to something more natural and eco-friendly. While neem oil isn't a pest cure-all and shouldn't be used as a blanket form of pest control, its helpfulness is undeniable.
If you enjoyed learning how to use neem oil on houseplants, share this article with a friend on Pinterest or Facebook who loves gardening tips and integrated pest management.