Have you ever wondered, "How can you wash bed pillows without the help of a pro?" Learning how to wash bed pillows properly isn't taught in schools, yet it's vital. Regular cleaning prevents bug infestations, dirt build-up, and even issues like allergies and acne. It's crucial for your health and safety.
Washing bed pillows should be part of regular maintenance. Sweat, dust, oil, and skin builds up in your bedding. Over time, this can cause yellowing or uncomfortable, lumpy pillows. Without regular cleaning, the problem only gets worse until you attract dust mites, bed bugs, and other issues.
If you don't clean your bed pillows for two years, according to a study, a third of your pillow's weight becomes full of dead skin, bacteria, dust mites, bugs, and their excrement. Dirty pillows full of these things then lead to allergies, acne, and may even make you sick.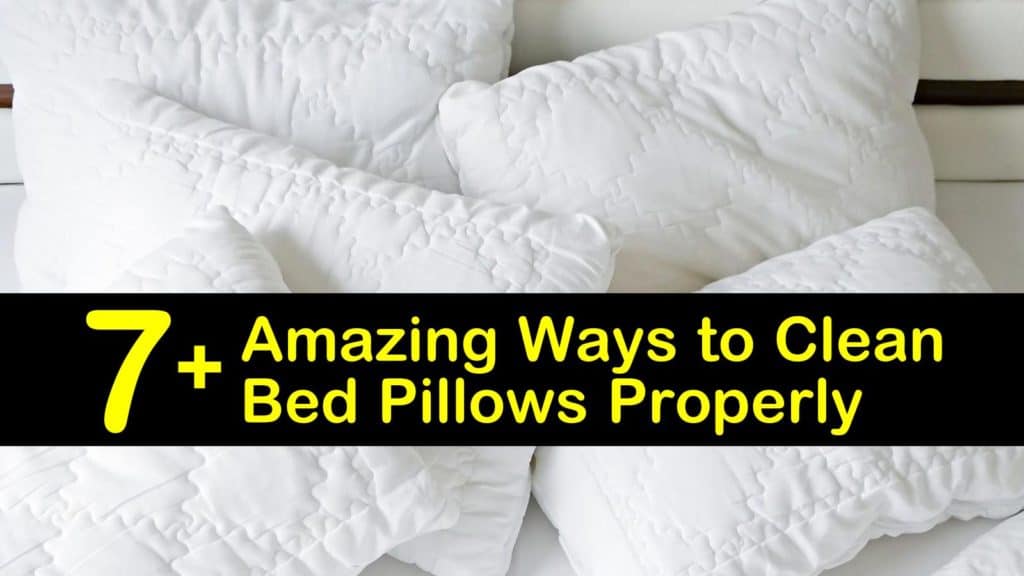 How to Wash Bed Pillows the Right Way
Many people find that learning how to clean bed pillows is surprisingly quick and easy. You don't need to make a trip to the dry cleaner or spend tons of money. With a few easy-to-follow instructions and a bit of knowledge on pillow types, you can learn how to wash polyester pillows at home like a pro.
No matter what type of pillows or cleaning tools you have available, learning how to wash bed pillows at home is a breeze. Read on to find the right technique to clean your pillows at home. Keep in mind that pillow type may determine how to clean bed pillows properly.
How to Wash Pillows in the Machine
Washing bed pillows made from cotton, down, or synthetic materials in the machine is the easiest way to clean bedding and is what kills dust mites quickly. These pillow types are all machine washable.
Start by removing the pillowcase or sham and wash them in the machine separately. If you have throw pillows on your bed that do not have removable covers, you can still wash them in the washing machine, but on a gentle cycle. Discover more ways to wash throw pillows without a removable cover to keep all pillows and cushions clean.
Pillow covers help keep your cushion clean, but also require regular cleaning. You can use either a top or front loader on the slowest spin cycle possible. The same as when you machine wash a down comforter, a front loading machine is more heavy-duty.
Top loaders have an agitator that can get in the way. If you have a top loading washing machine, position two pillows in the machine simultaneously to balance the load.
Many people prefer to use a front loading washer at a laundromat because the agitator on a top loader may cause the pillows to float or remain dry in places. Add a cup of laundry detergent and run the machine on a hot or warm wash cycle with a thorough second cold rinse cycle.
Hot water is one of the best natural ways to kill bed bugs and dust mites. The bulky or large wash cycle is ideal as well, but you may prefer to use the gentle cycle depending on the material.
How to Clean Bed Pillows with Bleach for Extra Whiteness
Bleach packs an added punch if you want super white bed pillows. For added whiteness, you can substitute mild detergent for a mixture of powdered dishwasher detergent, Borax, and bleach instead of laundry detergent. You can even use this extra white recipe to spot clean.
Combine the detergent and Borax in a bowl first, then add the bleach. Pour the mixture into your machine, and run the cycle as usual. You can use this recipe for laundry as well. However, never bleach feather pillows. Bleach strips natural oils from the feathers.
Washing Bed Pillows Free of Yellow Spots with Vinegar
You can remove yellow spots or return old pillows to a like-new color without using toxic bleach. Vinegar is a natural cleaner that eliminates deep-set stains. There are many vinegar recipes you can use to either spot clean to wash the entire pillow.
For dark yellow spots and to whiten stains on pillows so they are actually white again, mix dishwasher detergent, vinegar, washing soda, and laundry detergent.
Rub the spots with the solution by hand, scrubbing well to ensure that the solution penetrates the fabric. Finally, adding a squeeze of lemon juice helps mask the smell if you hate the strong scent of vinegar.
You can also wash your pillows like usual in your washing machine using this whitening recipe, use the method for getting sweat stains out, or allow them to soak in this mixture to combat yellowing.
How to Wash Bed Pillows by Hand
Handwashing is ideal for some pillows. Memory foam and latex, for example, are too sensitive for the machine. Take particular care with delicate fibers.
To clean memory foam pillows, fill a tub or kitchen sink with warm water. Submerge a single pillow under the water and add a tablespoon of liquid laundry detergent.
Swirl the water and soap with your hands to mix and create bubbles. Move the pillow around in the water. Squeeze the pillow and massage it to remove dirt.
Rinse the pillow with freshwater, trying to remove all the suds. When the water runs clear, lay it out to dry on a clean towel. Allowing the pillow to dry in the sun may also help the drying process.
Hand washing and spot stain removal are often best for cleaning patio cushions, too. Usually, they only need a little bit of attention anyway. However, if they have removable covers, these can often be added to the washing machine. Check the care label to be sure.
Unless you are willing to take it to the laundromat to use a commercial washer, hand-washing is best for how to clean a body pillow. Home washing machines are usually too small to accommodate the pillow's large size.
How to Clean Bed Pillows with a Mild Powder Detergent
Although down pillows are machine washable, liquid laundry detergent may not rinse out completely.
Unless you want a sticky residue and clumping, washing feather pillows and those made from down with a mild powder detergent or a product made for laundering delicate fibers is best for these materials.
Switch out the liquid detergent you usually use for the same amount of powder detergent. Hand wash the pillows with cold water. Make sure to massage the material thoroughly and fully submerge the cushion to remove clumps. Rinse to get out all the soap.
How to Dry Bed Pillows in the Dryer
When the pillows are clean, move them to the dryer. Ignore the auto-dry setting. When it comes to pillows, the sensors only detect moisture on the surface. The heat setting and time, however, may depend on your pillow type.
Use moderate or low heat for around an hour or so until the cushions are thoroughly dry. Synthetic pillows prefer low heat, while you should run down and feather pillows on "no heat" or "fluff" modes.
Check the pillows for dampness periodically. You can smell the center to double-check for moisture. Repeat the process as needed. It may take two to three cycles until no moisture remains.
Tricks to Dry Pillows Faster than Ever
There are ways to speed up the drying time, such as using tennis balls, towels, or dryer balls. Use this technique if you dry pillows in the machine but need to cut the process in half. Otherwise, you may not have a pillow to sleep on tonight.
Tennis balls fluff up even the best pillow and help decrease the amount of dry time required. Place two clean tennis balls into separate socks or throw them into the dryer along with your pillows. Dry as usual. You can also try adding a few dry towels or dryer balls to the dryer to speed things up.
How to Air Dry Sensitive Pillows
After handwashing, you may want to air dry your pillows. Sensitive materials, like memory foam pillows, are best left out to dry. Practice caution with these bed pillows.
Remove the excess water by squeezing the pillow firmly. Then, lay the pillow to dry on a clean towel, place it in a sunny location, or hang it on a clothesline.
Most Asked Questions on Washing Bed Pillows
When learning how to wash bed pillows, you may run into questions. Use the following section on washing bed pillows. No matter what kind of pillow, always follow the instructions on the care label.
Does Pillow Type Determine Cleaning Instructions?
Yes. Cotton, down, and synthetic materials are all machine washable. Memory foam and feather pillows follow different cleaning requirements than other types of bed pillows. How you clean pillows may depend on the type.
Memory foam pillows: Memory foam crumbles in high heat. Always handwash and air dry memory foam. Never steam or machine wash and dry. Spot clean as needed to extend to the pillow's life.
Down pillows: Machine wash on the delicate cycle or handwash. Use mild powder detergent or a product designated to clean down. Dry on fluff mode with tennis balls to reduce clumping.
Feather pillows: Hand wash with a mild powder detergent. Dry on the air mode, preferably with tennis balls for added fluffing. Never bleach.
Synthetic pillows: Polyester and synthetic materials are ideal for machine washing with warm water on gentle. Dry with low heat.
Why Do Bed Pillows Show Yellow Spots?
Yellowing happens from the sweat your face or head produces as you sleep, which travels through your pillowcase to lodge directly into the pillow. Moisture from sleeping with wet hair, skincare products, and some makeup brands may also cause the pillow to turn yellow.
How Often Should You Wash Bed Pillows?
Unless your pillows are dry clean only, clean them at least twice per year. Some people prefer to wash pillowcases, pillows, and bed sheets each week for added freshness.
Why Do You Need to Wash Bed Pillows?
Each night, you leave behind dead skin, hair, sweat, and dirt that adds up and attracts dust mites. Regular cleaning stops the build-up from turning your pillows yellow, keeps dust mites at bay, and helps your family stay healthy.
Are there Side Effects from Washing Bed Pillows at Home?
The main issue on how to wash bed pillows lies in the drying process. Washing bed pillows (and drying) is time-consuming. But if the cushions aren't completely dry, you may face mold and mildew problems.
According to the Center for Disease Control and Prevention (CDC) (..), there are side effects to mold accumulation in pillows.
We Recommend Washing Bed Pillows Regularly
Washing bed pillows help them live their best life. Even if you only perform regular maintenance (around every few weeks at least), you'll save some cash and tons of time scrubbing at yellow spots later.
Imagine all the dead skin, sweat, dust mites, bugs, and other gross things you'll keep away from your face.your hard-earned money. Plus, you won't have to buy new pillows as often when your bedding eventually grows tired.
Use these DIY tips to help you breathe life back into an old option. Save pillows clean? How often do you take on washing bed pillows? We'd love to hear your thoughts.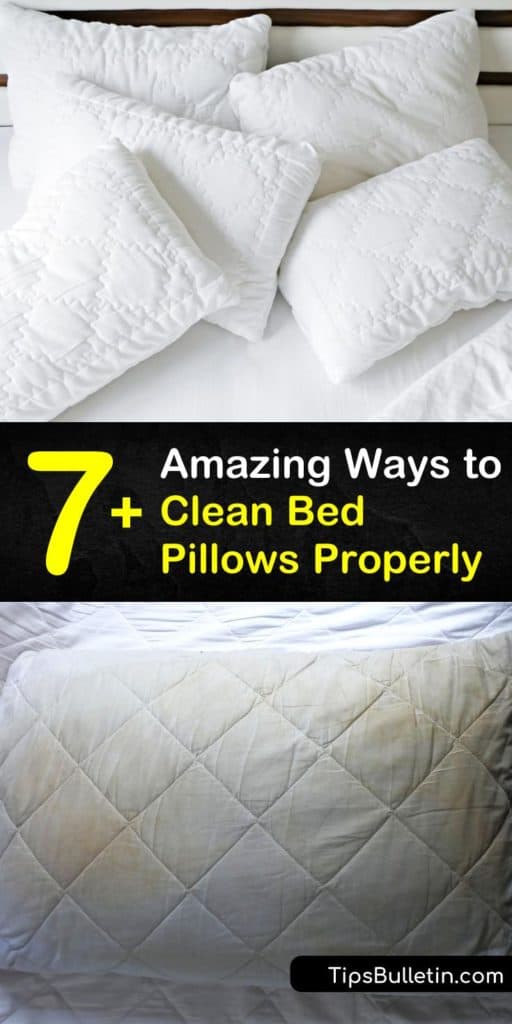 If our article on how to wash bed pillows helped you, please share these pillow cleaning techniques with everyone you know on Pinterest and Facebook.