As a durable, easy-to-clean material, vinyl siding brings many advantages in terms of cleaning. While significantly easier to maintain than brick and wood exteriors, vinyl still requires its fair share of care and consideration. Understanding how to wash vinyl siding properly is critical to keeping it free of grime and looking great even longer.
Beyond the need to keep your siding clean as part of your regular home improvement routine, a more in-depth washing may also be necessary. One of the most crucial processes to keep in mind is how to clean mold off vinyl siding.
With rain and exposure to other elements, the thin slats of the siding often accumulate mildew and bacteria over time without a thorough scrubbing. In this article, we compiled a list of the best recipes and tips for how to clean wood siding or vinyl siding on a house, no matter what phase of the cleaning process you're in.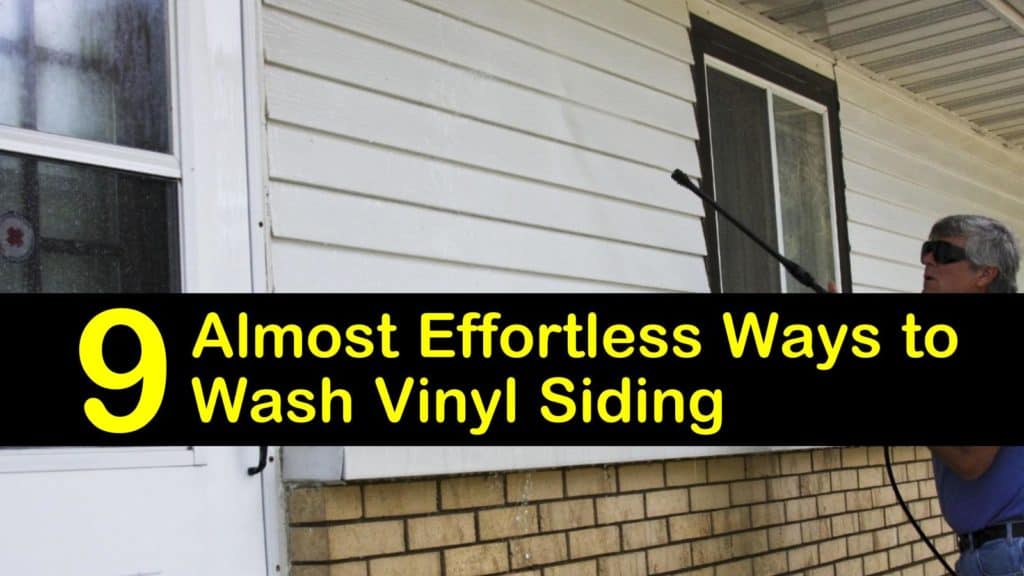 How to Clean Vinyl Siding on a House
Some of the best cleaning products to use are already in your home. Whether they require a quick mixture with other supplies or are ready to go all on their own, these recipes guide you through simple steps with simple solutions.
Use a Pressure Washer to Clean Siding
One of the first steps to take when cleaning your siding is to use a power washer. This technique uses force to remove grime and dirt particles from between cracks and crevices with ease. Many times, detergent isn't even necessary when using this tactic.
Pressure washing works fine as a conventional cleaning method, though it's essential to check with the manufacturer's suggestions for your particular type of siding. Some vinyl siding damages easily when exposed to power washing, so it's always important to double-check its durability when using.
How to Wash Vinyl Siding
As a low maintenance building material, vinyl is just as easy to wash with a garden hose and a powerful vinyl siding cleaning solution as it is with a pressure washer. One of the best cleaning agents to try is vinegar. Not only does it fight mold and mildew growth, but it works wonders at leaving siding squeaky clean.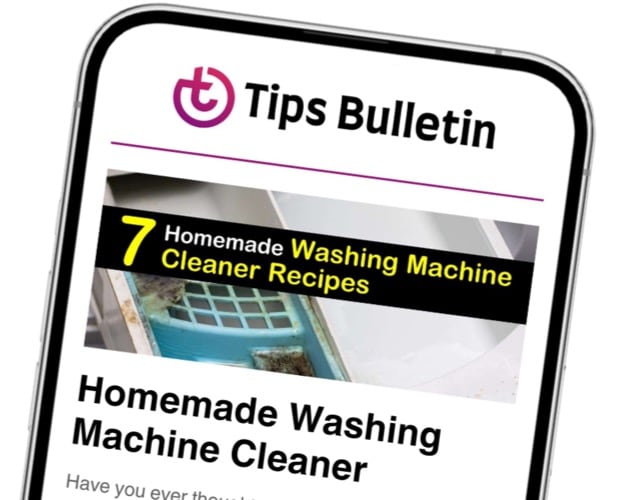 Finally, an email that Transforms Your Home.
Get the latest home and garden tips from our experts, delivered straight to your inbox.
Mix the two ingredients with the quantities necessary to clean your siding or even for cleaning concrete with vinegar. Use a scrub brush to work out any particularly dirty areas of the wall or flooring.
After scrubbing, finish by rinsing the cleaner with warm water and letting it air dry in the sun. Vinegar also limits the levels of streaking left behind on the vinyl after a thorough wash. It's a great all-over cleaner and deodorizer that is both inexpensive and highly effective.
You can also use this recipe to clean aluminum siding or an aluminum roof. Using a pressure washer makes the process even easier.
Clean Vinyl Siding with Baking Soda
Another standard household cleaner used for washing vinyl siding is baking soda. Add this scrub directly to the mildewy areas and wear protective covering like rubber gloves when cleaning.
Whip the two ingredients together until they form a creamy paste. Let the paste soak for approximately 15 minutes, then scrub gently with a soft cloth or bristle brush. Wash the mixture away with the garden hose, holding it at eye level and rinsing the area from top to bottom.
Try Non-Toxic Alternatives Near Plants
If some of your most priceless flowers and landscaping plants reside along the exterior, the last thing you want to do is treat the area with chemicals that might harm them. Vinegar, baking soda, and bleach are all typical cleaning products to turn to when maintaining vinyl siding.
However, they react negatively with ornamental plants, as well as most vegetation, killing them or causing wilting. One way to avoid this is by laying a tarp over the plants you wish to protect during the wash.
Other options call to clean vinyl siding with natural cleaners like Simple Green. This cleanser is an environmentally friendly solution safe to use around plants. Either add it to your pressure washer sprayer or apply it by hand.
How to Clean Mold Off Vinyl Siding
In extreme mold and mildew cases, a bleach solution may be necessary to eradicate the issue. In this instance, wear protective gear when cleaning, such as goggles, gloves, and long sleeves, to prevent any irritation caused by the chemicals. The formula below is either added to a pressure washer or works just as well when applied manually.
Carefully blend the ingredients in a large bucket. Whenever using bleach on vinyl siding, make sure to always dilute it in water first. Pure bleach damages the vinyl causing it to wear down over time.
Work in small sections, approximately three to five square feet in size. Using a soft bristle brush, work the cleanser into the siding to remove all remnants of mold and grimy residue. Rinse thoroughly with warm water once finished.
Remove Mildew from Vinyl Siding
A slight variation on this tactic is to use a regular household cleaner instead of TSP. While trisodium phosphate is an effective way to rid your home of mold and mildew, diluted bleach works well on its own. Alternatively, adding a household cleaner like Spic n Span to the recipe involves more accessible ingredients and just as much care.
One more substitution available to adapt this recipe to your needs is to replace chlorine bleach with oxygen bleach. Oxygen bleach is a much less caustic form of bleach that also rids siding of mold and mildew.
It does not damage plants when spraying either and is safe to add around landscaping. When substituting the two ingredients, replace the one quart of chlorine bleach with one cup of oxygen bleach.
This mixture can also be used as a homemade washer detergent for concrete and walls on your property. Take care of unsightly discolorations and mold on your driveway, retaining wall, or patio.
How to Clean Vinyl Siding Stains
Other things to look out for when taking care of your siding are any tough stains caused by dirt, mud, and plants. Most of the time, implementing everyday household cleaners like Lysol and Windex are the perfect solution for spot treatments.
All that's required is a quick spray over the stain, let it soak for five minutes, then wipe down the area with a clean cloth. Since using certain cleaners on vinyl is perfectly acceptable, it may also feel appropriate to clean your exterior walls with other conventional household products.
Using things like furniture polish or nail polish remover, however, should be avoided at all costs. These quickly damage the vinyl siding and are not okay for use during cleaning.
Prevent Mildew with Essential Oils
Sometimes the cleaning process calls for being proactive in your quest to stop mold and mildew in the first place.
One way to clean vinyl siding, while also preventing mildew from growing in the future, is by using an essential oil disinfecting combination.
Start by filling a medium-sized spray bottle with vinegar. Leave half of the bottle still empty to allow for other ingredients to be added. The vinegar acts as a disinfectant, while the other items add degreasing qualities and a pleasant scent to the mix.
Mix in the dish soap and essential oil, then fill the remaining space with warm water. Scrub the area using a damp cloth, then rinse clean when finished.
Clean Siding with Borax
One final option for cleaning siding is to use another household product like Borax. This antiseptic employs the help of boric acid when washing, though utilizing the acid alone is not recommended. Instead, use the household blend of Borax to clean siding and get rid of mold and mildew.
After washing and scrubbing with the Borax solution, rinse the remaining residue with water. If the mildew persists in the area, leave the Borax on the spot without rinsing it off. Be careful to keep the agent away from children and animals, however, as it is toxic when ingested and causes irritation on skin contact.
We hope these vinyl siding cleaning tips were everything you could have asked for and more. Whether you need a quick detergent for a routine powerwash or something to blast away severe mold and mildew spots, these recipes provide enough assistance for all cleaning stages.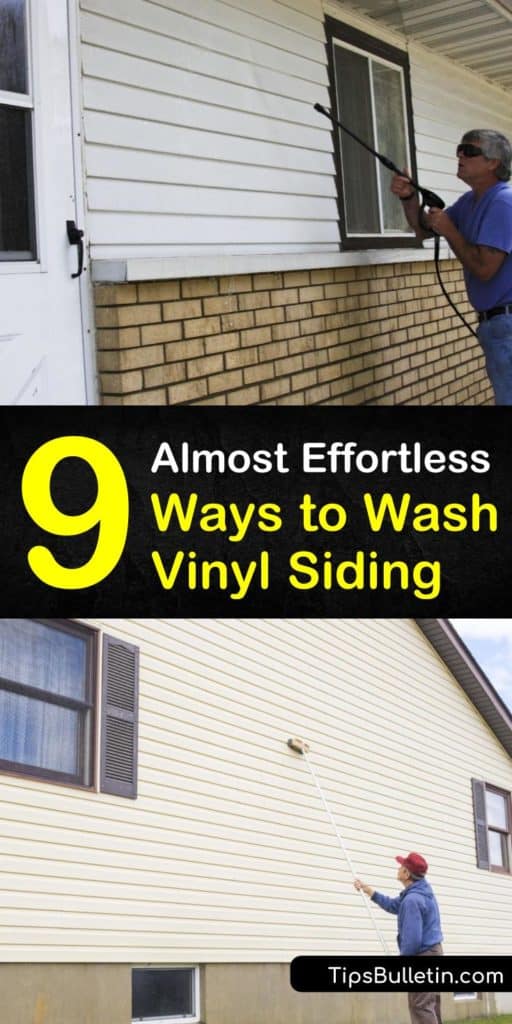 If you found these procedures for cleaning vinyl siding on your house useful, then please remember to share how to wash vinyl siding with everyone you know on Facebook and Pinterest.