If you're not familiar with what a mulberry is, hearing the name of the fruit should at least trigger a memory of a song that involves going "around the mulberry bush." With that memory in mind, there should be no debate as to whether the fruit grows on a mulberry bush or tree.
However, the childhood song is incorrect as mulberries (the fruit) grow exclusively on trees, and mulberry bushes do not exist. The children's song originally referenced a bramble bush, but an updated version about mulberries caught on, likely due to the ease that children sing it.
Some of the confusion is likely due to the mystery that surrounds mulberries. The difference between a mulberry and a blackberry is pretty subtle. These small fruits resemble blackberries, which do grow on bushes. If mulberries don't grow on bushes and come from fruit-bearing trees like many of our other favorite fruits, what exactly are mulberry trees? Continue reading for more information on mulberry fruits and find out the difference between a tree and a bush.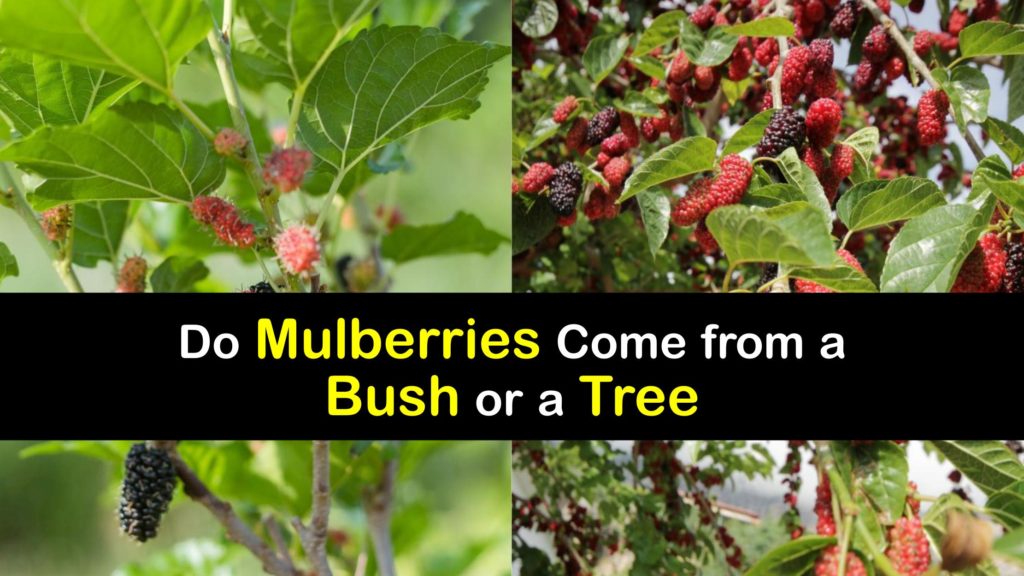 What are Mulberries?
Mulberry fruits look like blackberries in texture, shape, and color. The significant difference is that mulberries grow in three different colors. The colors don't determine the species of berries, as each color can grow on the same tree. Instead, these colors connect to species names for the trees that produced them.
Where do Mulberries Come from?
In North America, native red mulberry trees (Morus rubra) were an essential tree for Native Americans, who used the fruit to make rudimentary cakes and bread. They dried the berries to make a fruit bar for energy and nutrients.
Morus nigra, or black mulberry trees, are a naturally occurring variety worldwide in places like Asia. Because other trees grow black mulberry fruits, it is easy to mistake them for black mulberries. Fruits from M Nigra are distinguished from other species by the hairy surface of the tree leaves.
White mulberry trees (Morus alba) are native to India and Central China. Aside from their edible fruits, the mulberry leaf from M Alba trees feeds silkworms used in commercial silk production.
Although mulberry fruits resemble blackberries, there are apparent differences between the two ripe fruits. Unlike the branches on blackberry bushes, the deciduous tree branches for mulberries are thornless.
Types of Mulberry Trees
In the United States, mulberry trees thrive in the USDA Hardiness zones four through eight. Although you can grow a mulberry tree in other zones, the trees thrive in specific regions.
If you live in zones six or above, the time to plant a mulberry tree in the warmer climate is in spring for growing M Nigra trees. Black mulberry trees are small trees that reach approximately 30 feet. Red mulberry trees are hardier than black mulberry trees, so they better handle the cooler temperatures of the north. These trees grow up to 70 feet.
White mulberry trees are generally the tallest of the three trees, reaching about 80 feet. This tree fell out of favor in its native China with the introduction of new hybrids. One of these hybrids is a purely ornamental variety that does not grow fruit. Another hybrid is a dwarf variety that grows up to 20 feet.
After introducing the more compact hybrid, the original M Alba tree became known as the Weeping Mulberry. The dwarf variety can even be trimmed and maintained at six feet. This reduced size may contribute to the mulberry bush vs tree discussion.
Mulberry Bush vs Tree
Like many trees that produce fruit, growing mulberries takes time, as most trees started from seed may take up to ten years to begin bearing fruit. Other trees with long wait times for fruit production include almond trees that can take up to 12 years to produce almonds. The rate of fruit production for persimmon trees varies, but it could take up to ten years to start seeing fruit.
These trees all produce fruit quickly compared to mulberry trees and begin producing fruit around the fourth year after planting with proper care and pruning. With nectarine trees, fruit grows two to four years after planting, but heavy fruit production starts in the fifth year.
To grow mulberry trees that produce quickly, the best solution is a cultivar created in the United Kingdom known as Charlotte Russe. The selling point of this hybrid is that it bears fruit on old and new wood and produces ripe mulberries roughly a year after planting.
For landscaping and aiding in the production of silk, a market that never took off, a mulberry species was created that did not produce any fruit. This species retains all the other significant characteristics of M Alba trees, like its combination of lobed leaves on young shoots while older portions of the tree develop unlobed leaves.
This tree also produces male flowers that are infamous for their pollen production, launching pollen at a greater than half the speed of sound and quickly covers its surroundings in a layer of pollen. This habit of pollen production is why mulberry trees are invasive in some parts of the world.
Because of this, fruitless mulberry trees are illegal to grow in certain parts of the United States, like Las Vegas. Reported issues with seasonal allergies in residents of Las Vegas resulted in the tree becoming illegal in 1991.
Because mulberries so closely resemble blackberries found on bushes, it seems only natural that mulberries would grow on bushes. Of course, you can eat mulberries raw too. Botanically speaking, the fruit trees that grow mulberries do not classify as bushes as raspberry or blackberry bushes do.
An article written for the Utah State University Forestry Extension defines a tree as a woody plant with one perennial stem, a crown of foliage, and a mature height of at least 13 feet. The main difference between this definition of a tree and a shrub is that shrubs are woody plants with several perennial stems that grow erect or close to the ground (..). Mulberries make great flowering trees and shrubs for privacy during the summer.
Growing a Mulberry Bush or Tree
Due to the time it takes for mulberry trees to start producing delicious fruits and the process of germinating seeds, it's easier to start mulberry trees from cuttings. If you want a challenge, purchase mulberry seeds or gather as many fallen fruits as possible from a wild tree to start from seeds.
Soak whole berries in water for 24 hours before draining the water and mashing the berries to reveal their seeds. Before you plant mulberry seeds, separate your seeds from the mash and clean them off with water before allowing them to dry. Rinse them again and place them on a damp paper towel.
Fold your paper towel over the seeds and slide the paper towel into a plastic bag that goes into the refrigerator. Keep your seeds in the bag for 60 to 90 days, checking the bag regularly to ensure the paper towel stays damp. Start this process in the middle of winter to have seeds ready for spring.
Once roots sprout from your seeds, they are ready for planting in the garden. Select a spot that receives full sun. Like other fruits, mulberries enjoy acidic soil. Test your soil before planting to ensure your soil is ready for seeds and determine what adjustments are needed. Use an organic fertilizer for your mulberry tree to enhance the soil if it is lacking in nutrients.
Plant with 15 feet of space between each sprout to allow each to grow without overlapping. Water the sprouts regularly to keep them moist, and add mulch around the base to help retain moisture in the soil. Mulberry trees thrive in zones five through ten and are somewhat drought-tolerant, but avoid letting the soil become too dry.
Note that mulberries are considered weak trees, dropping limbs in strong winds and storms.
Harvesting Mulberries
If you started from a seedling, you might have fruit to harvest in about three years if you look after the plant with regular care and pruning to promote new upward growth. If you're lucky enough to plant the Charlotte Russe variety, you may have fruit after your first year.
When ripe, red berries may look like a deep red or lavender, and black berries look dark purple. White mulberries ripen to off-white and may even be slightly green like green grapes.
We don't often take stock of the tree's value outside of the fruit it grows for us when it comes to fruit trees. Historically, white mulberry trees had their leaves cultivated to feed silkworms to aid in silk production. Beyond that, mulberry leaves have proven to have health benefits for humans.
Mulberry leaves and fruit are good sources of vitamin C and nutrients like zinc and calcium. These benefits make mulberry leaves useful in the medicinal and culinary fields as a supplement. In Asian countries, the leaves create healthy teas, and in traditional Chinese medicine, people consume leaves to aid with stress and obesity.
When harvesting, wear gloves as mulberries are challenging to remove from their stem, and you may end up staining your hands purple while bringing your yield indoors. If you stain your fingers, create a simple stain remover with a few select items from the kitchen.
Mix cornmeal and lemon juice in a bowl until it creates a paste. Cover your hands in the paste and allow it to sit for a few minutes before rinsing. Repeat the process if your hands are severely stained, or use a sponge or rag to help with getting the pigment off your skin.
How to Store and Use Mulberries
Once you collect your berries, leave them unwashed in the fridge for up to three days if you plan on using them that week. If you harvest more berries than you plan on using right away, freeze the leftovers.
To properly freeze your mulberry harvest, thoroughly rinse them and remove any deformed or smashed berries. Set them out on a flat surface to dry. Gently roll the berries between a paper towel if you want to dry them faster. Scoop them into a freezer bag with as little air as possible.
Your mulberries will hold for six months. If you harvest your first batch in spring, after freezing your berries, you'll have just enough time to use your frozen berries in a tasty treat before summer ends.
Remove the stems from your mulberries and thoroughly wash them. Place your washed fruit in a saucepan and warm them over medium heat. Use a spoon to mash the berries to create juice as they cook.
Bring the liquid to a boil and add sugar and the juice from half a lemon. Reduce the heat on the stove and continue stirring until the sugar completely dissolves. Bring the heat back until the mixture boils for two minutes.
Remove the jam from the stove and begin bottling it into glass jars to seal. Store your jam in a cool dark place, and you'll have sweet mulberry jam for two years.
Even the mulberry tree found practical use after creating a fruitless variety. Without fruit to harvest, the tree is often used in landscaping as an ornamental tree to provide shade.
Mulberries may not grow on bushes, but with the different types of mulberry trees available, including easy-to-manage dwarf varieties, what you call your mulberry plant is up to you. Whether you start the process from seeds or want to grow one mulberry tree in your yard quickly, we're sure you'll fall in love with these delicious little fruits.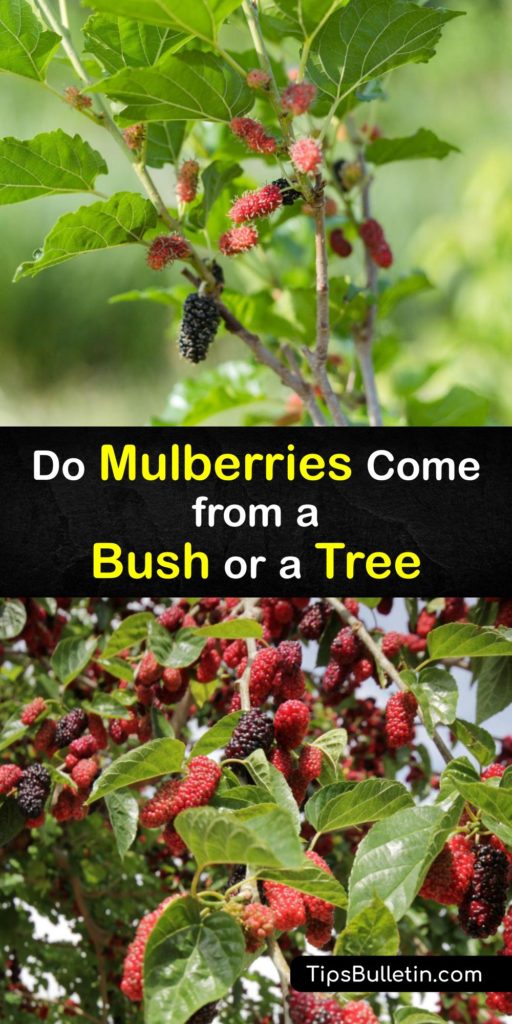 If you found our mulberry guide helpful, please share our article on the mulberry bush vs tree confusion with your friends on Facebook and Pinterest to answer the question, "Does mulberry fruit grow on a mulberry bush or tree?"