Are you tired of seeing ants in your dry goods, having trails creep across the floors in your house or on the sidewalks by the driveway? Are you always having to track down every grain of dropped sugar in hopes a visiting sugar ant does not find it?
Are you annoyed with those pesky carpenter ants chewing on your home's interior? Are you still battling those terrible fire ants every time you mow the lawn or tend the garden?
We can help. We have gathered some natural ant repellent tips and recipes to help you rid your home and property of these pesky insects for good. Try one technique or several, and you won't have to worry about ants again.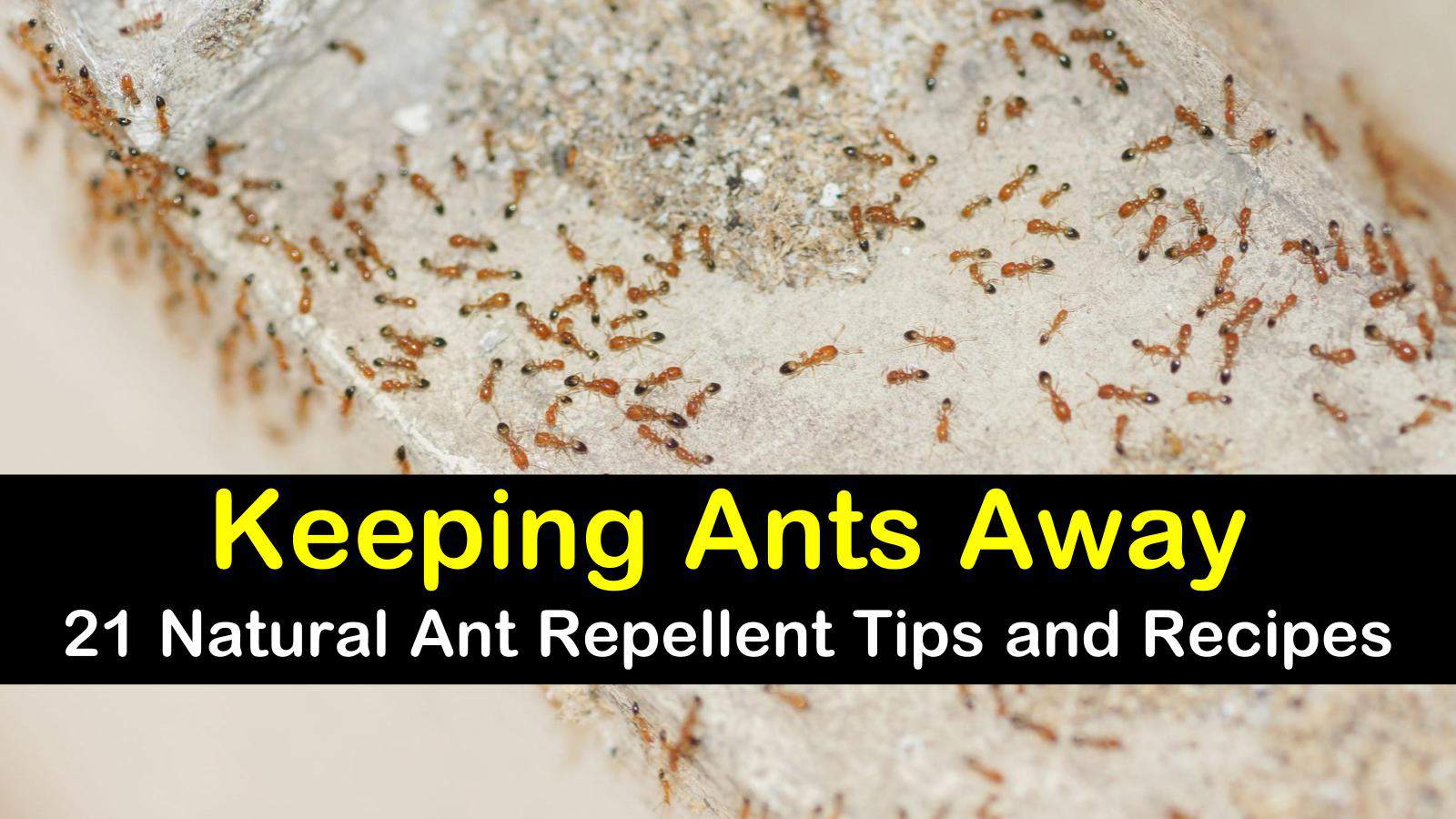 How to Make Your Own Ant Repellent
Unlike many brands of commercial ant repellents, natural ant repellents can help get rid of your ant infestation without exposing your children and pets to toxic poisons.
Another benefit of using natural ant repellent indoors and outdoors is the money you can save. Many commercial ant repellents often either do not work well, are expensive, and only give you a small supply per bag.
Breaking Down Commercial Ant Repellent Ingredients
Natural ways to get rid of ants cover more ground and reduce your ant infestation faster. But what makes natural repellents better than commercial ant repellent? It is all in the list of ingredients.
Each of these poisons has a toxic effect on humans and animals. Some components are carcinogenic such as fipronil and fenoxycarb. If you are ever unsure about what ingredients your pesticide has, you can always check various websites about potential hazards.
Recipes and Tips to Tackle Ant Infestations Inside and Outside Your Home
You can always find a way to get rid of ants around the house that can be used to deter mosquitoes, too! For pet owners, pest control is not the only issue. Many pet owners have to worry about keeping ants out of dog or cat food bowl without throwing the food away or hurting their pets.
Pet and Child-friendly Indoor Spray
Ants have a strong dislike for peppermint. This recipe is excellent for people who have pets and children since the essential oil is harmless.
To make this easy DIY organic ant control spray, fill the container with the peppermint essential oil. Then, add enough water to fill the spray bottle.
Shake well and spray all areas where you find ants. Re-apply the spray every so often to keep the ants away.
Peels to the Rescue
If you are interested in getting rid of sugar ants naturally, look no further than the peels from your citrus fruits. Citrus smells do not appeal to the ant's senses. If you ever wondered what to do about your collection of citrus peels, you can now reuse them for ant repellent. Save all citrus peels (orange, lime, lemon, and grapefruit).
Once you have enough citrus peels, ground them in a medium-sized bowl with a mortar and pestle or you can use the back of a tablespoon. Store the ground up skins in a sealed container.
For a natural ant repellent indoors and out, spread the peels and the grounds near your windows, doorways, in your garden, and any potted plants. Clean up any peels that are exposed to water or are molding. As an added bonus, you can enjoy the citrusy smell wherever you place them!
The Classic Volcano Experiment
We have all seen what a baking soda and vinegar reaction can do when unclogging drains. This simple trick also works against ants and is harmless.
To make this natural ant deterrent and killer, pour the white vinegar into the spray bottle. Locate all ant piles and spread the baking soda around the ant mound until there is a nice thin layer on top.
Spray the vinegar on top of the ant mound until a foaming reaction occurs. Repeat these steps for other ant colonies.
Soap and Oil
Ants strongly dislike soap and oil combinations. This recipe gives you a beautiful floor cleaner and ant repellent in one!
Combine the essential oils and soap into a bucket. Add hot water and apply the mixture on your floors.
You can use the mix on your window sills and doorways too. Make a new batch each time you need it to ensure the potency of the oils.
The Old Bait and Switch
Ants love all things sweet and sugary. This recipe is also effective against cockroaches.
Combine the Borax with the powdered sugar in a small bowl. Spread the mixture around the areas where you have found ants. Keep this mixture from children and pets.
Keeping the Ants Away Spray
If you are looking for a bonus to those citrus peels, try this natural mixture to ward off ants and other insects. Nothing says "stay out" like the intense smell of white vinegar!
Pour equal parts lemon juice and vinegar into a spray bottle. Shake well before spraying areas where you have found ants. This recipe is safe to use around pets and children.
To make DIY pet safe ant traps, use this same recipe but put the liquid in small bowls where ants gather. Your kids and animals won't like the taste but it won't harm them and the ants typically drown in the solution.
Ant Spray
Sometimes you want to spray your whole houseto keep those ants out. Not everyone likes the smell of lemons and vinegar, which makes this recipe an excellent repellent alternative.
Combine the water, vodka, cinnamon essential oil and peppermint essential oil into the spray bottle. Shake the bottle and spray. You can safely use this spray indoors and out.
Sugary Baking Soda
Borax and boric acid, while useful, are not recommended for use around pets and children. For a safe indoor solution to your ant problem, use baking soda instead.
Mix baking soda and powdered sugar in a bowl. Sprinkle the mixture around the areas where you have found ants in your home. The ants will take the sugar and baking soda back to their anthill and die because of ingesting the baking soda instead of the sugar.
Diatomaceous Earth
One of the best solutions for getting rid of ants is to use diatomaceous earth. Food-grade diatomaceous earth is a natural silica-based powder that ants and other insects walk through. The powder gets into their bodies and destroys them from the inside out.
Use the repellent indoors and outdoors to get rid of ants and many other pests. Spread the dust where you have an ant problem. As a bonus, food-grade DE is safe to use around your children and pets.
Use Boiling Water
Hot water kills weeds and plants and will also get rid of your ant problem. Boil water and pour it directly on any ant colonies. Keep children and pets away to prevent any accidental burns.
A Stick of Cinnamon
Spices are a great way to keep ants out and freshen up your home. Just place a stick of cinnamon in your pantry, cabinets, and near window sills. Should the cinnamon get wet and moldy, switch it out for a new one.
Use Leftover Coffee Grounds
Ever wondered what to do about these coffee grounds every morning? Well, you can spread them around outside and in your potted plants to help keep the ants away. Sprinkle the grounds around the exterior of your home and near all entryways, too.
Cornmeal Sprinkles
If you are looking for a way to keep ants out of your pet's bowl or away from your bird feeders, add some cornmeal. Lightly sprinkle the cornmeal around the pet dish, bird feeder, and other areas where you don't want ants. Reapply the cornmeal every few days or after rain.
Keep Your Yard in Check
Ants are mother nature's garbage disposals. If you want to keep ants away from your home, garden, and shed, then you should keep your bushes trimmed.
You will need to keep your garbage cans clean and gardens cleared of debris. Move your piles of compost and wood away from your home. This will also help to deter mosquitoes.
Plant a Little Tansy
Growing flowers and produce can be a very relaxing experience until the ants show up. Give those ants the boot by planting tansy flowers in your garden. Use the dried version of tansy inside your home to keep ants out.
Inspect Your Home's Pipes for Leaks
Ants can get into homes in many ways. One way is through the thin cracks near your pipes. Keep all areas around your pipes adequately sealed and covered to prevent ants from entering and exiting your home.
Chalk Drawings
Ants have an odd relationship with chalk – they refuse to cross it. Take chalk and draw around all entryways into your home, windowsills, and anywhere else you do not want ants.
Bay Leaves in the Cupboards and Pantry
If you have leftover bay leaves, use them in your cabinets, drawers, pantry and around window sills, or anywhere else you want to keep ants out. Ants dislike the smell of bay leaves and will avoid areas with them.
Sprinkle Those Ants with Some Cream of Wheat
Like cornmeal, Cream of Wheat is another product you can use to deter ants. Ants will eat the Cream of Wheat.
Once the ant eats it, the insect will die because of the wheat expanding in their abdomen. It is a safe alternative tovinegar and other substances around the home.
Minty Fresh Cotton Balls
Get cotton balls and add one or two drops of peppermint essential oil per cotton ball. Place the cotton balls inside areas where you have found ants.
Spread Baby Powder
If you do not want to waste food, baby powder is another useful tool against ants. Apply it anywhere you need it in the yard or garden or inside your home.
How Does Natural Repellent for Ants Work?
A natural repellent for ants works because of the non-toxic insect repellent ingredients and the strategic placement of these repellents. A combination of these recipes can also help combat your ant problems.
Are Natural Ant Repellents Safe to Use Around Pets and Children?
Mostly, yes these recipes are safe. Borax and boric acid are the only ingredients that are not safe to use around pets and children. However, these two ingredients are natural and, if used with caution, can be useful tools against ants.
How Do You Use Natural Ant Repellent?
For the best results, use these natural repellents in areas where you are finding the ants. Places to apply natural repellents for ants indoors are near windowsills, house plants, under kitchen cabinets and food pantry to get rid of sugar ants in kitchen and pantry, and areas with water such as pipes, and doorways.
For optimal results outdoors, apply your natural repellents around the exterior of your home, in your garden, directly on ant hills, windowsills, doorways, garbage can areas, near your compost piles, and around any other structures or places you see ants.
The Drawbacks of Using Natural Ant Repellents
Many of the listed natural repellent recipes work and will save you money, but they are not without their shortcomings. Like any other repellent, you will need to reapply it again, especially after it rains.
Some ant repellents may not be wise to use around plants. Natural ant repellents can be messy and will require cleanup.
Getting rid of your ant problem can seem like an uphill battle, but with these simple tips and recipes, you will get rid of those pesky ants for good. Natural ant repellents are a safer alternative to those toxic commercial pesticides and insecticides.
These natural insect repellent recipes will save you money, time, health, spare your garden, and can help freshen up your home.
Recipe for Natural Ant Repellent
Natural Ant Repellent
A simple solution for ant problems.
Materials
12 ounces tap water
18 drops peppermint oil
Tools
12-ounce glass sprayer
Measuring cup
Instructions
Pour water into the bottle and add peppermint oil.
Shake to combine thoroughly.
Apply anywhere you find ants.
Reapply periodically.
Notes
Safe for children and pets.
This spray is also quite effective against other bugs like spiders and earwigs.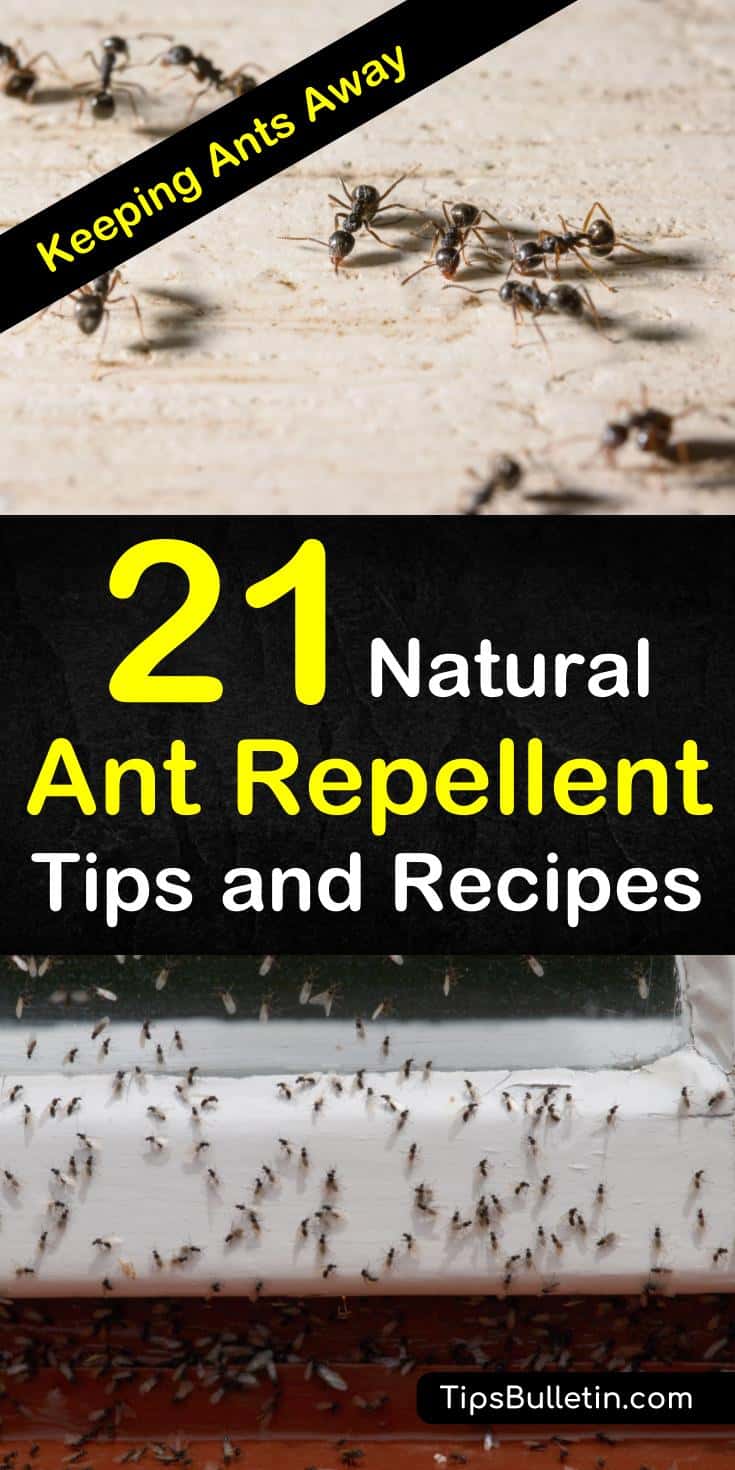 If you liked the ant repellent recipes or want to help out a friend with these pest control tips, then please spread the word by sharing this list!