Finding any insect in your home can be a real problem. The issue becomes even worse with bugs like ants, which develop an entire colony wherever they please, especially in damp areas with plenty of food sources. If you want to keep your home free of pests, it's essential to know how to get rid of sugar ants in the kitchen.
Learning how to get rid of ants around the house isn't as hard as it may sound. It all comes down to knowing what things attract them and what ingredients repel and kill them.
Once you know more about their habits and the way they operate, then getting rid of sugar ants is easy and inexpensive.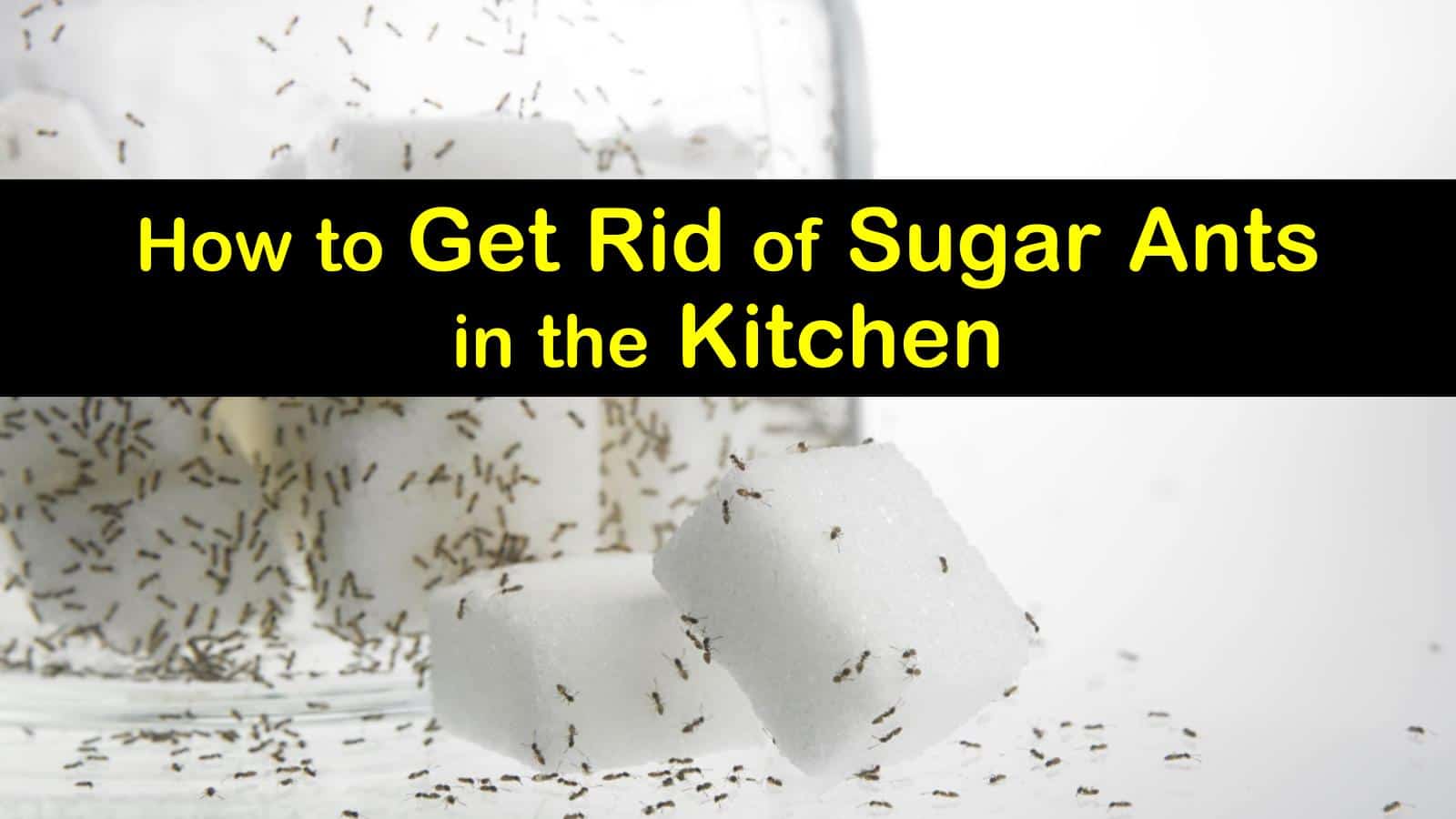 Getting Rid of Sugar Ants in My Kitchen
Getting rid of sugar ants in the kitchen is important so that they stay away from your food. The first step to eliminating a sugar ant infestation is identifying if the insects you see in your kitchen are indeed sugar ants.
If you notice a lot of tiny ants, ranging from 2 to 15 millimeters in size that are attracted to sweets and sugar, then you may have a sugar ant infestation in the house. Male ants of this species are entirely black, while female ants have an orange body.
When it comes to keeping sugar ants out of the kitchen, the ideal solution is to prevent them from arriving in the first place. Sugar ants end up in the kitchen because they are in search of food, so you can prevent an ant problem from developing by keeping a clean kitchen.
In this article, we're going to explain how to keep ants out of the house and how to get rid of them with traps, sprays, and repelling ingredients.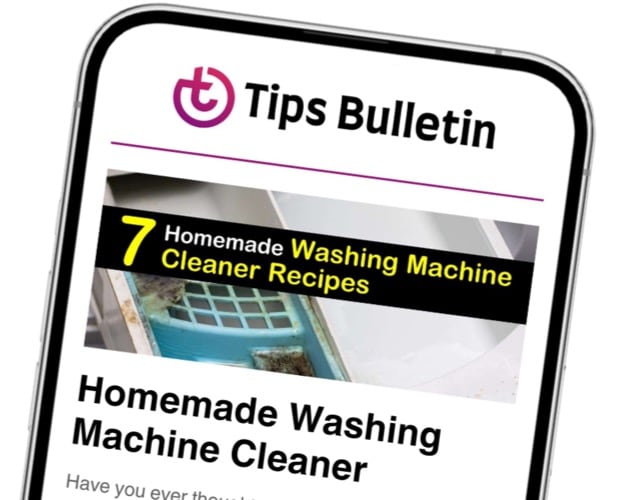 Finally, an email that Transforms Your Home.
Get the latest home and garden tips from our experts, delivered straight to your inbox.
How I Get Rid of Sugar Ants Naturally
Getting rid of sugar ants naturally comes down to knowing what ingredients you need. You can use many household ingredients to create your traps and make killer concoctions that will get your kitchen ant-free in no time.
While the methods below are all useful for dealing with the ants and an ant colony directly, you can't neglect the pheromone trail these pests leave. When you see a sugar ant walking around, don't just kill it.
Getting rid of tiny ants like these works best when you splash its path with soapy water or white vinegar so their friends can't follow any ant trails into your kitchen.
I Set Ant Traps
Getting rid of ants with Borax is a simple way to eliminate an infestation. Trapping the ants is an effective method to kill little black ants before they start eating everything in your pantry. Set up sugar ants traps by filling a small container with ant bait and cover it with plastic wrap.
Poke small holes in the plastic so the sugar ants can find their way in, but can't get out. The ants are drawn to the peanut butter and sugar, will crawl in, eat the bait, and die in the container. It's an easy way to get rid of them with little mess or fuss.
To get rid of ants around the house, mix the ingredients in the container, and place the plastic wrap over the top. Place this highly effective homemade Borax ant killer in areas that ants are attracted to, such as kitchen countertops, by the kitchen sink, near the garbage, and by any pet food you may have in the area.
This is a great way how to get rid of sugar ants with Borax. Be careful with this recipe if you have young children or pets as the mixture is toxic.
Non-Toxic Ant Bait for My Ant Problem
Another good bait recipe is a mix of one part baking soda and one part powdered sugar if you don't want to use a Borax ant killer recipe for inside the house. Bait is effective at eliminating an entire colony.
Place the bait in a shallow bowl or container and leave it uncovered in corners of the kitchen or to take care of sugar ants in the bathroom. Locating the trap in an area where you have seen ants ensures more success.
The insects will eat the killer ingredients and then head back to the ant nest, where they will die. The pests that are still alive will feed on the dead bodies, which is poisonous because of the bait they consumed.
Mix any ant killing ingredient with a sweet ingredient like granulated or powdered sugar, honey, or maple syrup. You can also purchase commercial ant bait traps like Terro Liquid Ant Bait Traps. Any of these options are a great homemade ant killer for outside.
Spreading Ant Repelling Ingredients
Instead of employing a trap using what attracts ants to draw them to it, one of the best natural ways of getting rid of sugar ants is to spread ingredients around the kitchen that repel the insects.
They not only kill ants but deter them from entering your kitchen and make them find shelter elsewhere.
Sugar ants can't stand strong smells, so distribute any of these ingredients by entry points, along baseboards, and on countertops in the kitchen. You can also create effective ant repellent spray by mixing any of the aforementioned liquid ingredients with some water in a spray bottle.
Whole cloves and bay leaves also work well to repel ants and other unwanted pests. Spread them around any area where you notice the insects gathering.
Keeping Sugar Ants Away
Once you confront your sugar ant problem and get your traps and bait set up, it's easy to keep them away. While you're dealing with an infestation, one of the first things you should do is seal off entry points into your kitchen.
Check around any windows or doors that lead outside, check under the sink, and around baseboards. If you notice any cracks where ants could get in, seal them with caulk.
To keep sugar ants out of your kitchen, you also have to keep it clean. Don't let your dishes sit in the sink, put a cover on your garbage bin, and wash your countertops regularly. Eliminate anything that could be a food source and put open food in sealed containers.
Additionally, keep sugar ants out of pet food by putting it in sealed containers and sprinkling ant repelling ingredients around the perimeter. They will not cross the line to get to the food.
Do Sugar Ants Bite?
If you're looking for an answer to the question, "Do sugar ants bite?" the answer is yes, but it's a bit more complicated than that. Sugar ants are harmless to humans and do not sting. They are a very mild-mannered type of ant, though they may bite if disturbed.
However, these bites are minor, and a person likely won't even feel it. There won't be any reaction to the bite unless the person is allergic to sugar ants. Occasionally, sugar ants may spray formic acid, which may produce a slight stinging sensation.
Now that you know how to get rid of sugar ants naturally, you can put your knowledge to use to keep your home and your kitchen ant-free. All of the solutions in this guide involve accessible, inexpensive ingredients.
You can ant-proof your house without having to pay a hefty exterminator fee and can enjoy living without these pests getting in your way.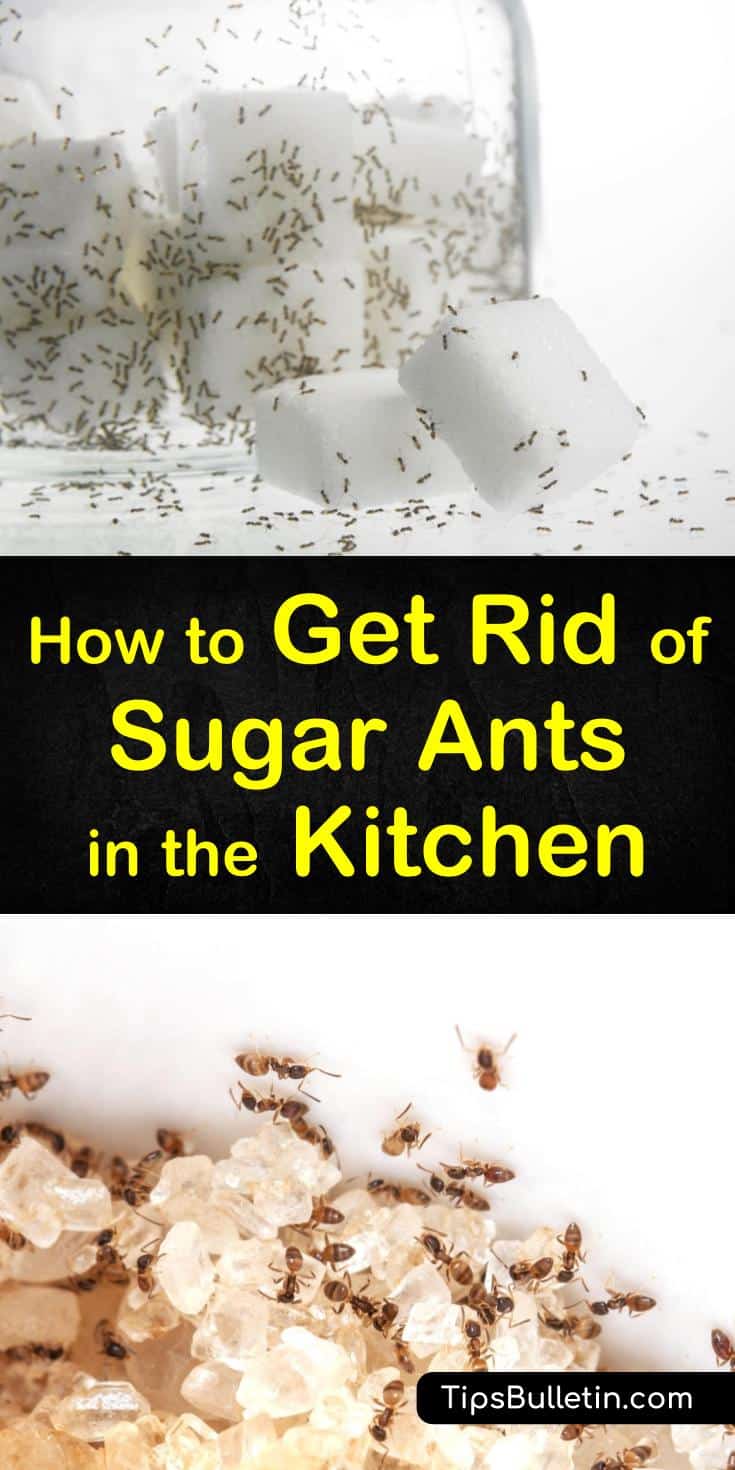 If you learned about how to get rid of sugar ants in the kitchen, then share our pest control tips on Facebook and Pinterest.