Whether you desire to have your very own butterfly garden, or simply like the idea of having butterflies as regular guests around your home, butterflies bring many benefits to our flower beds. Nectar plants for butterflies are vital because they have a symbiotic relationship.
The plants provide larval caterpillar and adult butterflies with food while they spread the pollen from flower to flower for reproduction. Butterfly habitats offer vibrant colors, smells, and other essential pollinators around your home.
If those reasons weren't beneficial enough, butterfly gardens provide food sources for even more wildlife like birds and lizards. For those who don't enjoy the added wildlife but still want butterflies, simply plant only one or two nectar plants for butterflies to keep it under control.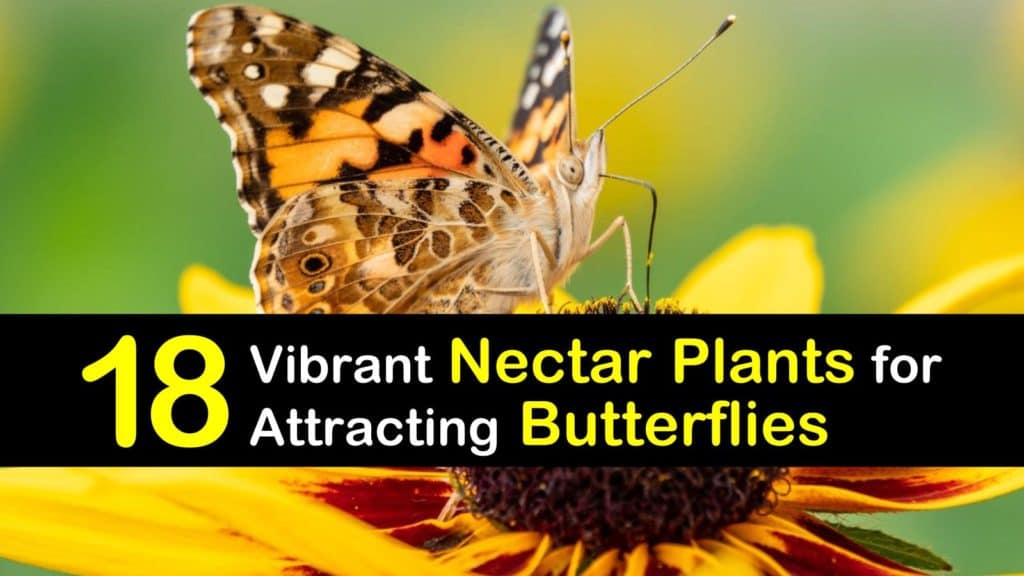 The Most Colorful Nectar Plants for Butterflies
There are over 17,000 butterfly species. Varieties such as a tiger swallowtail, a painted lady, or fritillary are more likely to come to a home with a healthy supply of food.
Your garden doesn't have to be strictly filled with nectar plants that adult butterflies love, but a wide variety of host plants with steady nectar sources increases your chances of having visitors.
If you're planning on incorporating more nectar plants for butterflies in your garden, start with soil preparation.
Because butterfly plants mainly consist of native plants, the requirements for good soil are often lower, meaning that most organic fertilizers are enough to have a healthy garden to attract butterflies, hummingbirds, and bees.
Note that although we talk about annuals and perennials here, there are also many shrubs and trees for attracting butterflies, as well. Planting a diverse landscape will appeal to many species and create a lovely butterfly oasis.
Be sure to add some trees, shrubs, annuals, and perennials that attract caterpillars. Butterflies lay eggs on plants like milkweed, asters, purple coneflowers, and violets, and the hatchling caterpillars feed on the plants until they form a chrysalis and develop into a new butterfly.
A Monarch Butterfly's Essential Food: Swamp Milkweed (Asclepias incarnata)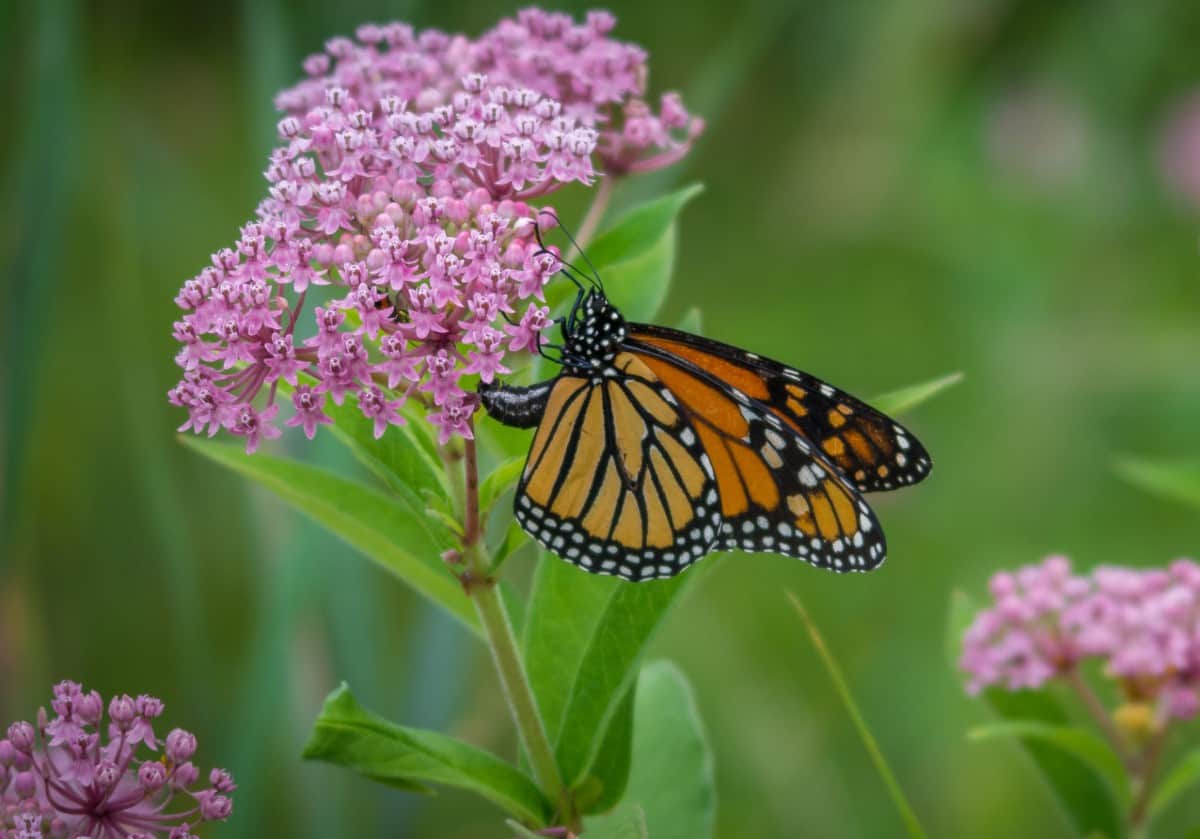 Milkweed is famous for attracting Monarch butterflies because their larvae feed on the leaves. These host plants for butterflies are native to North America and produce bright, purplish-pink flowers around mid-summer. These showy plants reach two to four feet in height and are found around areas with wet conditions.
Swamp milkweed prefers wet, clay soil, and full sun. Use caution with pets or small children. Swamp milkweed is poisonous to humans and mammals after consuming too much.
Butterfly Bush (Buddleia davidii)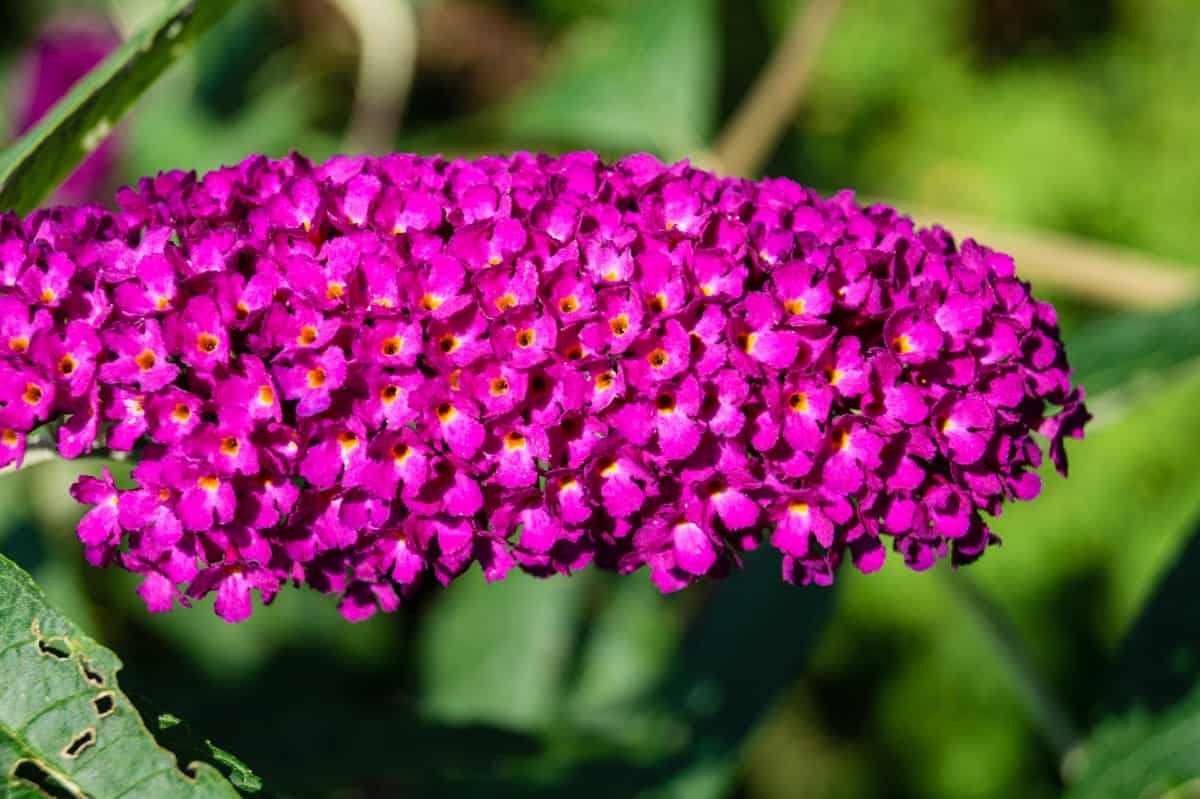 One of the most prominent nectar plants for butterflies is the butterfly bush. This plant forms long clusters of colorful flowers that easily attract butterflies and other beneficial insects.
They only bloom through the spring and summer, but the evergreen foliage provides an exciting look throughout the year.
Choosing the best location for a butterfly bush is essential because it requires less maintenance that way. Give them well-drained soil in a sunny or partly shaded area with plenty of room to grow. To keep the bush smaller in size, prune it frequently.
Goldenrod (Solidago canadensis)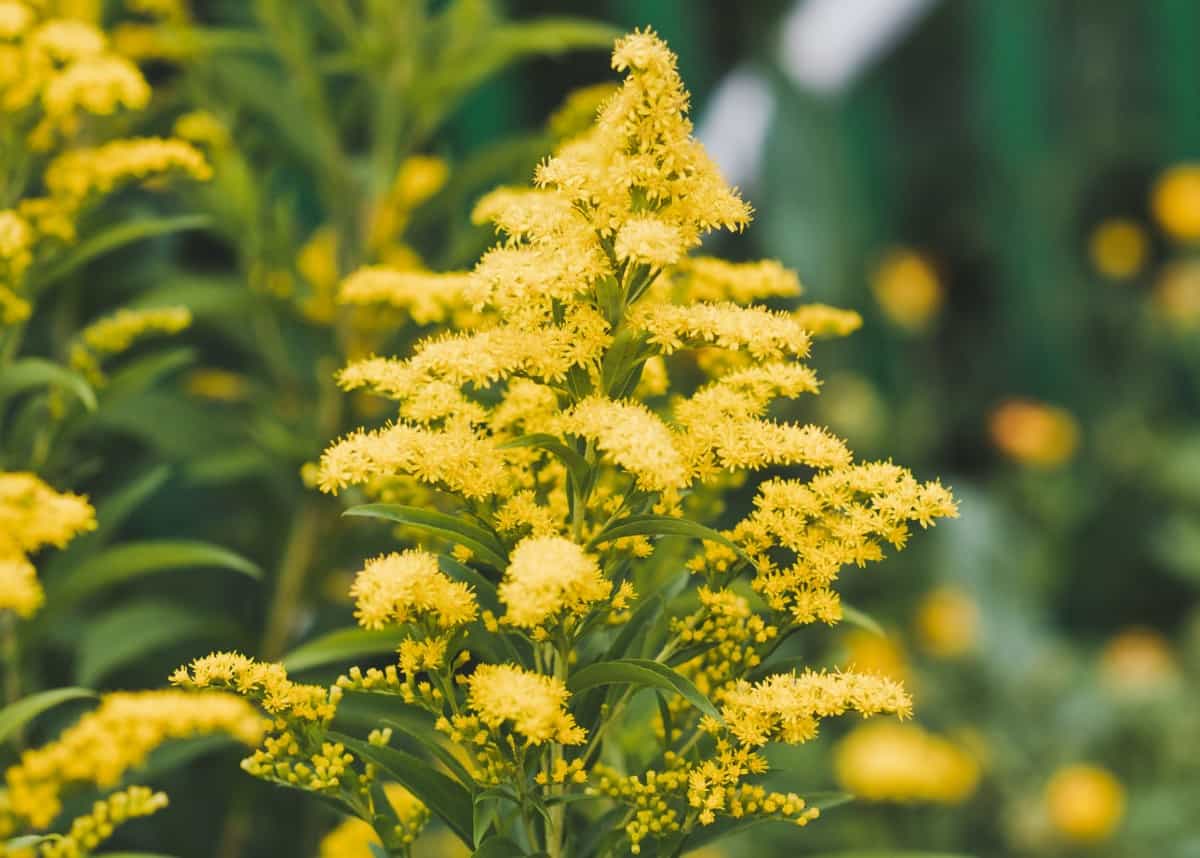 Goldenrods spring up from the ground and showcase fluffy, bright yellow flowers. This plant provides shelter for the larvae of beneficial insects as well. Planting them near your veggie garden draws dangerous bugs away from your produce, and there are over a hundred varieties.
This is a hardy plant that survives just about anywhere. Goldenrod prefers full sun and tolerates several different soil types, as long as they are well-draining. Once established, the only care required is dividing them every four to five years.
Zinnia (Zinnia elegans)- Nectar Producing Annuals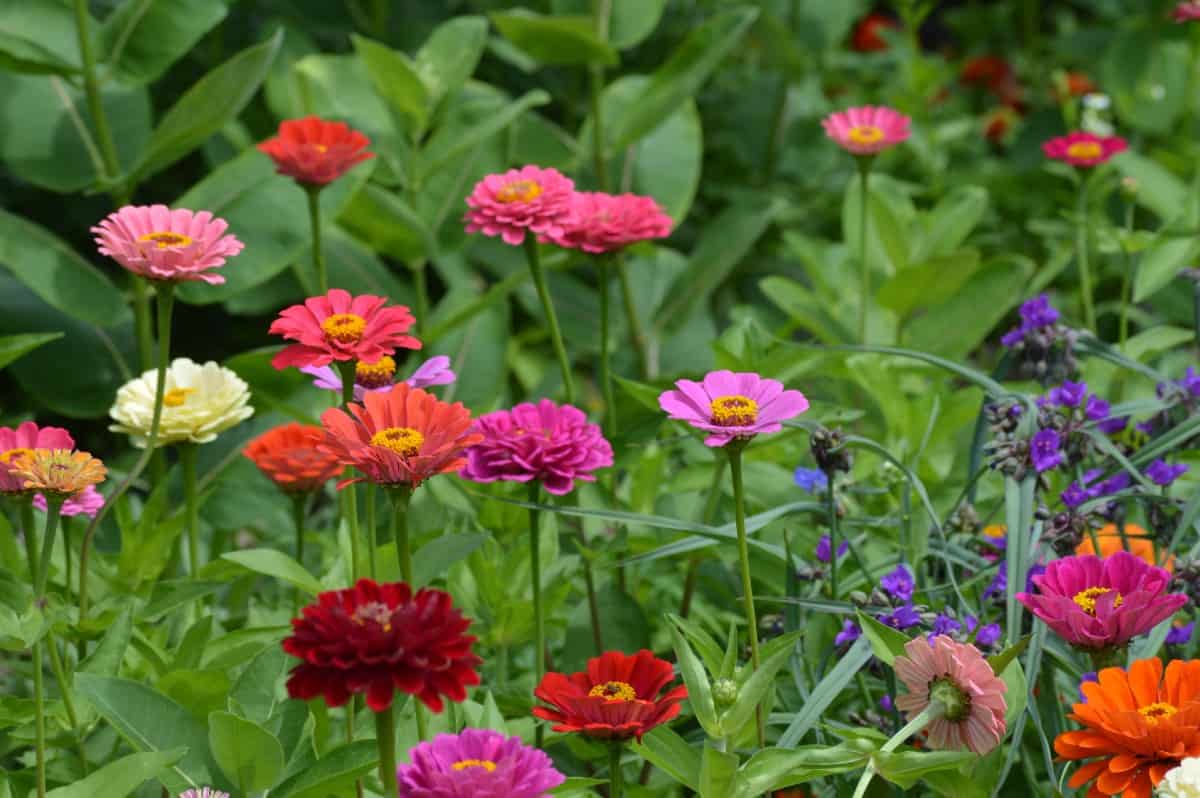 Zinnias are annuals that attract butterflies that come in a wide range of shapes and colors. The one downside to this plant is that it is an annual and requires planting each year. To counteract that, though, zinnias are inexpensive and a bright addition to the garden, especially if growing them from seeds.
Water zinnias at the base of the plant to keep the foliage and flowers dry while providing ample irrigation to the roots. Keep the soil moist and plant them in a fully sunny area.
Sedum (Sedum ternatum)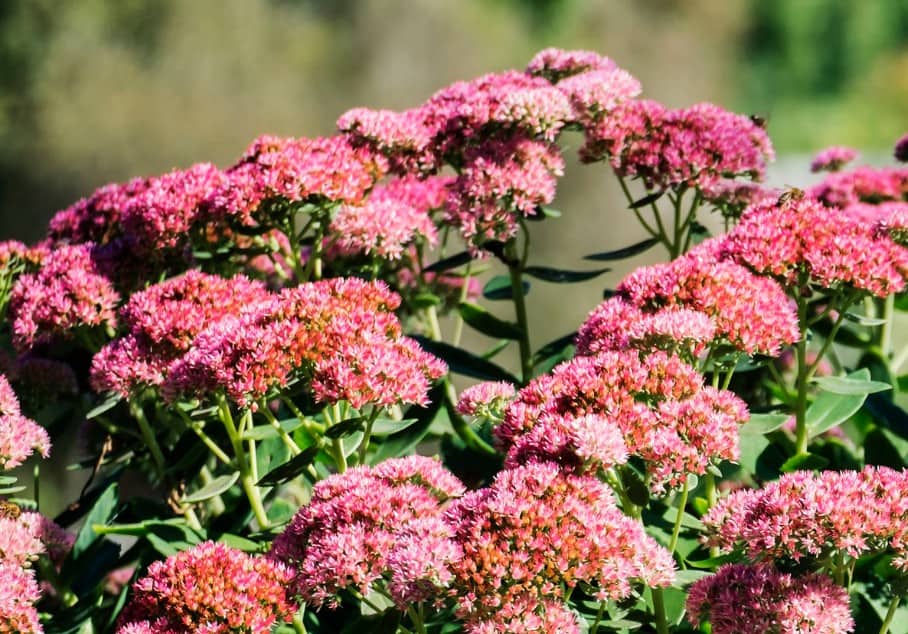 Sedum plants are incredibly hardy. They forgive almost any amount of sun and bad soil you give them and make a great starting plant for a butterfly garden novice. Plant them in areas around your home and yard where you can't get other plants to grow.
Countless sedum species vary from a few inches in height up to three feet tall. Do not overwater or overfertilize the plants, or you may do more harm than good.
Butterfly Weed (Asclepias tuberosa)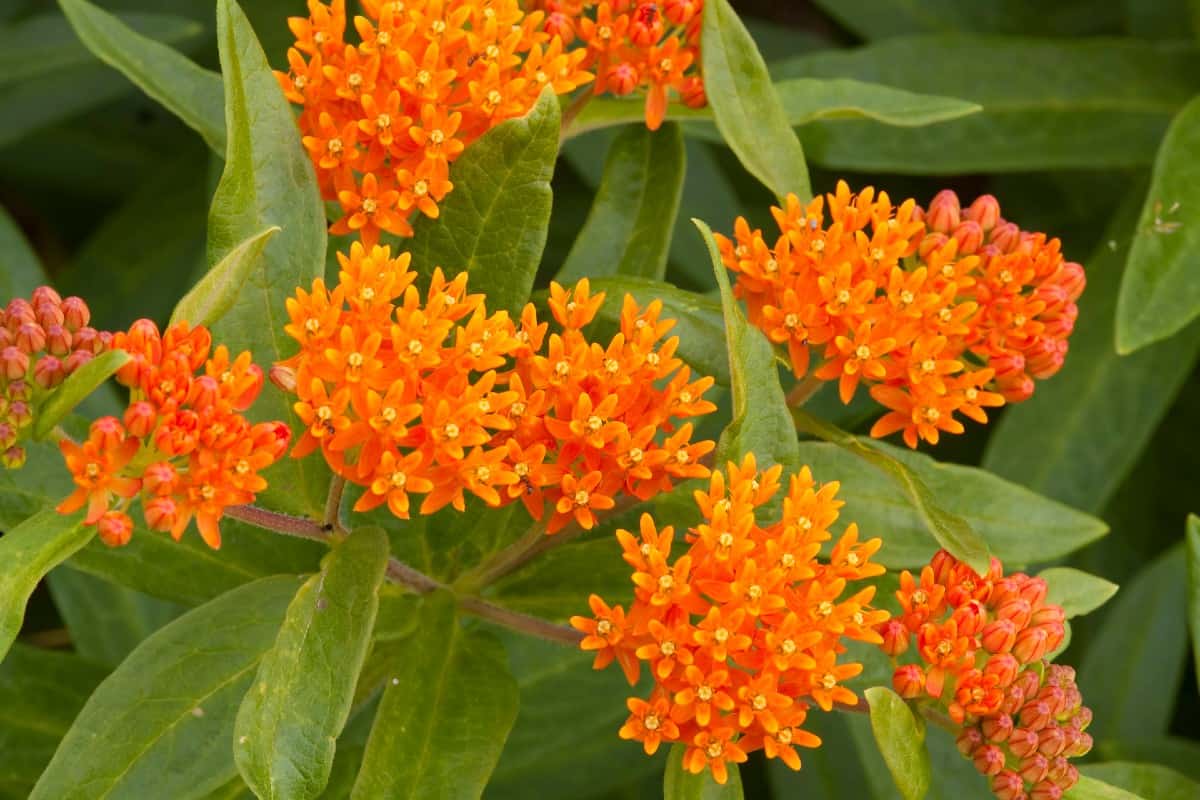 Butterfly weed is a cousin to the swamp milkweed. These native plants to attract butterflies produce clusters of bright yellow, orange, or red blooms throughout the entire summer. It is rich in nectar and pollen and attracts hummingbirds, bees, and, of course, butterflies.
Butterfly weed reaches up to 36 inches and has fuzzy, green stems with lanced-shaped leaves. They thrive in USDA zones three through nine but prefer bright sunlight.
As far as soil goes, it survives in dry, sandy, gravelly, acidic, or neutral soil. It offers a lot of pay-off for minimal effort.
A Homeowner Favorite – Coneflower (Echinacea purpurea)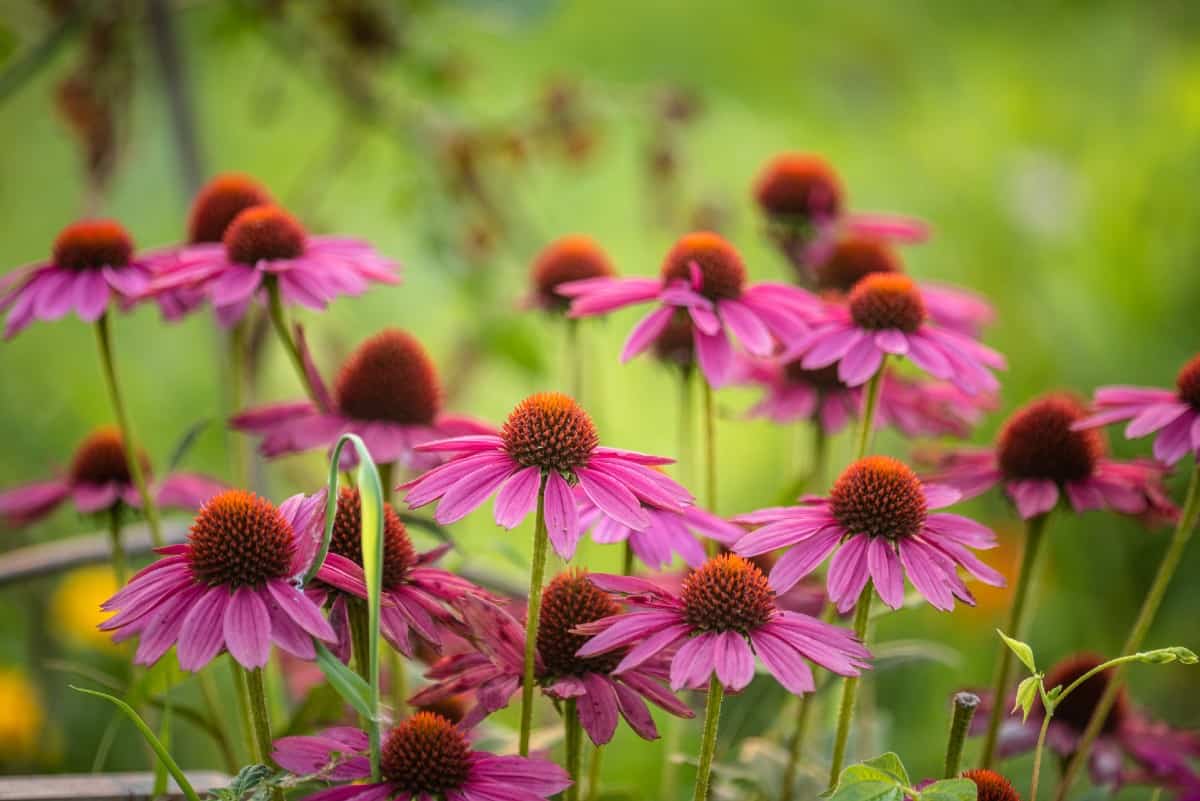 Purple coneflowers look similar to the infamous black-eyed Susans, so make sure not to confuse the two. Coneflowers make an excellent background plant because of their sturdy stalks that reach up to five feet in height.
These flowers look like daisies and are bright with a large center and slightly downward pointed petals. Coneflowers, like bee balm, grow best in lean conditions, and fertile soil causes them to stop flowering as frequently.
Place this plant in full sun where it receives at least six hours of sunshine per day. Because they spread, divide them from the root in the fall.
Lance-Leaved Coreopsis (Coreopsis lanceolate)
Coreopsis provides colors that last all summer, long after the rest of the flowers in your garden fade.
Deadhead fading blooms regularly and cut the entire plant back by one-third in the late summer or early fall to encourage continued blooming. Too much fertilizer limits flower production, and paying too close attention may do more harm than good.
Hollyhock (Alcea rosea)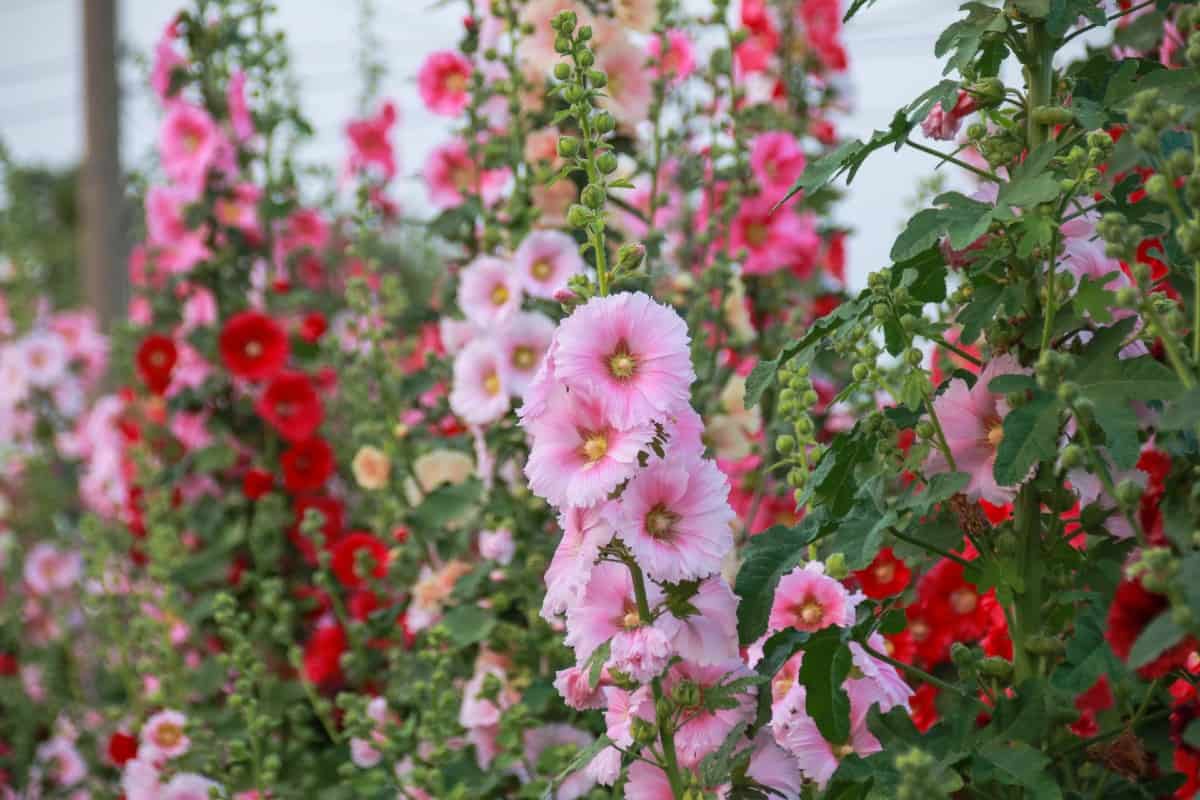 Hollyhock is one of the most impressive nectar flowers for butterflies. The stalks reach up to nine feet tall. That's much taller than a professional basketball player! They tower above your garden and encourage butterflies to come from far and wide.
Hollyhocks require full sun and fertile, moist soil. Planting them in dry land is the number one mistake that gardeners make with this plant. Keep in mind that, although they are perennials, they are short-lived and last only two to three years.
New England Aster (Symphyotrichum novae-angliae) – Attracting Butterflies Late in the Summer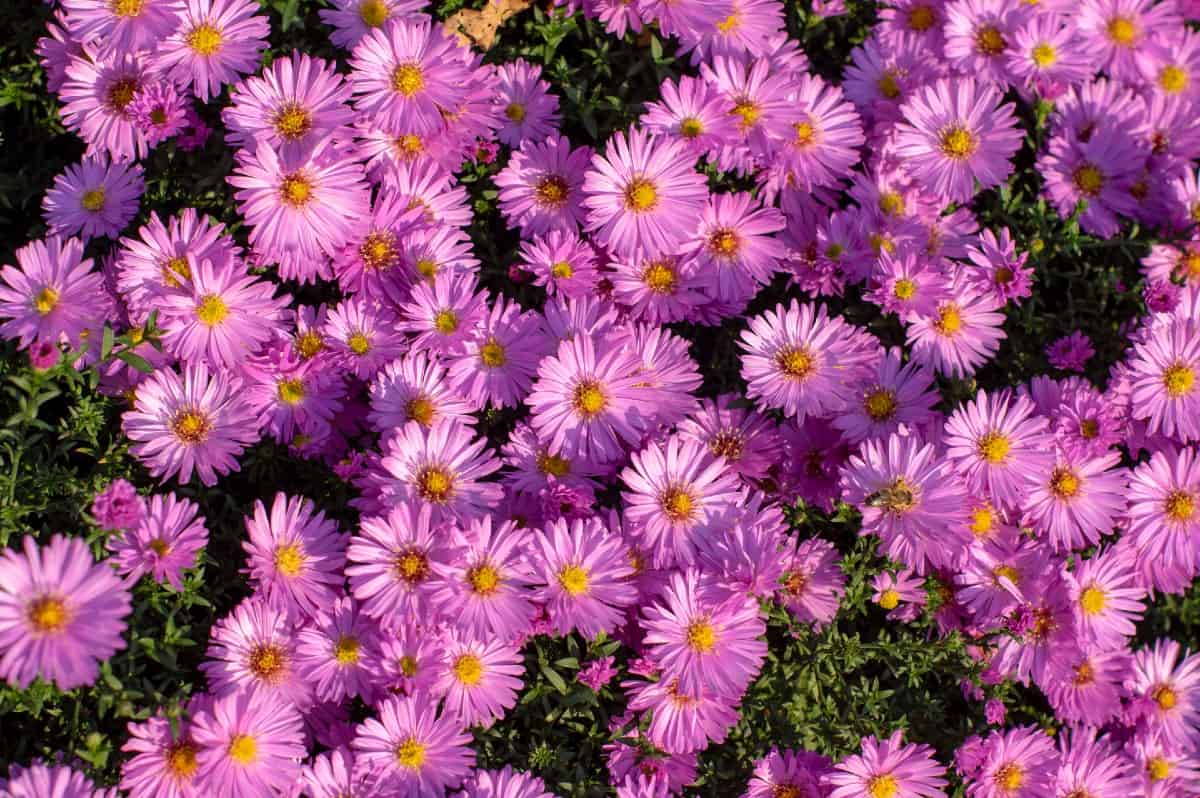 New England Aster flowers give your garden a late-season bloom with feathery petals from August to October. This plant is a wildflower and often found in meadows.
It has green-gray foliage with a scent similar to turpentine when smashed. Don't let the smell turn you off, though, as this is a nectar plant that butterflies find irresistible.
New England aster prefers full to partial sun and lives in zones four through eight. They grow up to six feet tall and four feet wide. Divide and fertilize them in the fall and cut them back in the spring.
Verbena (Verbena officinalis)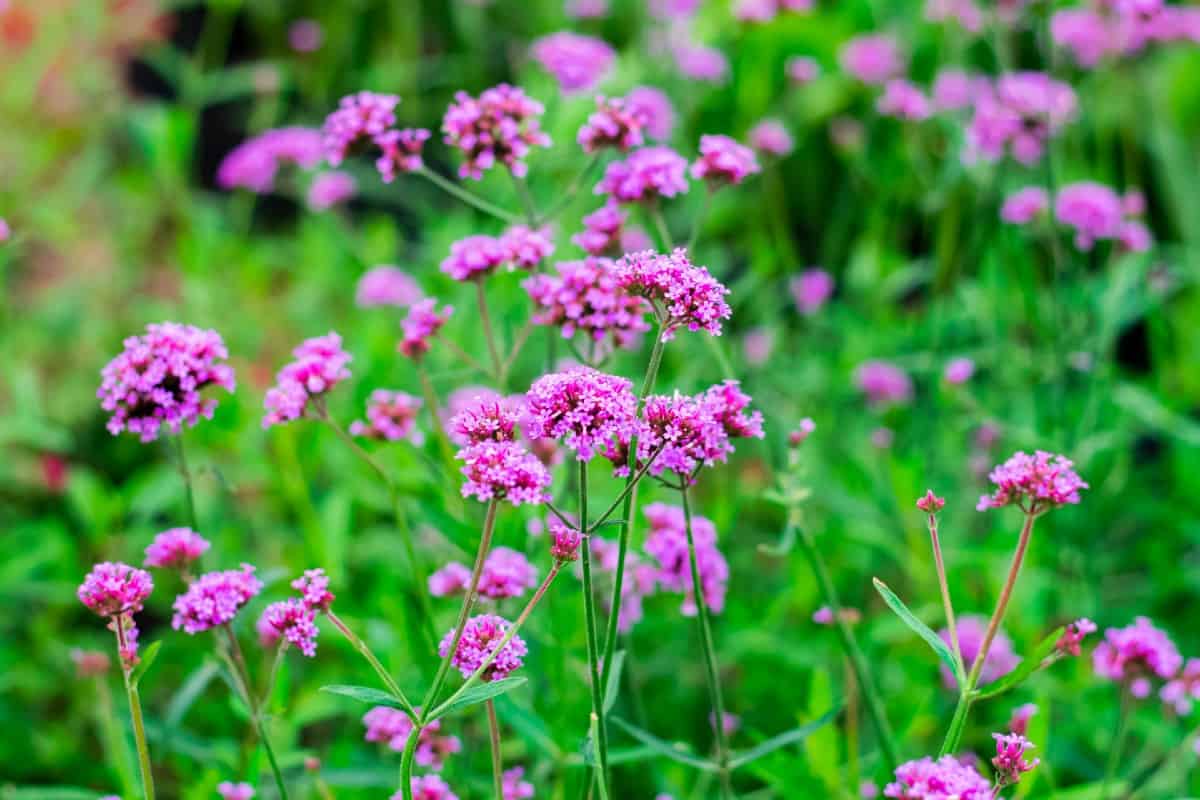 If you prefer a longer-lasting bloom, verbena makes an excellent addition to the garden. This plant requires the most amount of sunlight; at least eight to ten hours a day, so make sure to find the perfect spot for it.
Verbena is drought-resistant but has improved blooms with regular watering each week. Incorporating a slow-release fertilizer into your plant care routine encourages the verbena to live its longest life possible. When flowers begin to die, trim the whole plant back by a quarter.
Joe-Pye Weed (Eutrochium purpureum)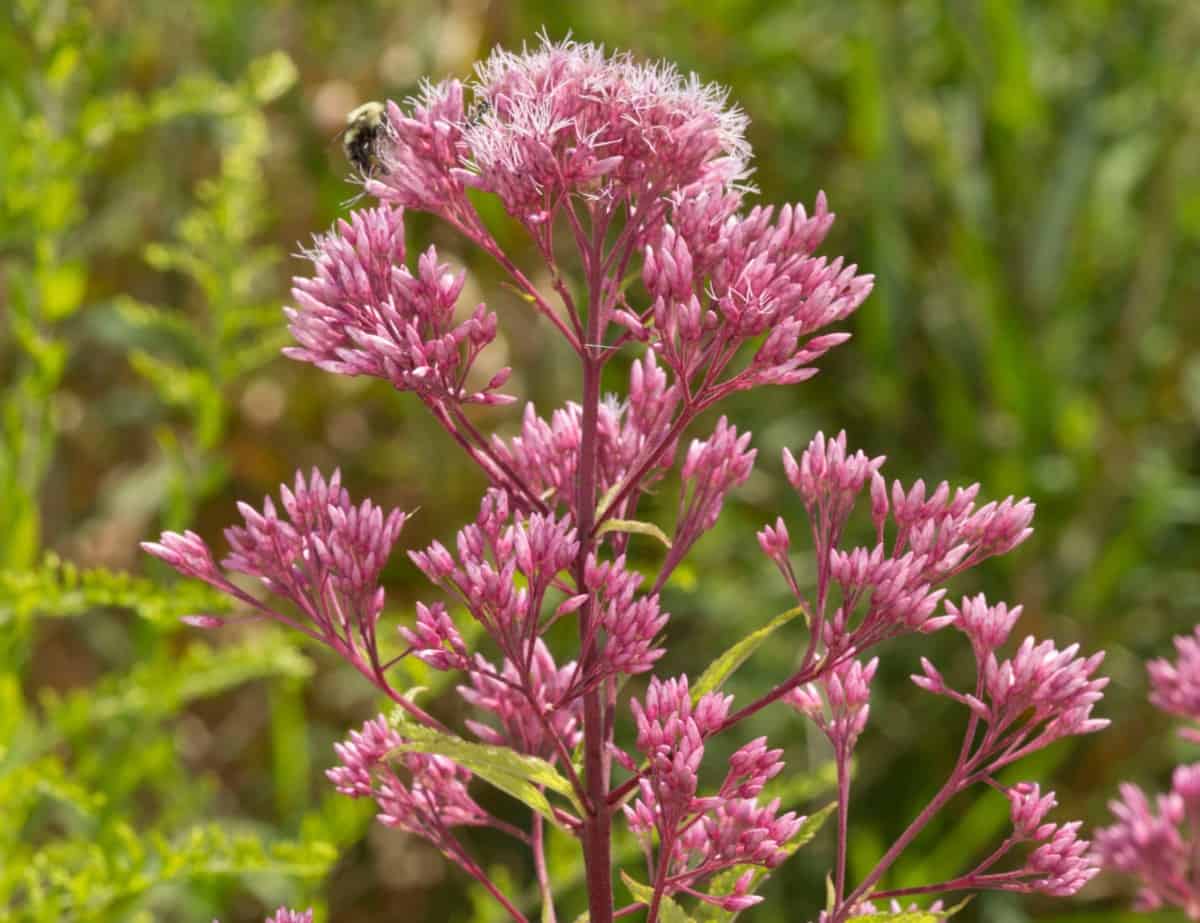 Don't let the name "weed" turn you off from planting this nectar producer in your garden. It produces fluffy, pale pink and purple flowers lasting from the middle of summer through fall.
This plant is named after a man from New England that used it to help treat typhus fever symptoms. It also turns into pink and red dye for textiles.
Plant Joe-Pye weed in full sun to partial shade and fertile soil. It enjoys regular watering, especially during the hottest months of the summer. Divide and replant in the early spring or fall.
The Hardiest Flower: Blazing Stars (Liatris spicata)
Blazing star has grass-like leaves with long clusters of purple, spiky flowers. Aside from their beautiful blooms, the foliage remains green all season long and transitions to rich bronze in the fall.
These plants are versatile and can grow in beds, along borders, or in pots. They attract butterflies while remaining relatively pest resistant.
Grow them in full sun, though they tolerate a little shade. Because they are so hardy, they survive in nearly any soil type, even in rocky terrain.
Creeping Thistle (Cirsium arvense)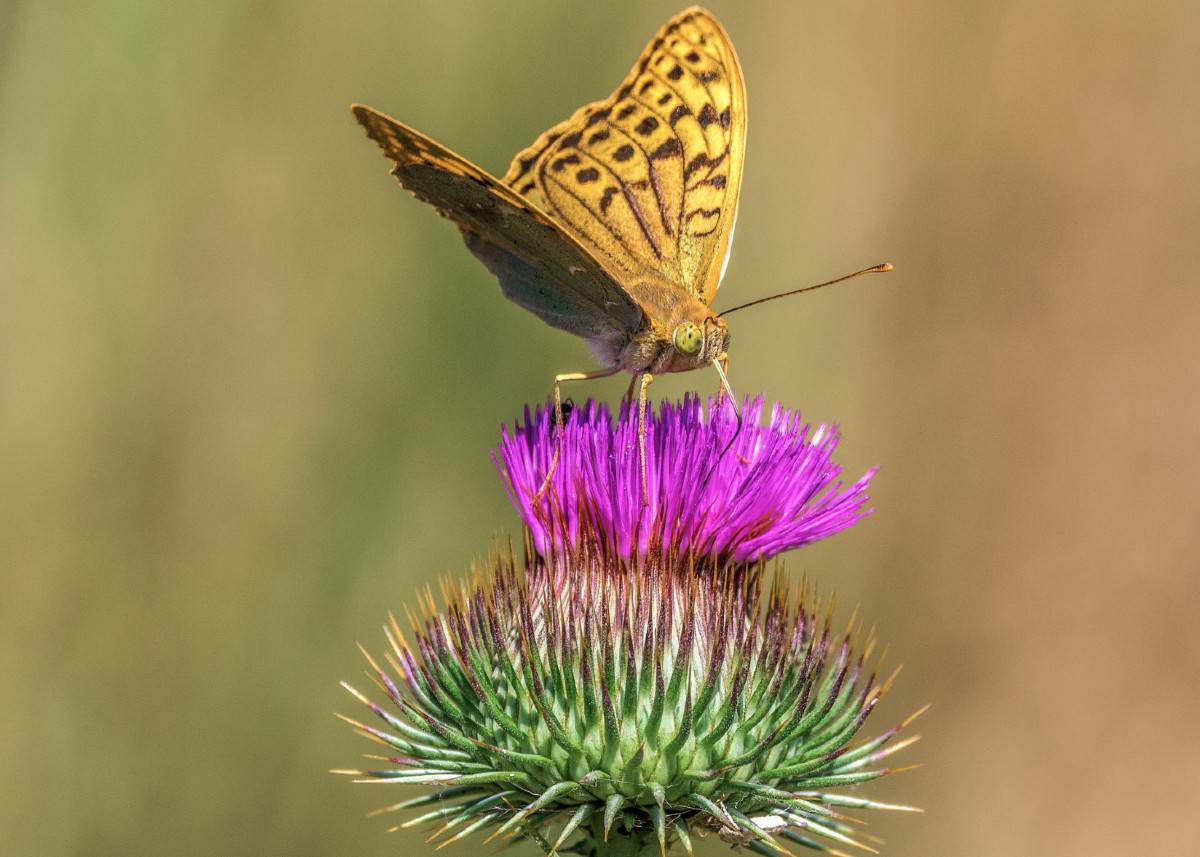 Be extra cautious if you decide to incorporate this plant into your garden. Because it is hard to get rid of, many people consider creeping thistle as one of the worst weeds around the world.
However, creeping thistle is one of the most unique looking flowering plants on this list and remains one of the top producers of nectar. If the plant is allowed to flower, a purple pom-pom forms at the top of the long stalk.
To prevent it from spreading too much, cut the flower heads off before they turn white and fluffy. This visual means that they're seeding and may quickly take over your entire garden.
Spicebush (Lindera benzoin)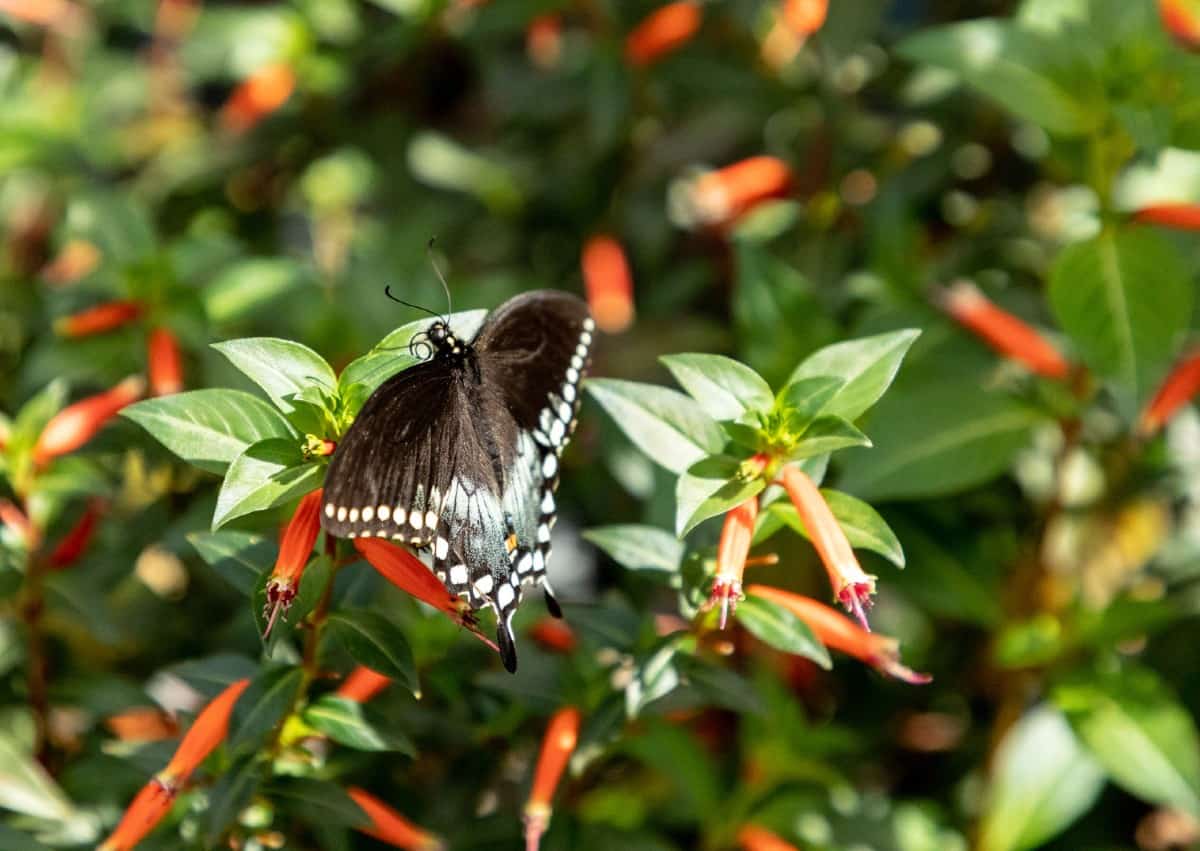 Spicebush is a shrub found in swampy woodlands and forests and is famous for its aromatics. Each shrub grows six to 12 feet high and produces beautiful, emerald green leaves that turn bright yellow in the fall.
Spicebush is dioecious. This means that the male and female plants are separate, so consider planting one of each in your garden. In the fall, this bush produces bright red berries that birds and other wildlife can't resist, but only occur on female plants and require a male pollinator.
Lantana (Lantana camara) – A Flower with Extended Blooms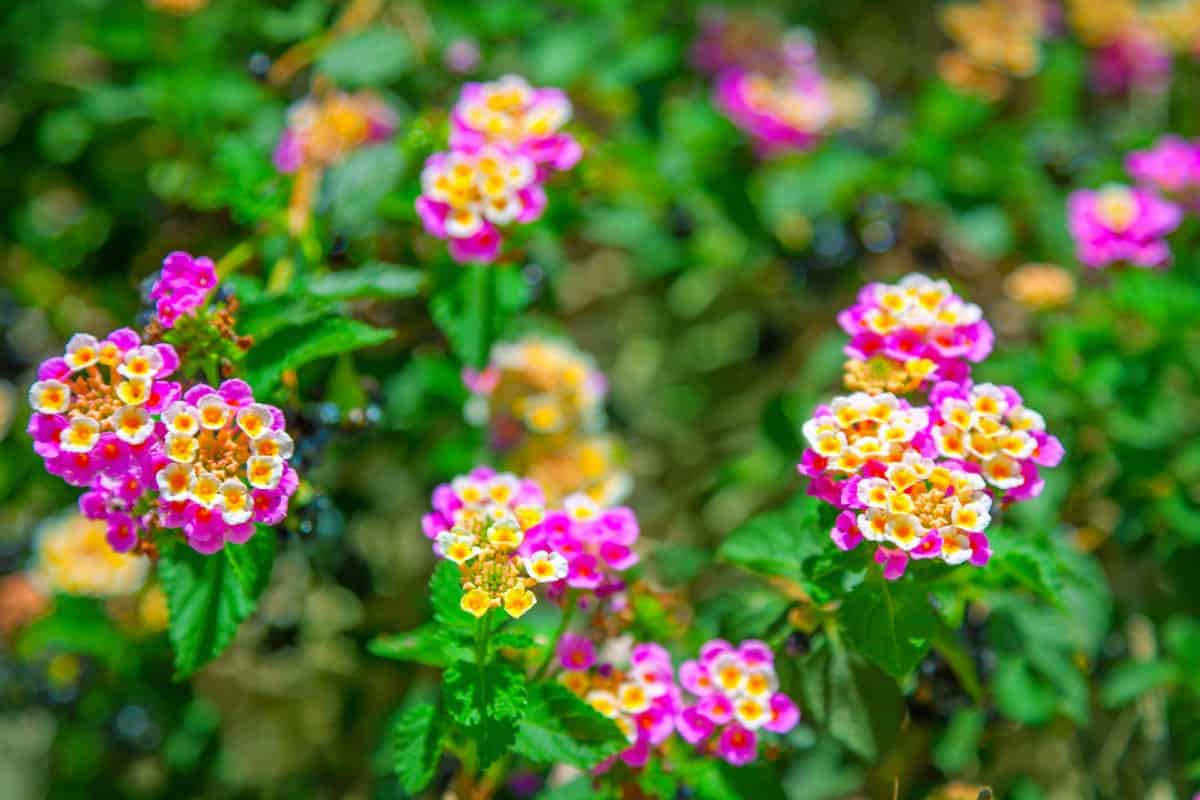 Lantana plants are similar to verbena. They have an extended bloom time with a variety of pastel colors. Plant lantanas in the spring after the frost has gone. Because they prefer warm temperatures, it may take some time before new growth appears.
Water newly planted lantanas frequently, transitioning to one good soak per week until established. It isn't required, but a small dose of fertilizer in the spring helps produce more blooms.
Phlox (Phlox paniculata)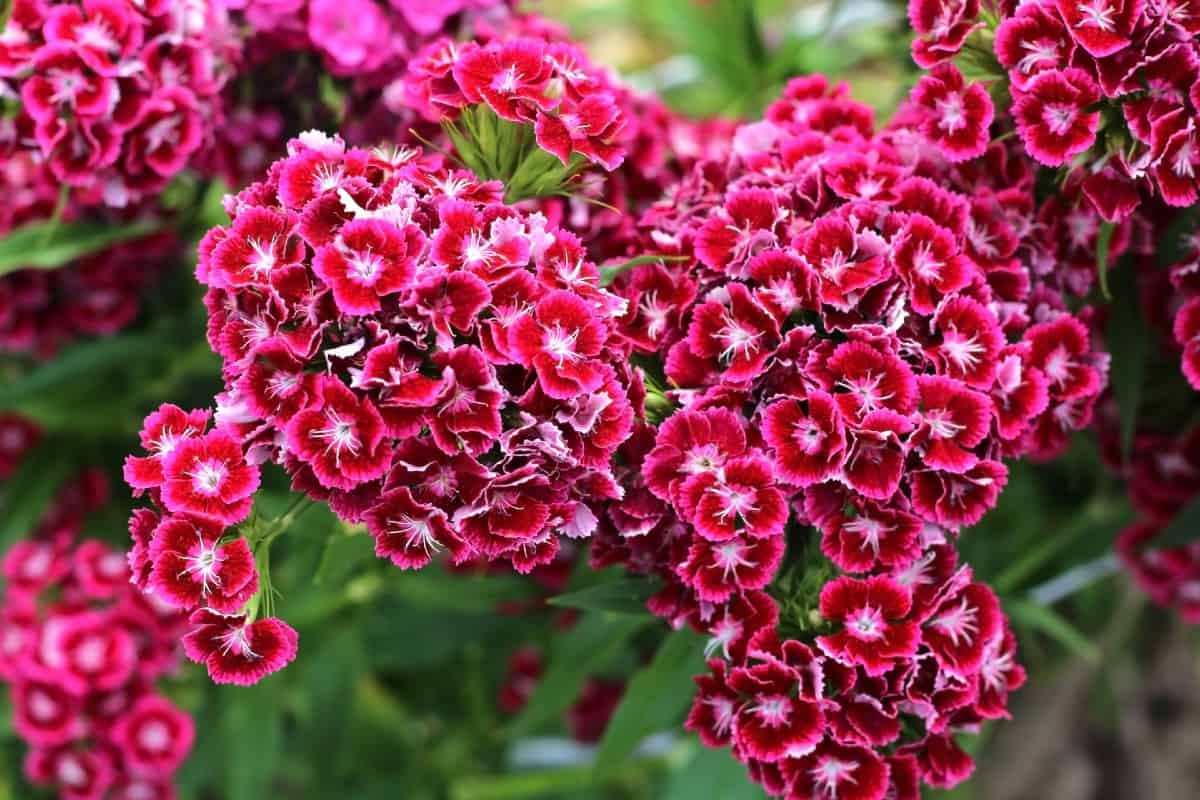 Phlox are some of the most eye-catching perennials with large clusters of pink, lavender, white, or purple flowers. The flowers sit on stems that grow up to four feet tall and thrive in USDA zones four through eight.
Plant phlox in a sunny area and moist soil in the early spring. Make sure the plants have plenty of room, especially in regions that are hot and humid. Add compost to the base of the plant to encourage additional blooms.
Salvia (Salvia officinalis)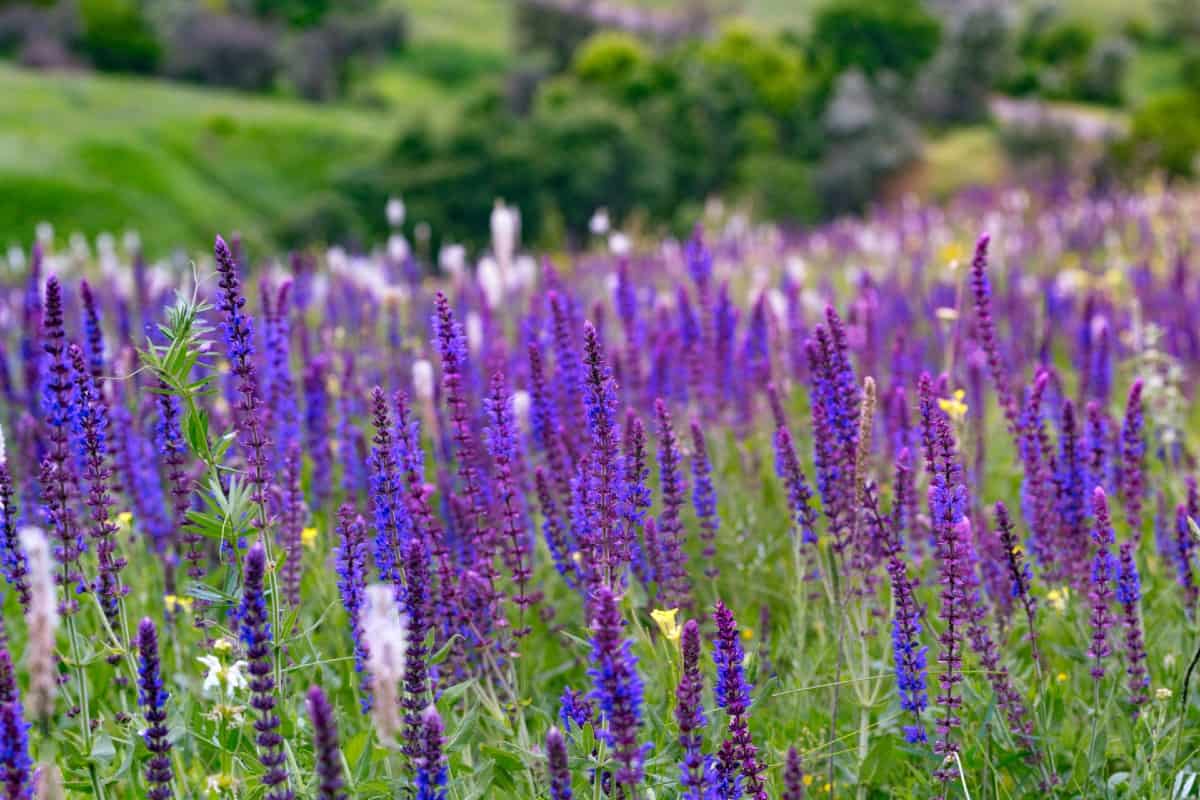 Last but not least, salvia is one of our all-time favorite flowers for attracting butterflies. The blooms are long-lasting, both perennial and annual, and grow rapidly to showcase their colorful, spiky blooms.
Salvia spreads easily. Remove one-third of a plant that gets too big. When the flowers begin to fade, remove the heads to encourage additional flowering that lasts through August.
Who knew that there were so many vibrant nectar plants for butterflies? Planting even a couple of these flowers around your home creates visual appeal and brings nature one step closer to you.
Butterflies, hummingbirds, bees, and other essential pollinators come back time and time again for these trusted nectar-producing plants.
Integrate these beautiful flowers around your garden beds and watch the butterflies gather around their new favorite lunch-stop, your home.
If you've fallen in love with the colors of these nectar plants for butterflies, share these nectar-producing plants on Facebook and Pinterest.