When creating your garden, you ensure every plant contributes a unique sense of appeal and purpose. Perfecting this level of beauty and eye-catching allure takes time and research to get the look just right. One way to increase both charm and function to any outdoor area is by adding plants that attract hummingbirds.
These lure much-needed pollinators are fun to look at, but it also keeps gardens thriving while looking fabulous. Many of the plants that hummingbirds love are also some of the most stunning, including Columbine, Sage, and vibrant Fuchsias.
These incredible specimens come in all shapes and sizes, allowing for taller plants, shrubs, and even groundcover to fill in spaces in the garden you've already worked so hard to cultivate.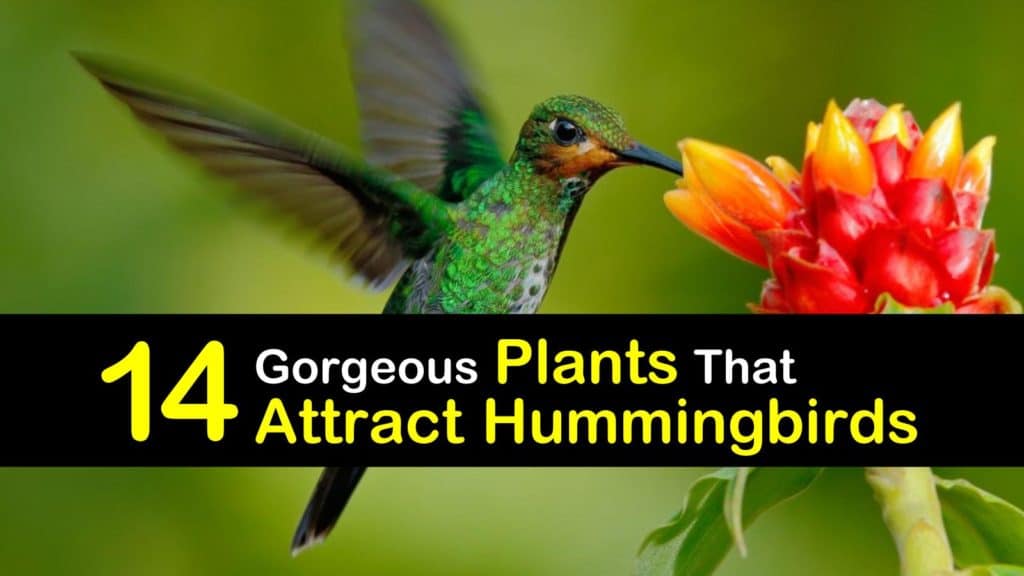 Gorgeous Plant Ideas that Appeal to Pollinators
In addition to the little hummers, plants like butterfly bush, hyssop, and petunias draw in other pollinators that are just as enchanting to watch. To discover the right hummingbird-attracting plant, look no further than these incredible species. You can also learn how to make your own hummingbird feed that attracts these colorful birds to your yard.
Planting a wide variety of flowers attracts many different types of birds. Some have seeds for birds and others have delicious nectar.
The biggest draw for hummingbirds tends to be the shape and color of the flowers. Red and other bright, warm colors reel in these tiny birds with attractive flower petals and stamens.
Equally, tube-shaped flowers make it easier for hummingbirds to draw nectar out of the plant using their long beaks.
Plant several different types of shrubs for birds, including annuals and perennials, and even climbing plants to add interest for you and your flying friends.
There are even trees for birds like the hummingbird, who are not only attracted to the blooms but look for shelter among the leaves and branches.
Bee Balm (Monarda)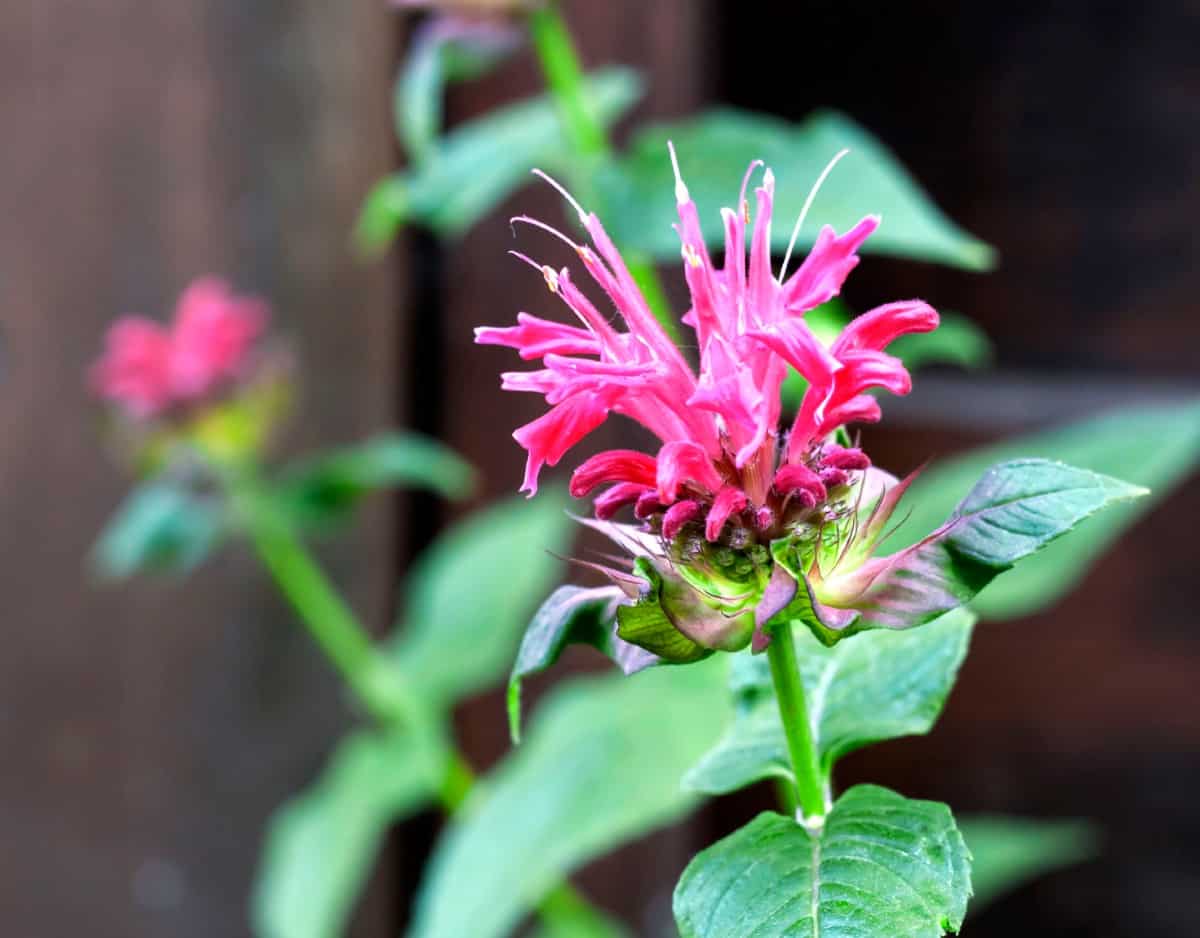 One of the best methods to attract hummingbirds is by planting Bee Balm. These perennials are not just for attracting the buzzing bees for which they get their namesake.
Hummingbirds love to sip some sweet nectar from these brightly colored flowers, especially when they come in red. Taking care of Bee Balm is relatively simple – provide them with plenty of moisture that is even and well-drained.
If the soil gets too dry, this may lead to powdery mildew that weakens the plant. The flower is happiest when kept in full sun conditions but also handles partial shade reasonably well.
Hyssop (Agastache): Sweet-Smelling Native Plants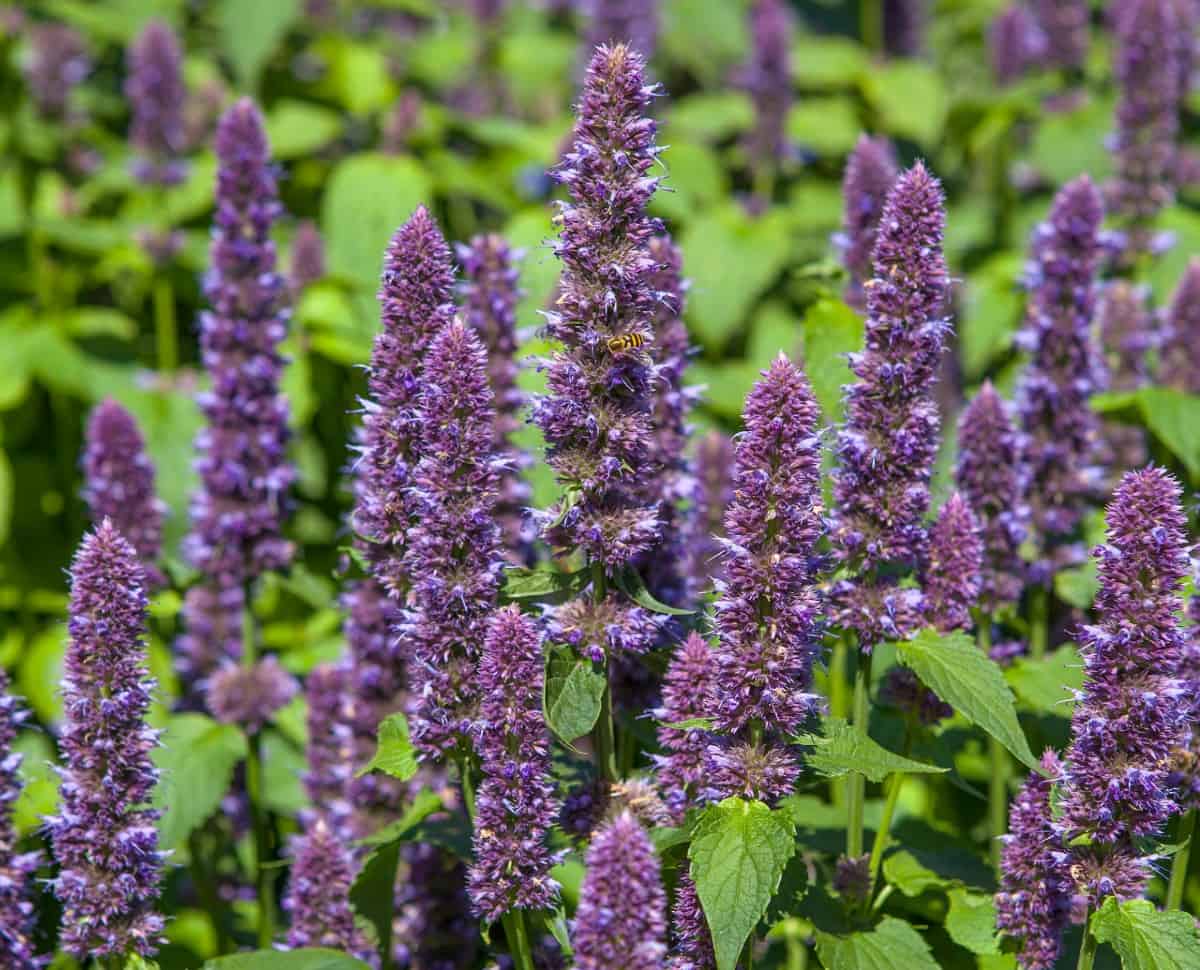 Another spectacular plant to add to your hummingbird garden is the lovely Hyssop. These plants release a sweet scent that smells like licorice. As native plants to the Southwest and throughout Mexico, they prefer warmer climates between USDA hardiness zones 4-9.
Generally seen as bluish flowers, they sometimes display white or pink blooms in the summer, attracting all kinds of pollinators, not just hummingbirds. They also tolerate poor soil conditions, with a preference for acidic soils.
Beard Tongue (Penstemon)
Beard Tongue grows as a stunning set of tubular flowers that hummingbirds crave. This shape makes it easier for them to drink nectar, while the bright colors draw them in. The perennial plant comes from the same family as Snapdragons and Foxglove.
Penstemon grows between USDA hardiness zones 3-9, covering most of the country. They bloom in early summer and require regular weeding to develop properly.
They are somewhat drought-tolerant, though adding a layer of organic mulch around the top allows them to retain the necessary moisture and nutrients.
Columbine (Aquilegia)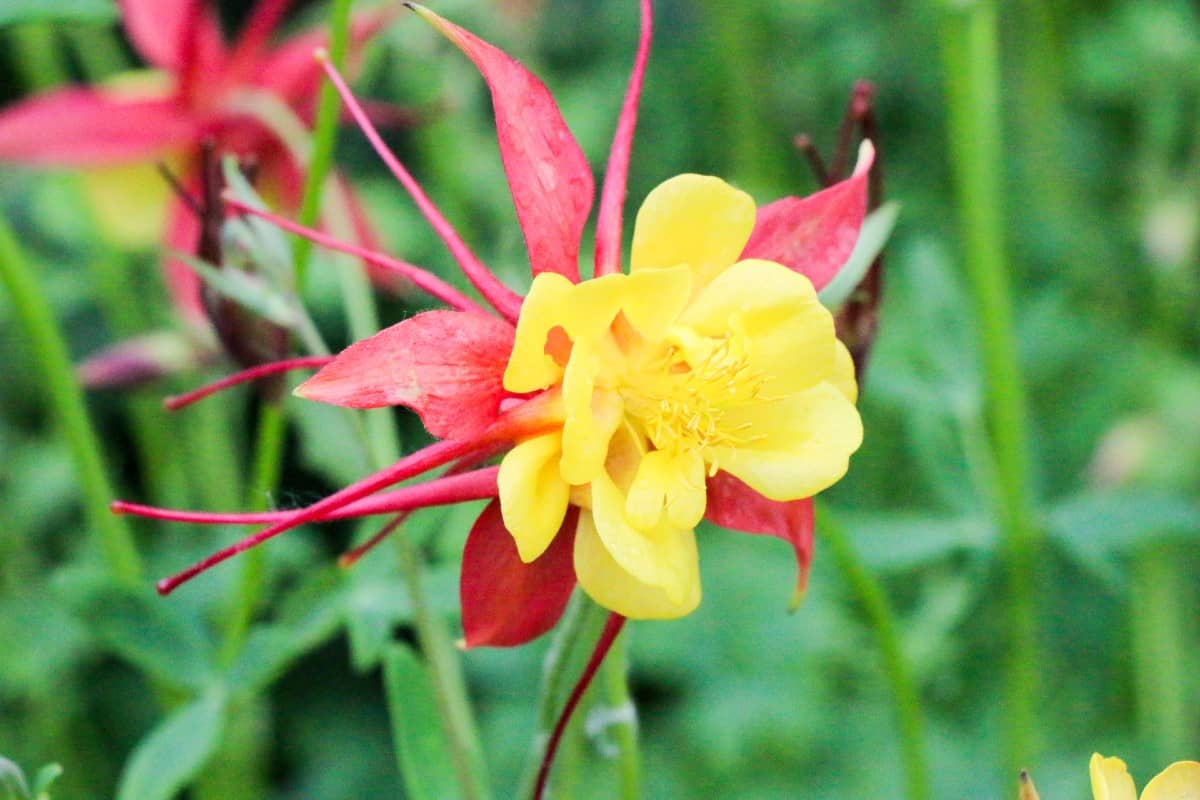 Columbine is another beautiful group of flowering plants to add to your list of potential candidates. These perennials provide interest almost year-round, with flowers that bloom from spring through to late summer.
Their leaves turn almost a maroon color in the fall, differing from their dark green backdrop against bright flowers. Blooms grow in many hues and tones, including red flowers.
Red is of particular interest to most hummingbirds since it attracts them to hot spots of nectar faster. That's why so many hummingbird feeders also sport red in one way or another. Whenever possible, choose red blooms to draw hummingbirds even more.
Butterfly Bush (Buddleia davidii): Plants that Attract Hummingbirds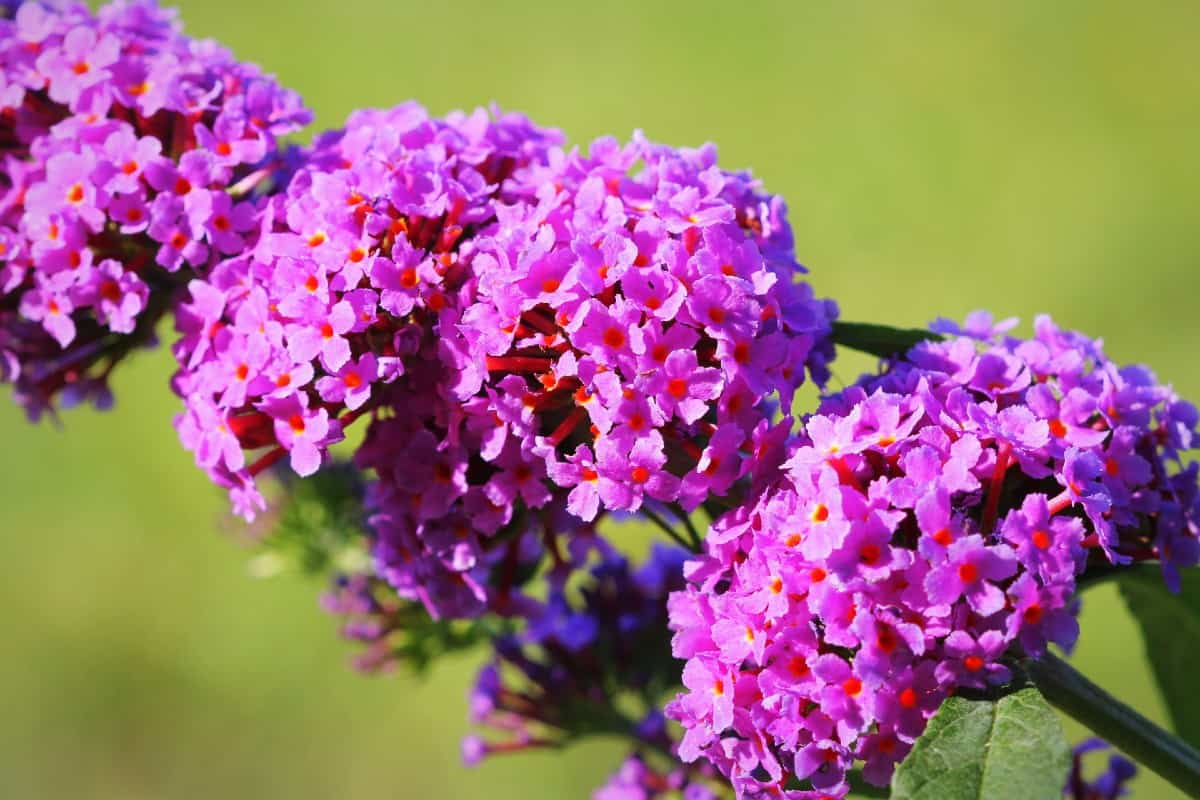 Butterfly Bush is one of the go-to plants many gardeners use in their landscape designs. These gorgeous flowers look similar to lilacs, so much so that they often bear the name "summer lilacs."
Their tight and compact bundles of flowers attract all kinds of pollinators, including hummingbirds and the butterflies for which it's named. These flowers bloom as early as late spring, lasting throughout the summer.
Plant these bushes in spring or fall, before the first frost, to establish in plenty of time. Provide your flowering plants with at least 6 hours of sunlight each day and space them approximately 5-10 feet away from neighboring plants.
Trumpet Honeysuckle (Lonicera sempervirens)
Lonicera is the genus that houses the many different types of honeysuckle plants. Like their names suggest, these plants practically ooze sugary sweetness that most animals love.
The Trumpet Honeysuckle is a particularly attractive option since it grows in long sprawling vines similar to other vining plants like Trumpet Creeper. Plants grow up to 15 feet in length and often require some sort of trellis to maintain their spread.
The red and orange flowers tend to bloom in spring, though some varieties last until the early fall. Plant them in a sunny spot and keep their soil moist between waterings.
Sage (Salvia officinalis): A Sweet Treat for Birds and Humans
Salvias attract many different pollinators, especially hummingbirds. The high count of nectar in Sage makes it an efficient way for hummingbirds to collect as much nectar as possible at one time.
Hummingbirds are not the only ones who benefit from this sweet plant, either. Some countries use the honey from this plant to make a delicious, delicate treat for humans. The plant blooms in summer, producing soft pink and purple flowers.
Sage is a cross between two types of salvias in an attempt to create something hardier for winter conditions. Sage still prefers warmer climates, though it stretches as far north as zone 4 of the USDA hardiness levels.
Cardinal Flower (Lobelia cardinalis)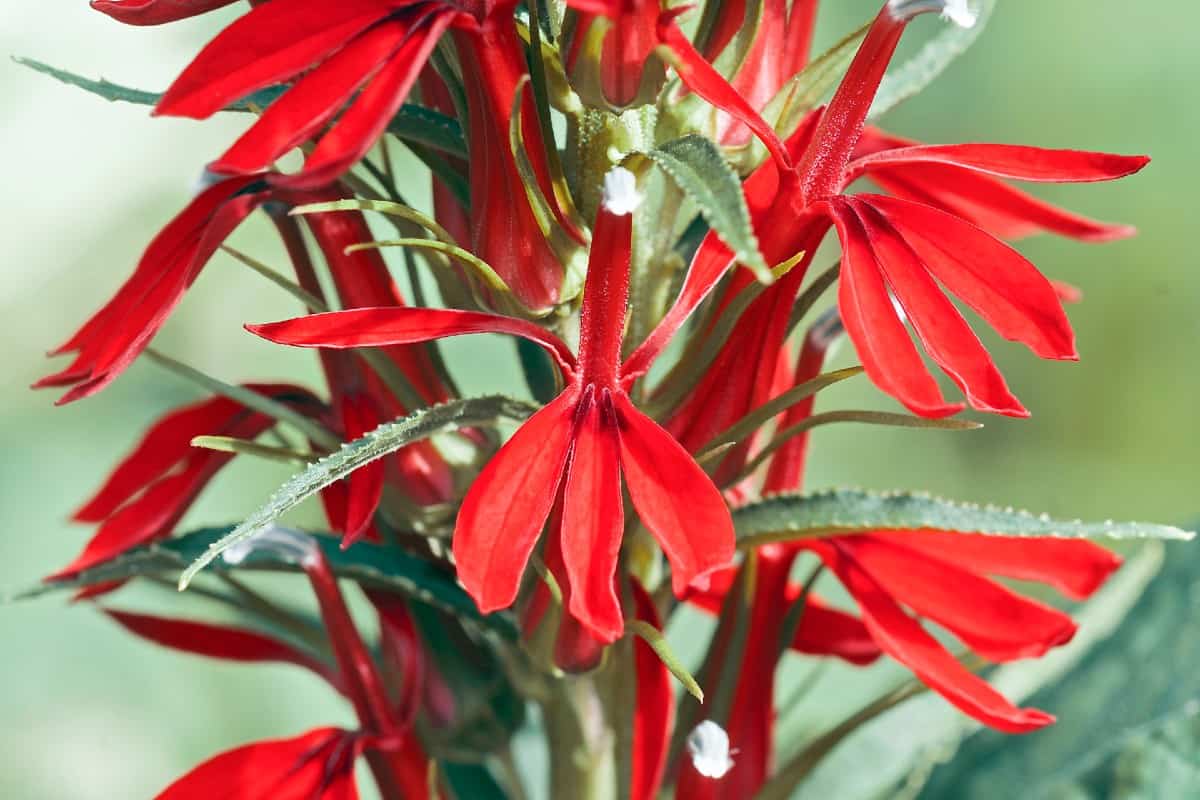 This next perennial is a member of the Lobelia family. These small red flowers hang off one long stalk that stretches anywhere from 2-4 feet tall. They bloom in July and last through September.
A crucial point for why hummingbirds love these flowers is their shape. Like many of the flowers in this collection, they have a slender tube-like configuration that makes it hard for most insects to navigate.
This shape leaves it almost exclusively for the hummingbirds to feed on. As a result, the bulk of the nectar goes to them.
Lantana (Lantana camara)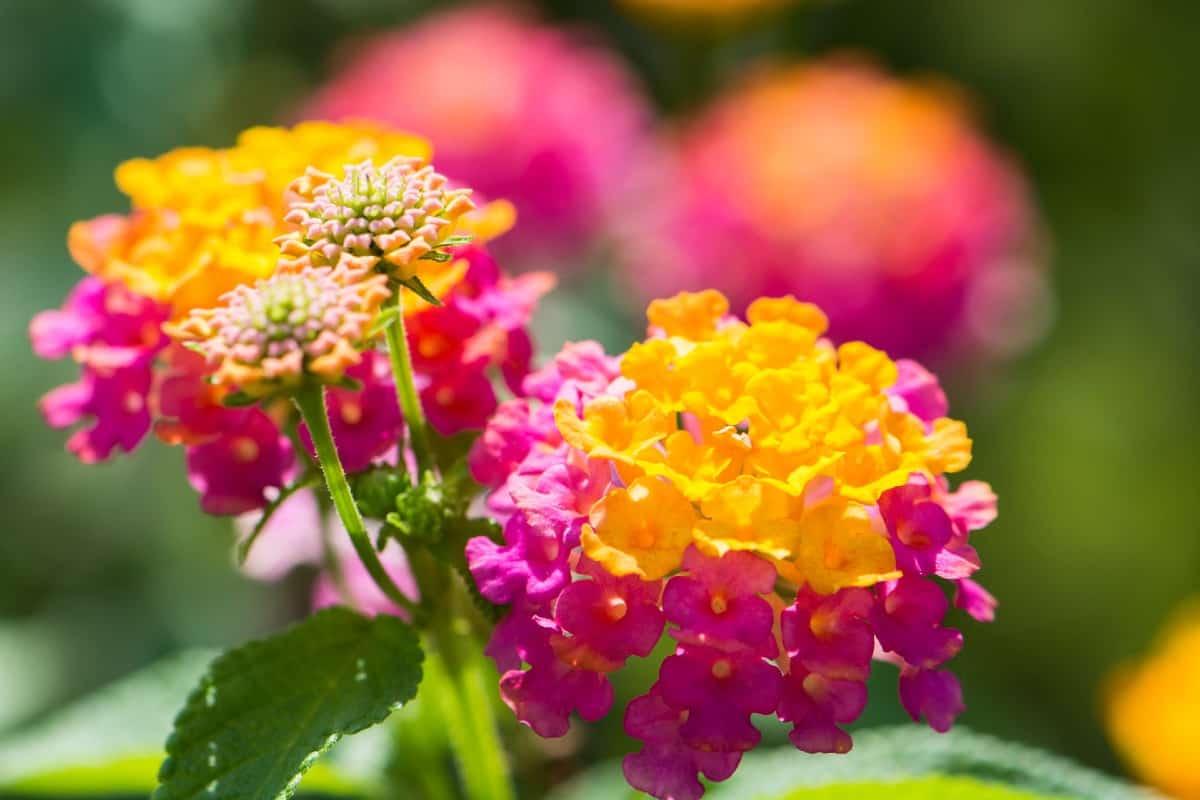 Another perennial shrub to add to your garden is Lantana. There are over 150 different species – some that are trailing and others that grow in tall, dense thickets. In full size and spread, they grow up to 6 feet high and 8 feet wide.
Flowers on this plant often grow in multiple colors within a cluster. They potentially bloom all year long under the right circumstances. These flowering plants are drought-tolerant and make the perfect specimen to plant along borders.
Coral Bells (Heuchera americana): Vibrant Foliage that Attracts Hummingbirds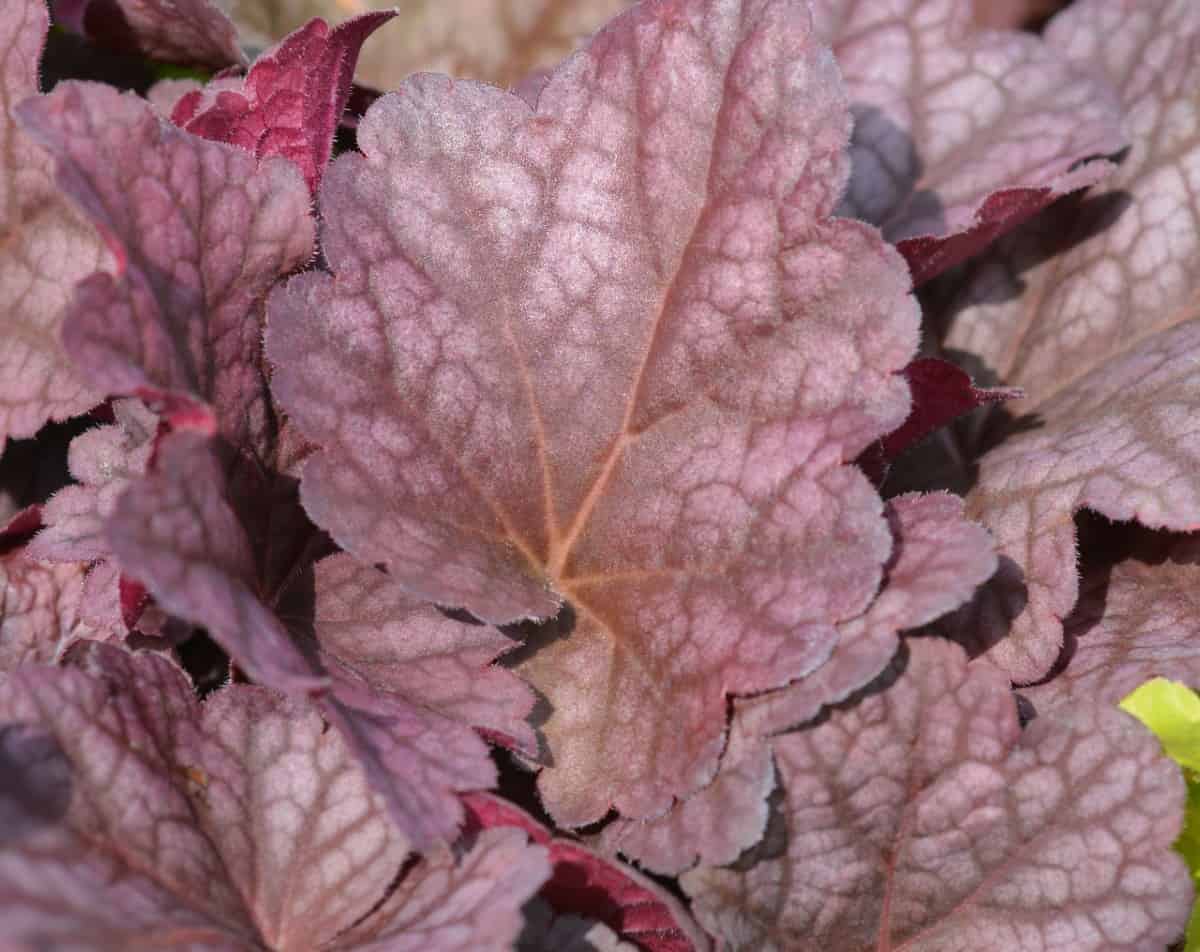 Coral Bells are lovely little shrubs prized as much for their flowers as they are for their foliage. The tiny coral bells bloom in June and look similar in size and shape to the dainty bells on Lily of the Valley.
The leaves grow in several colors that change with the seasons. At times, they are varying shades of pinks and reds and other times blue or lime green.
These hummingbird perennials zone 5 prefer partial shade conditions, though they handle more sunlight exposure when grown in cold climates. They adore well-drained soils that are kept at neutral to slightly acidic pH levels. However, they are not fans of clay soil.
Phlox (Phlox paniculata)
Another fantastic set of hummingbird flowers, Phlox gives off a sweet fragrance these tiny hummers love. The plant is relatively hardy and withstands temperatures throughout USDA zones 4-8.
When grown in warmer climates, providing them with a little shade helps, as long as they get 6 hours of sunlight in the morning. This native woodland plant blooms from July into September, with the potential to continue even longer under ideal circumstances.
Hummingbirds are not the only types of creatures that love these plants, however. Sometimes, having repellents or fences to keep out deer and rabbits go a long way in keeping them safe.
Fuchsia (Fuchsia magellanica): Colorful Flowers for Colorful Birds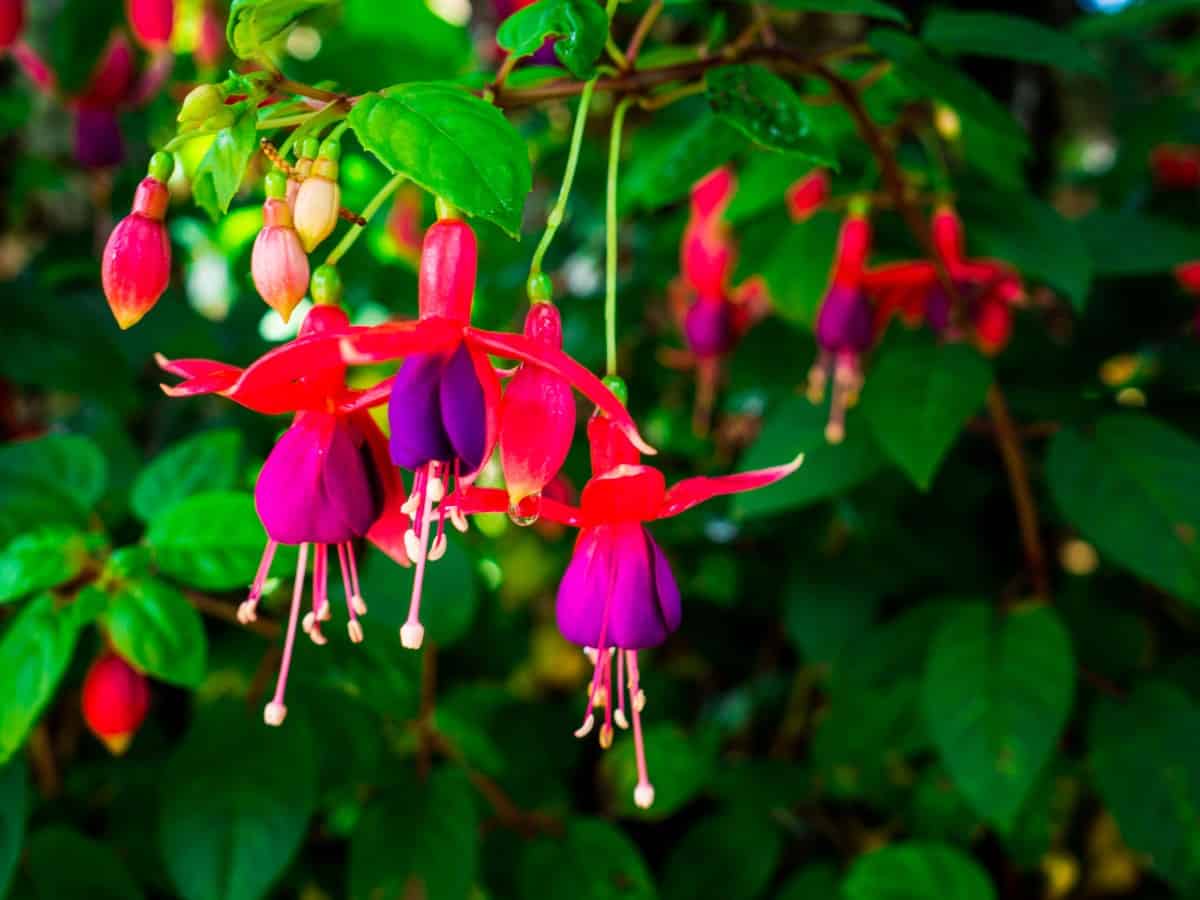 Fuchsias are widely known and beloved for their vibrant purple and pink colored flowers. Yet, they are not the only brightly-hued species that make this plant worth adding to your garden.
Fuchsias are also among some of the few plants that attract Rufous Hummingbirds. These types of hummingbirds can only get nectar from certain flowers, including Fuchsias and Columbine.
Among the most highly recognizable hummingbirds, males display bright orange flashings, while females have a gorgeous combination of green and orange feathers.
Petunia (Petunia × atkinsiana)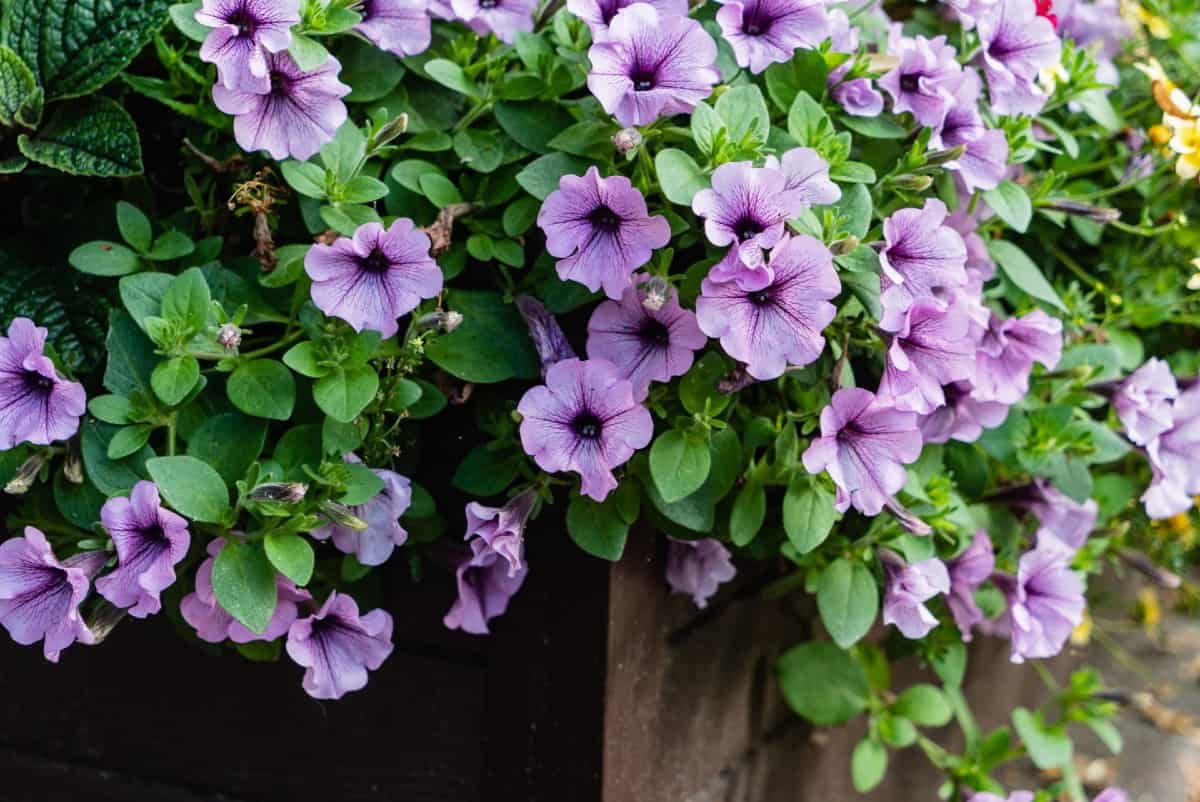 Petunias get their name from the South American word for "tobacco," to which the flower is closely related. In their own family, petunias consist of approximately 35 different species.
Each has its role, making lovely cut flowers or spilling over the sides of hanging baskets. The tubular shape of the best annuals for hummingbirds is what attracts the little nectar-loving fliers.
Since petunias need plenty of sunlight to survive, keep them on porches or close to a sunny window when growing in containers. Adding a little bit of compost to boost their nutrients also helps.
Foxglove (Digitalis)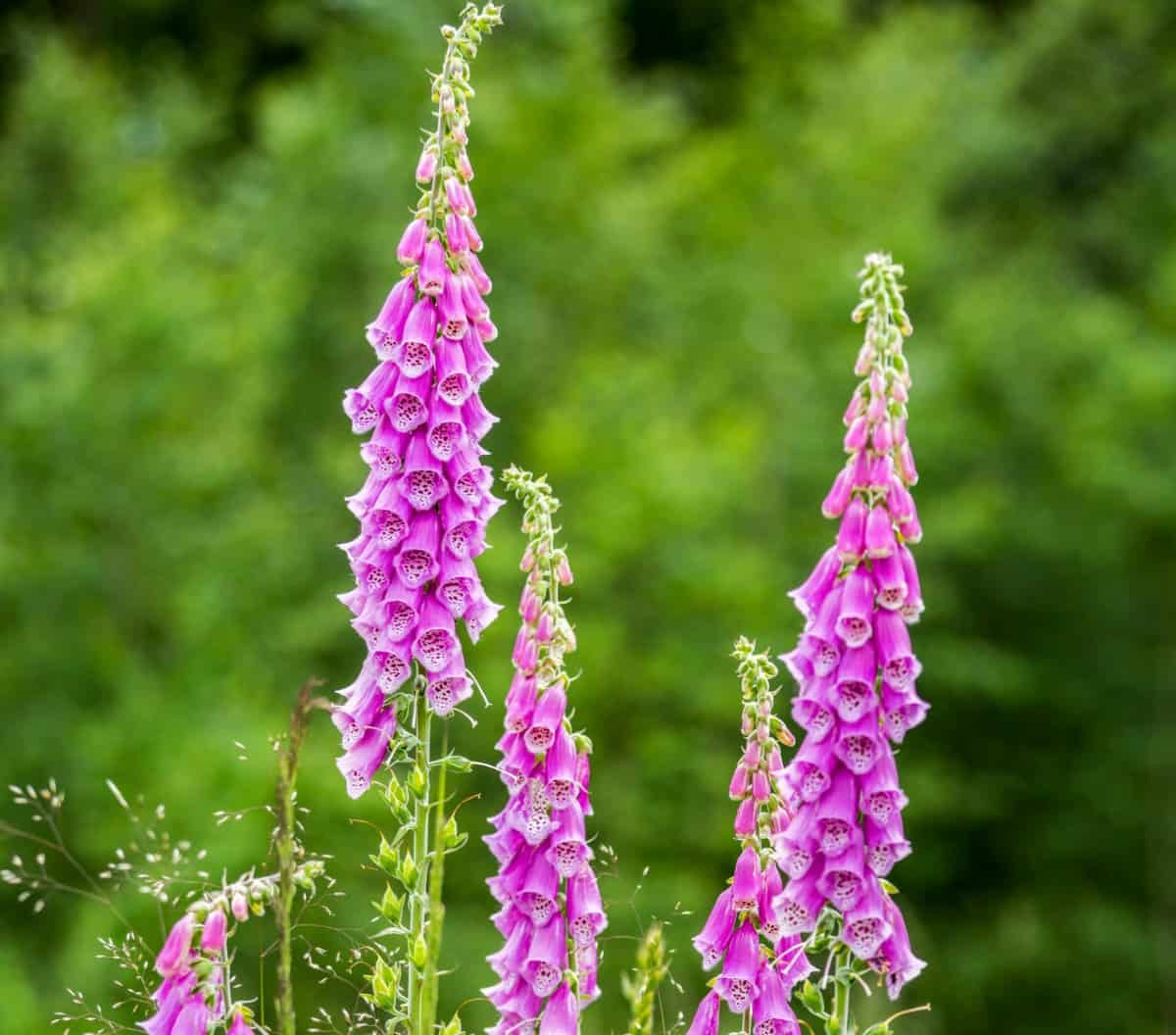 Another favorite among hummingbirds is the Foxglove plant. These flowers bloom in summer, with colors ranging from white to yellow to purple.
When in bloom, the plants grow up to almost 6 feet high, with clusters of little tube-like flowers ready for hummingbirds to enjoy. While hummingbirds may love these plants, Foxglove should be kept out of reach of other creatures.
Foxglove is highly dangerous for pets, as well as for small children and adults to eat. Place them in sunny locations where they still get all the nutrients they need without interacting with other animals.
We hope you liked learning all about these hummingbird favorites and how to add them to your garden. In addition to being lovely in their own right, their ability to attract such magnificent little creatures ensures you have plenty of snapshot worthy moments ahead.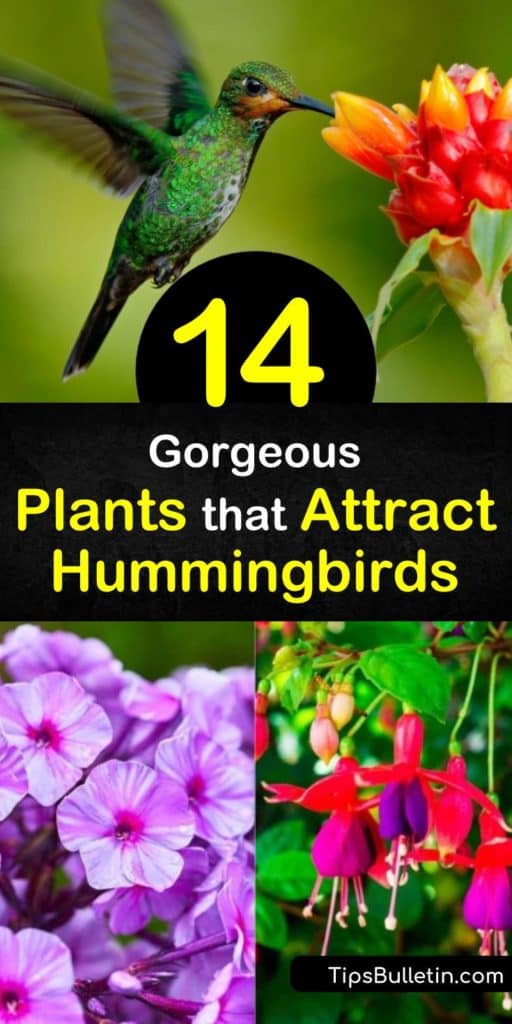 If you found this collection of pollinator-attracting flowers useful, please remember to share your favorite species of plants that attract hummingbirds with friends and family on Facebook and Pinterest.