There is no feeling quite like walking along a street and stumbling across a structure that is alive with green leaves and colorful flowers that cover an expansive area. Although there are vines for every season, spring blooming vines are some of the prettiest.
Vines that bloom in the spring bring your garden to life after a long period of grey and dreariness.
Spring blooming vines are fantastic because they are planted in the late winter or early spring and have the rest of the growing season to add color, texture, and movement to your flower beds.
After the flowers bloom, they fall off and show off their dense leaves or produce fruits and berries that provide food and shelter to the critters. If you're ready to add a magical feel to your yard, choose one of these vines with spring-blooming flowers.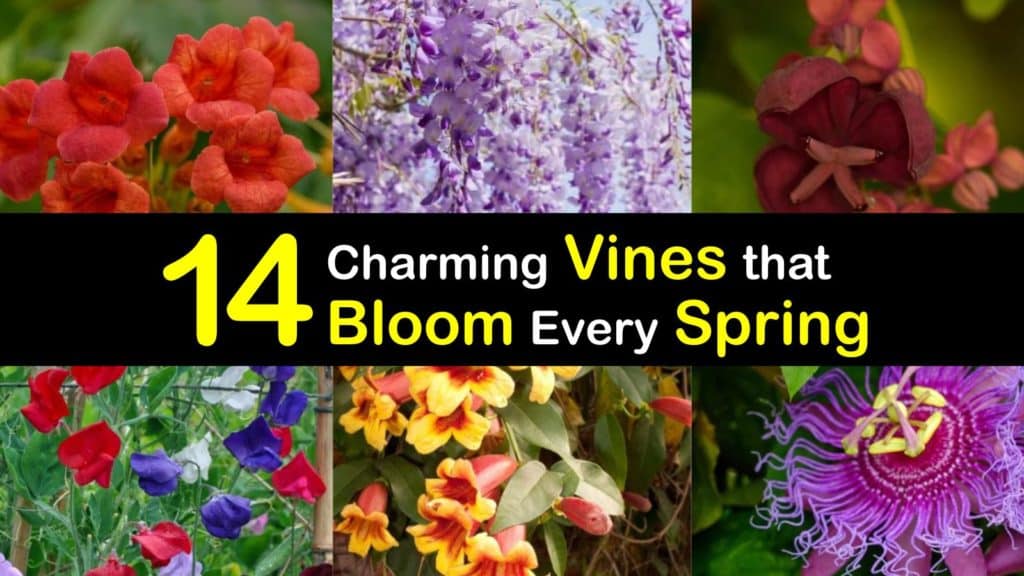 About Vine Plants
Vines are not all the same. Some climb upward, some are creepers and work well for ground cover, some are drought tolerant climbing vines, and others trickle down and hang from sturdy structures.
When choosing which spring blooming vines to plant near your house, make sure you have the proper growing conditions and support, so the plants establish themselves quickly and look like they were meant for that location. Add a few other plants nearby, like spring flowering grasses and some annuals and perennials for variety.
To plant a vine, determine that you have the right growing requirements based on sunlight, soil type, structure, and water. Check that you live within their USDA hardiness zone range and test for soil pH.
Plant your vines between April and June by digging a hole that is twice the size of the root ball. Adding rich compost to the soil is almost always a smart choice for fruits that grow on vines as well as flowering ones. Fill the hole back in with the dug-up dirt and water it thoroughly until the roots take to the ground.
Excellent Spring Blooming Vines: Leather Flower (Clematis montana)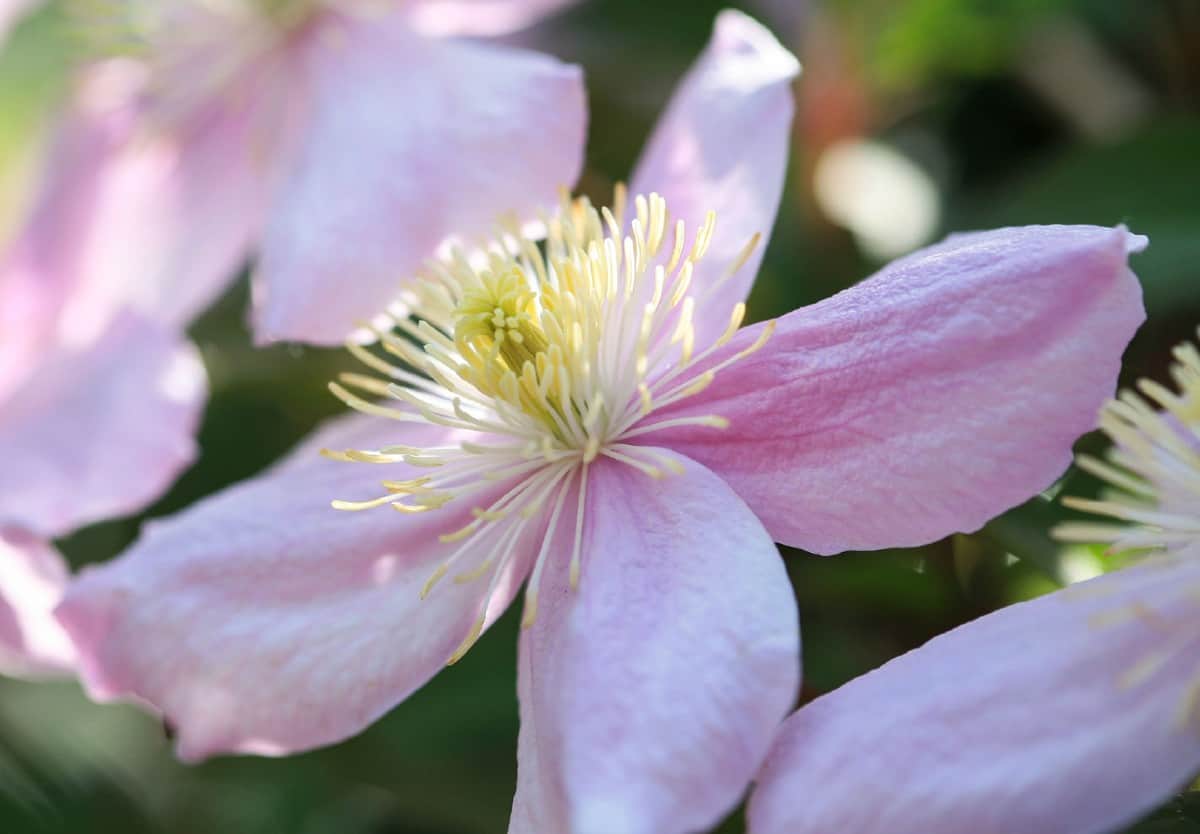 The leather flower vine also goes by the name clematis and comes in an assorted selection of colors, shapes, and tolerances. These spring blooming vines make an excellent substitute for the famous morning glory vines people usually gravitate toward.
Leather flowers are small, pink and white flowers that bloom in abundance. Leather flower vines bloom during late spring and last through early summer.
These deer resistant flowering vines reach about 40 feet long under ideal conditions. They survive in full sun or part shade and prefer to keep their roots cold and their foliage warm.
Trumpet Vine (Campsis radicans)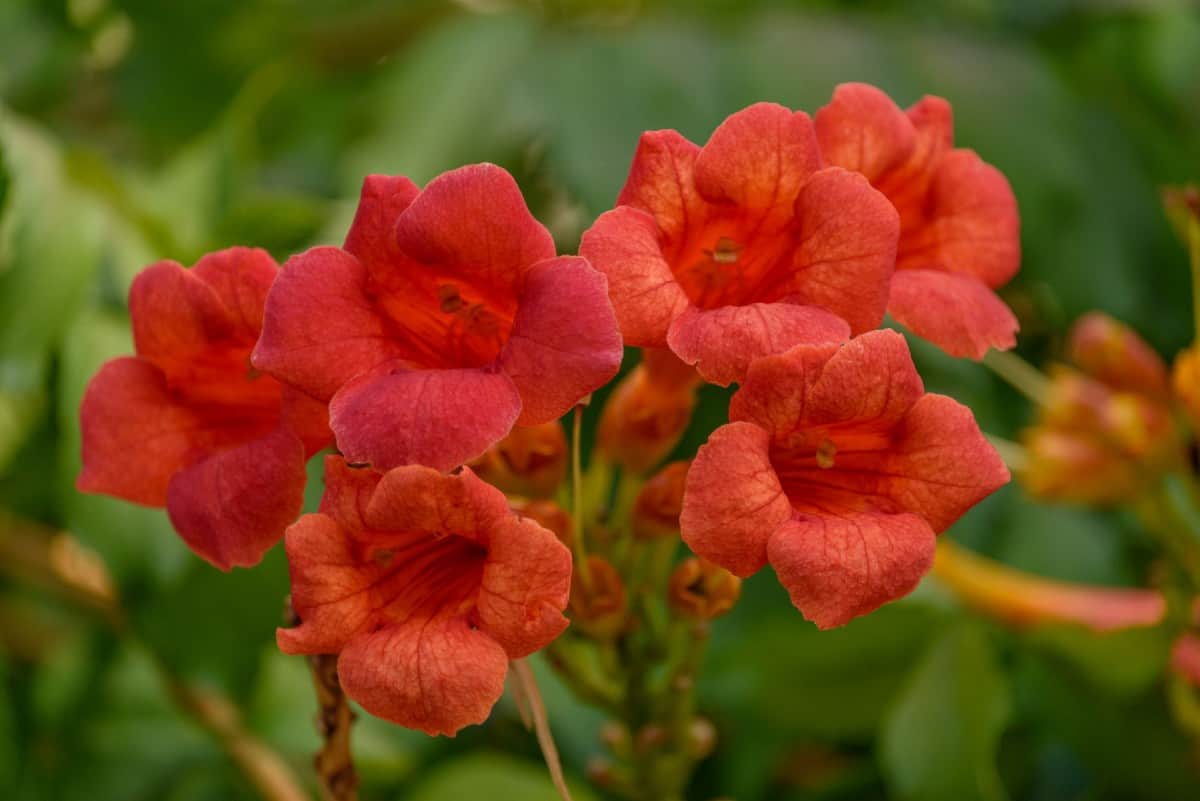 Trumpet vines are eye-catching vines with unforgettable, trumpet-shaped flowers that dangle from their thin stems. The blooms range from yellow to red. Trumpet vines are hardy in USDA zones four through nine and reach 40 feet long.
Prune these vines regularly to keep them under control. Trumpet vines like either partial shade or full sun.
They enjoy having well-draining soil and only require water when the soil is completely dry. Deadhead the spent flowers to prevent them from reseeding and spreading to other areas too quickly.
Passionflower (Passiflora incarnata)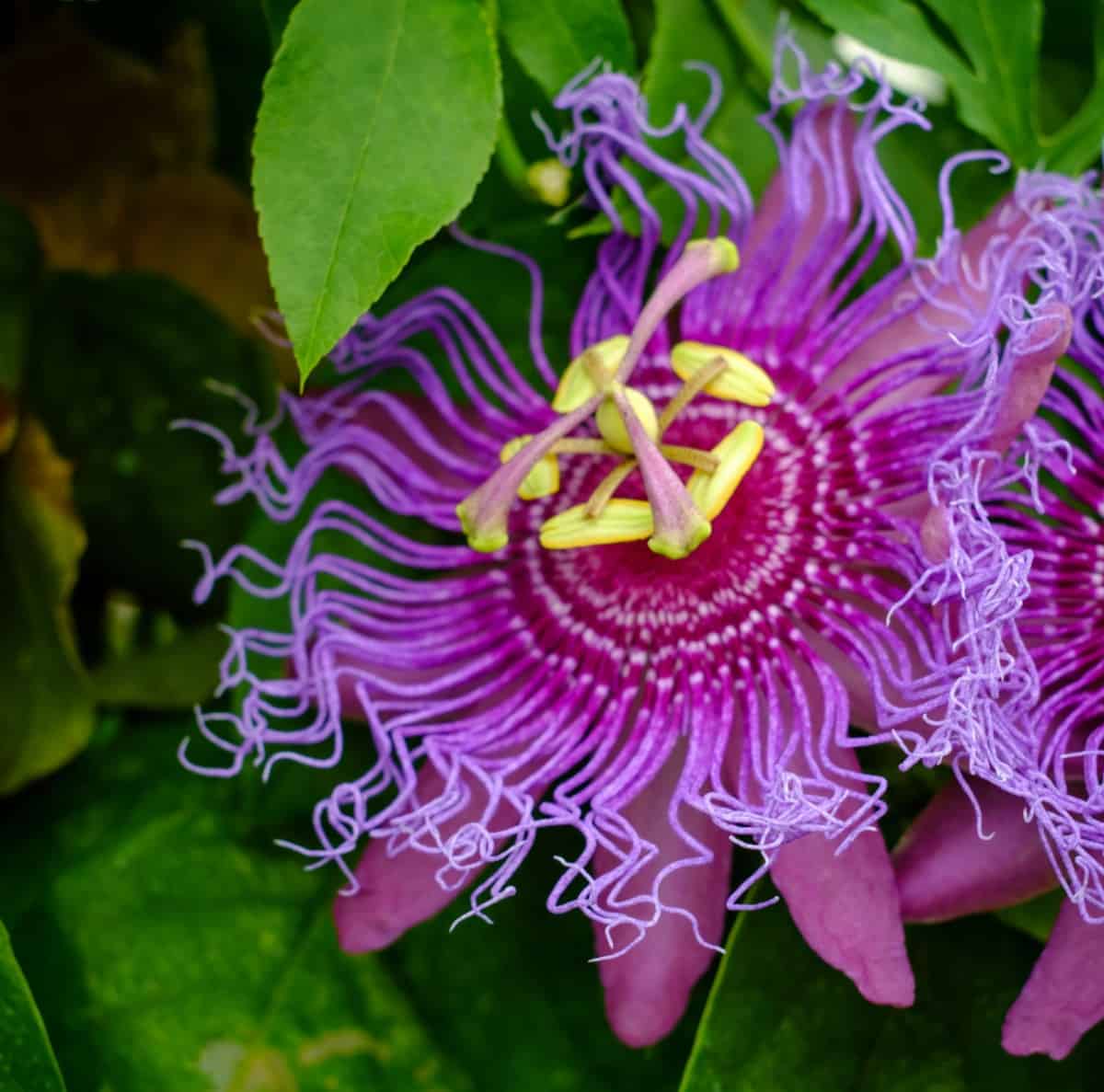 Passionflower vines are incredibly original. The flowers look like they are from a tropical island with a bright purple, fringed center, and a vibrant green stamen.
It has stunning green leaves and is a unique vine that blooms from midsummer to fall. Passionflower vines reach up to 30 feet long and about eight feet wide, making them perfect for a pergola.
These strange plants are spring perennial flowers that are hardy in zones six through ten. Plant these spring blooming vines in fertile and well-draining soil. Remove the flower heads as they fade.
Honeysuckle Vine (Lonicera japonica) – Spring Flowers with Sweet Smells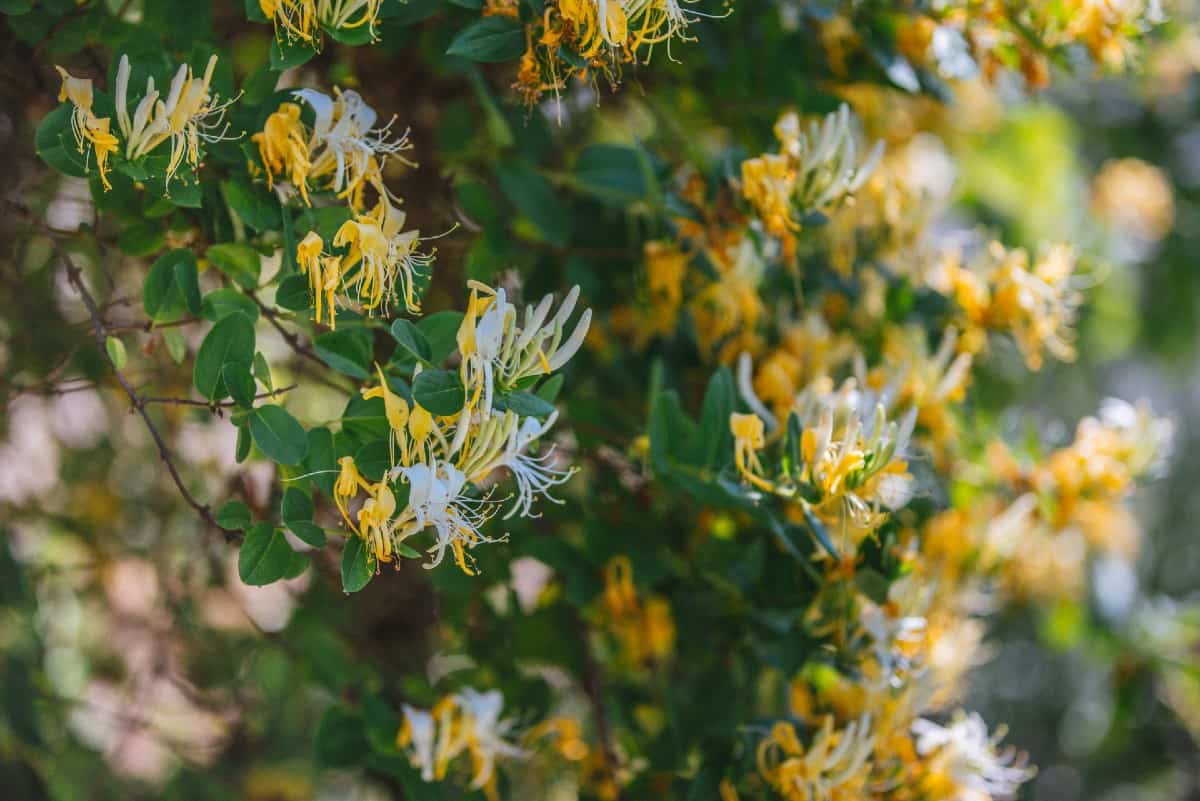 Honeysuckle plants are evergreen vines with a robust sweet pea smell. These vines are extra hardy and grow in nearly all American states because there are over 180 varieties.
This fastest growing vine for privacy has bright green, oval-shaped leaves with burgundy stems and pink, orange, and yellow flowers that bloom in the early spring.
Honeysuckle vines enjoy full sun but tolerate some shade if necessary. They are typically grown as ground cover plants but do better with a support system like a wall, fence, or trellis. Keep the soil evenly moist but not overly wet or soggy.
Wisteria (Wisteria sinensis)
Wisteria vines are high-climbing plants with massive, aromatic clusters of violet flowers that bloom from early spring to early summer. These perennial vines look breathtaking when draped from an archway or pergola.
They reach longer than 30 feet and provide a meal for hummingbirds. The tendrils multiply to secure the vine in its new home and help make them aggressive growers.
Plant your wisteria vines in a site with lots of sunlight for healthy spring blooms. Add organic compost to your ground if it is in poor condition and keep it away from other plants, so it doesn't overtake them.
Sweet Pea (Lathyrus odoratus)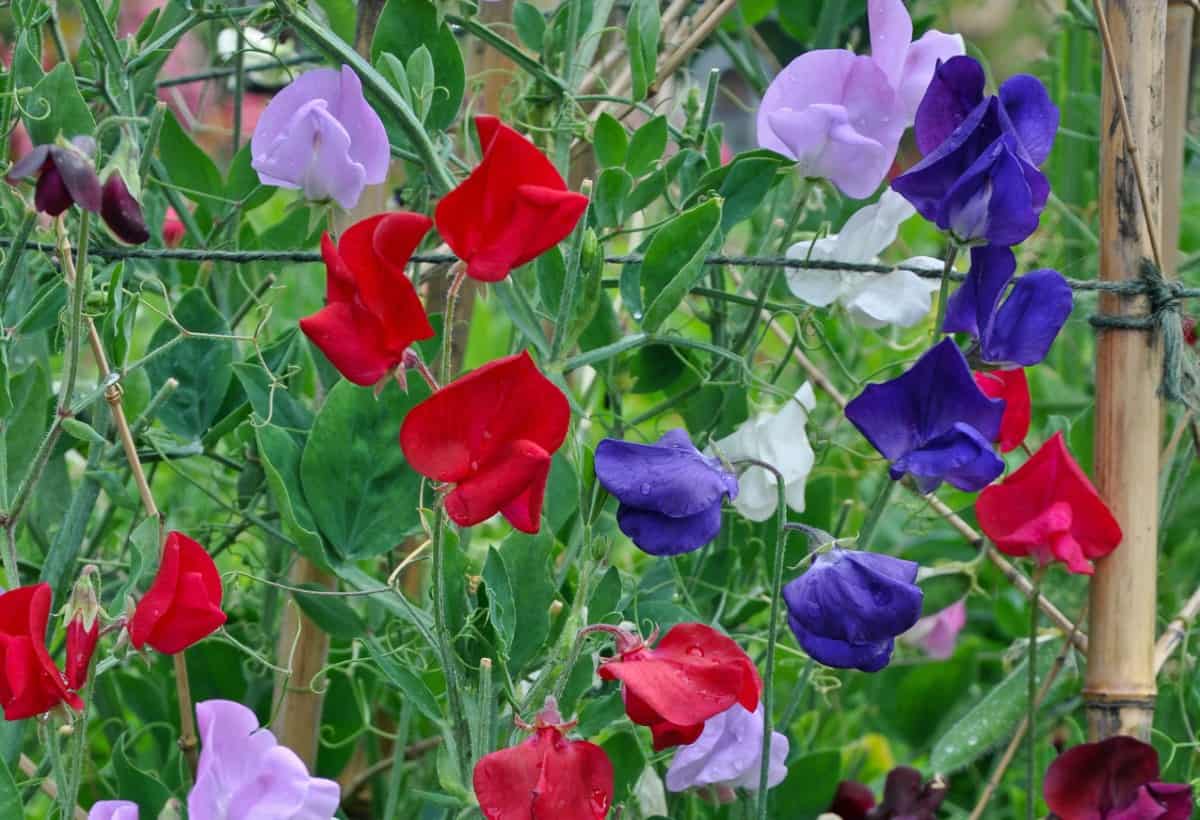 This charming vine has a signature honey and orange fragrance that homeowners can't get enough of. Sweet peas are low-maintenance climbers and flowering vines. Have your trellises set in place before planting sweet peas to avoid damage to roots.
The sweet pea seeds have a thick exterior that makes germinating more challenging than other plants. Soaking the dense seeds in warm water for a day helps soften the coat.
Plant sweet peas in the early spring or late summer. Give the sweet pea vines full sun or light shade and add compost to the soil to improve drainage.
Vines for Cottages – Climbing Rose (Rosa setigera)
Climbing roses are far less fussy than the bush form and one of the most beautiful vine choices for a cottage-like feel. These roses create a bold backdrop to other perennials and grow on arbors, trellises, fences, walls, and pergolas.
There are dozens of colors to choose from, so pick something that complements your existing landscaping. Of the varieties to choose from, pick a climbing rose that fits the growing environment around your property.
Most of these vines are disease-resistant and like full sun. They do best in well-draining, loamy soil. Protect them from the hot afternoon sun, and they will pay you back in unforgettable beauty.
Climbing Hydrangea (Hydrangea petiolaris)
Don't look past the climbing hydrangea vine. Although the shrub forms are more popular, these vines showcase large flower clusters that bloom from late spring to late summer.
The twining wraps itself around a support system to help them reach 80 feet long. Climbing hydrangeas are mostly hardy in USDA hardiness zones five through seven.
They like fertile, well-draining soil and either full sun or partial shade. Keep the soil evenly watered and add a two-inch layer of mulch to the base to keep moisture in and weeds out.
Carolina Jessamine (Gelsemium sempervirens)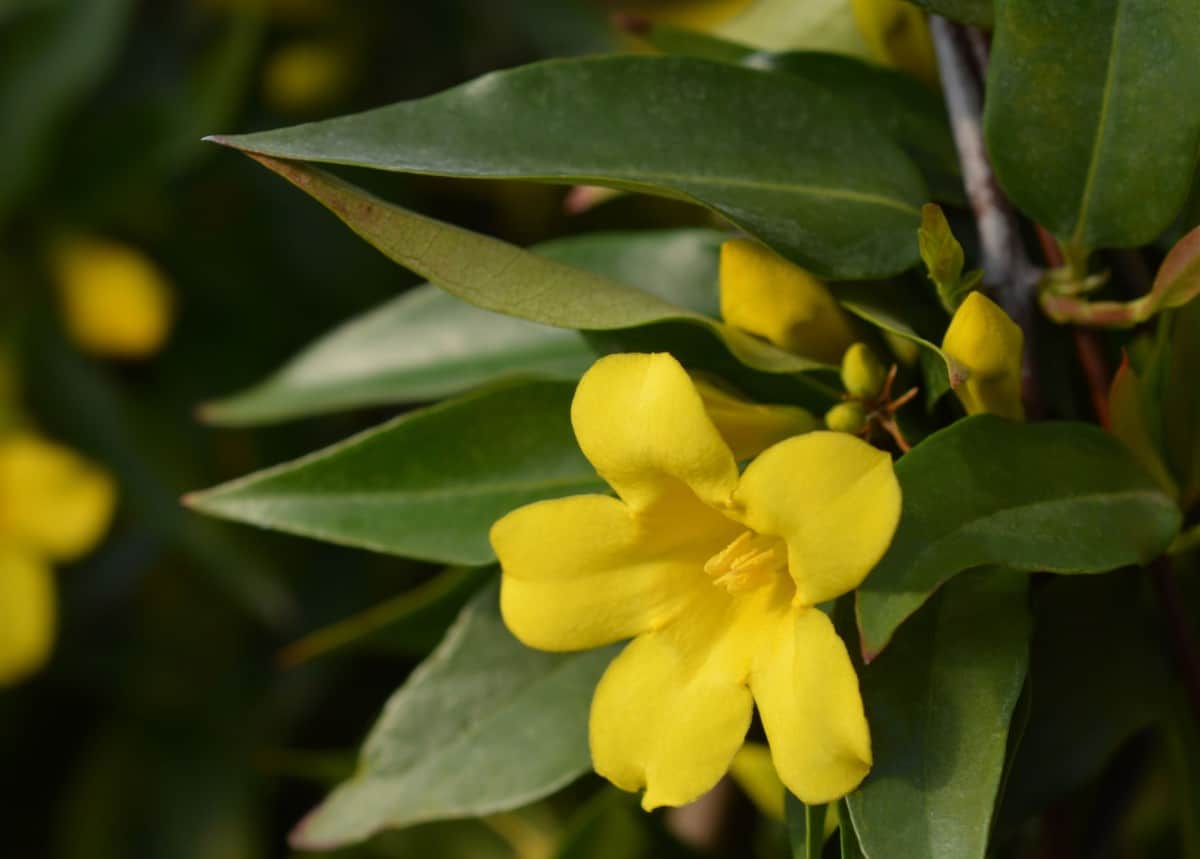 Carolina jessamine is covered in dozens of small yellow flowers that bloom from spring to early summer. They grow 20 feet and use tendrils to climb up over anything they can.
This evergreen vine keeps its glossy green leaves all year and has dense coverage, so your home always has greenery. Carolina jessamine is hardy in USDA zones seven through nine.
These spring blooming vines tolerate partial shade but put on their best blooms with full sun. Choose soil that is rich in organic matter and fertilize the vines once every year during the late winter.
Common Vines for Spring – Crossvine (Bignonia capreolata)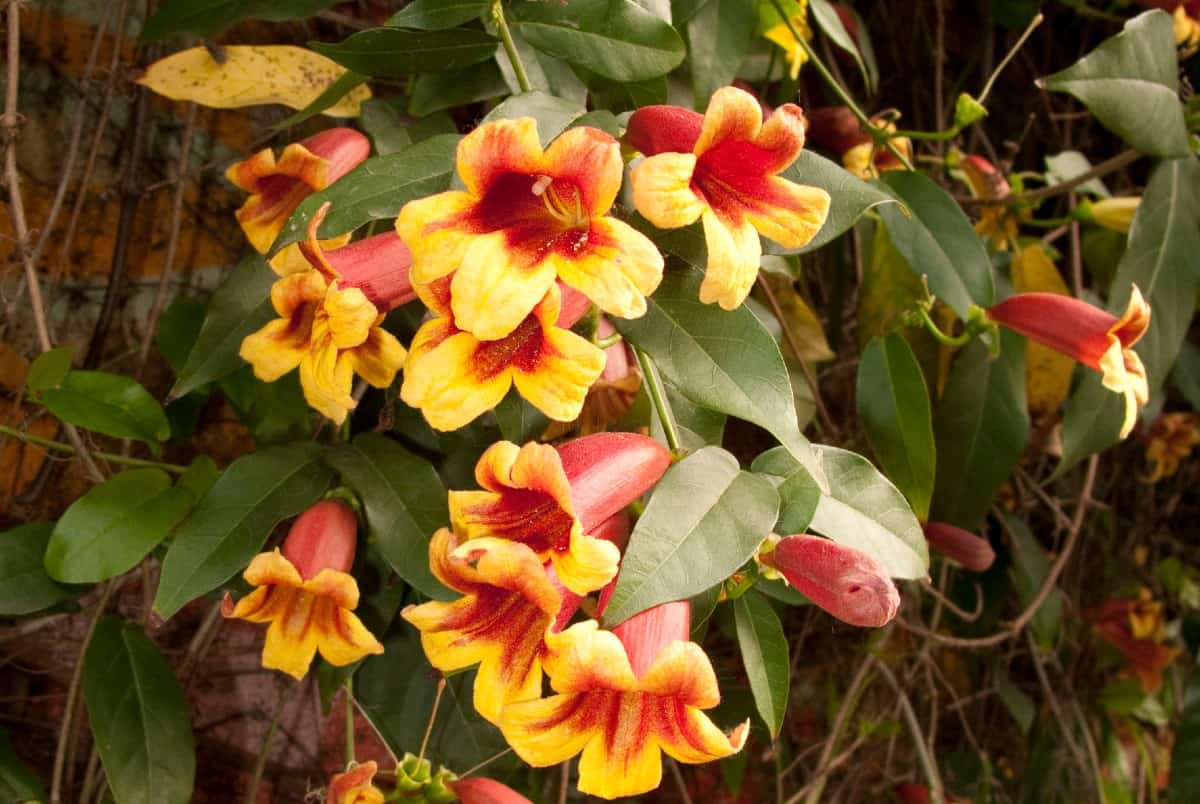 Bignonia crossvines are enormous, towering up to 50 feet tall. These vines have striking clusters of trumpet-shaped flowers that are red, orange, and yellow.
As new leaflets appear during the growing season, they start as light green, adding even more contrast. Plant these crossvines in full sun.
Water these vines regularly throughout the spring and summer and apply fertilizer to the ground both before and after the plant flowers. Prune the crossvines to your desired size, or choose not to prune at all.
Confederate Jasmine (Trachelospermum jasminoides)
You'll know confederate jasmine vines when you see them by spotting their star-shaped, white flowers that pop up in the spring.
These vines easily climb along fences and trellises, and some people even allow them to grow up their mailbox to showcase their flawlessness. It is a fragrant vine and easy to care for.
Confederate jasmine adapts to most soil types but is most fond of anything with good drainage. Keep the soil pH between 6.0 and 7.0. They tolerate full shade but are happiest when planted in direct sunlight.
Chocolate Vine (Akebia quinata)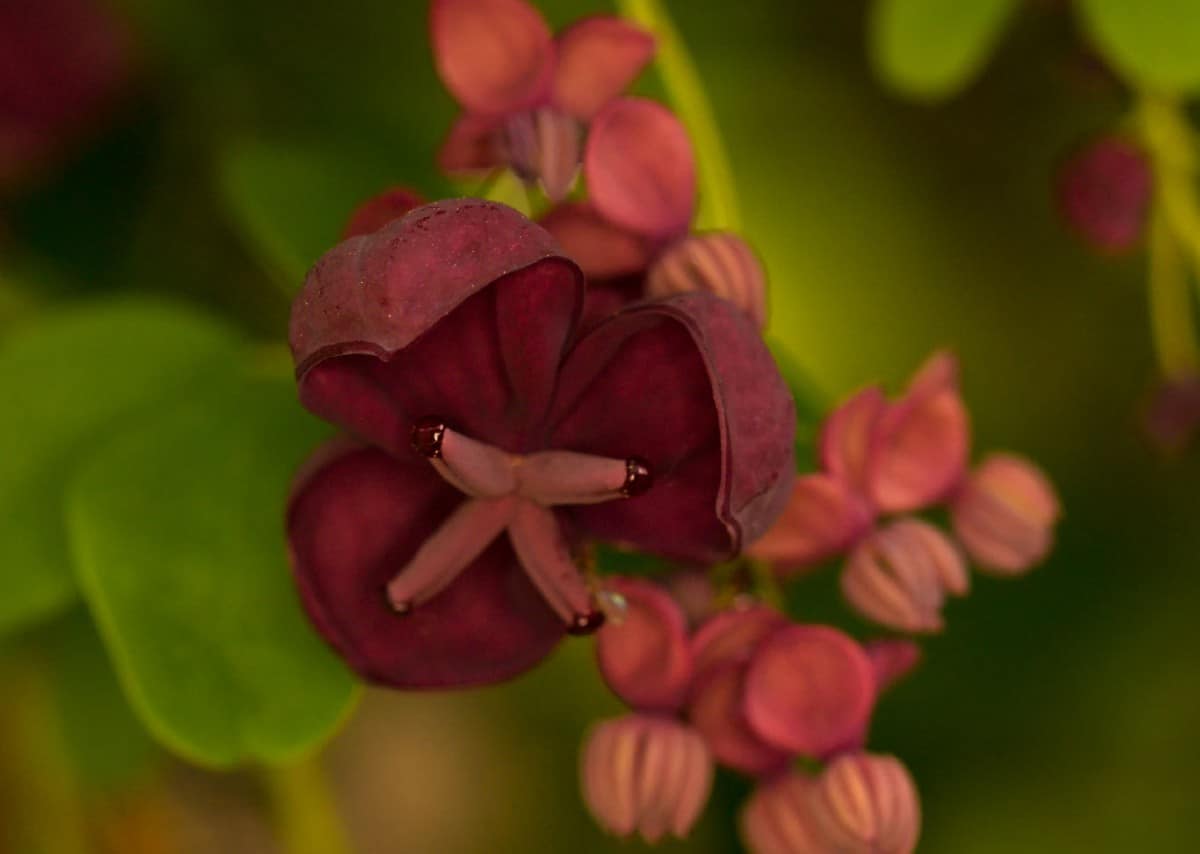 The chocolate vine is as delicious looking as it sounds. These spring blooming vines are great climbers and best for warmer regions since they are sensitive to frost damage.
They have maroon and chocolate-colored flowers with waxy petals that are cup-shaped. The clusters produce a spicy scent. Flowers appear in the late spring, and some leaves last well into the winter.
Grow chocolate vines in the moist ground with well-draining soil. They enjoy full sun and partial shade as long as they have plenty of water. Chocolate vines can face any direction for proper growth and grow 30 feet tall and 15 feet wide with the appropriate care.
Sweet Autumn Clematis (Clematis terniflora) – Vines with Lacy, Spring Flowers
We love sweet autumn clematis because of their dainty, lacy flowers that appear in the spring. They are excellent growers and hardy to USDA hardiness zone four.
Once established, these vines reach 30 feet long, and their twining allows them to climb most structures.
Sweet clematis looks better with an abundance of sun. Prune it at the end of the growing season so that it is a maximum of 12 inches from the ground and doesn't overtake the entire garden the following spring.
Ornamental Hop (Humulus lupulus)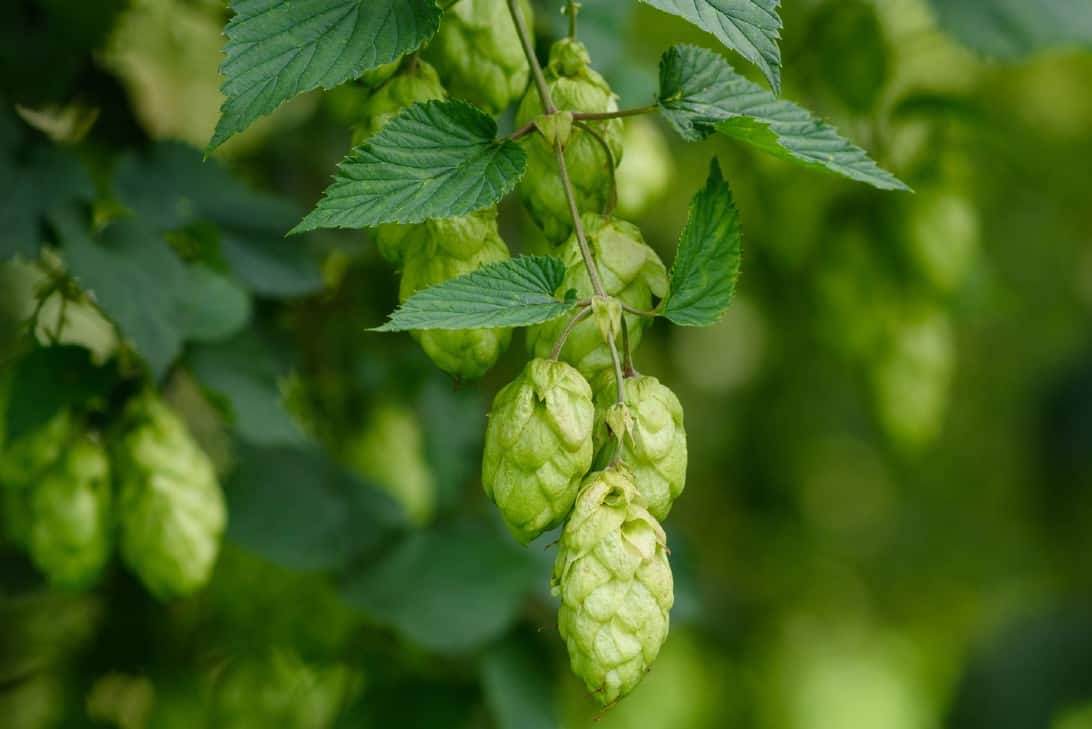 Ornamental hop vines are a plant that people tend to look over. Don't let the idea of beer turn you away from these vines. They have one-of-a-kind flowers that add tons of texture to your garden and make a stunning green backdrop.
Although the fruit is the showstopper, the foliage closely resembles ivy leaves and gives it a classic feel with a unique twist. Hop vines aren't overly fussy about soil types, but they thrive in loamy and well-draining soil.
Adding fertilizer to the ground once per year helps give the vines a healthier start to their new location. Plant ornamental hop vines in partial shade and watch this creeper make its way up along the ground and up climbing structures.
Spring is the time that we want our flower beds and garden to come to life. After a long few months of death and darkness, the sun finally shines through and allows vines to bring color, shape, and movement back to a yard.
Try planting a few of these flowering vines and we know you'll fall in love with them every spring.
If these spring blooming vines transformed your yard into a stunning space, share this list of vines for spring on Facebook and Pinterest.