Squirrels have a vital role in the forest ecosystem. Identified by their distinct bushy tail, these rodents replant seeds and essentially shape plants' composition in the wilderness. However, if you have a squirrel problem in your backyard or your attic, you must learn how to get rid of squirrels.
Usually, these critters sneak into attic spaces through the eaves on the roof and quickly make themselves at home. If you do not implement squirrel control, squirrels chew through electrical wiring and insulation in your crawl spaces.
Fortunately, several DIY squirrel prevention techniques are simple to enforce and work great.
Throughout this article, we provide some of the best ways to handle a squirrel infestation, whether they are eating bird seed and flowers in your garden or if they have made their way into your attic.
We show you how to implement an effective squirrel repellent. Some of the repellents even work to deter other rodents like chipmunks, raccoons, and skunks.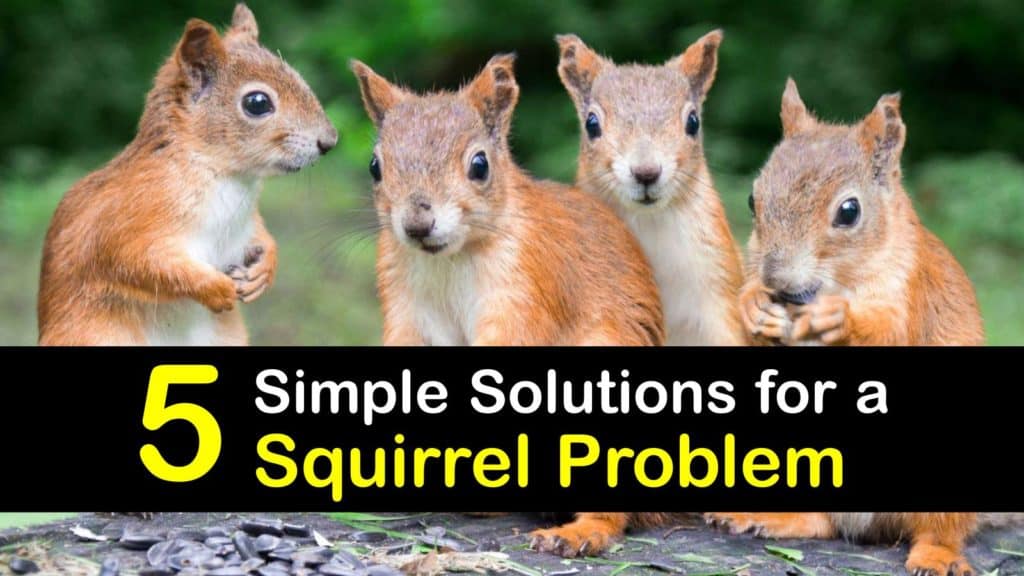 Why are Squirrels in Your Attic?
You are probably wondering why squirrels would ever invade your crawl space or attic in the first place. There are many reasons squirrels trade their natural environment in tree branches for your attic space.
Some of the most popular reasons include colder outdoor temperatures, an increase in the number of predators, or because they could not find a spot to build a den in the forest.
Whatever type of squirrel decides to make its new home in your attic, we provide the right way to deter them. Also, if squirrels are taking over your bird feeders or destroying the plants in your garden, we have the perfect solution for that, too.
What Leads to a Squirrel Problem?
Understanding what attracts squirrels helps you identify a squirrel problem better and avoid a squirrel infestation in the future. The most popular things squirrels are attracted to include acorns, fruits, and sunflower seeds.
If your backyard has many trees, it is likely flying squirrels or gray squirrels are present. An easy way to locate squirrels in your attic or backyard is to observe if there are any squirrel droppings.
Squirrels are particularly drawn to bird feeders, as it is an easy way to access food. If you notice that squirrels are stealing the bird seed from your feeders, place a baffle on top of the feeder to prevent the rodents from stealing food.
Eliminating food sources from squirrels is one of the simplest squirrel control methods.
Bright Lights Act as Effective Squirrel Prevention
Squirrel damage is expensive if the problem gets out of hand. Because squirrels are defensive and cause a lot of destruction in your attic, you must understand how to make your attic as unappealing as possible.
Bright, flashing lights are an excellent squirrel control tool. Squirrels are sensitive to bright lights and quickly leave the area after they experience the flashing lights.
Install a motion-sensor strobe light in your attic or your backyard to combat a squirrel problem, to scare away squirrels, and to make your home squirrel-proof.
If you notice squirrels digging in pots in your garden or need a simple way to stop squirrels from eating plants, automatic strobe lights are a fantastic and hands-free way for homeowners to eliminate squirrels.
Another element that drives squirrels away from your garden is an automatic sprinkler. After you observe that squirrels are no longer residing in your attic, make sure you block the entry points to keep squirrels and other animals out of your attic.
Set Live Traps for Squirrel Control
Another straightforward way to fight a squirrel problem is to install live traps, which are particularly appropriate if you have squirrels in your attic or crawl spaces.
Setting up a live trap outdoors may not produce the same indoor trap results because the outdoors have a more extensive food selection. An important part of setting up a live trap is to use the right kind of bait that attracts a squirrel quickly.
We suggest baiting your live trap with a peanut butter and peanuts combination. First, smear a generous amount of peanut butter at the bottom of the bait pin.
Sprinkle peanuts on top of the peanut butter. Set your trap in your attic and wait at least a day before checking it. To release the squirrel, call pest control services to humanely free the squirrel.
Sprinkle Cayenne Pepper in Your Garden to Deter Squirrels
Squirrels love to dig up the bulbs in your backyard garden and replace them with nuts or acorns. What repels chipmunks and squirrels? To prevent squirrels from destroying all the hard work you have put into your fruits and vegetables, consider using cayenne pepper to deter them.
Cayenne pepper is extremely hot, and a squirrel cannot handle the intense heat as they are digging.
Another advantage to using cayenne pepper is that it also serves as a homemade raccoon repellent in your garden.
Sprinkle a layer of cayenne pepper on the top of the mulch for the best squirrel prevention. This squirrel control technique is excellent because there is no clean up and it is inexpensive.
You can also make up a cayenne pepper spray for squirrels. Mix the pepper with water and spritz areas where squirrels are a nuisance.
Protect Your Garden with Natural Deterrents
Have you ever said to yourself, "Squirrels destroying my lawn seems impossible to control!" Fear not; there are a variety of ways to protect plants.
One of the best ways to deter squirrels is to plant flowers that give off a strong odor that is unpleasant to a squirrel. Numerous plants and flowers do a great job at naturally preventing squirrels.
If you have some essential oils handy, mix water with peppermint oil for squirrels. They can't stand the smell. This is also an effective way to keep chipmunks out of planters or the garden.
Another squirrel prevention tool for your garden is wire mesh or a hardware cloth surrounding the area. Wire mesh or chicken wire keeps squirrels out of your garden.
When installing a barrier, bury the wire at least six inches underground so the squirrels do not dig underneath
Controlling squirrels is simpler than most people assume. It is first important to understand what attracts squirrels to either your garden or attic space before implementing a deterrent.
Some of the most effective squirrel deterrents include cayenne pepper, motion-activated strobe lights, and strategic plants that release strong odors.
If you have a squirrel problem, it is not something you must endure forever – use a safe squirrel prevention process and live rodent-free.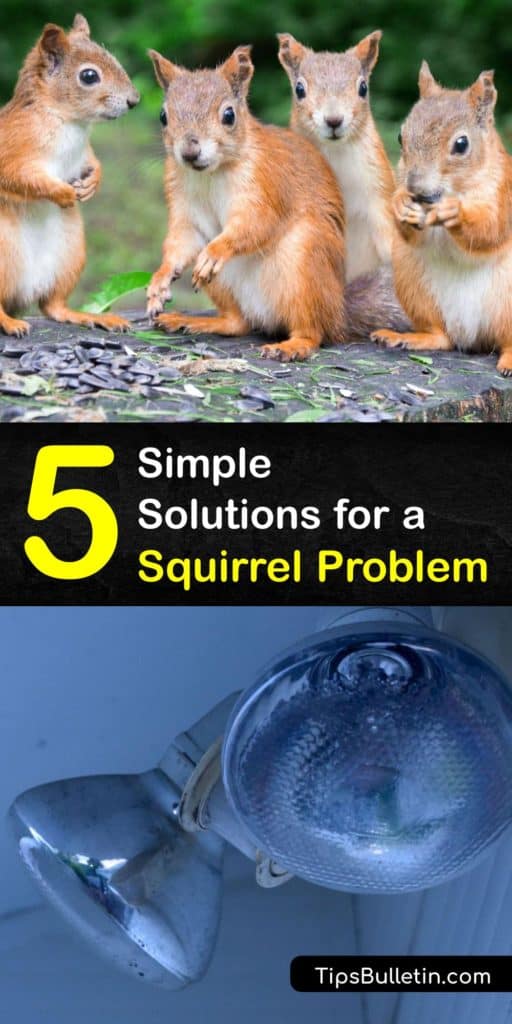 If you discovered how to handle a squirrel problem, share this article about squirrel prevention with your family members or friends on Pinterest and Facebook.