You pluck a large, ripe strawberry from a plant or fruit bowl and its beautiful red color and plumpness indicate it is the perfect ripeness. Upon closer inspection, you discover it is actually infested with tiny bugs and toss it into the trash with disgust. Nothing ruins an appetite quicker than strawberry bugs, and they come in all shapes and sizes.
Strawberries are one of our favorite fruits, and the fact that they are low in calories and rich in antioxidants and plant compounds makes them even better.
Unfortunately, these sweet and juicy fruits are also a favorite among the insect world. Garden pests are common, and strawberries are attacked by everything from aphids to slugs.
Not only do you have to be concerned about bugs in your strawberry patch, but Dr. Sriyanka Lahiri, the assistant professor of entomology at the University of Florida, suggests that tiny worms infest a small amount of grocery store strawberries.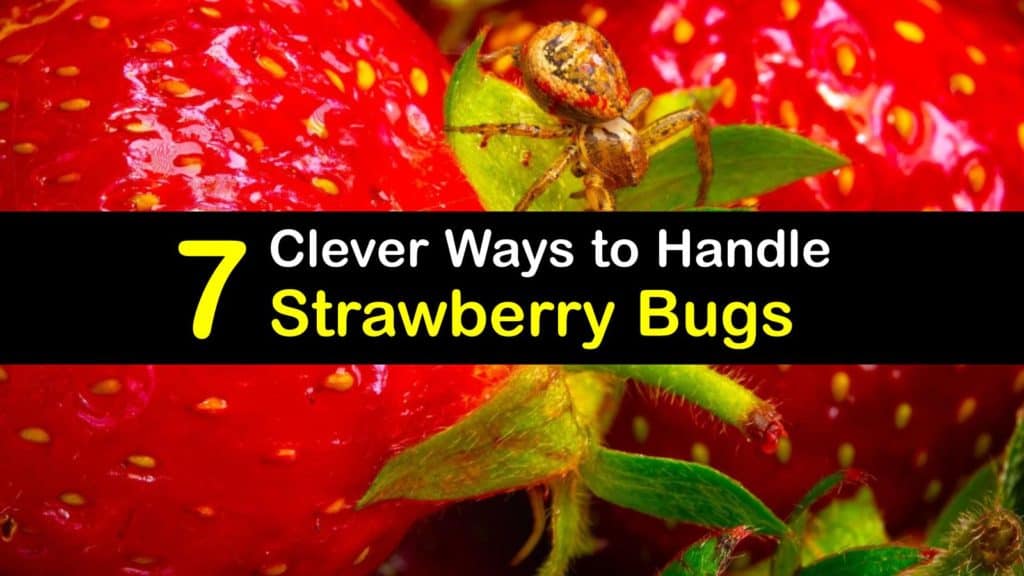 Ways to Get Rid of Bugs on Strawberries
After you learn the best time to plant strawberry seeds, they need the proper care. This includes issues that may try to rob you of your strawberry crop.
While there are many unavoidable defects, according to the FDA, some problems are easy to rectify. We show you how to get rid of bugs on your strawberries and keep these pests out of your fruit garden.
How to Protect Strawberry Plants from Bugs
If you grow strawberry plants at home, you probably are well aware of the many issues these plants deal with on a day-to-day basis, including pesky insects. Here is how to protect strawberry plants from bugs to ensure you get a bountiful harvest of berries.
It's vital to eliminate bugs as soon as you spot them to prevent an infestation. Insects eat the leaves, stems, and berries, and their destruction may lead to strawberry diseases. The best way to stop this domino effect is with prevention.
Cover your mature strawberry plants with floating row covers during the summer to stop insects from laying eggs.
Apply a natural insecticide made of neem oil, garlic, or hot peppers to prevent bugs from infesting your plants, and remove large insects by hand as soon as you spot them.
Now, when to harvest strawberries won't be a problem because the bugs will be taken care of.
Are Bugs on Strawberries from the Grocery Store?
It's easy to assume that the grocery store berries are bug-free since the food and drug administration has guidelines. However, this isn't always the case, as we discovered after watching a viral video.
Most strawberries are free of pests when you purchase them, but some make it into your home after a trip to the market. Here is what to know about bugs on strawberries.
Grocery Store Strawberry Bugs
A TikTok trend made its rounds recently that provided a little-known fact about strawberry bugs. In this viral TikTok video, we see that there are indeed little bugs hiding out inside the strawberries' flesh.
While most of the berries do not have these disgusting insects, some do, and entomologist Sriyanka Lahiri points out that these translucent worms, or maggots, are the fly larvae of the spotted wing drosophila (SWD), a type of fruit fly.
These insects made their way into New York in 2011 and are currently throughout most of the United States. Cornell University is monitoring them.
The female fly lays eggs by making an incision into the berry with her ovipositor, and these fly eggs are invisible to the naked eye.
At this point, the berries end up on your grocery store shelf and eventually in your refrigerator. While the insects are not harmful, and you probably don't even notice them, it is possible to get rid of them through washing.
How to Remove Strawberry Bugs with Salt Water
Now that you are aware of the potential of strawberry bugs, you are undoubtedly left wondering what to do about them. Fortunately, these tiny bugs are simple to get off your ripe berries with a saltwater soak.
While soaking your berries in saltwater might ruin them, a recent TikTok challenge swears by this technique. If you prefer to clean your fruits without salt, simply wash them with your hands under cool, running water.
To treat your strawberries with saltwater, pour a cup of water into a bowl and add salt. Stir the liquid until the salt dissolves, and add the strawberries. Let the berries soak for 15 minutes to half an hour, and rinse them well under cool water.
How to Kill Aphids on Strawberry Plants
Aphids are tiny green insects that spend a majority of their time hanging on the bottom of leaves. While they seem small and insignificant, these insects destroy plants if left alone. Here is how to protect strawberry plants from bugs such as aphids.
Combine a gallon of water with some dish soap and shake the container well to mix it.
Pour the natural pesticide into a spray bottle and spray it directly onto the aphids on your plants to soak them. Repeat the steps each time you notice new aphids gathering in your garden.
Keeping Pests out of the Strawberry Garden by Co-Planting
Insects are drawn to berry plants by the sweet aroma and tasty foliage. Co-planting certain herbs and plants around your strawberry patch is a great way to confuse and deter bugs on strawberries.
The most natural way to deter insects is to plant chives, onions, garlic, basil, or mint around your strawberry patch.
If you are growing strawberries in containers, consider placing these potted plants beside them. Not only do the bugs smell the herbs and alliums and look for better places to feed, but now you have more tasty plants for the dinner table.
Making a Homemade Strawberry Bug Repellent
To eliminate and deter a range of insects on strawberry plants, consider making natural insecticides. Garlic is a powerful bug repellent that works to keep both flying and crawling insects out of your garden.
To make this DIY bug spray for plants, boil some water in a medium pot. Crush cloves of garlic into a bowl and pour the boiling water over the top.
Steep overnight and then strain the solution into a spray bottle. Spray the garlic insecticide on your plants, and the pungent odor repels bugs while not harming beneficial insects.
Keeping Slugs Out of the Strawberry Patch
Slugs are a common problem in vegetable and fruit gardens. These slimy pests munch on the leaves and destroy seedlings during the evening hours, and are easy to miss until you discover that your plants are struggling.
Spread a layer of food-grade diatomaceous earth on the ground around your plants. The slugs travel over the dust, which causes dehydration and death. If you do not have any DE, try using a beer trap.
Fill a few containers with beer and place them into a hole in the ground near your plants so that the rim sits at ground level. The slugs fall into the beer and drown.
Garden pests are a common pet peeve among growers, who must use pesticides to prevent an infestation.
It's natural to think that grocery store produce is bug-free, but this isn't always true. Fortunately, there are ways to keep insects out of your garden and clean your fresh strawberries to prevent waste.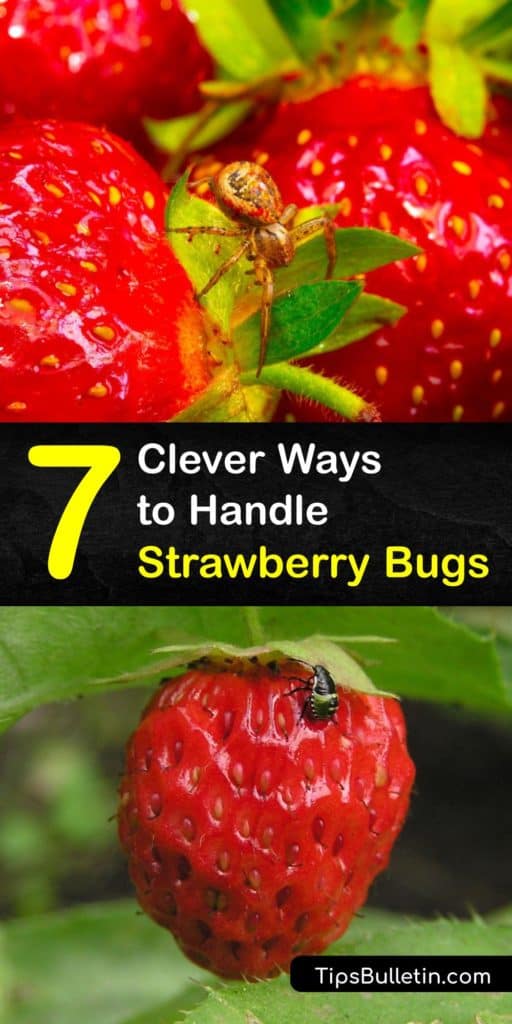 No one wants to accidentally ingest strawberry bugs, so why not share our strawberry bug prevention guide and elimination tips with the berry-lovers in your life on Pinterest and Facebook?