Growing a veggie garden takes a lot of work, and discovering that your vegetables are not the color they're supposed to be is concerning. Why do cucumbers turn yellow, and is the entire crop ruined? Learn about the main causes of yellow cucumbers and how to prevent them and prepare them in a dish so that they don't go to waste.
It's finally cucumber harvest time, and you head to the garden expecting to pick dark green cukes. However, instead of the green color that you're familiar with, you arrive to discover that your cucumbers are yellow.
There are many cucumber varieties varying in color and size, from gherkin to English. Unless you plant the lemon cucumber cultivar or another yellow type of cucumber, they are not supposed to be yellow.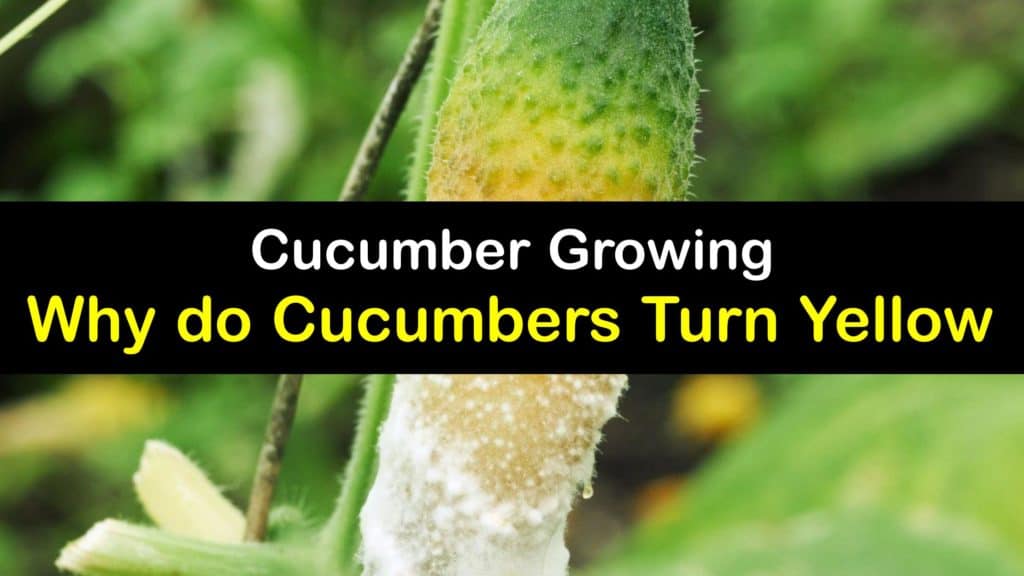 What to do About Yellow Cucumbers
Unlike tomato, pepper, and other garden plants with fruits hanging up above the ground, some cucumber plants tend to lay their fruit on the dirt as the vines grow. The moisture in the soil and lack of air circulation causes yellowing on the bottom. But, why does the entire cucumber turn yellow?
After caring for your vegetables throughout the season, a garden of yellow pickling cucumbers is not what you expect. While a cucumber turning yellow is cause for concern, there are many reasons this happens, and not all of them are as bad as you may think.
Learn some of the main culprits for yellow cucumbers to help you eliminate the problem in the future, whether you are planting cucumbers in pots or a garden. Discover tips for growing healthy cukes and what to do with yellow cucumbers to prevent food waste.
Why do Cucumbers Turn Yellow?
You've taken care of your plants throughout the growing season, giving them everything they need, so why are your cucumbers yellow? There are various causes for cucumber plants turning yellow. Here are some of the most common.
The most common reason for yellowing cucumbers is that you've waited too long to harvest your crop. The deep green color fades as the fruits mature and turns yellow or even orange. However, there are other problems to consider, especially if they yellow before harvest time.
Overwatering is another cause, which removes calcium, nitrogen, magnesium, and other nutrients from the ground. Inadequate nutrition may also be the culprit, and a nitrogen deficiency causes the cukes to turn yellow long before you typically pick the fruits.
Another issue is the lack of pollination. Pollinators must pollinate male flowers to female flowers many times, and the lack of this activity causes deformed and yellow cucumbers.
Viral diseases, like the cucumber mosaic virus, cause fruits to turn yellow while giving the cucumber leaves a mottled appearance. Often, this is the result of not planning how far apart should cucumbers be planted and they are too crowded. This virus spreads by insects and makes the cukes turn bitter.
Ways to Prevent a Cucumber Turning Yellow
We've all been taught that prevention is the best medicine, and the same is true when gardening. There's no need to learn the way to know when a cucumber is bad if you practice good growth practices. Here are several ways to stop your cucumber turning yellow to ensure you get a healthy vegetable crop.
Whether you have cucumbers in the garden or grow cucumbers from seeds indoors, when watering your plants, give them one inch of water during normal periods and two inches of water during hot, dry weather. Since cucumber plants have a shallow root system and do not like wet feet, water them deeply and slowly. This can also help prevent white mildew on cucumber leaves as well as on other plants.
Avoid using a harmful insecticide in the cucumber garden. Many of these products contain chemicals that kill pests and beneficial insects necessary for pollination.
Adding organic matter, compost, and a balanced fertilizer to the garden soil at planting time and performing crop rotation play a vital role in preventing yellow and small cucumbers.
How to Care for Cucumber Plants for the Healthiest Harvest
While plant care seems fairly straightforward, some plants require a little extra attention to grow healthy and productive. Find out how to care for your cucumber plants by protecting them from bacterial diseases and garden pests.
Cucumber plants require the right mix of nutrients to flourish, including high potassium and phosphorus levels and low nitrogen. Feed your plants right after blooming and then once a month throughout the growing season.
Spider mites, whiteflies, aphids, cucumber beetles, and other insects are pests to cucumber plants, and some of them even spread diseases that cause yellowing.
However, a commercial insecticide may kill essential pollinators, which leads to more yellow cukes. Instead, consider installing floating row covers to deter these bugs or using an insecticidal soap as a way to get rid of cucumber beetles that is not harmful to beneficial insects.
Various fungal and bacterial diseases affect zucchini, cucumber, and other Cucurbit family members, including cucumber mosaic virus, powdery mildew, and bacterial wilt. It's important to address cucumber fungus quickly so you don't lose your crop of cucumbers.
Use a trellis to keep the vines off the ground, remove infected plants as soon as you notice them, and water your cucumbers at ground level to stop the diseases from spreading.
What to do with Yellow Cucumbers
If you're wondering what to do with yellow cucumbers that you let ripen too long, consider turning them into relish. This recipe is easy to make and a great way to mask the slightly bitter taste of yellow cukes.
Pour the chopped cucumbers, onions, and peppers into a bowl and sprinkle them with pickling salt. Stir the veggies to combine and pour enough cold water over the top to cover them.
Refrigerate the vegetables for at least two hours, drain them in a colander, and pour them into a large pot. Add the vinegar and sugar and heat to a boil to dissolve the sugar.
Add the celery seeds, mustard seeds, and turmeric and simmer for 20 minutes. Pour the relish into sterilized canning jars, leaving a half-inch of headspace, and seal the jars before boiling them in a water bath canner for ten minutes. Remove the jars and let them cool before storing.
Finding your cucumbers with wilting plant leaves and yellow fruit is frustrating and disappointing. However, these veggies are often still edible, depending on the cause. Knowing how to rectify the problem goes a long way to growing a healthy and productive garden.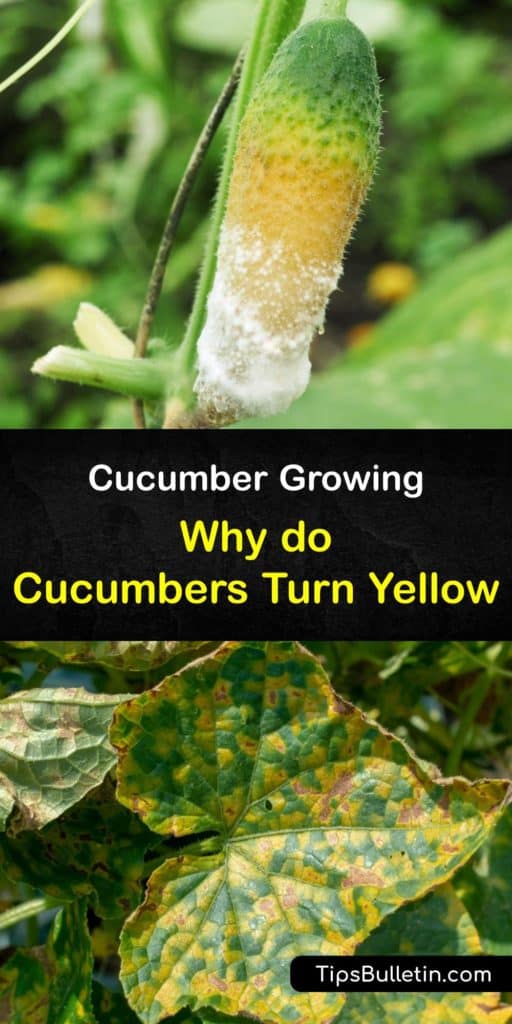 Why do cucumbers turn yellow is a common question gardeners have, and for a good reason, so why not share our yellow cucumber prevention tips and growing guide with the cucumber-lovers in your life on Pinterest and Facebook?