Though not often discussed, elderberry bushes are highly versatile plants that produce well and require minimal care. Many different varieties of elderberry bushes in the Adoxaceae family exist, with each offering different types of elderberries that vary in size, flavor, and other properties.
Native to North America, elderberry plants provide tasty berries, shade, beautiful flowers, and forage for local wildlife – a high yield for such a hardy plant.
The fruit borne by the elderberry bush comes in different colors. Some types of elderberry include purple berries, red berries, and black berries. All the berries are high in Vitamin C, anthocyanins, and antioxidants with significant health benefits, in addition to tasting great.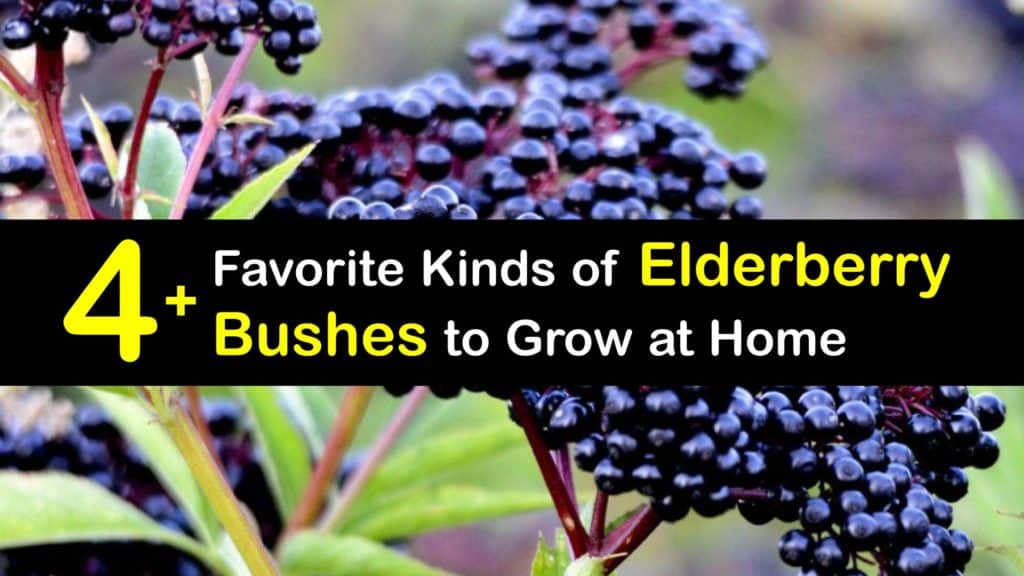 Varieties of Elderberries to Grow in Your Backyard
Elderberries are versatile and are used for anything from elderberry syrup, pies, and other pastries, or even washed and eaten right off the bush. There is quite a difference between elderberries and pokeberries, as pokeberries are poisonous and elderberries are edible. Different varieties of elderflower are said to have health benefits.
Whether you're looking to add something pretty to your hedgerows or seeking the health benefits and tasty treat of the elderberry fruit, elderberry bushes are easy to maintain and give countless rewards.
It's important to pay attention to your growing zone you you know the best time to plant elderberry trees and all about transplanting elderberry bushes so they have the greatest chance of success. Learn more about your particular variety, including when to fertilize an elderberry bush and how often so you get nice plump berries at harvest time.
Watch for pests and elderberry diseases so you can treat them quickly with natural remedies. This includes considering companion planting elderberries to take advantage of mutually beneficial properties of elderberries and other plants.
The Most Common of Elderberry Types – Adams
Adams is the most popular of the common types of elderberries. Native to North America, this hardy American variety grows in the wild and gardens throughout the country. Easily identifiable by its white flowers and dark purple berries, the Adams elderberry bush is aesthetically pleasing as well as fruiting.
Reaching six to eight feet in height when fully grown, the Adams provides ample shade and privacy. This American elderberry thrives in USDA hardiness zone 3-9, being cold hardy. Its dark purple berries ripen in August.
Black Beauty – A Favorite in Elderberry Varieties
The Black Beauty is a European variety that boasts good fruit production and a unique lemon scent. Dark leaves and pretty pink flowers are the hallmarks of the Black Beauty, one of the prettiest varieties of elderberries.
This European elderberry is best suited for planting in USDA hardiness zone 4-7 as it prefers moist to wet growing conditions that better simulate its origin in Europe. Once established, pruning elderberry bushes is simple and easy to maintain. This smaller elderberry bush is suitable for all growers.
Black Lace
The Black Lace, Sambucus nigra, or the Caerulea Elderberry, is one of the common types of elderberries grown in the US. It thrives in USDA hardiness zone 4-7 as it prefers a moist environment with full sun. The Black Lace is easy to spot with its unique dark leaves with a lacy appearance and beautiful pink flowers.
This bush grows to around eight feet tall and is easy to prune. It produces typical blue elderberry fruit but requires another plant such as the Black Beauty for pollination.
Red European Elderberry Bush
Also known as Sambucus racemosa, the Red European elderberry bush hails from Europe and produces red elderberry fruit in fall.
Growers of the Red Elderberry get to enjoy the wildlife involved in its pollination. The plant attracts various birds and butterflies, making it an aesthetic and practical addition for most gardens.
Propagate the Red European Elderberry bush in early spring. It reaches its mature height of up to twenty feet in just 2-3 years. This bush thrives in USDA hardiness zone 3-8.
Many experts caution against consuming red elderberry fruit from this bush and favor black elderberry fruit instead. The red berries may be sharp-tasting and bitter with lots of seeds.
American Elder
The American Elder varieties of elderberries are also known as Sambucus canadensis, blue elderberry, or Nova elderberry and are cultivated commercially in Oregon and the surrounding states. Thriving in USDA hardiness zone 3-9, the American elder likes a wet environment and attracts birds and butterflies for pollination.
It's important to find the best place to grow elderberries of the American variety. Most growers can keep the American Elder if they are willing to meet its high moisture requirements and give it a hard prune in early spring to ensure it flowers in early summer and fruits later in the season.
York Elderberry Varieties
The high fruit production and large berry size of the York make it a popular choice for elderberry types. This cold-tolerant plant is appropriate for USDA hardiness zone 3-9. Growing up to 12 feet tall, the York is an excellent choice for privacy and shade and thrives in hedgerows or as a natural fencing solution.
Almost one of the year round colorful shrubs, this plant's foliage changes to stunning bright red color in fall before falling off for winter, making it a functional and beautiful choice. The York variety is one of the cultivars of the American Elder.
More Different Types of Elderberries
Other elderberry types include the Lemon Lace or Lemony Lace, a hardy bush that produces red elderberries after white flowers die.
The Bob Gordon elderberry variety produces berry clusters that hang down, making it harder for them to fall prey to birds. This plant has high fruit production and is a worthy contender for your backyard.
The variety known as John is another solid choice to grow at home. This elderberry bush is hardy and low maintenance with beautiful ornamental green leaves, bunches of large white flowers, and high fruit production.
Today's elderberry cultivars have many purposes, producing beautiful flowers, shade, and privacy, as well as fruiting. While elderberries are tasty and have many health benefits, you should never consume them in mass quantities due to glycosides in the fruit, which may be detrimental to your health.
With different types of elderberries for every location, moisture level, and grower confidence, you will love whatever variety you choose for your garden. The sweet fruit, beautiful flowers, and easy care make it the ideal bush to grow at home.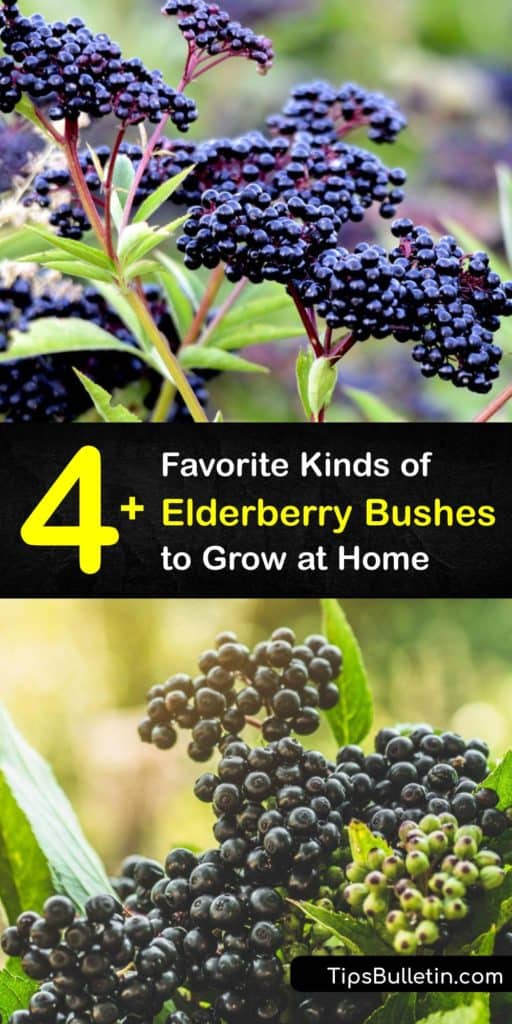 If you enjoyed learning about the different types of elderberries and which plant might be most appropriate for you, please share this article about elderberry varieties with your friends on Facebook and Pinterest.