Elderberry shrubs make a beautiful addition to your home landscape. From their exquisite pink or white flowers in late spring to their attractive fall foliage, planting elderberry bushes is worth the effort. In this article, find out when to fertilize elderberry bushes and how to keep them flourishing year after year.
Like most types of fruiting plants, elderberries require supplemental fertilizer to yield a plentiful harvest. The best time to fertilize elderberry trees is in early spring, as their root system is coming out of dormancy.
Elderberries aren't just lovely ornamental plants. Both the flowers and berries are rich in vitamin C and are used for making jams, jellies, syrups, tinctures, and wine. The tart berries also get baked into delicious sweet treats.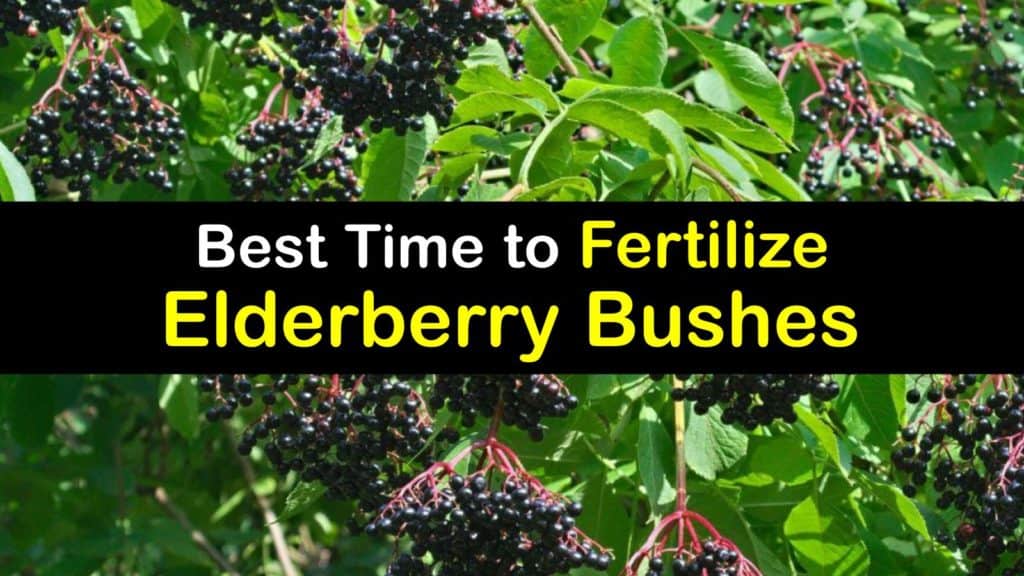 Best Time to Fertilize Elderberry Trees
In general, elderberry plants are remarkably easy to grow. Where do elderberries grow naturally? While they tolerate a diverse range of soil types and sunlight levels, elderberries perform best when cultivated in an area that gets full sun to partial shade and has moist soil rich in organic matter.
Elderberries grow best with a slightly acidic soil pH between 5.5 and 6.5. If you're unsure about the soil pH in your garden, contact your local cooperative extension service for a soil test.
These deciduous shrubs have shallow roots and suffer when competing with weeds for water and nutrients. Protect the surrounding soil with a layer of mulch to retain moisture, regulate soil temperature, and minimize weed growth.
As long as they're growing in rich soil, fertilizing your mature elderberry shrubs once per year is usually enough, similar to the best time to fertilize mulberry trees. During the first year after transplanting, they benefit from extra fertilizer while establishing a healthy root system.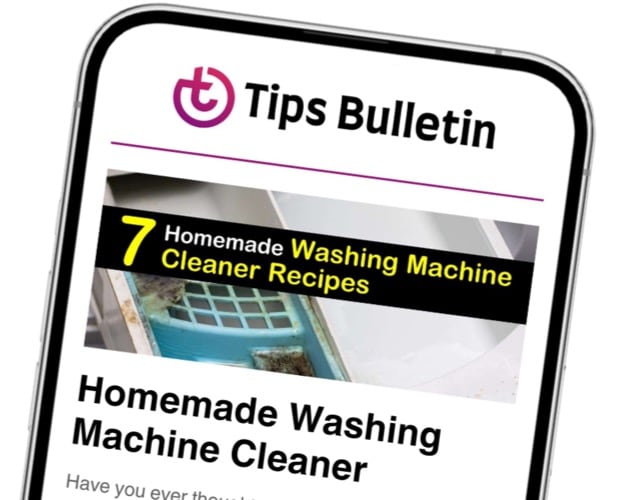 Finally, an email that Transforms Your Home.
Get the latest home and garden tips from our experts, delivered straight to your inbox.
Add one tablespoon of all-purpose organic fertilizer to the bottom of your planting hole, then reapply in mid-summer and late fall.
Note that raw berries contain toxic glycoside and must be cooked before consumption. Read on to learn about the best types of elderberry bush fertilizer and discover how to prevent a few commonplace elderberry plant problems.
When to Fertilize Elderberry Bushes
Most growers grow elderberries from nursery-grown bare root or potted specimens. It's also possible to propagate cuttings or plant seeds, but these methods take much longer.
When transplanting, make your planting hole about twice the size of the root ball and fill it in with a 50/50 mixture of garden soil and organic compost so the new roots have loose, fertile soil to begin growing.
The best time to fertilize elderberries is early spring when the root system becomes active. Beginning the second year, apply four to five tablespoons of nitrogen-rich fertilizer for each year of the plant's age. However, don't exceed one pound per fertilization.
In addition, judge how much fertilizer your elderberry bush needs based on its performance. If it's putting out a lot of vigorous new growth, the plant is getting plenty of nutrients from the soil and doesn't need as much fertilizer. Reduce the recommended amount by half.
On the other hand, if it seems to be struggling and not producing many new canes, chances are the root system is undernourished. Increase your fertilizer dosage by half.
Choosing the Right Elderberry Bush Fertilizer
Plant fertilizer consists of three essential macronutrients: nitrogen (N), phosphorus (P), and potassium (K). Nitrogen stimulates leaf growth, phosphorus strengthens the root system, and potassium supports fruiting and flowering cycles.
Ammonium nitrate is a popular plant fertilizer because the nitrogen is in a form that's readily available to plants.
However, it's crucial to provide your plants with a "balanced diet" and ensure that they receive adequate amounts of phosphorus and potassium, as well. Micronutrients like calcium, magnesium, and manganese are also essential for healthy development.
In addition to your regular spring fertilization, it's beneficial to spray the plants with fish emulsion or liquid fertilizer when they begin to set fruit to provide the plants with an extra boost for an abundant harvest of elderberries. The berries ripen from green to dark purple in late summer.
To ensure that your elderberry shrubs get all the nutrients they need, try this simple DIY recipe to make the best fertilizer for elderberry trees.
When making this homemade eggshell fertilizer for plants, stir the ingredients in a large bucket or another watertight container with a lid. Cover and cure your homemade elderberry bush fertilizer for two or three weeks. Apply one cup of homemade fertilizer for elderberries per plant and gently work it into the top few inches of the soil, taking care not to disturb the shallow roots. Store it sealed in a cool, dry place.
Try this mixture as a homemade blackberry fertilizer, too. You may find it works just as well on these berries.
Caring for Elderberry Plants
Although elderberries are generally quite easy to care for, they require a bit of regular maintenance to stay healthy, just like when caring for blueberry bushes. In addition to regular fertilization, amend your garden soil with organic compost every few years to keep it fertile.
For the first year or two, elderberry plants develop their root systems and may not produce any flowers or fruit. Elderflowers are self-pollinating, meaning a second plant isn't required for fruiting. Cross-pollination is possible when two different varieties get planted nearby.
After their second year of growth, prune any old, dead branches a few inches above the main trunk with sterile, sharp pruning shears. The best time to prune elderberry bushes is in late fall to late winter while the plant is dormant to make space for vigorous new canes to develop in the spring and encourage prolific fruiting.
Protect the plants against pest and disease problems by controlling weed growth and routinely pruning off deadwood. Store cut wood away from living trees on your property to reduce the risk of an infestation of elderberry borers.
Ensure adequate air circulation to prevent fungal diseases like powdery mildew. Spacing between plants should be at least five feet.
Elderberries are native to Asia, Europe, and North America. American elderberry (Sambucus canadensis) is remarkably cold-hardy and grows around 12 feet tall.
Black or European elderberry (Sambucus nigra) reaches 20-30 feet tall. It is sometimes referred to as a tree rather than a shrub. Red elderberry (Sambucus racemosa) generates bright red berries instead of dark purple. They range from seven to 20 feet tall, depending on the variety.
Here are a few of the best elderberry varieties for home gardeners.
Whether you harvest elderflowers and elderberries for their culinary and medicinal purposes or grow them ornamentally, it's critical to know the best time to fertilize elderberry trees.
Applying organic fertilizer in early spring gives the plants a solid start to the elderberry growing season. Use a balanced, organic elderberry bush fertilizer for the best possible results.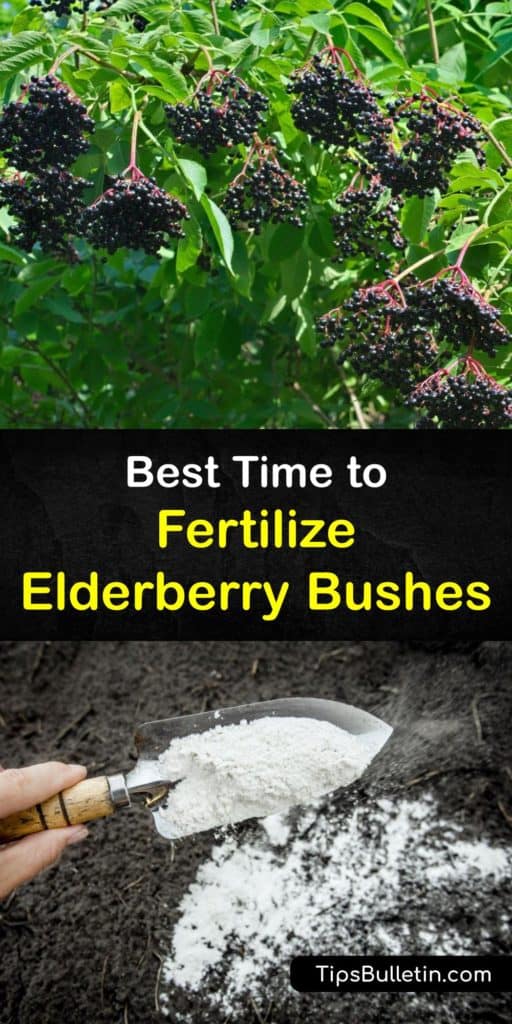 If you found these gardening tips helpful, please share this article about when to fertilize elderberry bushes with your fellow green thumbs on Facebook and Pinterest.