If you think the only time of year to plant a vegetable garden is when it's warm, think again. While gardening is usually an activity for early spring through late summer, there are many cool-season veggies that enjoy growing during cold weather. Learn which leafy and root vegetables to plant in November to keep your kitchen well stocked with healthy veggies through the winter.
There is nothing better than having homegrown veggies for meal prepping, and gardening doesn't have to end during the fall.
November is the perfect time to plant cool season vegetables like Brussels sprouts, rhubarb, cilantro, and other tasty veggies, whether you grow them in a garden or raised bed.
However, a cold frame is necessary to prevent your veggies from freezing if you live in a northern region where the temperatures drop considerably. The most important part about growing fall vegetables is to understand your USDA hardiness zone before overwintering your crop.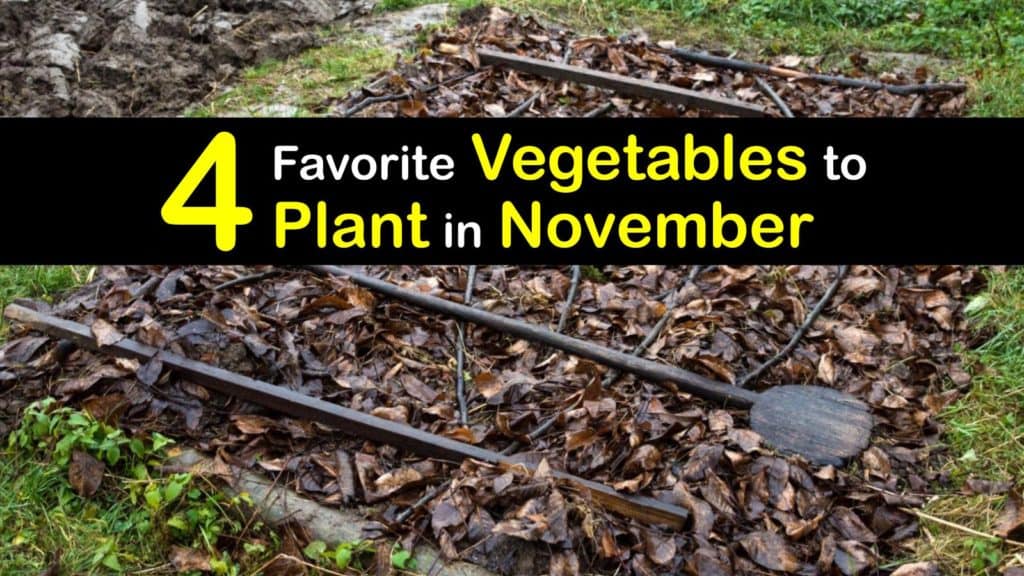 Growing a November Garden with Cool Weather Crops
We often do most of our planting during the spring and summer, but there are many vegetables that love growing during the cool months of the year as well as herbs to plant in the fall.
Discover what to plant during the chilly month of November and growing tips to ensure your veggies stay healthy and tasty.
What Vegetables to Plant in November in the USA
There are many veggie options when growing a garden, but some are not suitable for growing during cold months. Find what vegetables to plant in November if you live in the USA to help you make the right choice.
What can you plant in November in the USA? There are actually quite a few veggies to plant at this time of the year. Some favorites are rhubarb, leeks, chives, kohlrabi, asparagus, and Brussels sprouts.
Plant rhubarb seeds after dormancy sets in, and kohlrabi is suitable for growing in a southern state. Asparagus is a perennial, meaning that when you plant asparagus from seed, it comes back year after year, and chives are best for planting in containers and growing inside in front of a sunny windowsill.
If you plant leeks in the ground, you may not see much growth until early spring. When to best plant Brussel sprouts in zone 7 in the fall leads to Brussels sprouts being ready for harvesting in late winter.
For vegetables to plant in winter months, it's essential to grow them in proper soil and organic matter and spread a couple of inches of mulch over the dirt to keep the plants from freezing.
Leafy Vegetables to Grow in November
If you enjoy fresh veggies but don't have the patience to wait for them to grow, leafy greens are a great choice since they are fast-growers. Here are some leafy vegetables to grow in November so you get to enjoy salads through the winter.
The best time to plant arugula seeds and other leafy green seeds is in November if you live in the USA. There are many varieties of salad greens, and a majority of them are cold-tolerant. However, if you live in a northern region with winter on its way, it's a good idea to plant them in a cold frame.
Our top choices for November planting are Brassicas like collards and kale since their flavor sweetens when kissed by frost. If you live in USDA hardiness zones 5 through 10, consider growing arugula during this time.
November is part of the Swiss chard growing season. Planting Swiss chard in the late fall gives you a January harvest, and Mizuna and Endive lettuces are also good options.
All of these leafy greens are ideal vegetables to grow in spring, too. They don't mind a little cool weather.
Root Vegetables to Plant in November
Root veggies like potatoes and carrots are very easy to grow, and they also tolerate cool temperatures. Explore which root vegetables to grow in November to keep your root cellar well stocked.
Starting a garden in November is a wonderful way to get a second harvest of veggies, and root vegetables are one of the easiest.
However, not all types are suitable for cold growing. For example, rutabagas have a long growing time and need to mature during cool weather, and they are best for early summer planting.
What can be planted in November? Parsnips and turnips are great for warm winter regions, and potatoes and carrots are also good choices. Radishes grow well during cold temperatures if you plant them beneath a cloche for protection.
How to Prepare Hash with Your Cool-Season Harvest
Knowing what vegetables to plant in November is a great way to ensure that you have a steady supply of fresh veggies for the dinner table.
What better way to enjoy them than to make a rustic hash dish? This recipe combines two popular veggies to plant in November, the healthiness of collard greens and the heartiness of potatoes.
Blanch the collard greens in a pot of boiling, salted water for four minutes and put them in a bowl of water and ice. Drain them and squeeze out excess water before chopping the greens coarsely and setting the cooking water to the side.
Set a skillet on medium heat, add the olive oil and onion, and cook for four minutes. Add a pinch of salt, pepper flakes, and garlic and continue cooking for five minutes before adding the collard greens.
Add one cup of the cooking water and simmer with a lid on for 45 minutes. Add water as needed to keep the greens from drying out.
Scrub the potatoes and place them in the pot of cooking water. Boil them for 25 minutes or until tender, remove them from the water to cool, and peel and slice them into large chunks.
Add the potatoes to the cooking greens and use a fork to crush them while stirring them into the collards. Pour in a tablespoon of olive oil, salt and pepper to taste, and cook the hash for a couple more minutes to bring the potatoes and collard greens together.
While we think of fall as the end of the growing season, it's still possible to grow veggies even if you live in a cold region.
The key is to choose hardy, cold-tolerant plants and plant them in a sunny location or protect them with a cold frame. Give them the care they desire, and they provide you with a healthy crop.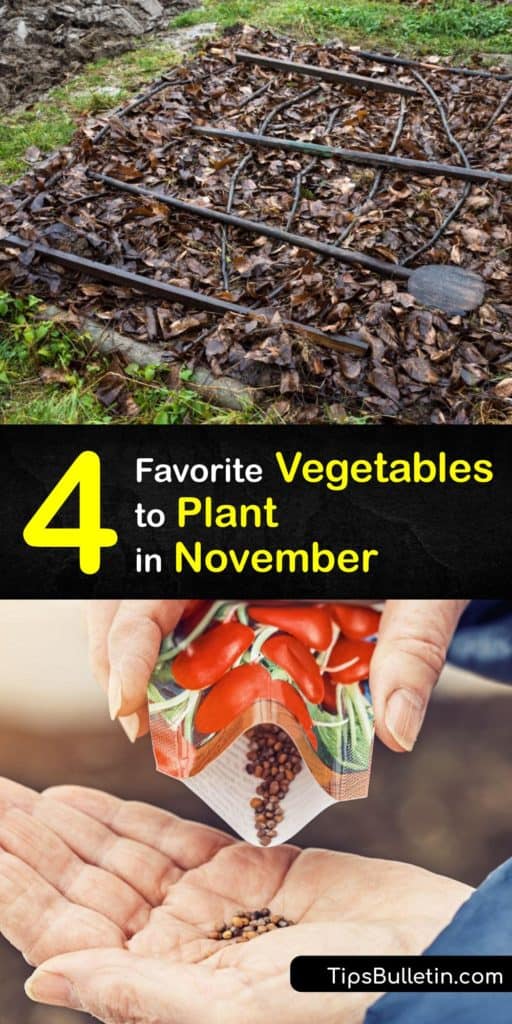 Now that you understand which vegetables to plant in November for winter veggies, why not share our November veggie planting guide and tips with the gardeners in your life on Pinterest and Facebook?