Living in areas with long, cold, and snowy winters limits the amount of time we can spend out in our gardens, and it also restricts the amount of food we get to preserve for those harsh months. However, many people don't realize that there are many different vegetables to plant in winter.
Knowing what vegetables to plant in the winter isn't an easy task. There is a lot to consider, and you want to ensure that all your hard work doesn't go to waste whenever a light frost rolls in.
The great thing about finding vegetables to grow in winter is that many of them overwinter and start growing even before the last hard frosts of spring. Cool-season vegetables have different hardiness levels, but they won't die from a little cool weather.
Winter vegetables thrive in cold weather. Some even taste better after they experience their first frost. What can be planted in winter safely? Keep reading to find out.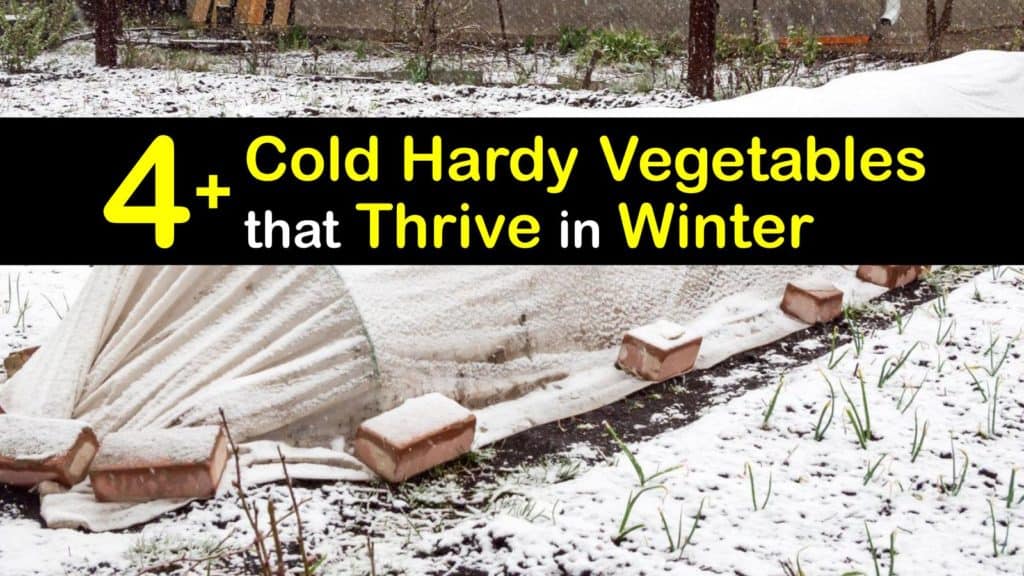 Protecting Vegetables that Grow in Winter
Even if you choose all the best vegetables to plant in winter or veggies to plant in fall, some hardy vegetables still do better in cool temperatures than others. The winter months in the USA are harsh, especially when you get to some of the northern states.
Knowing the best herbs to plant in fall or what vegetables to plant in winter only gets you so far. That is where protection comes in.
Winter crops don't mind a little bit of cold, but some benefit when they have a little protection during the coldest part of the year. There are several options if you want to protect your winter crops.
Some of these are even good to use on summer crops when there is unpredicted bad weather.
Many people turn to a polytunnel when starting a garden in winter or even starting a garden in October in colder USDA hardiness zones. A polytunnel is similar to a greenhouse, is made of steel beams, and is covered in polyethylene.
The tunnel is typically a semi-circle or square, elongated shape. The inside of the tunnel warms from the solar radiation while keeping the cold from the late winter out. Of course, when growing vegetables indoors all year round, there is usually no need for this type of protection.
Another option to protect your winter vegetable garden is with cloches. Cloches are bell-shaped covers made of glass that you set over the top of your crops.
It works like a mini-greenhouse and protects small plants and new seedlings from frost. Many gardeners use these in late summer and early spring when unexpected frosts may appear, like when you plant vegetables to grow in March.
A cold frame is another agriculture and gardening tool that comes in handy for what vegetables to plant in spring when there may be an instance of frigid weather or snow. Cold frames have transparent roofs that sit on top of an enclosure. They are handy when temperatures are cold or when the growing season is particularly wet.
When only dealing with a little bit of light frost, a row cover is the cheapest and easiest product to work with.
Figuring out what seeds to plant in winter takes a lot of knowledge that even some experienced gardeners don't know off the top of their heads. Browse through this list of safe veggies to plant in winter so your cold-season garden will flourish.
What Vegetables to Plant in Winter
Finding vegetables to plant in winter helps gardeners extend their growing season, and many of them produce crops earlier than the ones you sow in spring.
Sow many of these plants in late summer or early fall. While it seems like everything outside is dead, it'll put a smile on your face knowing that life is just around the corner.
Brassica Vegetables to Plant in Winter
Brassicas are one of the hardiest options for growing a winter garden, as they taste even better after a couple of frosts. There are also a lot of vegetable choices.
The brassica family includes Brussels sprouts, turnips, kale, cabbage, Swiss chard, mizuna, leeks, collards, and rutabaga. Be sure to mulch heavily around your crops to hold onto as much ground heat as possible.
Root Crops for Winter
Root crops are another excellent option for vegetables to grow in winter. Cold-hardy root vegetables include radishes, carrots, parsnips, potatoes, beets, celeriac, rutabaga, and carrots.
The great thing about root veggies is that they also all taste nice together. They store for a long time and make a filling meal for the family.
Peel and dice all your vegetables into large chunks that are about an inch and a half wide. Heat the oven to 400°F. Throw the vegetable chunks into a mixing bowl and toss them with olive oil, thyme, cumin, and salt and pepper to taste.
Brush a baking sheet with a little more olive oil and spread the veggies out in an even layer. Place the fresh sprigs of rosemary on top of the veggies and bake them for 15 to 25 minutes.
Toss the veggies halfway through cooking. Remove the roasted veggies and sprinkle with additional salt and pepper to taste. Serve immediately.
Onion Family Members
Many of the countless people who use onions and garlic forget that these veggies enjoy the cold. Onions, leeks, shallots, and garlic are all plants that survive cold winter months.
Planting Salad Greens for Winter
Leafy greens like arugula, kale, mustard, Asian greens, and leaf lettuce are smart vegetables to grow in winter. In fact, they thrive during the winter months.
Have you noticed that you have to keep your greens cool during summer? If you sow seeds in late fall, they'll be one of the first crops to appear when spring arrives.
Do Herbs Grow in Winter?
Not many herbs are good choices for winter, yet cilantro is surprisingly hardy. This herb is better for planting in the fall because it can withstand some light frosts.
Better yet, cilantro overwinters in USDA growing zones seven and above. Most gardeners utilize cold frames when working with cilantro during the winter months.
Knowing what vegetables to plant in winter isn't easy. You understand that some crops tolerate the cold, but which ones will do the best? Hopefully, you learned that winter gardens are possible when you choose suitable crops.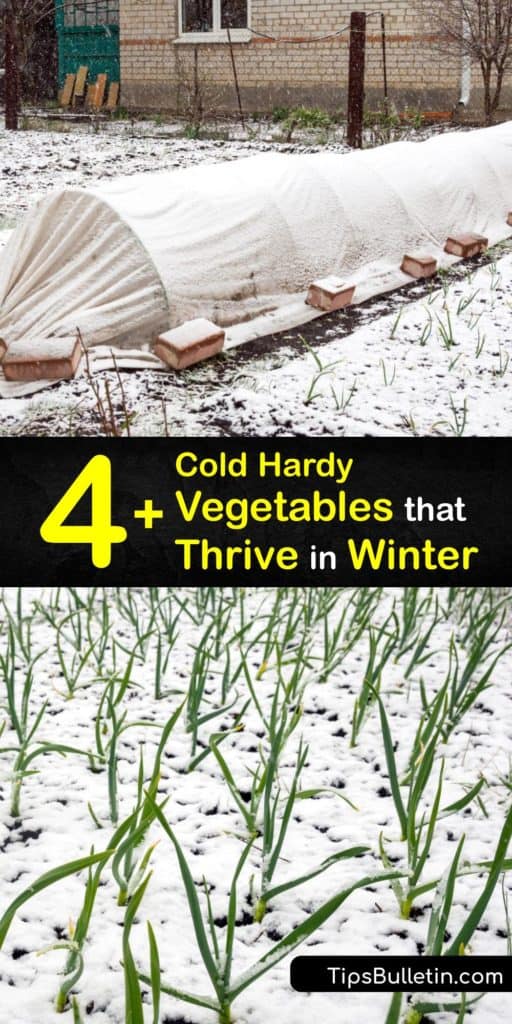 If this list of vegetables to plant in winter has helped you utilize your garden beds year-round, share this list of what vegetables to grow in winter on Facebook and Pinterest.