As children, we were taught to eat all our vegetables, and some of them were more desirable than others. While most kids frown upon broccoli and spinach, potatoes and other root veggies are tolerable. But, what are root vegetables, and which ones are the healthiest?
Take a trip to the grocery store or farmers market, and you'll see a bounty of produce, from asparagus and kale to turnips and radishes.
However, if you've never grown a garden, you may be unfamiliar with the growing habits of these various vegetable types. Some are above-ground veggies, while others grow beneath the ground.
We are all familiar with bell peppers, tomatoes, cucumbers, and lettuce since they grow above ground.
However, many vegetables grow underground and are not visible until harvest time. These are root veggies, and there is a wide variety to choose from, ranging in appearance, flavor, and nutrition.
Types of Root Vegetables
While potatoes and carrots are some of the most popular root veggies, there are many others you may not be aware of, such as yuca, taro, horseradish, celeriac, turmeric, and Daikon radishes.
Their tastes vary, and some of them are healthier than others. Knowing which to use as a side dish is often confusing with all the root vegetable options.
Learn about the different types of root veggies and their growing habits. Find a root vegetables list, tips for growing root veggies in the garden, and a hearty recipe after a bountiful harvest.
What are Root Vegetables?
We are all familiar with plants that grow above the ground, but what are root vegetables? Explore these types of veggies, how they grow, and what they need to thrive in the garden.
Root Veggies
Root vegetables are the underground portion of the plants we eat. Plants store their energy in their root section or rhizomes in the form of carbohydrates.
While all plants have roots, not all root types are tasty or worth consuming. These starchy veggies are easy to grow and include everything from potatoes and yams to onions and garlic.
Some veggies like kohlrabi resemble a root vegetable, but they are not, while others like Jerusalem artichokes are a sunflower family plant we grow for the underground tuber.
Healthiest Root Vegetables List
While there is not much doubt that most people are aware of famous tubers like potatoes and yams, there are probably more types of root vegetables than you imagine.
We put together a root vegetables list to help you pick the healthiest ones for your garden and recipes.
Bulbs, corms, tubers, and root crops are the four main types of root veggies. Onions, fennel, shallots, and garlic are good examples of bulbs, while celery root and taro are corms.
There is a difference between shallots and onions and other alliums but they are all bulbs.
Potatoes, yams, yucca (cassava), and sweet potatoes are tubers, and maca, jicama, rutabagas, turnips, parsnips, and the different types of beets are root crops.
All root vegetables contain fiber and antioxidants and are an excellent source of carotenoids and gluten free starch for maintaining blood sugar.
However, some of them are better for you than others. For example, onions are high in vitamin C, and sweet potatoes are rich in Vitamin A.
Are turnips healthier than potatoes? When you are counting carbs, they are. Turnips are a great source of manganese and potassium, and ginger contains a compound called gingerol. Beets are high in folate and nitrates, and garlic has vitamin B6 and manganese.
The most nutritious root vegetable is carrots since they are packed with vitamin A, vitamin K, and the antioxidant beta-carotene. When you grow carrots from seed, note that the seeds are very tiny and don't require a lot of depth when planting them.
Are Root Veggies Hard to Grow?
While growing root vegetables takes more prep time than other vegetable types, they are relatively easy to grow. Note that you can regrow ginger and most other root veggies in a jar of water. Regrowing sweet potatoes is just as straightforward. However, follow these helpful tips for growing root veggies in the home garden.
The first step to growing root veggies at home is to pick your favorite one from the long list of root vegetables names. If you're a beginning gardener, taproots like radishes, beets, carrots, and turnips are some of the easiest to grow.
Perform a soil test to ensure your garden has a pH between 6 and 7 for the best root growth. If you're unsure of the dirt you have, consider planting the veggies in a raised garden bed, which gives you better control of the soil.
Tuberous roots prefer to grow in sandy loam and peat soil since clay dirt makes it difficult for them to thrive.
Choose a garden area that gets at least six hours of full sun daily and begin planting during cool weather. While some root crops tolerate warmer temperatures, most thrive while the outside temps are cool.
Root veggies deal with a variety of garden pests that affect the shoots of the roots, and often you aren't aware of their presence until it's too late.
Consider companion planting as a way to deter many harmful insects from your underground crop. Some of these plants even attract beneficial bugs that help the garden flourish.
Companion plants for garlic and chives include carrots, as they keep root flies away from carrots. Cilantro attracts ladybugs, and lacewings prey on Colorado potato beetles.
Harvest time varies between plants, and the best way to determine when they are ready to pick is to read the seed packet when you plant them.
Carrots, beets, radishes, and turnips have green tops that are edible and ready to harvest whenever they are green, and the roots are better tasting when they are small. The darker the greens, the larger the root.
Onions and garlic are ready to pick when the necks bend at the base and the leaves turn yellow. Potatoes take longer to mature and are ready to begin digging out of the ground when the plant starts flowering.
How to Make a Hearty Stew with Root Vegetables
We cannot think of a better way to use up root veggies than to prepare a hearty stew. The best thing about this vegetable dish is it's easy to personalize by substituting your favorite tubers and adding your own spices.
Peel and slice two to three pounds of your favorite root vegetables into one-inch pieces. One option is to use a combination of carrots, potatoes, beets, and turnips.
Place the prepared veggies onto a baking sheet and drizzle them with olive oil, salt, pepper, and cayenne. Mix everything to coat them evenly and roast in a 425°F oven for half an hour.
While the veggies are roasting, pour one tablespoon of olive oil into a large pot on medium heat and saute the diced red onion for five to seven minutes while stirring.
Add the red chili flakes, garlic, and tomato paste and cook for another minute before adding the canned tomatoes and Parmesan cheese.
Simmer the mixture for fifteen minutes, add the kale and beans and cook for another five minutes to soften the kale. Pour the roasted root veggies into the pot, add the dried oregano, and season to taste with salt and pepper.
Many people are amazed to discover that there are more types of root vegetables than potatoes and carrots. There is such a vast range of tubers with their own unique flavor and health benefits that the garden will never be dull again.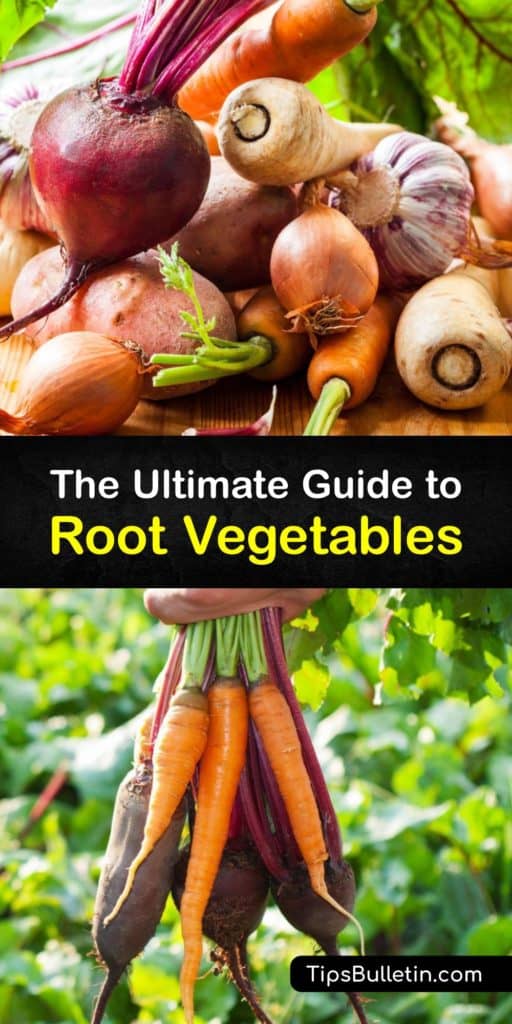 What are root vegetables is a common question among new gardeners, so why not share our root vegetable guide and growing tips with the veggie-lovers in your life on Pinterest and Facebook?