At some point in time, your old mattress will need replacing. The question then becomes what to do with an old mattress so you can make room for the new one. Mattresses, even with help, are not the easiest things to move around as their size, weight, and shape make them difficult to move.
Disposing of an old mattress was easy, as the people who delivered your old mattress also took away your old one. Now times have changed, and more people need to dispose of them on their own. More people these days are online buying what they deem the best mattress.
That brings up the questions where do you take old mattresses and who takes used mattresses? Once your new mattress is delivered, you are left to figure out what to do with your old one. Do you donate it, recycle it, take it to the local landfill, or try and sell it?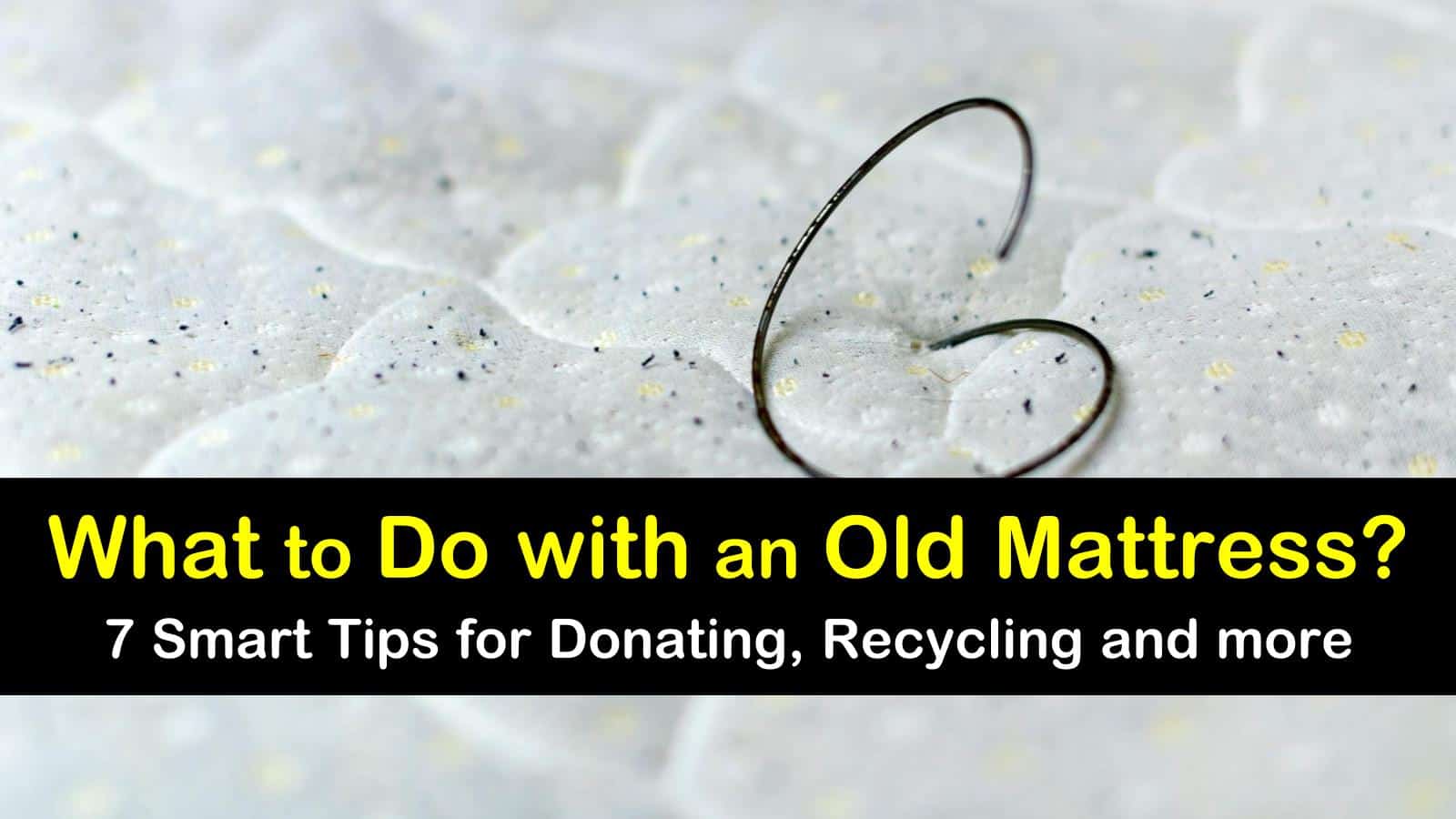 Ideas for What You Can Do with an Old Mattress
A mattress that is donated must be clean, free of stains and bugs, and still be usable. Of course, it shouldn't smell either. Homemade or commercial mattress sprays can help with odors and stain removal, as well. Cleaning a very old memory foam mattress is usually possible, although it may take a little time.
No matter what you do, don't leave your old mattress on the curb or in a local dumpster. Many cities have rules and laws in regards to disposing of an old mattress, so be sure to follow them.
Who Takes Used Mattresses?
One of the best old mattress disposal methods is giving them away, especially if they have some life left in them. If your mattress is less than ten years old and is still in usable condition, consider whether to donate a used mattress to a local charity.
Before scheduling a donation pick up from one of these charities or another organization, check for the following things to ensure your mattress is fit for donation. Mattress donations must be free from rips, tears, and any visible damage.
The mattress also needs to be free of stains for obvious sanitary reasons and any liquid spilled on the mattress compresses the foam and ruins the mattress. Look for any sagging both in the center of the bed and along the edges.
Sagging means rusty coils or compressed foam from dust mites. If any of these are present your mattress is only suitable for recycling.
Despite what some people say, Habitat for Humanity and Goodwill no longer accept mattress or box spring donations, but they do take bed frames. Donation Town is an excellent source for finding what local non-profits accept a mattress donation, including local homeless shelters and thrift stores.
Throwing Away Your Old Mattress
If your old mattress is no longer in good shape or you are questioning how usable it may be, you need to dispose of a mattress properly. If you can safely transport it or have a friend who can do this for you, take your old mattress to the local landfill or dump to throw it away.
Call ahead to find out if they charge a mattress removal fee or a mattress disposal fee and to find out if there are any rules or regulations you need to follow when you dispose of your old mattress. Another option is to call your local trash company to see if they offer old mattress disposal services.
Some trash companies provide a large item pick-up a few times a year. There are companies that offer a monthly service, while others will give large dumpsters once a year for a community cleanup program.
You can also rent a dumpster to dispose of your mattress. This method is useful if you have more than just a mattress and box spring you are looking to get rid of.
Call a Junk Removal Service
Sometimes you don't have the means or desire to haul your old mattress off yourself. In those cases, you can always call a junk removal service to come and haul off your mattress and box spring for you, but be prepared to pay a small fee for the service.
1-800-GOT-JUNK, Mattress Disposal Plus, and Load Up are excellent choices that operate nationwide and haul off more than just a mattress.
Sell Your Usable Mattress
If you don't mind the hassle, you also have the option of selling your mattress on websites like Craigslist, Facebook Marketplace, etc. When selling it, you want it to be in similar shape to as if you were going to be donating it. Before you find your mattress a new home, you should give it a thorough cleaning with the best DIY upholstery cleaner.
Breakdown and Recycle Your Mattress
Sometimes, your only option is to recycle a mattress if it is not fit for donation purposes. Each mattress disposed of in a landfill takes up 40 cubic feet of space, making it even smarter to recycle the various pieces.
One of the greatest things about mattress recycling is that almost every single part of the mattress is recyclable and can be repurposed for something else. In California, Rhode Island, and Connecticut, the states have adopted mandatory mattress recycling programs for all retailers.
In these three states, you can ask the retailer to pick up your old one for a small fee. If you buy your mattress online or if you live in a different state, you can look at Bye Bye Mattress or Earth911 to find the closest recycling center for a drop-off.
Ways to Repurpose Your Old Mattress
Based on numbers released from the Mattress Recycling Council, over 15 million mattresses are disposed of in the United States each year. Rather than merely tossing yours into the local landfill, consider breaking it down and reusing it. A mattress contains about 25 pounds of steel in the form of innerspring; these can be sold for scrap.
Reuse polyurethane foam, memory foam, cotton, wool, silk, and other non-natural fibers for padding and insulation. Turn the wood pieces into firewood or garden mulch. Some more creative ways to repurpose old mattress, include turning a foam mattress into pet beds.
Use the wood slats to create a compost bin and then spread the stuffing around the edges to keep out pests. Use the fabric to create throwaway rugs for outside or hop on Pinterest to discover even more ways to reuse your mattress.
Disposal Options for Bed Bug Infested Mattresses
Nobody wants a bedbug-infested mattress, not your local recyclers or donation centers. Many junk removal services won't pick up a bedbug-infested mattress as they tend to breakdown the mattress for recycling.
Before disposing of a bedbug-infested mattress, clean it with a homemade spray for bed bugs. Then find a junk removal service to come and pick it up; some like Load Up will pick up mattresses with bed bugs if notified in advance.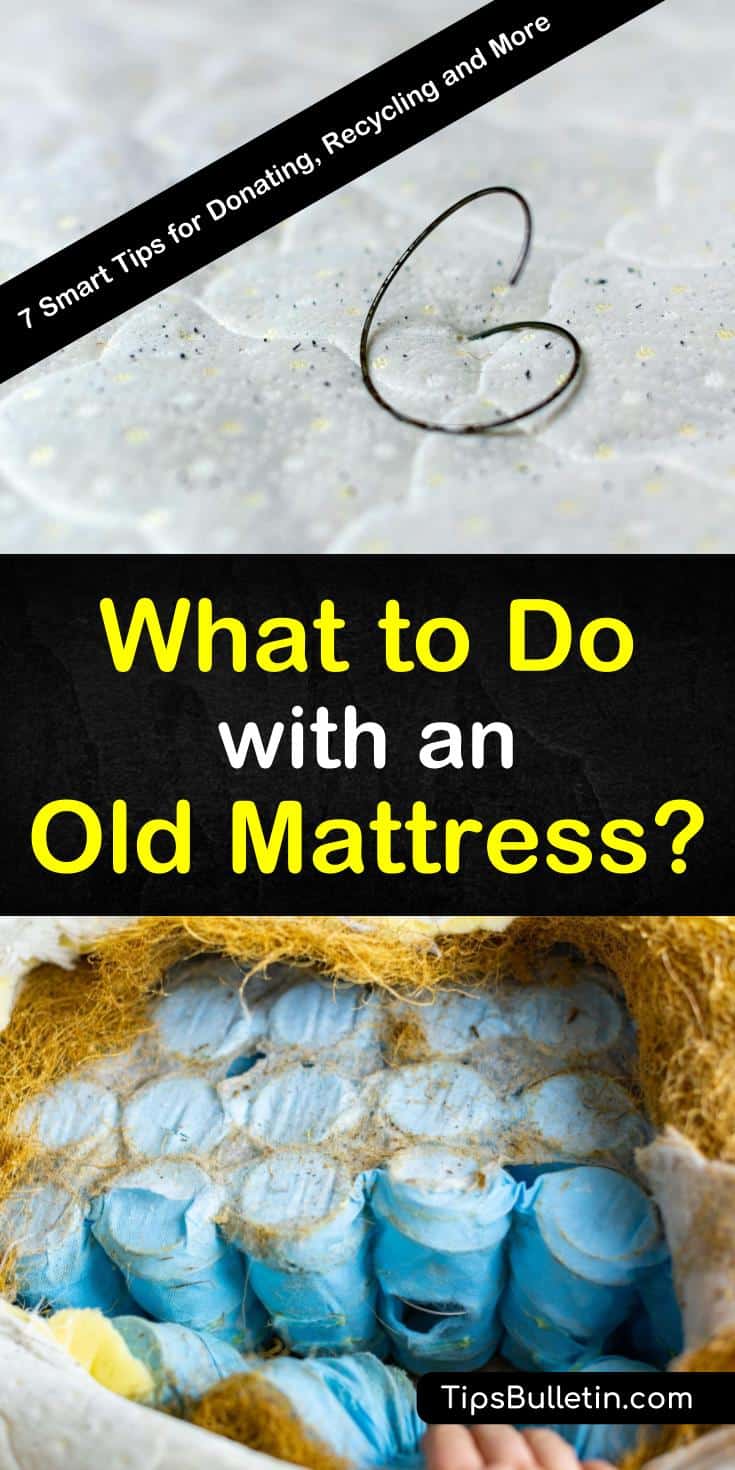 Thank you for reading our tips on recycling and donating old mattresses. If you have found any of these old mattress disposal methods helpful, please share with others on Facebook and Pinterest so they can learn what to do with an old mattress.