Raspberries are delicious, succulent, and sweet; they make the perfect snack or dessert, so unsurprisingly, they feature in many home gardens. Many growers ask when to fertilize raspberries, and the answer is critical to producing a good harvest. No matter how great your efforts are, your raspberry canes won't grow well and may even fail without the correct fertilizer.
When you plant raspberries, they are a fun crop to grow. A raspberry plant's high yield means it's a valuable plant, and most raspberry cultivars take up very little garden space compared to the number of berries provided by the fruiting canes.
Learning about raspberry fertilizer and the best time to fertilize raspberry bushes gives gardeners all the tools they need to provide optimum nutrition to their raspberry canes throughout their life cycle to ensure they thrive.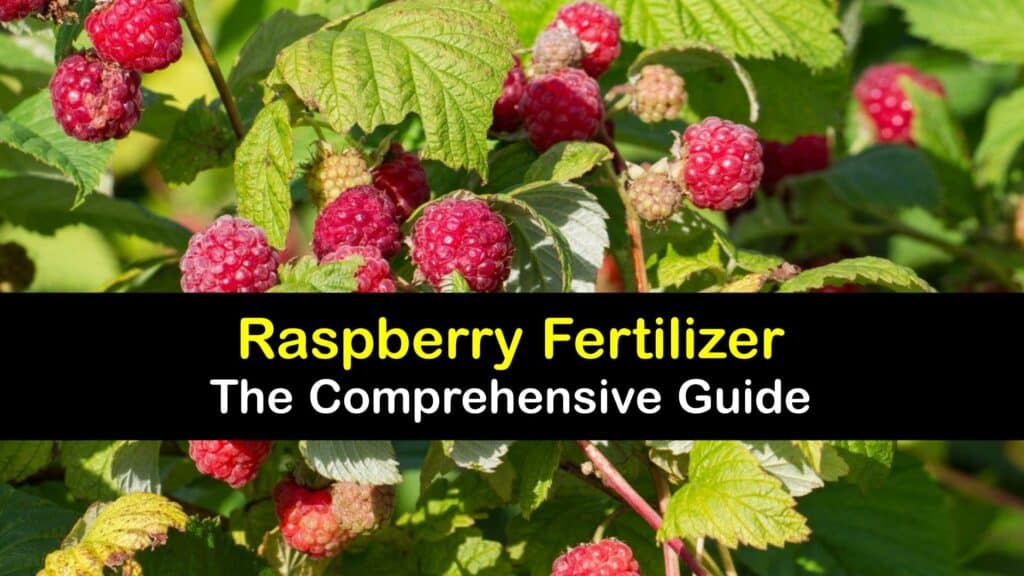 Everything to Know about Raspberry Fertilizer
Raspberries are a cool-season fruit that can be grown by most gardeners with a bit of forethought and understanding. Some growers feel daunted at the prospect of selecting the best time to fertilize raspberry bushes and knowing which raspberry fertilizer to use.
Raspberries do not ripen after being picked, so in addition to planting and fertilizing them at the appropriate times, they must also be harvested properly to ensure sweet ripe berries. Thankfully, you can use fertilizer to help raspberry bushes grow, and it is easy to apply. Find out when to fertilize raspberries to maximize your yield.
The Importance of Knowing When to Fertilize Raspberries
Knowing the best time to fertilize raspberries ensures growers provide their bushes with the critical nutrients required for different life stages at the optimal time. Understanding the raspberry life cycle helps explain when to fertilize raspberry bushes for best results.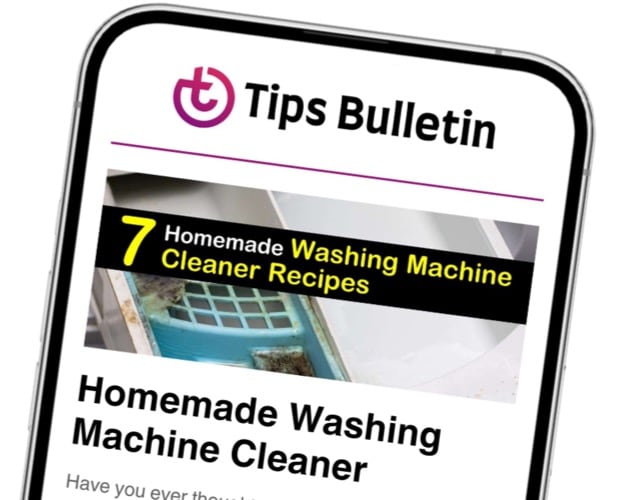 Finally, an email that Transforms Your Home.
Get the latest home and garden tips from our experts, delivered straight to your inbox.
Raspberry canes have a two-year life cycle, while their crowns and roots are perennial. The first year of growing produces primocanes, and the second year growing season makes floricanes.
The primocanes develop vegetatively, while the floricanes undergo fruiting and die back, resuming the cycle. This timing determines the frequency at which your raspberry patch bears fruit.
When choosing new plants, decide whether you'll grow summer-bearing, fall-bearing, or everbearing raspberry plants. Summer-bearing types produce fruit in late summer, whereas fall-bearing variants produce a late fall crop.
Fall Gold is an everbearing species with enhanced resistance to aphids and verticillium wilt. It has two crops of yellow raspberries, one in early spring and the other in late fall.
Best Fertilizer for Raspberries
Raspberry fertilization requirements are simple and easy to meet. Although a balanced fertilizer is often favored, raspberry fertilizer should be high in nitrogen. For example, a 10-10-10 fertilizer, or genuine nitrogen at a level of 4-5 pounds per 100 feet of row, is ideal for raspberry bushes.
If you're practicing organic gardening, use manure (50-100 pounds per 100 feet of row) or a mixture of cottonseed meal, langbeinite, and rock phosphate as an organic raspberry plant fertilizer (in a 10-3-10 ratio) for a more natural option.
Best Time to Fertilize Raspberry Bushes
Fertilize your raspberries once a year in the late spring. When growing raspberries, the perfect time for fertilizing is immediately after planting new canes, once the new plants have established themselves. Ensure fertilizer is applied 3-4 inches away from the stems to avoid burning them.
Fertilizers, especially nitrogen-rich fertilizers, promote new growth; this is beneficial in the spring but may be hazardous in the early summer and late winter. Any new development occurring in the late season may not have enough time to mature before the winter cold sets in and will most likely be harmed by frost, causing unnecessary injury to the plant.
Even if the plants appear weak, don't fertilize later in the season. Reach out to the local cooperative extension office for additional support on fertilizing raspberries tailored to your hardiness zones.
DIY Raspberry Fertilizer
Whether growing red raspberries, black raspberries, or other cultivars, fertilizing the canes in your home garden pays off when they begin bearing raspberries. Store-bought fertilizer often contains chemical products incompatible with organic gardening.
Homemade fertilizer lets you control the compounds introduced into your garden and food. You can make your own plant food for berries to give your plants a boost of nutrients.
Shake thoroughly, then set aside for 15 minutes or until the powder is completely dissolved. Before planting, apply this fertilizer to the soil, or use it around the base of your bare-root canes in early spring to nourish your plant and increase its berry output.
Raspberry Plant Care
Raspberry plants prefer full sun and a soil pH of 6.0 to 6.8 in fertile, well-drained soil. Remedy poor soil conditions by adding organic matter like manure or compost before planting.
Raspberry plants require consistent water to yield luscious berries. During the growing season, they require roughly an inch of water once a week and a layer of mulch. Mulching aids in retaining soil moisture.
A yearly prune keeps raspberry canes healthy. Adding a trellis increases air circulation and reduces their spread at ground level, making it easier to mow and maintain the garden around them while keeping berries off the ground.
Raspberries are simple to grow and come in many cultivars to add to your home garden. You can find the best time to transplant raspberry bushes to make sure they thrive when you landscape your garden.
Learning about raspberry fertilizer requirements and when to fertilize canes for the best results ensures your raspberry plants produce their optimum output of sweet and tasty berries.
Raspberry bushes grow a lot of fruit for the area they take up, and their berries are nutritious, sweet, and freeze well, making them a worthy addition to your garden. Understanding how to fertilize raspberries rewards growers with a bumper crop of berries.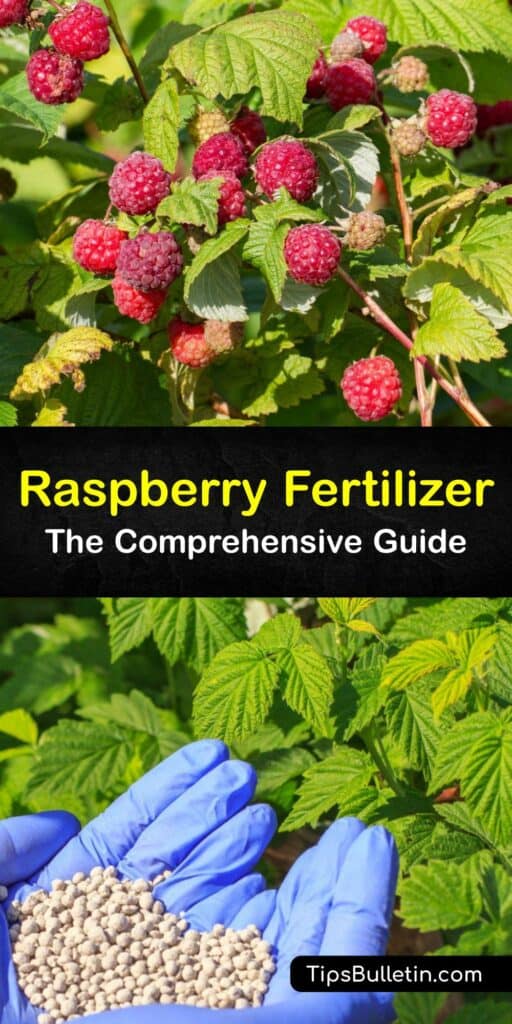 If you liked this article on when to fertilize raspberries, please share these brilliant tips on raspberry fertilizer with your friends and family on Pinterest and Facebook.