Fresh radishes are a great addition to your diet, whether you add them to garden salsa or salad for a zesty crunch or enjoy garlic roasted radishes as a healthy side dish. There are so many unique types of radishes that you'll never get bored. Most grocery stores generally only carry the typical red radishes. Find out when to plant radishes, start them from seeds and grow them in the garden.
Of all the root vegetables, radishes are one of the most underrated. Unlike a potato with a neutral flavor, the radish is an acquired taste that is not for everyone.
They are zesty and spicy when raw, and cooking them lessens the spiciness while bringing out the sweetness. Both the root and leafy tops are edible, and radish greens taste a bit like mild spinach.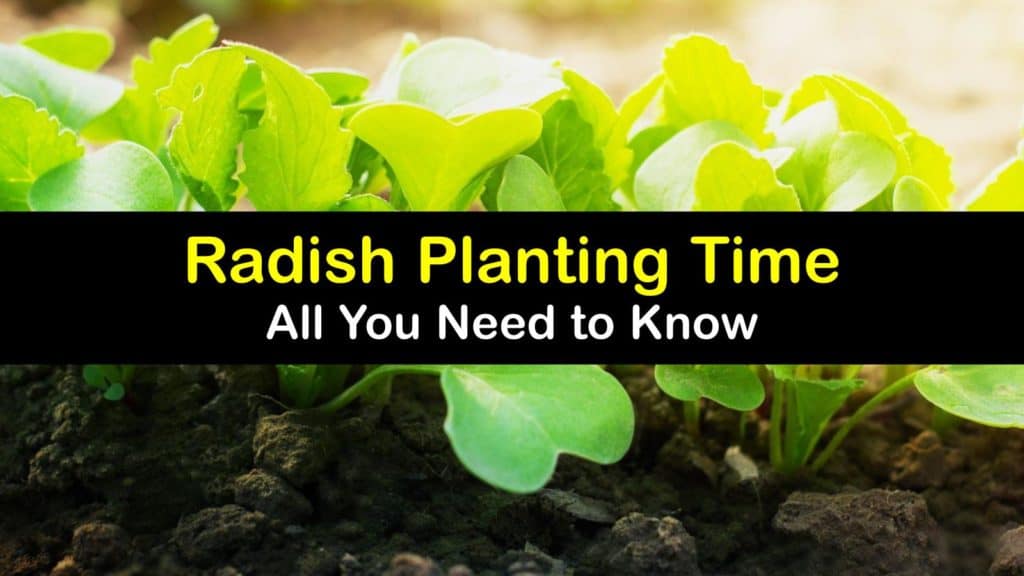 How and When to Plant Radishes
The interesting flavor of radishes is not their only benefit. This root vegetable is also very nutritious. It is a source of vitamin C and has no cholesterol or fat, so it is a guilt-free addition to your favorite recipes.
The best thing about it is it's one of the easiest veggies to grow, and the radishes are ready to eat in as little as four weeks.
There are several types of radishes, and many of them are fast-growers. They are also suitable for growing in containers or plastic bags if you have limited space.
Radishes growing season is shorter than other vegetables, so they are perfect for impatient gardeners. However, there are certain conditions these plants want for optimal growth.
Radishes are a cool-season crop, so it's necessary to know when to plant radish seeds indoors and outside to get the most out of your garden.
Discover how to plant radish seeds and give your young plants care as they grow so that you can enjoy your favorite radish varieties straight from the garden.
Understanding a Radishes Growing Season
It's a great idea to gather planting information before starting a radishes growing season. There are many types to choose from, and these root veggies grow ideally in cool weather.
Explore the differences between varieties, which hardiness zones they thrive in, and the growing conditions needed to produce the healthiest crop.
Radishes (Raphanus sativus) are sometimes confused with parsnips, but they are part of the Brassicaceae family. While we all picture the typical red radish, there are actually many types of radishes.
The most popular are White Icicle, Cherry Belle, Burpee White, French Breakfast, Easter Egg, Black Spanish, Watermelon, Early Scarlet Globe, Malaga, White Hailstone, and Daikon white radishes.
There are also three main varieties, winter, fall, and spring radishes. Spring varieties go from seed to harvest in four weeks or less and are sown in the springtime. Plant radishes near cucumbers to take advantage of companion planting benefits.
Plant fall and winter radishes in mid to late summer. They are considerably larger and hold up better to long-term storage.
Radishes grow well in light, well-drained, neutral soil, and they prefer full sun for six hours with partial shade during hot afternoons. Avoid planting them in heavy clay soil since this affects radish flavor.
Whether you plant Daikon radish or another type, they enjoy light watering four to five times a week when there is little rainfall to prevent them from becoming pithy, and it's beneficial to water them at the ground to prevent splashing on the foliage.
Most radishes grow well in hardiness zones 2 through 10, so if you're wondering when to plant radishes in zone 6, the early spring or late summer is your best bet, depending on the variety.
When to Plant Radish Seeds Indoors
Radishes are a cool-season crop that does not grow well during hot weather. Therefore, it's good to understand the best time to plant radishes for a good crop. Learn when to plant radish seeds indoors to give you a head start on the radish season.
Five weeks or so before the last frost, get your radishes ready by starting them indoors. Fill a seed starting tray or pot with potting mix and follow the seed packet instructions for spacing and depth.
Generally, sow seeds a quarter to a half-inch deep, but this varies depending on the type. Press the soil down gently over the seeds and water them to dampen the dirt. Set the tray in a warm windowsill or beneath a grow light, and do not let the dirt dry out to encourage germination.
If you're trying to decide when to plant radishes in zone 7 and up, the seedlings are safe to move outdoors anytime after the danger of frost passes.
However, before you transplant radishes to the garden or outdoor pot, harden the young plants off first. Take the seedlings outside each day for a week for a couple of hours to help them acclimate to their new environment.
When to Plant Radishes in the Garden
Now that you know when to plant radish seeds indoors, it's time to learn how to transplant them outside in a container or a garden bed.
Find out how to sow seeds directly outdoors if you live in the right hardiness zone and some growing tips to ensure your plants get the right care.
Whether you are growing radishes or different varieties of beet plants, it's important to prepare the garden or pot by mixing an all-purpose fertilizer into the soil. To transplant the seedlings, make a hole slightly bigger than the plant's base, gently remove it from the pot and set it in the hole before pushing dirt in over the roots.
Don't disrupt the root system while planting and pat the soil around the seedling to help it settle.
If you're planting seeds, press a seed a half-inch deep into the dirt or the recommended depth requirement on the seed packet.
Space each plant or seed an inch apart for spring varieties and nine inches apart for winter radishes, with rows six inches apart. Water them immediately and spread a layer of mulch over the ground to prevent weed growth.
As with any vegetables to grow in autumn, check your seed packet for hardiness zones if you decide to sow seeds directly in the garden and don't know when to plant radishes in zone 5 and up.
It's usually safe to sow seeds directly outside after the last frost when the soil temperature is above 40°F. It's also a great idea to plant new seeds every ten days for a steady supply of crops.
Flea beetles and root maggots are common radish pests. They cause holes in the leaves and damage the roots, and it's essential to eliminate them as soon as you notice activity. Remove insects by hand and apply insecticidal soap or dust plants with diatomaceous earth.
These plants are also affected by many diseases. The simplest way to prevent them is to perform crop rotation, remove diseased, damaged, or dead plant material, and sterilize garden tools after each use.
Harvesting and Storing Radishes at the End of the Season
Fortunately, the radish growing season is short, so you don't have long to wait before you reap the benefits of your work. Discover when and how to harvest your root crop and tips for storage short and long term.
Harvest summer radishes when they are young, about four weeks after they germinate, and pick winter radishes in November or leave them in the ground and pull them up as needed. When harvesting radishes, use a garden trowel to gently dig around radishes and lift them from the ground.
After you harvest radishes, shake off the excess dirt and place the unwashed roots with their green tops intact in a plastic bag lined with slightly damp paper towels. Keep the bag in the fridge for a couple of weeks.
Another way to keep radishes fresh is to wash them and remove the tops and roots. One way to preserve radishes is to submerge the radishes in a Mason jar of water, put the lid in place, and store it in the fridge for ten days.
How to Make a Savory Side Dish with Fresh Radishes
While many people enjoy the crunchy, zesty flavor of raw radishes in a salad, we prefer to roast ours as a side dish.
Cooking these veggies enhances their sweetness, and their peppery kick tastes terrific when paired with garlic. This recipe makes four servings and takes 25 minutes to prepare and cook.
Start by trimming the roots and tops off each radish and slicing them in half. Combine the cut radishes, butter, salt, pepper, and herbs in a large bowl and toss them to coat the veggies evenly.
Spread the radishes in a single layer in a baking dish and bake them in a 425°F oven for 10 minutes. Remove the baking dish from the heat, toss the radishes and sprinkle with the minced garlic.
Bake for an additional ten minutes, or until golden brown, and serve with a side of ranch dressing.
Radishes are the ideal vegetable when you want something healthy but with a little bit of zest. The best thing is they grow quite quickly and are ready for picking while other crops are still maturing, and a green thumb is not required.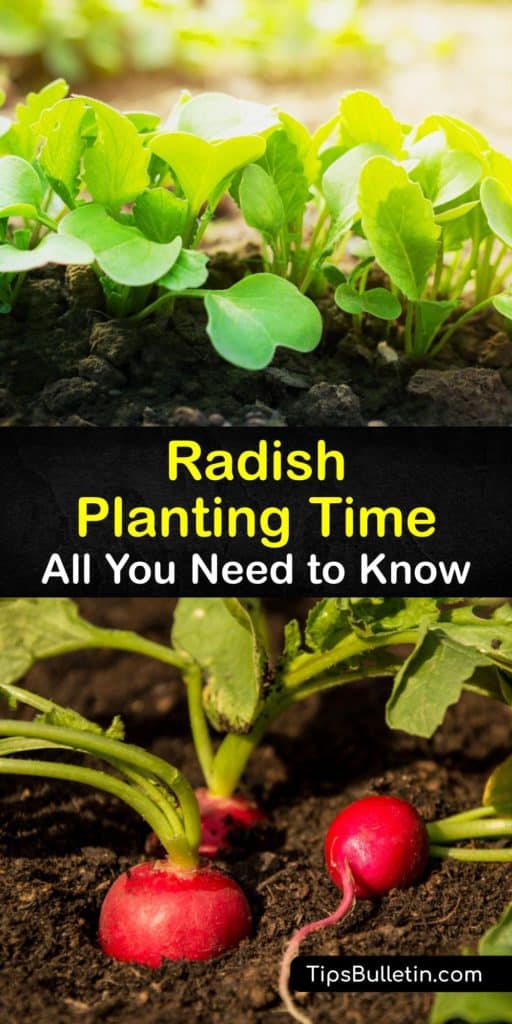 Now that you know when to plant radishes so that you get to enjoy a steady supply of fresh root vegetables throughout the season, why not share our radish growing guide with the veggie-lovers in your life on Pinterest and Facebook?