Among radishes, the daikon is a favorite for many, if for no other reason than its appearance. Compared to the traditional round, red, and white radish, daikon radishes resemble large radishes with white roots. Keep reading to learn more about the daikon, including how to grow daikon radish to bring this unique and interesting-looking vegetable to your table.
Daikon radish, also known as the Japanese radish, white radish, and Chinese radish, is an essential staple of Asian cuisine like stir-fry. Although you may only be familiar with the daikon that resembles a giant white carrot, there are several daikon radish varieties.
The Chinese daikon is oval-shaped with a green outside and pink interior like a watermelon. Korean daikon, known as Mu is green and white but shorter and rounder than the typical daikon and the Cantonese daikon has a lighter green coloring around the top than the white daikon.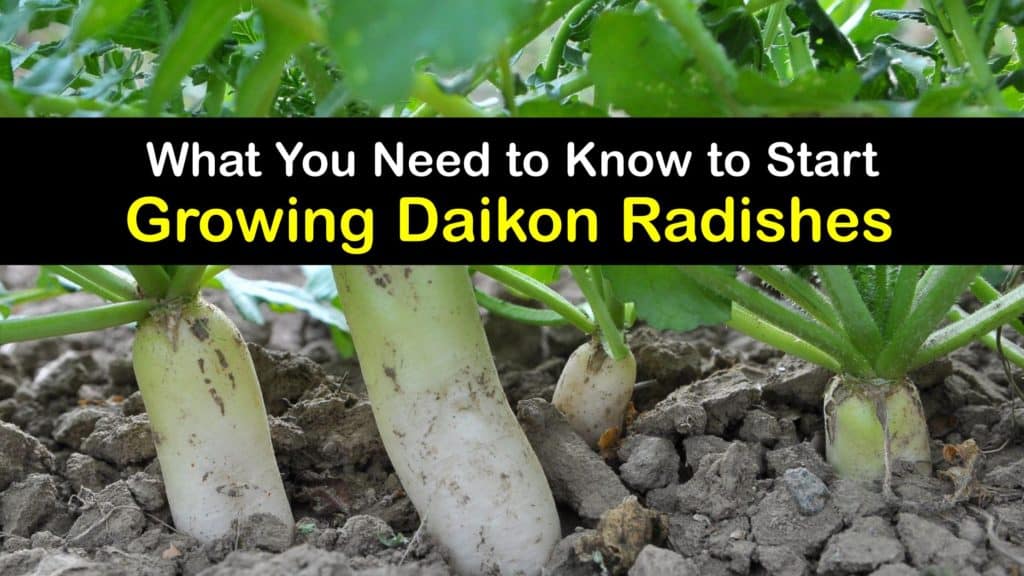 When to Plant Daikon Radish
Also known as winter radishes, the ideal temperature for germination and growth ranges from 50-65°F, which means daikon radishes grow well when planted in early spring or late summer, depending on your climate. Zones two through eleven are the best for growing daikon radish based on the USDA hardiness zone map.
After harvesting, it's fun to try some new recipes with your fresh radishes. Make pickled daikon and a variety of other foods with this tasty root veggie.
What to Know about Growing Daikon Radish (Raphanus sativus var. longipinnatus)
Belonging to the Brassica family, radishes are cool weather crops that grow easily, and the daikon is no exception. Their ease of growth and storage makes daikon radishes an easy pick to include in your spring garden, and there are several cultivars.
When choosing to grow daikon radish, there are three main types: oblong, tapered, and round, all referring to the shape of the taproots. Some cultivars like Watermelon closely resemble turnips, while others look uniformly like daikon or oriental radishes.
There is, however, quite a bit of difference between radish and turnip. Aside coming from two separate veggie families, turnips have a milder taste than radishes.
Japanese Minowase is an heirloom variety that grows large roots. These radishes reach maturity in around 50 days, keep well in storage for a few weeks when wrapped in plastic bags, and grow well in full sun or shade.
Long radishes are a white tapered cultivar that grows up to 14 inches. These reach maturity in roughly 60 days and grow well in spring or fall.
Red is a variety of oblong radishes that only reach about eight inches in length with bright red exteriors. Red daikon reaches maturity in 30 days, allowing you to harvest many throughout the growing season.
Icicle radishes are white and tapered and grow about five inches once mature. These radishes are also ready for harvest in around 30 days, though it may take longer.
How to Grow Daikon Radish through Direct Seeding
Before planting daikon radish, whether you grow daikon radish in containers or the garden, check the soil. Ensure that it is at the proper pH for growing daikon vs radish of all types. Daikon radishes thrive in soil with a pH range of 5.8-6.8. Because we harvest daikon to consume their roots, avoid adding too much nitrogen into the soil.
When you grow radishes at home, plant seeds one at a time with a spacing of one inch in rows that are at least one foot apart at a depth of ½ inch to prove them room to grow and for you to work.
After planting, keep the soil moist with regular watering and add mulch made with organic matter to reduce the presence of weeds as your daikon begin growing. Planting in raised beds is a simple way to avoid weeds.
Daikon seeds only require a few days to germinate and true leaves to form. Start thinning them out, so there is one sprout every five inches.
How long does daikon radish take to grow? Somewhere between 45 and 70 days, your daikon reaches maturity. Due to the growing pattern of some daikon radishes, with lush green leaves on top, daikon becomes valuable as a cover crop for nearby vegetables by blocking out sunlight and helping keep soil temperatures regular.
Another option for growing daikon radish is to purchase daikon microgreens. These seeds grow in as little as six days under the right growing conditions.
If you don't need as many radishes as you harvest at once, store fresh daikon in the vegetable drawer in the fridge. They'll keep for about a week. Extend the time by putting them in a bowl of water.
Caring for Daikon Radishes
To ensure your daikon make it to harvest and you can enjoy their rich source of vitamin C throughout the year, be on the lookout for any pests or signs of disease. Radish companion planting with lettuce and peas can reduce or eliminate the bugs that enjoy your daikon.
Flea beetles are tiny black bugs that attack the leaves of your plants, leaving small holes behind. Harlequin bugs feed on the greens of your plants like beetles. Handle these pests with an insecticidal soap spray that combines neem oil with water and dish soap. Floating row covers are a worthwhile investment to keep bugs away from your seedlings.
The root of your plant and the leaves are targets for disease, although home growers often do not experience disease issues. Two notable diseases are leaf spot and root rot.
Leaf spot causes yellow spots with gray centers on the leaves of your radishes. Snip off affected leaves to deter the infection from spreading to remedy this issue.
Root rot targets your plant's roots, turning portions of it black and distorted. Prevent root rot through proper watering, ensuring never to overwater your crops. Another way to avoid root rot is through crop rotation. Avoid planting Brassica plants where other family members grew the previous season.
Once you know when to plant daikon radish and your garden is prepped for new seeds, bringing this unique Asian veggie to your table is simple. Discover the joy of adding new tastes to your favorite meals by substituting a regular radish for daikon or one of its cultivars.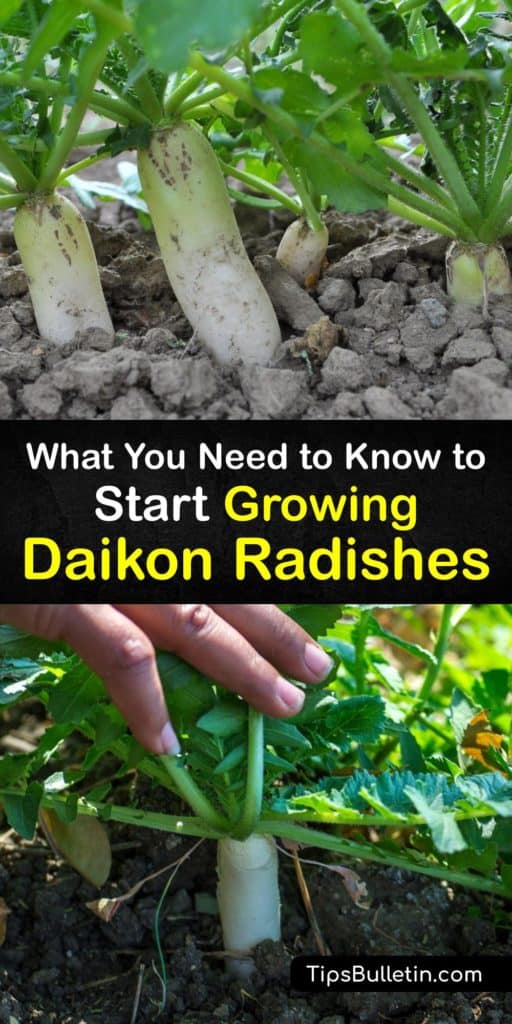 We hope that with our help, you now know how to grow daikon radish and will share this article on Facebook and Pinterest to inform others of when to plant daikon radish.