Many people ask can you freeze celery because they hate to throw away good food, plus it helps them save money. Whether you have a few sticks left over from a relish tray or you have a few ribs leftover from the stalk you bought for a specific recipe, you want to do something with it rather than toss it.
For those asking can I freeze celery, the answer is yes you can, but you will only be able to use it for certain things.
One of the biggest downfalls to freezing celery is it will no longer be nice and crispy, as it is when fresh. Once you freeze it, you will no longer be able to use it as you would raw celery.
Thawed celery is not an ideal choice for any recipes that require the celery to retain some crispness, such as stir-fry or lo mein. While the answer to can you freeze celery is yes, how you use it once frozen is not the same.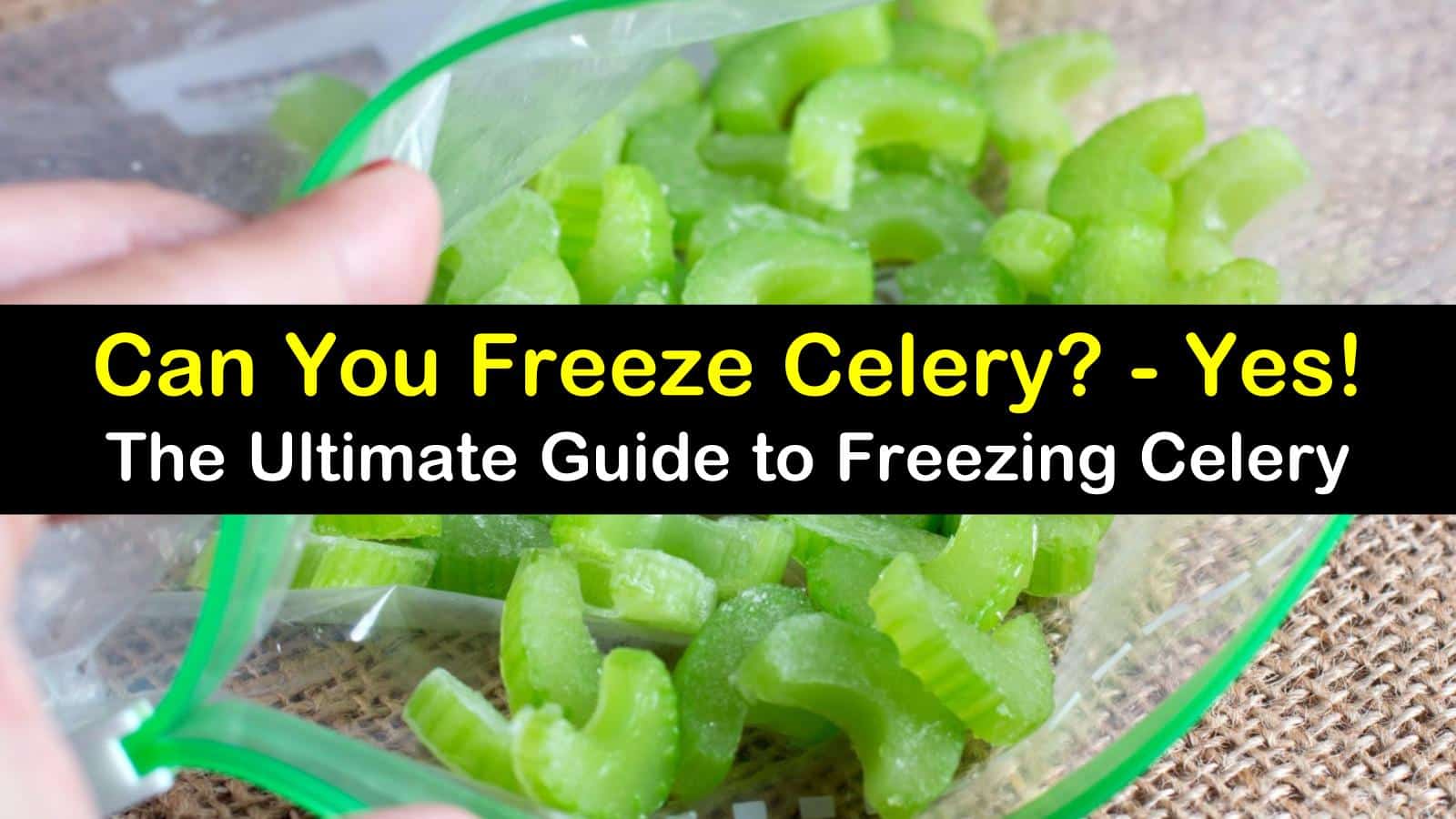 Ultimate Guide to Freezing Celery
Freezing celery and other fruits and vegetables is not complicated and really just takes a few minutes of preparation. Most produce freezes in a similar fashion, although the best way to freeze green beans may be a little different from freezing corn on the cob or rhubarb.
You may wonder, Can you freeze boiled potatoes or other veggies that have been cooked first? Certainly, you can but you must follow proper storage guidelines to ensure that they don't end up with freezer burn or turn out mushy when you take them from the freezer to use.
How to Keep Celery Fresh
Learning how to keep celery fresh allows you to use as much celery as possible, while it is still nice and crisp. Celery goes rotten quicker than other vegetables, like bell peppers, as it continues to release a ripening hormone as it is stored in your fridge in plastic bags.
The plastic bag increases how fast the celery decays as it traps the hormone inside the bag with the celery.
To keep the celery crisper longer, wrap it in aluminum foil and store it in the vegetable crisper for up to four weeks. Remember to wrap it tightly after each use to prevent it from going limp. You can also wrap celery in damp paper towels to ensure that it remains crisp.
Wrap the paper towels around the bottom, tightly covering the full stalk and secure in place with a rubber band. Wrap tightly in a plastic bag and then secure both ends with rubber bands.
If you are going to freeze fresh celery you want to make sure you use only the best stalks. Fresh celery grown locally or bought at a produce stand offers a better flavor than the ones you buy at the grocery store. No matter where you purchase it you want stalks that are so crisp they snap easily in half or provide an excellent crunch when you bite into them.
Can You Freeze Celery?
The best way to freeze celery will depend on how fast you plan on using it. If you plan to use the frozen celery within two months of freezing you don't have to blanch the celery first.
Otherwise, blanch it to kill bacteria and mold as you are stopping the enzymatic process.
Wash celery stalks under running water to get rid of the dirt before freezing celery. Separate the celery stalks individually so you can reach the bottom where dirt always seems to hide. After washing, cut off any discolored pieces and pull off any coarse strings.
Before freezing your celery or freezing fresh mushrooms, cut or chop them exactly how you plan on using them in your recipes. If you want diced, minced, sliced, etc., it needs to be done before freezing. Chopping or cutting thawed celery is not as easy as when it's fresh.
To blanch the celery, bring a pot of water to a hard boil. Cut celery into 1-inch pieces and dip into boiling water for three minutes. Transfer the celery to a bowl of ice water to chill until cooled.
Make sure the celery is dry and then spread out on a baking sheet. Flash freezing allows you to grab what you need rather than thawing out the whole bag. To flash freeze, place the celery in a single even layer on a baking sheet and place inside the freezer for at least two hours.
Remove celery once it is hard and package it for more extended storage in the freezer. Place prepared celery inside freezer bags or in freezer pouches with a vacuum sealer. Package the celery based on how you will be using it in the future.
Separate by different portion sizes and label and date each bag. Once marked and dated, place back inside the freezer. Dry or freeze celery leaves for use in future recipes.
Just like how to freeze lettuce, to freeze celery leaves, wash them and dry them first. Roll the leaves together into a cylinder shape. Place the roll on the bottom of a freezer bag and remove as much air as possible.
Roll the bag tightly and secure each end with binder clips or rubber bands. To use the leaves, cut off what you need and return the rest to the freezer.
How to Store Celery
How to store celery depends on if you are blanching it or not. If you didn't blanch the celery, use it within two months of freezing it. You can store frozen celery that was blanched indefinitely in the freezer as long as the temperature remains steady. For the best quality, use the frozen celery within 12 to 18 months.
How to Thaw Frozen Celery
The great thing about thawing frozen celery is that it doesn't have to be thawed. Once the celery freezes, you can use it as is in any recipe, just like the way to freeze spinach to use later.
Toss the frozen celery into the skillet, pot, pan, or slow cooker while you are cooking. If you prefer to thaw frozen celery, spinach, or other vegetable, you can do so in a container of cold water or the fridge for several hours.
Tips on Using Frozen Celery
The best way to use frozen celery is in soups, stews, sauces, or casseroles. Even if you thaw it, frozen celery will not taste the same when eaten raw, as the freezing process causes the stalks to lose their moisture.
You can also use frozen celery or leaves as an aromatic, and toss the celery once you finish cooking.
Mirepoix Recipe
Our favorite recipe with frozen celery is a mirepoix or a base that is used in a variety of soups and a handful of other recipes. The base uses a two parts onion to one part celery and one part carrot.
Saute the vegetables in a little bit of olive oil or butter, and that's it. The base can be used in soups, added to meatloaf, or used to create a vegetable stock. If you plan on using celery in this base, be sure to dice it before freezing.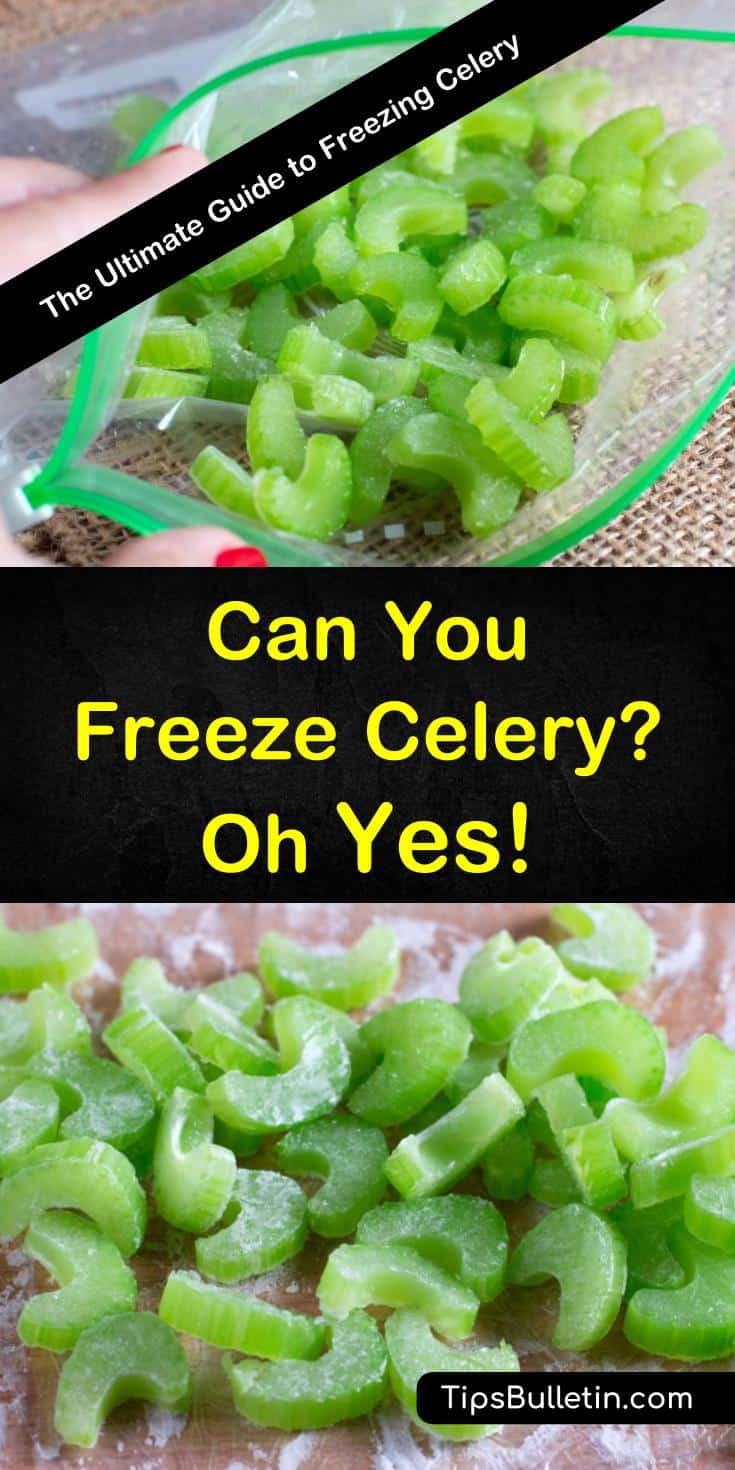 Thank you for reading our celery freezing tips. If you found any of our ideas on freezing, thawing, and using frozen celery helpful, please share our answers to can you freeze celery with others on Facebook and Pinterest.