Spinach is a healthy vegetable packed with nutrients and vitamins essential for muscle development, improving eyesight, and building cognitive functions. However, unless eaten quickly or preserved adequately for later use, many of these impactful vitamins and minerals are lost within just a few short days. Learning how to freeze spinach is one of your greatest allies in maintaining the nutritional value of spinach, as well as increasing the shelf life of your fresh produce.
So can you freeze spinach? Absolutely! Not only is freezing spinach an excellent way to keep your produce lasting longer, in many cases, but it can also even be healthier to keep it frozen rather than fresh.
If you've just scored a huge sale from your local farmer's market but don't plan on eating it all in the next few days, then freezing a significant portion is your best option.
If you are a sporadic veggie-eater, you also don't want your purchase to go to waste just because you don't eat fresh greens as often as you'd like. Instead, freeze half using the information in this article, and use it little by little.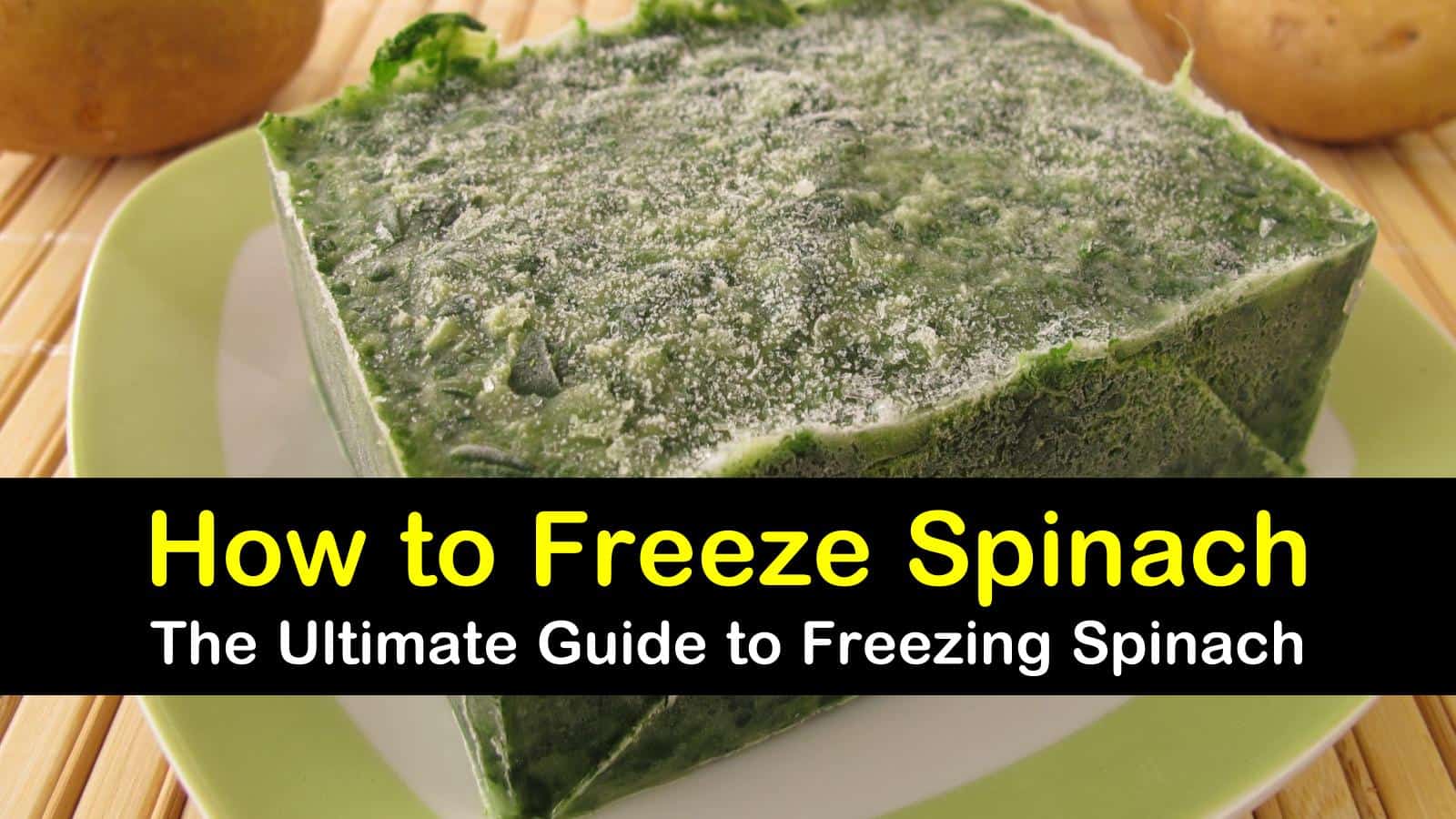 What You Need to Know about Freezing Spinach
Freezing any fruit or vegetable tends to sacrifice a little something in the taste or texture department. Luckily, spinach is one of the rare veggies where very little changes due to the freezing process. Whether you are growing spinach yourself or buying it at the store, learn the best way to preserve this much-loved veggie.
While this article is devoted to all things spinach, know that there are all kinds of foods that do well in the freezer. You can freeze fresh mozzarella and other cheeses, a variety of fruits and vegetables, freeze potatoes without blanching, and more, to use later in a favorite recipe.
Can I freeze spinach without losing the texture or taste?
Just like with freezing okra and most other vegetables, frozen spinach is softer than its crispy, fresh alternative, but as far as taste goes, it remains relatively the same. If you are making a spinach salad, then fresh produce is ideal. Substitute spinach for kale if you are out of Popeye's favorite food.
If you have a killer spinach smoothie recipe to try out, however, frozen spinach works best. Not only is frozen spinach an excellent addition to your green smoothie, but it will also likely have more nutrients than fresh produce. Feel free to substitute arugula for spinach in a pinch.
What are the benefits of freezing spinach?
Spinach provides high levels of vitamins A, B, and C, as well as folate levels that contribute to neurological functions.
While fresh spinach retains a higher level of folate and Vitamin B, these levels may deteriorate over long periods of transit. Also, frozen spinach retains vitamin C levels better than fresh spinach, due to the process it undergoes when freezing.
However, levels of vitamin A content stay the same for both no matter if frozen or fresh.So how does freezing spinach provide more nutrients than fresh spinach?
Because spinach loses its nutritional value after a few days, the possibility of you receiving fresh spinach with a higher content of vitamins and minerals than frozen spinach decreases.
Unless you obtain your spinach directly from a backyard garden during spinach growing season, or even from a local farmer's market, your spinach has likely already spent a few days on a truck before arriving at the grocery store.
This information means your window for salvaging those nutrients has already decreased significantly. Freezing locks these vitamins and minerals in place without allowing further damage.
Can you freeze spinach without blanching it?
Yes, you can freeze spinach without blanching it, but it won't last as long. The best way to freeze spinach, as well as when you freeze or can vegetables of most varieties, is to blanch it.
The best way to freeze broccoli is by blanching it, as well. Where blanched spinach may last up to a year when frozen, not blanching your spinach cuts that time in half.
The process for freezing spinach without blanching it is relatively the same as the process below. The only difference is that you will clean it, then bag it, without any additional steps in between. Preparation of frozen potatoes is done in much the same way.
How to Freeze Spinach
The same basic steps apply when freezing most leafy greens, including herbs. Freezing basil for later addition to that special recipe is easy.
How to Prepare Before Freezing Spinach
When you freeze fresh spinach, you want to ensure you start with the best ingredients. Do not use spinach types that have begun to brown, wilt, or lose texture. Freeze spinach you have only had for a couple of days or so, as this will ensure the spinach has not lost its nutrients before freezing.
Start by rinsing the spinach leaves with cold water, swirling them around in the water to loosen up dirt particles. If you are using spinach leaves from a backyard garden, remove all dirt and double-check for small bugs, as well. Once you have cleaned your leaves and verified their quality, dry them off by laying them onto paper towels.
Wring out the spinach leaves until dry. Doing this may require you to press down on the spinach leaves with a paper towel to soak up any excess water. Once the leaves are thoroughly dried, tear them into smaller pieces and prepare them for blanching.
How to Freeze Spinach by Blanching
For the blanching process, fill a large pot with enough water to cover the spinach you're freezing. Heat the water in the pot until it boils, then add the spinach to the boiling water. The spinach may float to the top at first, so press it back underneath with a long wooden spoon until it returns to a boil.
Cover it for two minutes, then remove the spinach from the heat. Afterward, place the spinach in a large bowl filled with ice water for approximately one minute. Your next step is to drain the spinach, which can be done using either a colander or a salad spinner.
To completely dry the leaves, use paper towels to wring the spinach leaves out. If you want to freeze pureed spinach in ice cubes for smoothies, then proceed to step three. Otherwise, you can skip ahead to step four.
How Can You Freeze Spinach in Ice Cube Trays?
If you plan on using your frozen spinach to make a delicious green smoothie, then freezing your spinach in an ice cube tray is not only straightforward but convenient for later use. After you clean and blanch spinach, add the spinach leaves to your blender along with two tablespoons of water.
You can also substitute water with juice or coconut water to give it a little extra flavoring when the time comes to make smoothies. Blend the spinach until the purée is smooth and even.
This step typically takes around one minute. Next, pour the pureed spinach into the ice cube trays to make easily-accessible spinach cubes for your smoothie recipes later on down the line.
How to Store Spinach in the Freezer
If you don't plan on using your frozen spinach for smoothies, your next step in how to freeze spinach is to store the spinach properly. Pack spinach tightly into a freezer bag, removing as much air as possible when sealing. To prevent freezer burn and damaging the nutritional content of spinach, removing excess air is critical.
You also want to portion out your spinach in each bag, meaning you only add as much spinach to the bag as you would eat in one serving. Label the freezer bag with the date and contents, then place toward the front of the freezer.
How to Thaw Frozen Spinach
When ready to use the frozen spinach, there are several ways you can thaw it. The easiest way is to cook the spinach straight from the freezer. Cooking your frozen spinach without thawing it can even preserve some of the Vitamin C.
If you are making a smoothie, pop some of the ice cubes from the tray and add them to the blender. If you want to thaw your spinach before using it, however, place them under running water for 15 minutes or put them in the refrigerator overnight.
Spinach Quiche: Our Favorite Recipe with Frozen Spinach
The best part about eating frozen spinach is that you can eat it alone, add it to a salad with other leafy greens like Swiss chard, or you can make a delicious meal out of it. One of our favorite recipes with frozen spinach is Spinach Quiche.
This recipe requires about an hour to make and creates six servings for your family to enjoy. It's a delectable way to add flavor and healthy greens to any meal.
Prepare to bake your quiche by setting your oven to 375°F. In a skillet or pan, saute the chopped garlic cloves and onions. Add the spinach to the mix, along with your mushrooms, feta cheese, and shredded cheddar cheese.
Sprinkle a little salt and pepper on top, then pour the ingredients into the pie crust. In a separate dish, blend your eggs and mix until smooth. Add another dash of pepper and salt as you stir.
Next, mix the blended eggs and milk to the spinach in the pie crust. Ensure the ingredients are mixed well, then place them in the pie crust in the oven. Bake for approximately 15 minutes, then add a thin layer of shredded cheddar cheese over the top.
Bake again for approximately 35 minutes, or at least until the middle is thoroughly cooked. Remove from heat, and let it cool for another 10 minutes. Serve to family and enjoy it!
Freezing spinach has many advantages and is easy to do. While nothing beats eating fresh spinach from your local farmer's market, or your backyard, frozen spinach means you will have access to nutrient-rich produce even longer.
Doing this provides you access to healthier eating habits, as well. Spinach is not the only yummy veggie you can freeze, however. If you are curious to know how can you freeze sauteed mushrooms, or ask yourself, can I store other fruits and vegetables or even "can I freeze green beans?" then use the provided links to learn what other delicious foods can be saved by freezing them for later.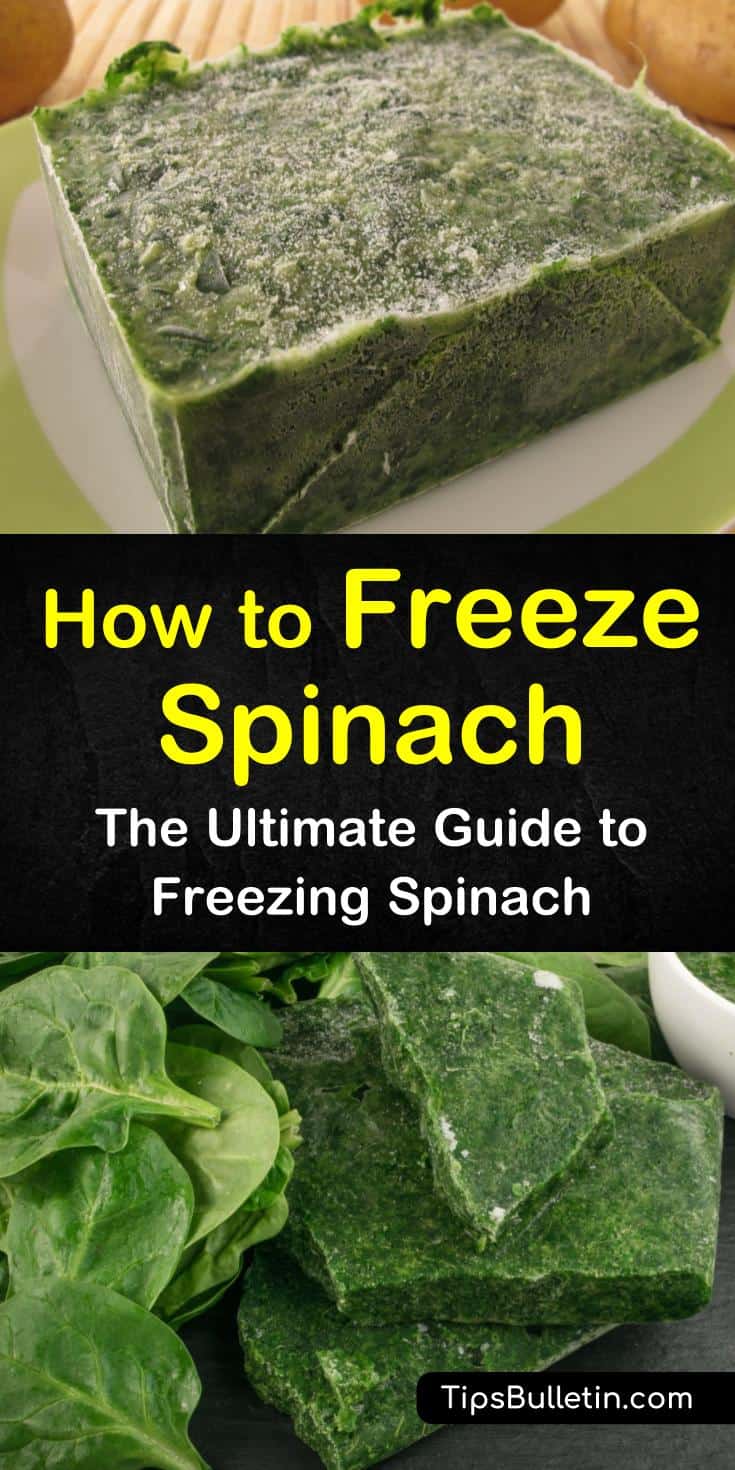 We hope you enjoyed spinach freezing tips. If you liked our guidelines for freezing spinach, don't forget to share how to freeze spinach for long-lasting nutrition with friends and family on Facebook and Pinterest.