Don't you hate it when you stumble on a buy-one-get-one-free sale for your favorite lettuce at the grocery store and can't eat it fast enough before it gets soggy and wilted? This question probably got you wondering if you can freeze those leafy veggies to savor later. The answer to the query, can you freeze lettuce, is yes and no.
We all enjoy a large salad of leafy greens topped with crisp cucumbers, juicy tomatoes, and a few crunchy croutons. Unfortunately, using thawed lettuce for making a cold salad drizzled with your favorite dressing does not work.
During the freezing process, lettuce forms ice crystals in the plant cells, causing the cell walls to rupture. The high water content of lettuce leaves prevents them from maintaining their crispness after freezing, which makes them undesirable for a crispy salad.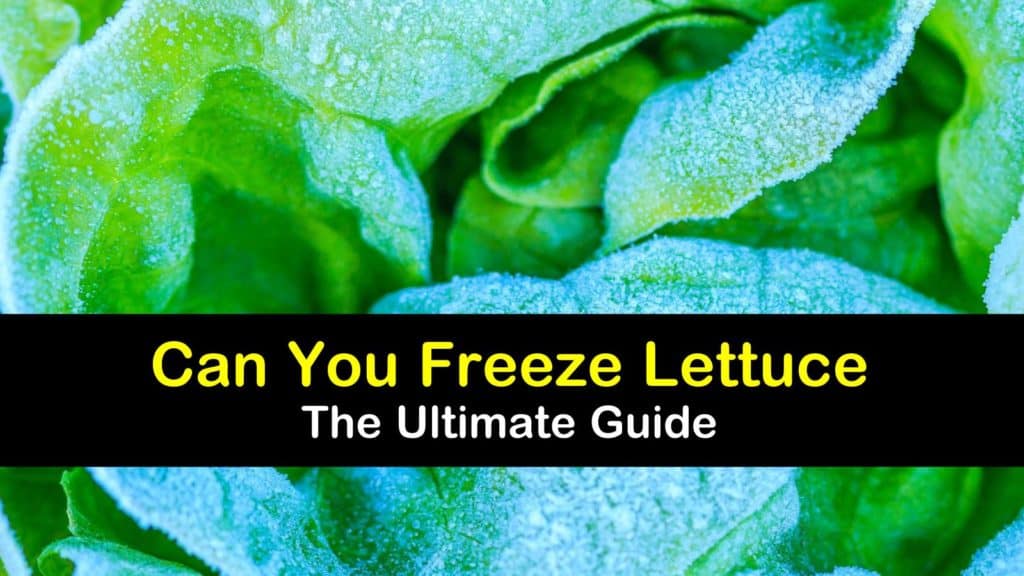 Choosing, Preparing, and Freezing Lettuce for Recipes
Freezing lettuce is not out of the question. Frozen lettuce tastes great for flavoring and cooking in dishes like soup, rice, and stew, and is an excellent way to save your leafy greens from the garbage can or compost pile before they wilt.
Whether you are growing romaine lettuce yourself or get a great deal on another type of lettuce at the store, proper storage is important. The refrigerator is often the go-to method of storage for fresh fruits and vegetables. How long does a lettuce last in the fridge? Usually, lettuce lasts about a week in this location.
However, freezing is an excellent way to preserve many fruits and vegetables for a longer period. Can cucumber be frozen? Yes. What about lettuce? Definitely.
Freezing lettuce before it wilts ensures that you get to relish your leafy greens for a more extended period, whether romaine vs iceberg lettuce or spinach. Frozen leaves of lettuce taste great and are the perfect substitute for any recipe that calls for spinach.
Add thawed leaves to soup, quiche, stir fry, and casseroles. It's also easy to make frozen lettuce cubes to toss in healthy green smoothies or add to stock for a dash of color and flavor.
Fresh lettuce comes in many forms, and freezing any of them improperly gives undesirable results. Who wants to add slimy lettuce leaves to their favorite dish?
We show you how to freeze lettuce in both leafy and cube form, but first, it's essential to choose a suitable kind of lettuce for freezing.
What to Know before Freezing Lettuce
Iceberg lettuce often comes to mind when making a salad or figuring out the best way to store salad. This crispy lettuce is the most common, and no salad or sandwich is complete without it.
However, there are many different lettuce types, and the best way to store lettuce, whether in the fridge or freezer, depends on the one you want to preserve. Not only that, but some lettuce is beyond the point of saving in the freezer and better off in the garbage.
Lettuce for Freezing
The freeze-ability of lettuce depends on the thickness and water content of the leaves and the age of the veggie. Iceberg lettuce is not desirable for freezing. The leaves contain more water than many other varieties, and it doesn't freeze well in the freezer.
Home-grown or locally grown lettuce is ideally the best kind for freezing. Store-bought lettuce has a long shipping and storage time and does not hold up as well as freshly picked types.
Freezing vegetables without blanching is perfect for lettuce of all varieties. Blanching, in this case, leads to mush. Choose thick-leafed lettuces such as cos and bibb.
Cos lettuce, like romaine, grows in an upright head of dark green leaves, while bibb lettuce, like Boston and butterhead, are small and compact lettuces with ruffled, outer leaves.
Lettuce blends that contain butterhead and romaine traits are also ideal. Before you prepare and store lettuce, check for healthy, dark outer leaves that are intact. Avoid overly large heads of lettuce that tend to be too mature and bitter, and discard those that are limp, soggy, or discolored.
Prepare several types of vegetables for freezing at the same time so you have all the tools out at once. Freeze dried okra, tomatoes, lettuce, and your fresh herbs one weekend for later eating.
Preparing Lettuce for Freezing
Now that you have the perfect lettuce for freezing, there are a few steps to take before storing those tasty greens. Freezing veggies the wrong way often leads to freezer burn or an unrecognizable mess inside a freezer bag.
Use a knife to separate the lettuce leaves and place them into a colander. Wash them under the faucet, shake off excess water, and lay them on paper towels to air dry.
If you do not have the tolerance or time to wait for them to dry, lay them on a clean towel and roll it over the leaves carefully to absorb water.
A salad spinner is a useful tool for cleaning your lettuce. Place the separated leaves into the spinner and fill it with cold water. Spin the gadget to remove small dirt particles and then drain the lettuce in a colander before drying. Make sure the veggies are thoroughly dry before moving on to the freezing process.
Usually, as long as you use the right type of container and take care of the food properly beforehand, freezer storage is ideal for food preservation.
How to Freeze Lettuce for Recipes
The best way to freeze lettuce is to prepare it ahead of time by separating and washing. After you clean and prep the perfect lettuce, it's time to go through the process of freezing.
Give your lettuce leaves one more pat down with dry paper towels to ensure they are moisture-free. Place the leaves into freezer bags, making sure each bag has a decent amount without packing them too full.
Lightly press the bag's side with your hand and use a straw to suck out excess air while sealing it shut. Write the date on it and store the bag in the freezer for no more than six months for optimal flavor.
Can You Freeze Lettuce for Smoothies?
If you run out of time to refrigerate lettuce, it's easy to turn those leaves into ice cubes for smoothies or to add to soups and stews as green nutrition. Store the green cubes in the freezer and use them to add a splash of green nutrition to your diet.
Place fresh lettuce leaves into a blender or food processor and add a small amount of water. Can you freeze Romaine lettuce? Romaine lettuce or lettuce blends are ideal for freeing into cubes. Blend the mixture into a puree and pour it into ice cube trays.
Place them in the freezer until they are frozen solid. Snap them out of the tray and into a freezer-safe plastic bag, write the date and content on them, and freeze them for about six months.
Thawing and Cooking Frozen Lettuce
Now that you spent your afternoon freezing vegetables to keep lettuce fresh, you probably wonder how to thaw frozen lettuce and use them in recipes. Thawing those tasty veggies is easy, and enjoying them in meals is even better.
Frozen Lettuce
It's essential to think ahead of time when deciding to use frozen lettuce leaves in meal prep. Remove the chilled lettuce from the freezer the night before cooking and store them in the fridge overnight to thaw.
Thawing lettuce in this manner is better than leaving it at room temperature. When trying to decide how to cook your greens, keep in mind that they are the perfect substitute for any dish that requires spinach.
Use the leaves as wraps, braise them in chicken broth, or saute them into a stir fry. Frozen lettuce cubes have uses that differ from the leaves, and they do not need thawing.
They are tasty added to green smoothies for a healthy kick and work wonders in homemade soups. They are also a quick fix for adding to rice dishes.
Drop a couple of the frozen cubes into the cooking rice instead of adding more water to provide extra moisture and flavor.
Making Spinach Stir Fry with Frozen Lettuce
Greens such as spinach and lettuce are not only healthy but taste great sauteed with garlic. This dish is a simple way to use your frozen lettuce, is quick to make, and is a delicious side dish to any entree.
Wash and dry the spinach and thaw the appropriate amount of lettuce. Chop all the greens into two-inch pieces, and remove the stems. Heat the wok on high and add the oil. If you do not have a wok, a skillet works just as well.
Toss the garlic into the pan and cook for two to three minutes until fragrant. Dump all of the greens into the pan and use the spatula to move them around to coat them with the garlic oil.
Stir fry them for about one minute or less until the leaves soften. Add the salt and sugar and fry them for an additional minute until they wilt but are still bright green. Plate the stir fry immediately and eat it while it's hot.
Harvesting a bounty of lettuce from your garden or discovering a fantastic produce sale at your local grocery store comes with the disadvantage of short storage life.
Forget about throwing away wilted, slimy bags of lettuce. If you discover that your lettuce's expiration date is coming too soon, simply freeze it and enjoy it later in soups and smoothies.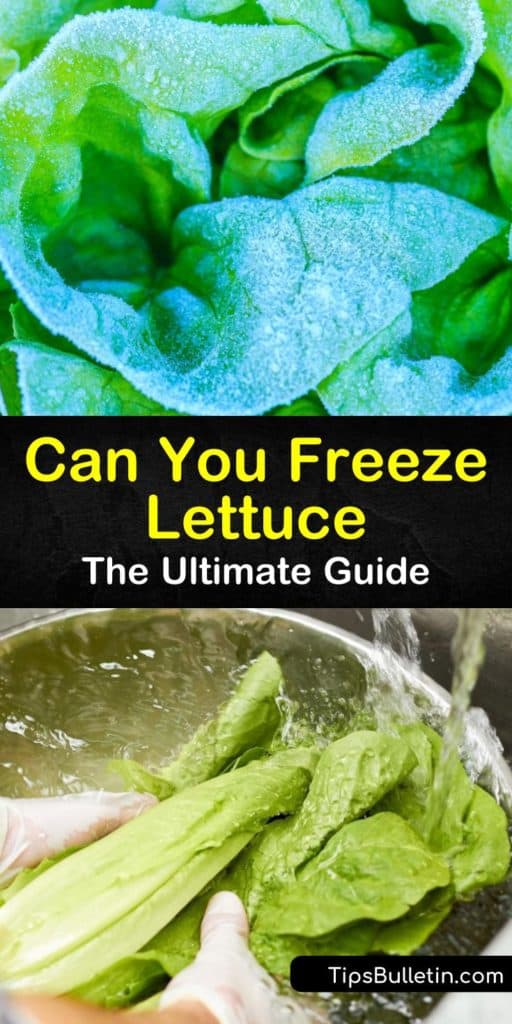 Now that you know how to answer, can you freeze lettuce, why not share our lettuce freezing tips and guide with your friends and family on Facebook and Pinterest?