Who doesn't love a large steaming bowl of cheesy baked mac? Nearly everyone has a favorite mac n cheese recipe, and it's the perfect dish to make ahead of time and cook in the oven or microwave. But can you freeze mac and cheese without it getting mushy?
Macaroni and cheese is not just a popular kid's food, but it's the go-to comfort food for most adults as well. The al dente pasta, creamy cheese sauce, and golden brown topping of a baking dish of homemade mac n cheese always hit the spot no matter your age.
Cheesy macaroni casserole is delicious as a side dish or entree, and just like lasagna, we often make way more than is possible to eat in one sitting.
Fortunately, it's easy to store and reheat, whether you make it from a box on the stovetop or bake a large batch from scratch in the oven.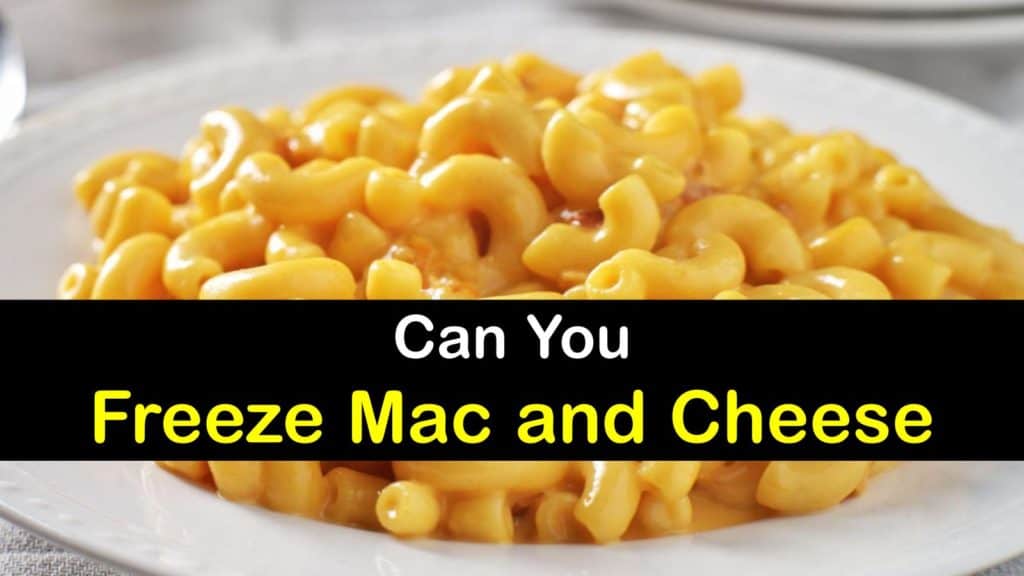 Ways to Prepare and Store Mac and Cheese
Cheese is one of the most beloved foods around the world. It helps to know how long it lasts just in case we get to take advantage of a sale at the store.
We often get a little overzealous when making homemade macaroni and cheese; there is often quite a bit left over.
While the refrigerator is ideal for storing this dish for a few days, freezing mac and cheese is an excellent way to prevent food waste and meal prep, similar to freezing cheese slices for later eating.
However, how well this dish freezes depends on how you prepare it. Basic mac and cheese freezes quite well, but there are some tips to know before freezing for the tastiest results.
We show you how to freeze mac and cheese and make the perfect recipe for freezer storage.
Can You Freeze Mac and Cheese, or Should You Refrigerate it?
Can mac and cheese be frozen? While the answer is yes, casseroles are always tastiest when fresh, and the refrigerator is the ideal form of short term storage. Here is how to refrigerate your dish if you plan on eating it within a couple of days.
After baking your mac and cheese, let it sit at room temperature on the counter for about 20-minutes to cool.
Wrap aluminum foil or plastic wrap over the dish or scoop it into an airtight container and set it on the refrigerator shelf, near the back where it is coldest, and use it within four days.
If you cannot eat the casserole within this amount of time, consider freezing it for longer storage.
What to Know before Freezing Mac and Cheese
Does cheese freeze well? If you choose not to refrigerate mac and cheese and decide to freeze it instead, there are a few things to understand before freezing mac and cheese for good results.
Mac and Cheese Types
Both pasta and dairy products are temperamental when it comes to freezing, and the results vary slightly whether you decide to freeze uncooked or cooked mac and cheese.
Both types freeze well, but an uncooked dish has slightly better quality after freezing and baking.
The best type of mac and cheese to freeze is a recipe that is extra creamy and cheesy since the cheese often thickens during the freezing process. Consider using powdered milk instead of dairy milk when preparing your dish.
Even though you reconstitute the dry milk, it holds up better to the freezing process. Try adding heavy cream or cream cheese to the sauce and avoid using skim milk.
After freezing, add some shredded fontina, cheddar, or Parmesan cheese over the top to liven up your dish.
How to Freeze Mac and Cheese
While freezing cheesy macaroni is pretty straightforward, just like when freezing fresh mozzarella cheese balls, there are a few ways to go about it. Here is how to freeze mac and cheese before and after baking and in large and small portions and store them for up to 18 months.
The best way to freeze mac and cheese is to store it without baking it first. Doing this helps the dish come out less grainy and more creamy when you bake it.
Prepare your favorite recipe but do not put it in the oven. Instead, let it cool completely to prevent condensation and moisture, wrap it tightly with heavy-duty aluminum foil, and transfer it directly to the freezer.
To freeze a whole dish after baking, let it cool to room temperature completely.
Spread a layer of plastic wrap over the top of the macaroni and cheese, wrap the top of the pan with heavy-duty aluminum foil, and set it in the freezer. Do not stack anything on top of the dish to prevent the foil from caving in.
If you prefer to freeze single serving sizes, grease the inside sections of a muffin tin and scoop in the mac and cheese to the top. Cover it with aluminum foil and set it in the freezer for three to six hours until thoroughly frozen.
Remove each serving from the tin and place them in airtight containers or freezer bags before setting them back in the freezer. For good quality, use your frozen mac and cheese within six months but no longer than 18 months.
The Best Mac and Cheese Recipe for Freezing
Not all casseroles are created equal, and some of them hold up better to the freezing process than others. This is an ideal mac and cheese recipe for preparing a freezer meal. It is kid friendly, makes eight servings, and perfect for freezing in portions.
Pour water into a stock pot, add a dash of salt, and bring it to a boil over high heat before adding the macaroni pasta.
Cook it for two minutes less than the package recommends, drain it in the kitchen sink with cold water to stop the macaroni noodles from cooking, and pour them back into the pot.
Melt six tablespoons of butter in a medium saucepan or pot over medium heat and then whisk in the flour for one minute. Add the milk, cayenne pepper, ground nutmeg, and two teaspoons of salt.
Bring it to a simmer while whisking for two to three minutes, and then blend in the cheddar and Parmesan cheese. If your Parm cheese has expired you may wonder how long does Parmesan cheese last after the expiration date? Smell it and taste a little to be sure it's okay for this recipe.
Pour the cheesy sauce on the noodles and stir to coat the pasta. Divide the mac and cheese between baking dishes and set them aside to cool completely. Melt a couple of tablespoons of butter in a pan, add the breadcrumbs, and then sprinkle it over the pasta with a dash of black pepper.
Wrap each dish in plastic wrap and heavy-duty foil to prevent freezer burn and freeze the cheesy pasta for up to three months.
When you're ready to eat your mac and cheese, remove the plastic wrap and cover the dish with aluminum foil. Set it into an oven preheated to 375°F and bake it for 45 minutes for a small dish and 65 minutes for a large dish.
To get the perfect golden top, remove the foil and bake it for an additional five to ten minutes.
How to Thaw Frozen Mac and Cheese
Defrosting most food types is pretty straightforward, but how do you thaw frozen mac and cheese? The simplest way to prepare your frozen macaroni dish for the dinner table is to reheat it in the oven.
Heating Mac and Cheese
Unlike other frozen foods, it's not necessary to thaw your dish in the fridge or room temperature before baking it in the oven. Remove the mac 'n cheese from the freezer and take off the plastic wrap.
Cover it tightly with foil and bake it in an oven preheated to 375°F for 60 to 70 minutes if it's a 9 x 13-inch dish and 40 to 50 minutes in an 8 x 8-inch dish.
Remove the aluminum foil from the dish and bake it for five to ten more minutes to get the top golden brown.
To reheat precooked, single-serving sizes, transfer the frozen mac and cheese into a microwave safe bowl and partially cover it with plastic wrap.
Cook it in the microwave for one to two minutes, give it a stir, and then cook it for 30-second intervals until it reaches the desired consistency.
There is nothing better than a large baking dish heaping with creamy, cheesy pasta and topped with bread crumbs.
Fortunately, this side dish is easy to freeze, and having servings of frozen mac and cheese on hand means that you get to eat this comfort food whenever you get the craving.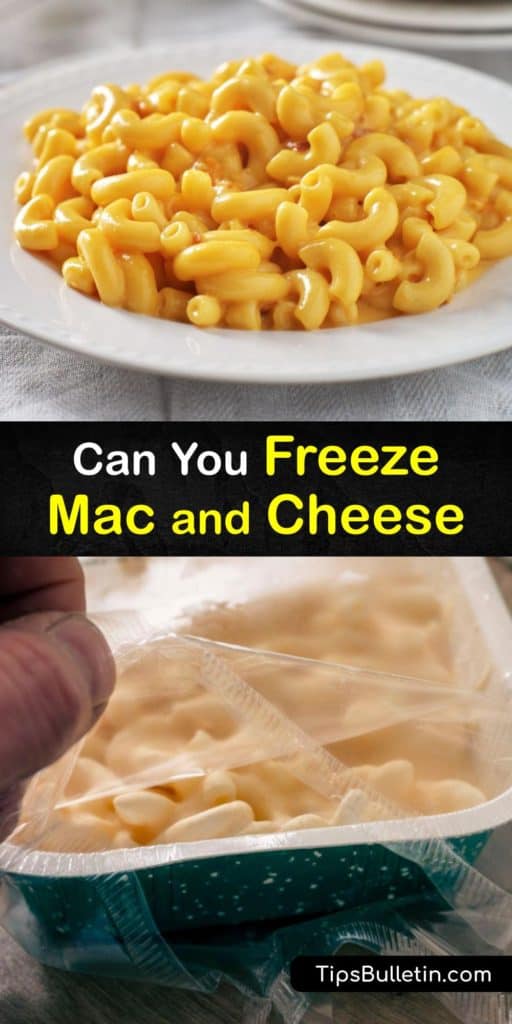 Can you freeze mac and cheese is a common question, especially after making an extra-large batch of cheesy goodness, so why not share our macaroni and cheese storage tips with your family and friends on Pinterest and Facebook?