Cheese is a favorite food for nibbling on its own or adding to recipes. Cheeses like Brie liven up party platters, while their meltier counterparts add a delicious cheesy flavor to comfort foods like lasagna and mac and cheese. Given the fact that cheese only lasts so long in the fridge, you might find yourself asking, "Can you freeze cheese slices?"
Freezing cheese slices is possible, as is freezing several other types of cheese. Certain cheeses freeze better than others, most notably hard and semi-hard cheeses. However, when it comes to processed cheese, the answer to "Can you freeze cheese slices?" is no.
Freezing cheese slices does not affect their nutritional content but does alter their texture. Thawed cheese is best suited for cooked dishes. When soft cheeses thaw, they may take on a grainy texture.
It's often possible to freeze sliced cheese in its original packaging or freeze it in an airtight container or freezer bag. When you freeze sliced cheese, insert parchment paper between the slices.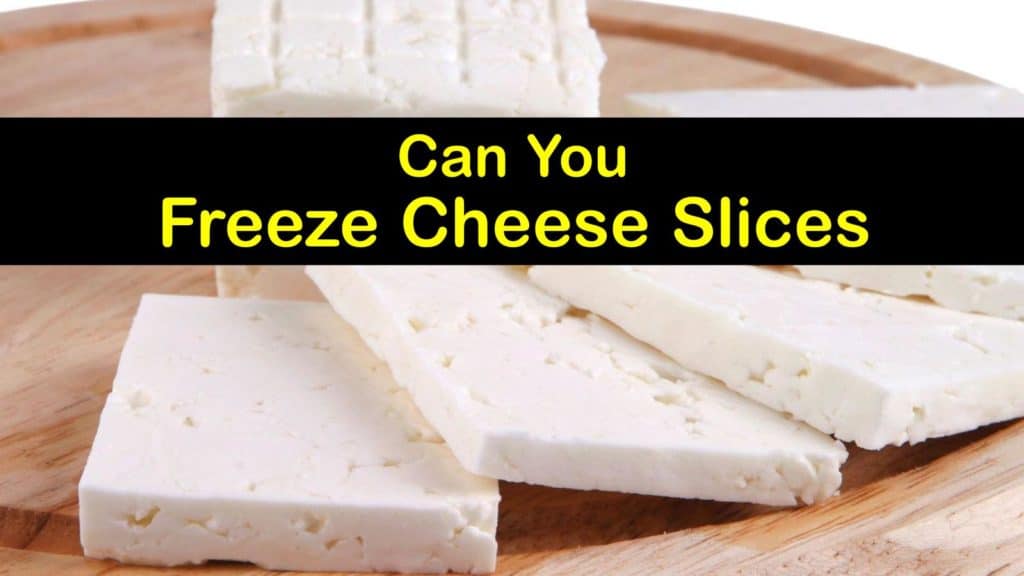 Can You Freeze Sliced Cheese?
Cheese slices freeze relatively well due to their firm texture. Freezing cheese slices enables you to stock up when cheese is on sale. Plus, you'll have slices on hand for all your sliced cheese needs, like that late-night grilled cheese sandwich.
Can You Freeze Cheese Slices? The Science of Freezing Cheese
Can you freeze cheese slices? Yes, but they develop ice crystals. Water expands when it freezes and shrinks as it thaws, breaking down cheese's molecular structure. This means that defrosted cheese tends to be crumbly.
Frozen cheese lasts indefinitely at 0℉, although its quality lowers. Cheeses with higher water content, such as cottage cheese, tend to freeze at a higher temperature.
Freezing cheese inactivates its microbes, extending the food's shelf life. Note that the microbes may become active again upon thawing.
This aspect of freezing cheese is not helpful for ripened cheeses like Camembert and blue cheese that depend upon bacteria or mold for their texture and flavor.
Which Types of Cheese Freeze Best?
In general, it's possible to freeze sliced cheese, blocks of cheese, and shredded cheese. Can fresh mozzarella cheese be frozen? Yes!
Freeze cheese that you would use in cooking, not fancy cheese that would go on a cheese platter. It's possible to freeze both pre-sliced cheese and cheese sliced at a deli counter.
Industrially produced, hard or semi-hard cheeses—such as sharp Cheddar—freeze well. Semi-soft cheeses, like goat cheese, often also freeze successfully.
Although super-hard cheeses like Parmesan and Romano freeze well, they may develop a slightly metallic flavor. Since they last a long time in the fridge, there's not much point in freezing them.
Which Types of Cheese Freeze Poorly?
Soft, ripened, and fresh cheeses are less-than-ideal candidates for freezing. Can sliced cheese be frozen? Yes, but not processed cheese, like those individually wrapped American cheese slices.
Soft cheeses, like cottage cheese, tend to separate into liquid and a grainy paste when thawing.
How to Freeze Sliced Cheese
Similar to when you store feta cheese in freezer, and you have not yet opened the cheese package, put it in a resealable plastic bag. Ensure that the bag has no holes, and squeeze out as much air as possible before sealing it. Exposure to air may cause freezer burn. Lay the bag flat in the freezer.
Once the cheese package is open, insert a piece of parchment paper between each slice of cheese to prevent them from sticking together. Put the slices in a freezer safe container or plastic bag. Before freezing, portion the cheese slices into quantities that you will use.
After inserting the parchment paper, you can wrap the cheese slices tightly in plastic wrap or aluminum foil. Freeze the stacks of cheese slices in freezer bags or airtight containers.
Label each bag or container with the type of cheese, the date frozen, and the use-by date. Cheese typically lasts six months in the freezer.
How Much does Freezing Cheese Slices Extend their Shelf Life?
Although sealed cheese slices last for about one month in the fridge, an open package only stays fresh for about two weeks. Freezing cheese slices, like freezing grated cheese, extends the shelf life significantly. It also allows you to keep large quantities of this convenience food on hand.
Cheese slices last indefinitely in the freezer at 0℉, although the quality degrades. They may also not melt as well the longer they stay in the freezer. What about butter? How long can you freeze butter?
Try to use frozen cheese slices or butter within six months. That number drops to three months if the cheese or butter is homemade. When it comes to homemade cheese, avoid making the slices too thin.
Do Cheese Slices Go Bad in the Freezer? How to Keep Them Fresh Longer
Frozen cheese slices can go bad, although this happens rarely. Watch out for pieces that are covered in ice crystals or frost or have turned pale and dry.
Cheese goes bad quickly after it thaws, which means you should not freeze any slices that are about to spoil or display mold or discoloration. Discard cheese slices that have been sitting at room temperature for several hours.
Does mac and cheese freeze well, too? Yes, but ensure that the container or freezer bag is airtight since exposure to air leads to freezer burn. Before sealing the bag, press out as much air as possible.
Keep the freezer temperature steady around 0℉ when you freeze American cheese or other cheese slices. Use the quick-freeze function—if you have one—to prevent the formation of large ice crystals. As ice crystals defrost, they turn cheese crumbly.
How to Thaw Frozen Cheese Slices
You have two options for thawing frozen cheese slices. The first is to stick them in the fridge one to two days before you intend to use them. Ideally, the fridge's temperature should be between 32 and 34℉.
Alternatively, place the cheese in a sealed plastic bag. Soak the bag in a bowl of lukewarm water for 20 to 30 minutes to separate the slices.
In either case, peel off the slices that you need. Use the slices within two to three days of removing them from the freezer, keeping them in the fridge. Do not refreeze thawed cheese slices.
Although the freezer inactivates microbes, it does not kill them. They could become active again soon after the cheese thaws.
What to Do with Thawed Cheese Slices
Due to the texture change that occurs during thawing, it's best to use thawed cheese slices in cooked meals. Stick to cheeses that have never gone in the freezer for cheese boards and similar dishes that rely on a fresh, cheesy flavor.
Thawed cheese tends to be crumbly and harder to cut than fresh cheese. The thawed slices work well whole, crumbled, or melted.
Try using them in casseroles, quesadillas, soups, pasta dishes, and sauces. Melt the slices on fries, pizza, burgers, and grilled cheese without thawing them first.
How to Make Grilled Cheese with Cheese Slices
Use your thawed cheese slices in a delicious grilled cheese sandwich.
Heat a pan over medium heat, then butter one side of a slice of bread. Put the bread, butter side down, in the pan. Place one piece of Cheddar cheese on the bread.
Butter one side of another piece of bread and stick it on top of the sandwich with the buttery side facing up. Cook until the bread browns lightly, then flip the sandwich.
Grill until the cheese has melted. Repeat the process with the remaining bread, butter, and cheese.
How to Make Macaroni and Cheese with Cheese Slices
Use both cheese slices and grated cheese to enhance this dish's cheesiness.
Preheat the oven to 350℉. Melt the butter over medium heat. Cook the onion for two minutes. Add the flour to the pan, then cook for another minute, stirring constantly.
Add the milk, salt, pepper, and mustard. Cook, stirring often, until the sauce boils and thickens. Cook the macaroni until it's al dente, then drain it. Add the cheeses to the milk mixture, then stir until they melt.
Combine the macaroni and sauce in a two-quart baking dish. Bake the pasta for 30 minutes. Let it cool for ten minutes.
It's possible to freeze cheese slices, just like you might freeze blocks of cheese or grated cheese. Freeze the cheese in a freezer bag or airtight container with parchment paper between the pieces.
Of course, the texture won't ever be the same, so save your thawed cheese slices for cooked dishes like grilled cheese and casseroles.
The answer to "Can you freeze cheese slices?" is a resounding yes. Start freezing cheese slices today to extend their shelf life, save money, and ensure you have a convenient supply of cheese slices on hand.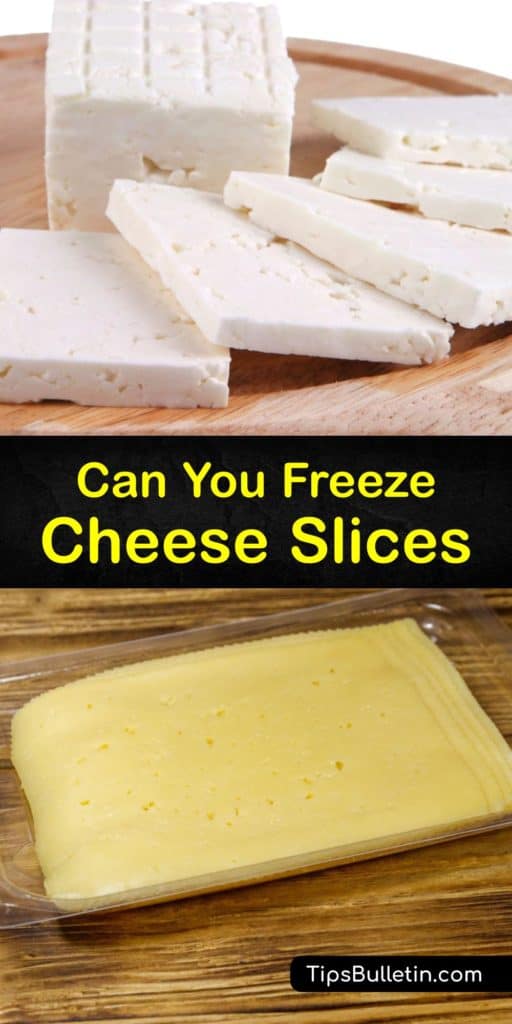 If you found these tips for freezing cheese slices helpful, please share this cheese storage information with your friends on Facebook and Pinterest.