You know you can never eat so much cheese before it starts to grow mold, but sometimes a deal is too good to forgo, so you throw ten pounds of cheddar cheese or mozzarella cheese in your basket and then move on to the next sale. Then you get home, and you instantly wonder, can you freeze cheese?
Buying cheese in bulk can save you a lot of money – if you know the right way to store it before it goes bad. The answer to the question about freezing cheese is complicated.
While you can freeze any cheese, some kinds of cheese fare much better than others. Here's how to freeze cheese so that you don't have to throw away the ten pounds of cheese that you just purchased at the store.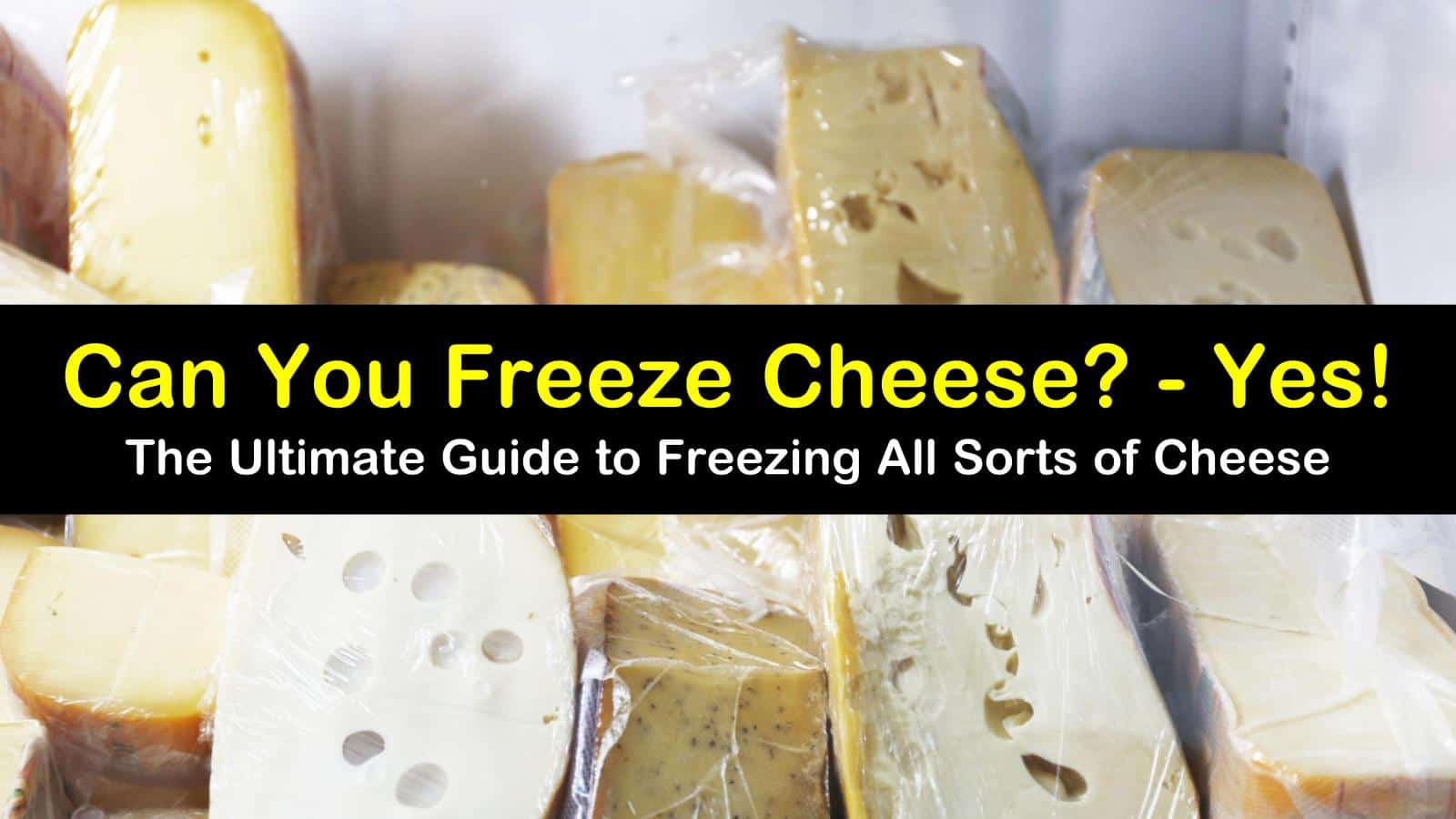 How Freezing Affects Cheese
It's always good to have some cheese on hand but how long is cheese good for before it spoils? It only lasts so long in the refrigerator. Even when keeping Parmesan cheese fresh in the fridge, it still has an expiration date.
Can you freeze milk and cheese? When you store cheese in the freezer, like when you freeze milk, ice crystals will form, which is the first indicator of freezer burn. These ice crystals affect both the taste and the texture of the cheese. When water freezes, it expands, and contracts when it thaws.
This expanding and contracting breaks down the molecular structure of the cheese, which causes it to become crumbly once thawed. A soft cheese, like Brie, will emerge from the freezer with its liquid separated from the tough, granular paste that remains.
As a result of freezing cheese, whether you freeze Gouda or mozzarella, the moisture within the cheese crystalizes and results in the grains of the product becoming damaged from the inside, leading to a somewhat different texture. While you can use the cheese that you've frozen for cooking purposes, you probably shouldn't use it for a cheese plate.
Answering the question, "Can you freeze cottage cheese?" is covered by this rule, as well. Cottage cheese is an ingredient in many main dishes and desserts and will be perfectly fine to include in these types of recipes after it has been frozen. You probably won't want to eat it out of the container, however. The taste won't be affected but the texture will likely be less than pleasant.
Steer clear of freezing quality cheeses that you don't use for making pizza or sauces. Can you freeze cream cheese? What about Brie? Is freezing Brie cheese possible? Certainly, but know that freezing quality cheeses like blue cheese and Brie that are meant to be served fresh on a platter will deplete their delicate taste and aroma upon defrosting.
Note that the microorganisms that make these cheeses famous are destroyed at lower temperatures.
What the Professionals Say
Professional chefs are the ones who started freezing cheese in the first place. In Italy, where the tradition of freezing cheese has its roots, the majority of dishes contain cheese. From pizza to pasta to ravioli, cheese is an irreplaceable ingredient. For chefs in Italy, it is imperative that they always have cheese in their kitchen.
Their need for a constant supply of cheese is why they first started to experiment with storing and freezing cheese. They began to freeze cheese by carefully wrapping it in parchment paper; then they turned to zipper freezer bags. Recently, they have started to use vacuum sealers for freezing cheese.
There are many household staples that can be frozen if you have an overabundance of them and want to keep them to use later. Special procedures are involved when freezing mushrooms and other fruits and vegetables, milk, and more. Pay close attention to how you store these items and you will have them when you want them.
What Cheese Can You Freeze?
You can freeze virtually any kind of cheese as long as you do it the right way. Check out our helpful instructions to learn more.
How to Freeze Hard Cheese
Hard cheese is a type of cheese that will freeze well, as are semi-hard cheeses. According to the National Dairy Council, the hard cheeses that you purchase pre-shredded or in a solid block cheese can be tightly wrapped in aluminum foil and placed in a Ziploc freezer bag and safely stored in the freezer for up to six months.
When you freeze fresh cheeses in a block, it is crucial that you determine the optimal size of the pieces that you want to freeze. Determine how much cheese you will need to use in advance. When you decide how much cheese you'll need in the future, you can then cut pieces by weight.
If you are unsure of how much cheese you will need later, cut the block of cheese into seven to ten-ounce pieces. This is the average weight of cheese needed to make pasta or pizza for a family of four.
Can you freeze cheddar cheese? Definitely. Freeze cheddar in blocks, slices, or grated for later use.
To freeze shredded cheese, place the grated cheese in an airtight container or sealed plastic bag. If you buy the pre-shredded cheese, leave it sealed in the original packaging until you are ready to use.
Again, if you know in advance how much cheese you will use in the future, divide the large bags of cheese that you get from Costco or other large discount warehouse stores into smaller packages.
Before putting shredded cheese in the freezer, gently shake the bag to distribute it evenly. Now, your shredded cheese is ready to be placed in the freezer. Carefully place them in one row, side by side. After a few hours, when the cheese is frozen, stack the bags on top of one another.
Whether you are freezing hard or semi-hard cheeses, it is essential that you make a label with the weight of the cheese and the date that you place it in the freezer. You should also write down what type of cheese it is, so you don't have to guess when it's time to pull a bag out.
Can You Freeze Cheese Slices?
You can freeze cheese slices. To create slices from block cheese to freeze, use a special cheese knife to ensure that you cut the cheese into even slices. A cheese knife will also retain the texture of the cheese. Can you freeze cheese slices? As long as you do it correctly, freezing is an excellent way to preserve sliced cheese.
To make sure that the cheese slice doesn't stick to each other, making it difficult to separate later, use parchment paper. Cut the parchment paper into cheese-sized pieces, and place a single piece between each slice of cheese. If you don't have any parchment paper handy, you can sprinkle every cheese slice with some flour or cornstarch when you stack them.
After you've separated the cheese slices, carefully place them in an airtight container, and put them in the freezer. Make sure that you label the container with information about the type of cheese, weight, and freeze date. The frozen, sliced cheese is perfect for use on hot sandwiches and hamburgers, and cheesecake.
Can You Freeze Cream Cheese?
Does cream cheese go bad in the freezer? Cream cheese lasts a lot longer after freezing. Note that while you can freeze cream cheese, it won't have the same texture upon defrosting. Freezing cream cheese will increase the life of the product for about five months, but after it has defrosted, the texture will be much drier and even crumbly.
You can still use the cream cheese for cooking and baking, but if you want to spread it on your morning bagel or piece of bread, you're better off not freezing it at all. The best cream cheese to freeze is one that has a high-fat content.
To freeze cream cheese, place it in the freezer in its original packaging, or if you plan to mix it with cream later, you should perform this step before freezing. By combining the cream with the cheese before freezing, it preserves the cream cheese's natural texture. Pack the cream cheese into airtight plastic containers and write down the freeze date.
To defrost cream cheese, place the frozen container on the bottom shelf of your refrigerator and leave it overnight. In the morning you can use the cheese for cooking. If you want to get the smooth texture back, you can throw it in a bowl or stand mixer and whip it back into shape.
Can You Freeze Ricotta Cheese?
Ricotta cheese can be frozen. However, when freezing ricotta cheese, remember that, like with all soft cheeses, when you defrost the cheese, it will have a different texture.
Only use defrosted ricotta cheese for cooking purposes. If the ricotta cheese is still in its original, unopened packaging, place it in the freezer as is. Make sure that you label it with the freeze date.
If you are freezing an opened container of ricotta cheese, transfer the product into a Ziploc freezer bag or airtight container. If you notice any whey in the packaging, drain it before you place it in the freezer.
When you are ready to use the ricotta cheese, gradually defrost it by placing it on the bottom shelf in the refrigerator for several hours. When frozen properly, you can store frozen ricotta cheese for three to four months.
Can You Freeze Cottage Cheese?
Cottage cheese is much like ricotta cheese when it comes to freezing. The texture, properties, and composition of cottage cheese are very similar to ricotta, which means if you follow the same freezing procedures as ricotta cheese, you will be able to freeze cottage cheese for up to four months.
If the cottage cheese is in its original, unopened package, place it in the freezer. If the package is opened, transfer the product to an airtight container, label it with the freeze date, and put it in the freezer.
Can You Freeze Mozzarella Cheese?
You can, and you can't freeze mozzarella cheese. Fresh, handmade balls of mozzarella don't freeze well. However, you can freeze a bag of shredded mozzarella cheese without compromising its texture.
The reason you can freeze shredded mozzarella cheese is that it contains preservatives that keep the cheese fresh. You can freeze mozzarella in a single piece, in slices, or shredded.
Either fresh or frozen, mozzarella cheese is the perfect topping for pizza, fresh pasta, baked tomato dishes, and leafy green salads. Frozen mozzarella cheese will keep for up to four months when frozen properly.
Can You Freeze Feta Cheese?
Feta cheese is another semi-hard cheese that you can freeze. However, with the delicate nature of this type of cheese, you don't want to keep it in the freezer for longer than a month. Longer than a month, the texture and the flavor of the cheese will be altered.
Before you freeze feta cheese, make sure that there isn't any mold to ensure that it's fresh. Remove any water from the package because it will change the flavor of the cheese and affect its freshness.
The best way to freeze blue cheese and to freeze feta cheese is to carefully double wrap it in plastic wrap to protect the delicate nature of the feta and to prevent freezer burn from forming. After you've covered the cheese, place it in an airtight container or Ziploc bag, making sure to press any air out of the bag.
If you are freezing a large block of feta cheese, cut it into smaller portions before freezing. This is important if you aren't planning on consuming the entire block of cheese at once.
It is also essential that you use the cheese within 72 hours of defrosting; otherwise, it might taste sour. Label the container with the freeze date before placing it in the freezer.
Can You Freeze Goat Cheese?
Every day more and more people turn to goat cheese to cook their favorite recipes. How long is goat cheese good for? To keep your goat cheese longer, store it in the freezer. Freezing goat cheese is simple and a great way to store a surplus.
You can freeze goat cheese in smaller packages of one pound or less, as long as the cheese is in good condition and is tightly wrapped. Properly wrapping and storing goat cheese in the freezer will help maintain its flavor, moisture content, and texture.
Thawing and Storing Cheese
After you've frozen cheese, it is essential that you know how to properly thaw it to retain the texture of the cheese and keep it from becoming too crumbly.
How to Thaw Frozen Cheese
After taking the cheese out of the freezer, leave the package tightly wrapped to help the cheese retain its moisture while it defrosts. Put it on the bottom shelf of the refrigerator, and allow it to thaw overnight, or until the cheese is completely softened.
Solid blocks of cheese will take a bit longer to thaw than shredded cheese. To keep the cheese from drying out, don't try to speed up the process by thawing it at room temperature. Thawing frozen cheese at room temperature will cause the cheese to dry.
How to Store Cheese
If you decide not to freeze your cheese, you still need to store it properly if you want it to last. It is important to remember that cheese will lose its original texture at both extremely low and extremely high temperatures. When stored in an area with less than 90% humidity, it will quickly dry.
All cheeses need to be stored in a ventilated area with an air temperature between 37.5°F and 46.5°F, and humidity around 90$. These conditions must remain stable throughout the entire storage period.
Keep your cheese on the bottom shelf of the refrigerator or in the fruit and vegetable compartment because it has the required temperature and humidity level for stored cheese. Never store cheese in the door or on the top shelf of the refrigerator, because it will dry out quickly there.
To keep mold from growing on your cheese, as well as keeping it from drying out, store the cheese in two packages. First, wrap the cheese in parchment paper or plastic wrap, and then place it in a plastic sealable bag or airtight container.
Storage Times for Different Cheeses
You can store hard and semi-hard cheeses for an extended period. Depending on the kind of cheese you have, it could be stored safely between ten and thirty days. However, check for the possible growth of mold regularly.
If mold does appear, you can carefully cut about one inch around the mold and one inch deep to get rid of the mold. Mold typically won't penetrate cheese deeper than that.
Soft cheeses, like Brie, have a much shorter shelf life. Some soft cheeses must be consumed within three days.
Cooking with Frozen Cheese – Recipes
Cheese that you've frozen can be used to cook just about any dish from pizza to pasta dishes to deep-fried macaroni and cheese shells. My favorite cheese recipe to use with frozen cheese is an Ultimate Grilled Cheese Sandwich or Creamy Mac & Cheese.
Ultimate Grilled Cheese Sandwich
These gooey grilled cheese sandwiches can use fresh or frozen cheese and will taste great for lunch with a sliced apple. They are incredibly easy to make and tastes delicious. One bit of this Ultimate Grilled Cheese Sandwich and you'll never go back to the way you cooked it before.
In a stand mixer or large bowl, beat the cream cheese and mayonnaise until the consistency is smooth. Stir in the cheddar and mozzarella cheeses, as well as the seasoned salt and garlic powder. Take five slices of the bread and spread 1/3 cup of the cheese mixture on each slice.
Top with the remaining bread slices. Spread the outside of the sandwiches with softened butter. Place a skillet over medium heat, and toast the sandwiches for four to five minutes per side, or until the cheese is melted. Remove from the pan, slice, and serve.
Creamy Mac & Cheese
Who doesn't like a good mac & cheese? If you've always made the store-bought boxed mac & cheese, you're missing out on a creamy and delicious treat. This homemade creamy mac & cheese recipe will have you ditching the boxed mac and cheese without a second thought.
Preheat the oven to 350°F. Cook the macaroni al dente. Melt the butter in a large pan on medium heat. Stir in the salt, pepper, and flour until the mixture is smooth. Gradually whisk in the milk. Bring the pot to a boil, making sure to stir constantly.
Cook for two to three minutes until the sauce has thickened. Reduce the heat and mix in the cheddar cheese and Worcestershire sauce. Continue to stir the mixture until the cheese is completely melted.
Drain the macaroni and stir into the sauce. Transfer the dish to a greased, 10-inch skillet that is oven proof. Put the skillet in the oven and bake for 20 minutes, uncovered.
Top with the remaining two cups of cheese and sprinkle with paprika. Return the mixture to the oven and bake for another five to ten minutes, or until the cheese is melted and bubbly. Remove from the oven and allow to cool slightly before serving.
Not only can you freeze cheese, but there are also many other foods that freeze well, too. Freeze assorted fruits and vegetables for later use, and you already know that freezing meat is a given.
When it comes to freezing cheese, you can do it successfully, depending on what kind of cheese you are trying to freeze and what you intend to do with the cheese after it defrosts. Freezing cheese will help prolong the life of the product, so don't be shy about stocking up the next time you are shopping. Just keep in mind the tips and techniques mentioned above on how to freeze cheese.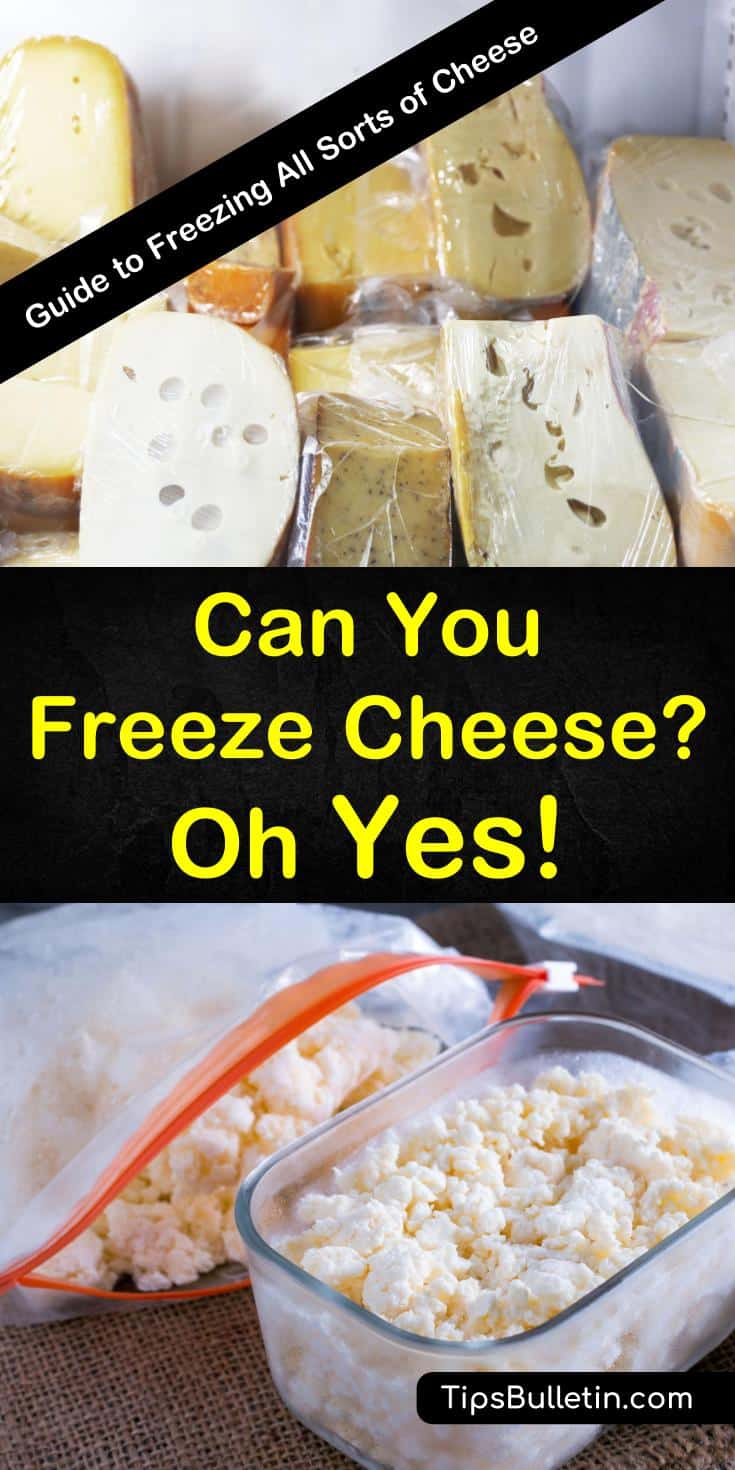 I hope that I was able to answer your questions on whether or not you can freeze cheese. If you liked the cheese freezing tips, please don't hesitate to share our kitchen tips with all of your family and friends on Pinterest and Facebook.