The arrival of winter does not necessarily mean months of a dull, empty garden. When temperatures plunge and nights grow long, evergreen shrubs with winter foliage perk things up, whether as a ground cover or specimen.
Though they're unlikely to have variegated leaves, their evergreen foliage persists long after other plants have died and may change colors in the wintertime.
Evergreens are also more likely than conifer plants to bear bold blooms. Some of these evergreen shrubs produce bright berries, including some dioecious species, meaning that a male plant is required for female plants to produce fruit.
Evergreen Shrubs with Eye-Catching Leaves in the Winter
A benefit of shrubs is that they're often low maintenance. Once they're established, these plants delight year round.
How to Plant Shrubs
Measure the distance from the bottom of the roots to where the trunk flares out, then dig a hole of that depth that's two to three times wider than the root ball.
Place a balled and burlapped shrub in the hole, removing as much burlap as possible. For a potted shrub, tip the container onto its side and slide the plant out and into the hole, loosening its roots gently.
In either case, fill the hole with soil, patting it down. Make a soil ridge around the hole to retain water, and distribute mulch, leaving space around the trunk. Keep the soil moist.
Where to Plant Evergreen Shrubs with Winter Foliage
Pick a shrub that's suitable for your hardiness zone. When choosing a planting location, also consider the shrub's mature size.
Though bushes often serve as a backdrop, these specimen plants excel as winter shrubs. You can also use them for more traditional shrub functions, like hiding fences.
Japanese Boxwood (Buxus microphylla var. japonica)
This hardy bush is one of the best evergreen shrubs for front of house. It has small, dark green foliage gains bronze hints in the winter. Try Japanese boxwood in beds, borders, containers, or rock gardens. The site should enjoy protection from winter's full sun and strong winds.
Propagate this shrub using semi-hardwood cuttings in the fall. Prune the boxwood in late winter or early spring. It flourishes in light shade or full shade and moist, well-drained soil.
Add mulch, and water your shrub if conditions are arid. If you spot signs of nitrogen deficiency, like yellowing leaves, feed it 10-6-4 fertilizer.
Japanese Mahonia (Mahonia japonica)
On its red stems, this medium-sized shrub boasts leathery dark green leaves that may turn slightly red or purple in cold weather. The Japanese mahonia has long yellow flower clusters in late fall, then blue-black berries.
Propagate it using seeds or late summer softwood cuttings. Try placing it on slopes or for foundation plantings, somewhere protected from the wind. This mahonia thrives in partial to full shade and fertile, humus-rich, moist, well-draining soil.
Apply mulch and compost or manure every spring. In March or April, add blood, fish, and bone meal or slow-release, balanced nitrogen, phosphate, and potash fertilizer. Water your mahonia well until established, then only during very dry periods.
"Blue Princess" Holly (Ilex x meserveae 'Blue Princess') – A Festive Evergreen with Winter Interest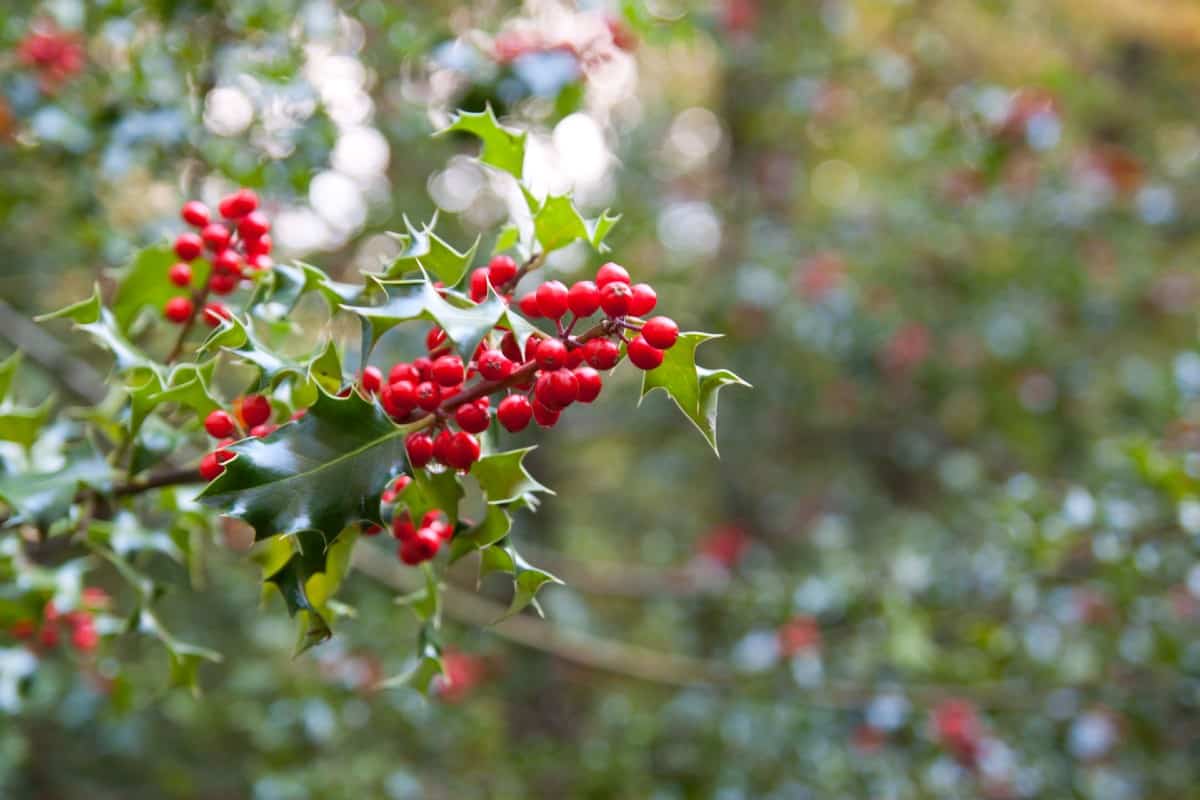 This shrub is one of the evergreen bushes with red berries that are slightly toxic and glossy dark green leaves, as well as inconspicuous white flowers. The female "Blue Princess" needs a male "Blue Prince" nearby to produce berries.
Take late spring or early summer softwood cuttings to transplant outdoors in fall or spring. Use this holly as a specimen or foundation plant or hedge. "Blue Princess" thrives in full or partial sun, as long as it's protected from intense winter rays.
It prefers well-drained, moist, slightly acidic to neutral soil. Add mulch, compost, and a holly fertilizer, like Holly-tone. Water your plant well during its first year, then more lightly.
David Viburnum (Viburnum davidii)
This small shrub's blue-green leaves have long veins and turn burgundy in the winter, like many trees with winter foliage. It displays clusters of small white flowers in the spring, then mildly toxic metallic-blue berries that often last into the winter.
It also requires the male plant for the female to yield fruit. Sow this viburnum's seeds in the fall, or take summertime cuttings. As plants that regrow after freezing, you can grow it in average-quality, well-draining soil, and full or partial sun, protected from afternoon sun in hotter climates.
Water David viburnum regularly until established, then only during hot, dry spells. Give it mulch, and feed it fertilizer for acid-loving plants after it blooms.
Inkberry (Ilex glabra)
This evergreen winterberry boasts small white flowers in the spring and dark blue-purple berries in the winter if you plant a male and a female plant. Remove inkberry's suckers to prevent the shrub from taking over.
Plant a potted or balled and burlapped specimen in early spring in full or partial sun and slightly acidic, wet soil. Water your shrub after planting and at least once a week in dry weather. Apply an acidic fertilizer for azaleas in the spring.
If you have a problem with wildlife in your yard, inkberry is one of the deer repellent plants you can add to the landscape.
"PJM Elite" Rhododendron (Rhododendron 'PJM Elite') – A Showy Evergreen with Winter Interest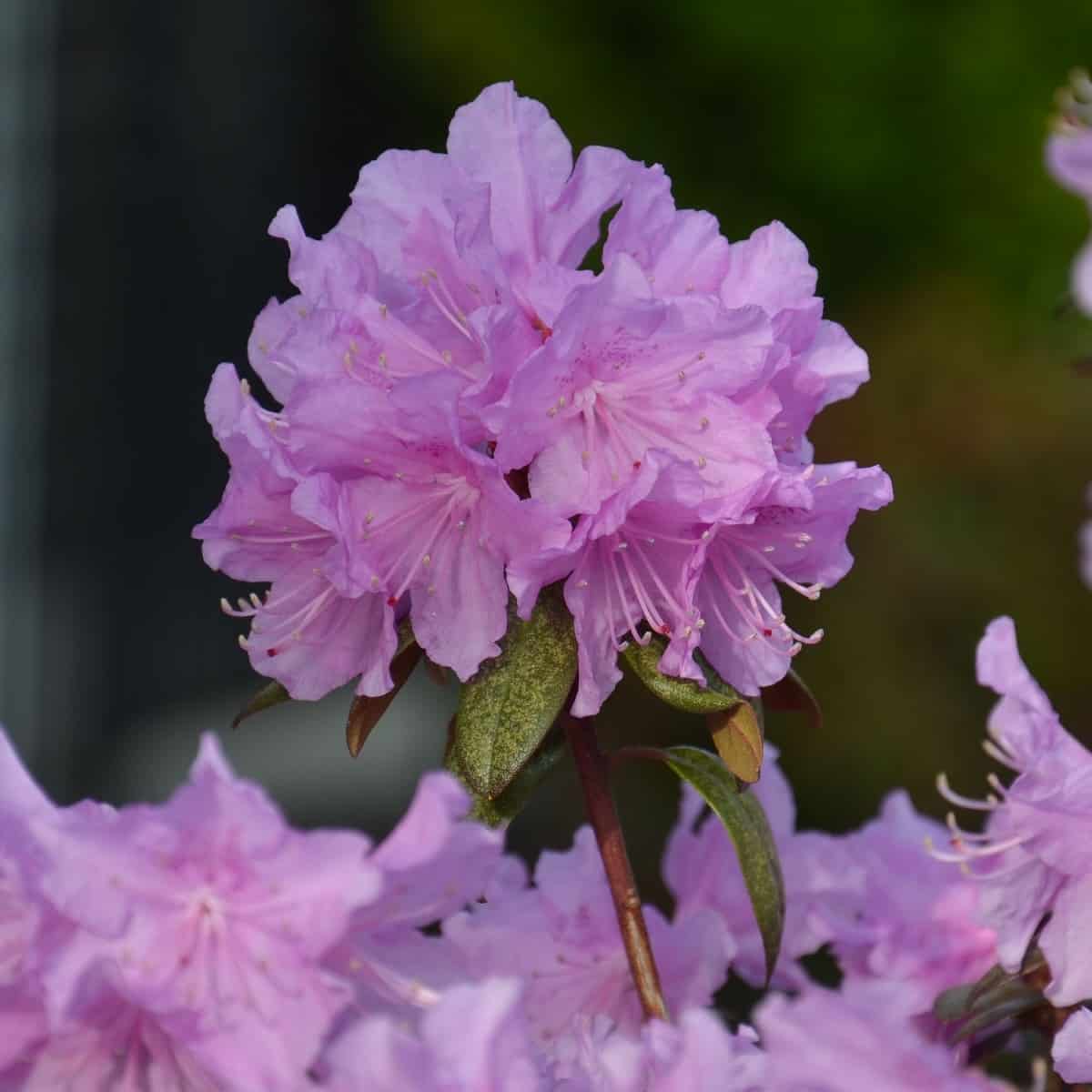 This cold-hardy rhododendron's small dark green leaves turn reddish-purple in the fall and winter, making it one of the best trees for fall foliage. It has clustered pink flowers in mid- to late spring. Watch out if you have pets since the whole plant is poisonous.
Grow this rhododendron from cuttings, perhaps in a border or hedge, or covering a foundation. Find somewhere protected from strong winter winds and frost. Plant it in partial sun and moist, acidic, humus-rich, well-drained soil.
Give your rhododendron an annual dose of leaf mold mulch and acidic fertilizer after it flowers. Water it at least once a week.
Evergreen Dogwood (Cornus capitata)
This evergreen develops into a large shrub or bushy tree with leathery dark green leaves that may turn purplish or reddish in the fall. The dogwood displays attention-grabbing white, yellow, or pink bracts around insignificant flowers in early to midsummer.
This plant also bears fused edible, bright red berries in the fall. Sow seeds in the fall, or propagate it using semi-hardwood cuttings. It thrives in a sheltered site with full to partial sun and medium-moisture, well-draining soil that's rich with organic matter.
The evergreen dogwood requires lots of water. Feed it 12-4-8 granular fertilizer in early spring, then again three months later.
If you're looking for flowering shrubs to brighten up a winter landscape, evergreens may be the plants for you. They offer foliage with winter and fall color, bold berries, and more.
Evergreen shrubs with winter foliage are a low-maintenance way to enhance your yard for the winter. With so many options for color, shape, size, style, and landscaping, the decision to plant an evergreen is easy.
If you found this article about evergreen shrubs informative, please share these winter garden tips with your friends on Pinterest and Facebook.