Propagating a home herb garden is easier than you imagine, and it doesn't cost a lot to get started. What if you didn't have to go any further than your kitchen door to access fresh, healthy culinary herbs? This article will help you choose the best herbs to grow in pots and some great tips for continuing herb care.
The botanical world is incredibly diverse, and nowhere is it more evident than in our herb collection. Each herb has its own nutritional benefits, flavor profile, and environmental advantages that make it suitable for use in exciting new drinks, meals, and pharmaceuticals.
Growing herbs in pots is super-easy. It's also gratifying – we have a great list full of the best suggestions to help you. Whether you want herbs for salads, soups, or making a Mediterranean masterpiece, a herbaceous home garden is the best way to have fresh herbs on hand every day.
Great Tips for Planting Herbs in Pots
Growing herbs in pots indoors is simple, affordable, and quite rewarding, whether you are planting herbs that grow in the fall or any other season. Learn which herbs work best for your space and how to care for them to maintain a steady-flowing supply of culinary herbs for your daily meals.
A Bit About Growing Herbs in Pots
Planting herbs in pots is a great way to dip your toe into container gardening and provides a steady yield of fresh herbs to incorporate into your diet. It's simple and inexpensive to start your own herb garden, too. You need a few plastic pots, good potting soil, and consistent sunlight.
Most herbs want full sun, especially Mediterranean herbs like oregano and fennel. Growing basil in a pot indoors is just as easy as planting it in a container outside. Small pots are great for your home herb garden because you can move them to chase the sun and control the soil and nutrients. Use pots with drainage holes because waterlogged roots die off and take the delicious herb leaves.
Most herb plants don't require much fertilization but use an organic, food-safe fertilizer of 5-5-5 or less when feeding. Use a water-soluble fertilizer so the nutrients are immediately available to the plants. Each herb has its preferences, and the harder you try to meet them, the happier your herbs will be.
Spearmint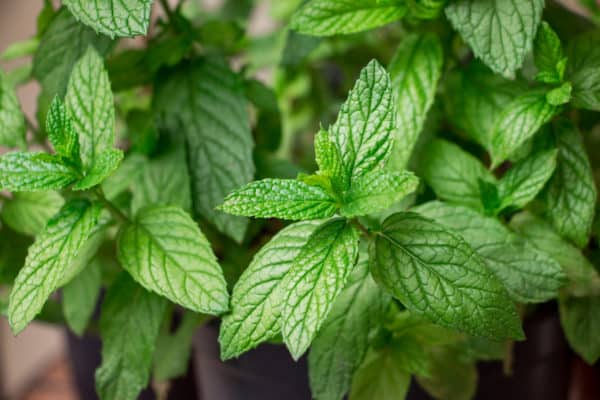 The flavorful mint family is a great place to start for those just learning how to plant herbs in pots. Spearmint is a prolific perennial that requires little regular care to thrive. Mint plants have fragrant leaves that trail down nicely if grown in hanging pots.
Plant a few different varieties for fruit salads and summer refreshments, such as mojito mint, strawberry mint, or chocolate mint. Most members of the mint family are relatively drought-tolerant and rebound quickly from dry conditions.
Plant your spearmint in a deep pot with several drainage holes. Use a balanced potting mix, and then place the spearmint in a spot with consistent sun exposure during the day, 6 to 8 hours ideally. You'll have a steady supply of high-quality mint in no time.
Oregano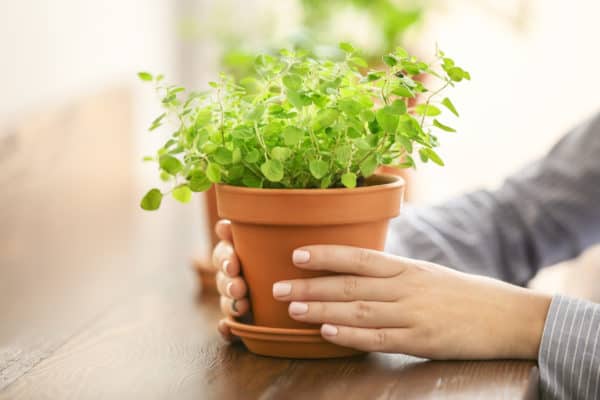 Oregano is a sun-loving, perennial herb that belongs in every kitchen container garden. It is one of the cold hardy herbs so you can leave the pot on the patio even when the temperature dips a little. Mediterranean herbs like Greek oregano have full-flavored leaves ideal for culinary use.
Oregano plants are some of the best herbs to grow in pots because they're easy to cultivate and complement many dishes like pasta, pizza, marinades, and vinaigrettes.
Brown your sausage, onion, and garlic over medium heat in a large pot; use a wooden spoon to break up the Italian sausage as it cooks through. Stir in the tomatoes, tomato paste, water, and sugar.
Sprinkle in your home-grown oregano, and then salt and pepper to taste as the sauce cooks. Everyone knows that good things take time, and it's very accurate with spaghetti sauce; the longer you let it simmer, the more pronounced and delicious the flavors become.
Chives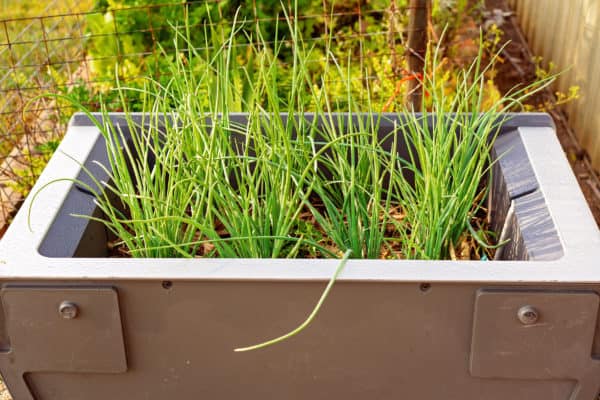 Chives are an easy herb to grow in pots and are a cheerful addition to every windowsill container garden. Chives have slender, bright green leaves that are very flavorful and commonly used in fine French cooking.
Chives are also an excellent garnish on salads, potatoes, and pasta dishes, and you'll be able to snip fresh leaves almost every day because they grow so quickly.
Whether you plant green onions or chives, know that they prefer consistently moist soil, and it's essential to choose pots with good drainage. Aside from regular watering, chives don't require special attention to thrive; they'll even do alright in partial shade if that's all your windowsill allows.
There are quite a few flavorful chive varieties to choose from as well, and it's a great idea to plant several different kinds of chives so there's always something to complement the meal you're cooking.
Lemon Thyme

Lemon thyme is a woody herb with attractive citrus-flavored leaves that pack a big punch. There are over 50 unique varieties of thyme, some are cultivated as fragrant ornamentals, and others like lemon thyme, are perfect for your culinary aspirations.
If flavorful, aromatic herbs are your passion, lemon thyme is a must-have for your container herb collection. The plant is a perennial, and it won't mind a little organic fertilizer in the spring when it comes back, but it's not required.
Lemon thyme is a vigorous grower, and the leaves provide a fresh citrus blast to soups, vegetables, and grilled meat. It does well in containers and is even tolerant of mild neglect. However, they are full sun-loving plants and must be warm to thrive.
Tarragon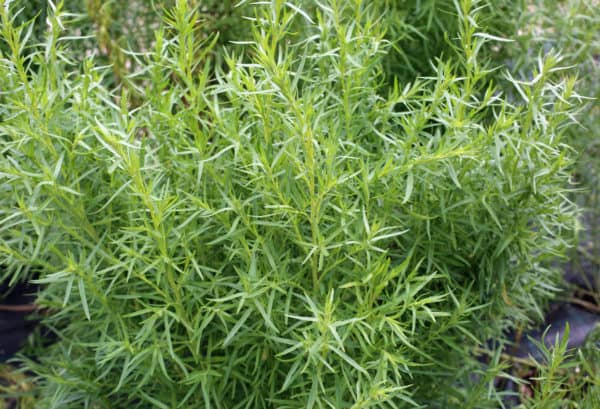 Are you still wondering what herbs to grow in pots? It's time to consider some fabulous French tarragon for your herb garden. Tarragon is likely native to Siberia, but French tarragon, cultivated explicitly for cooking, is propagated throughout Europe.
A few tarragon sprigs make a terrific addition to fish and chicken dishes and hearty stews or soups.
French tarragon can't be started from seed and must be purchased as a seedling or taken as a cutting from a generous friend. Regrow herbs in water until they grow roots and transfer to soil. Plant a tarragon seedling in a large pot, as a healthy tarragon plant may grow to reach two feet tall.
Use well-draining soil, ensure eight hours of full sun, and regular watering. Tarragon loves to be picked and wants regular pruning and harvesting, which shouldn't be a problem since it's so delicious.
Fennel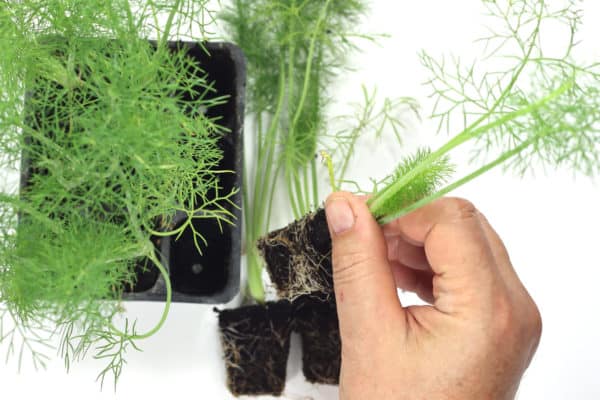 Did you know fennel is an herb from the carrot family? Fennel plants are unique-looking perennials that grow in the crisp heat of the Mediterranean and parts of Asia. A large white bulb is the most recognizable part of fennel, and stalks of fuzzy-looking leaf fringes grow from the ends called fronds used to season pasta dishes, soups, and salads.
All fennel plant parts are edible and used as aromatics – the shoots, the leaves, and the seeds. Fennel is relatively easy-growing and, like most herbs, wants eight hours of sunlight per day.
A big pot is also necessary because the average plant grows three feet tall. While fennel plants don't quite fit the mold of the cute windowsill herb, it's still worth harvesting fennel for its subtle licorice flavor and interesting appearance; it may become one of your favorite herbs.
Lemon Verbena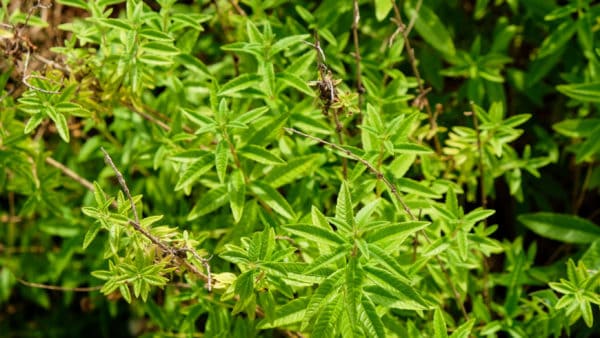 If you love relaxing with a hot mug of herbal tea, why not try growing herbs in pots like lemon verbena? This gorgeous perennial herb comes from Argentina and is a favorite among pollinators because of its delicate flowers. Lemon verbena tea is a popular drink in parts of the world, so we included an easy recipe here.
To brew a fresh cup of lemon verbena tea, pour four cups of water into a saucepan, snip a few fresh lemon verbena leaves and boil them for 15 minutes.
This tea has a nicely balanced, delicate flavor, but if you prefer a bolder taste, cut the lemon verbena leaves up first to release more flavor. If you're not keen on the leaves, pour the tea through a strainer into your favorite mug, stir in the honey, and enjoy.
Lemon verbena is easy to grow and thrives in containers or hanging baskets; however, the perennials are often short-lived and may only grow as a biennial. Don't be discouraged; plant a few more.
Harvesting fresh lemon verbena leaves is easy and highly satisfying, and it doesn't hurt that it makes the house smell amazing. Lemon verbena requires full sun with weekly watering to grow vigorously.
Cilantro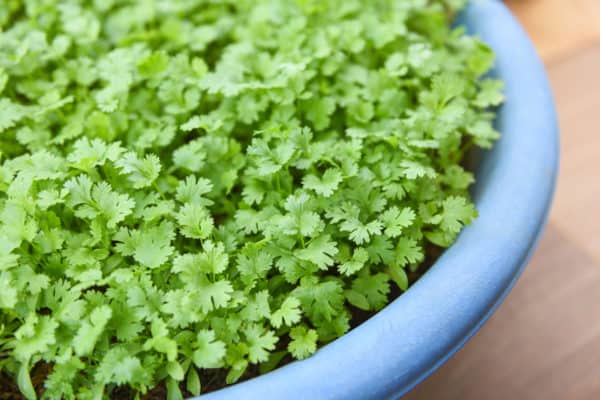 Cilantro is an aromatic annual herb that adds a pop of distinct flavor to sauces, dressings, salads, and wraps. While the intense flavor isn't for everyone, cilantro still looks beautiful as an ornamental with its long stalks and bushy green leaves.
A kitchen container garden containing cilantro has a fresh, tangy scent, and the dried seeds double as coriander spice, too! Plant cilantro in a pot and use the leaves and then wait until the plant goes to seed to harvest your coriander.
Growing herbs in pots is satisfying, especially when you harvest those delicious fresh leaves and use them to make a wonderful meal for your family.
Marjoram
Put marjoram at the top of the list when planning your herb garden and choosing which herbs to grow in pots. Marjoram is a jack of all trades in the kitchen and complements almost any fish, meat, or vegetable dish with its sharp, woody flavor.
Marjoram loves to live in small pots and won't give you much trouble aside from needing balanced watering to avoid soggy roots. Grow marjoram in the kitchen on a sunny windowsill so you won't have to concern yourself with common pests like aphids or flea beetles munching away on your prized marjoram leaves.
Lemon Balm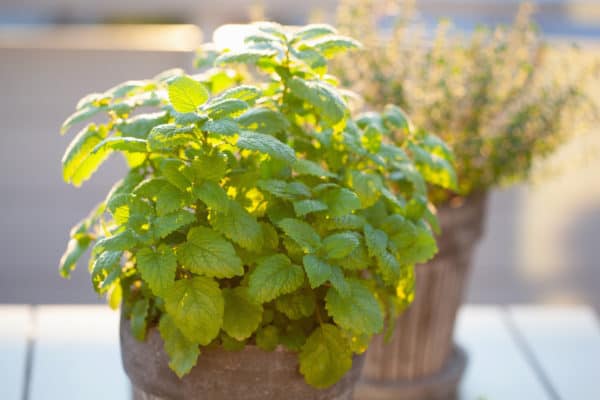 Lemon balm is a cousin in the mint family, a plant family of prolific growers with intensely fragrant leaves. The leaves of the lemon balm plant are filled with helpful antioxidants like rosmarinic acid, ferulic acid, and quercetin.
Antioxidants help your body control and destroy free radical agents, which speed up aging and cell deterioration. Who knew a little bit of lemon balm could be so good for you?
Lemon balm is a hardy perennial that does well in containers and small pots. It is a bit fussier than other herbs and needs a significant light when grown indoors. Lemon balm requires moderate watering, as there's a risk of powdery mildew and root rot depending on the water deficiency.
Don't let this scare you away, though. Once you get the needs of your lemon balm dialed in, they're high-producing, welcome additions to your kitchen container garden.
Herbs to Grow in Pots Together
Planting herbs in pots together is easy if you know which plants thrive when grown near one another. The options for cute containers that fit your home's aesthetic are practically endless, and once you start planting, you might not stop. Learn how to plant and care for your own multi-herb garden with this simple how-to guide.
To begin planting a container garden, source some healthy oregano, thyme, and chive plants from your local nursery or garden center; avoid spindly plants and check the soil for insect eggs.
Choose a potting vessel with a few suitable drainage holes and make sure that it is ten inches deep and 20 inches long. Fill it with a regular, balanced potting mix and leave room for the plants.
Make three small holes in the dirt for your plants, and leave about five inches between the herbs. Place each herb into its new home, cover them with dirt, and water well. If desired, add a mulch over the soil; certain kinds like wood mulch, pebbles, or shells provide a decorative touch and finish off the container's look.
We hope you enjoyed learning about the best herbs to grow in pots and feel inspired to start your own kitchen container garden.
Cultivating herbs for culinary purposes is a fantastic way to step up your kitchen game and expand your daily intake of vitamins and antioxidants. Herbs love to be harvested, and they add so much to every meal; can you imagine spaghetti sauce without oregano?
Grow your own herb garden this growing season with favorites like lemon thyme, marjoram, and fennel, or branch out and try one of the many herb varieties and cultivars.
Growing herbs in pots has never been easier; the world is your oyster, and the kitchen can be your garden.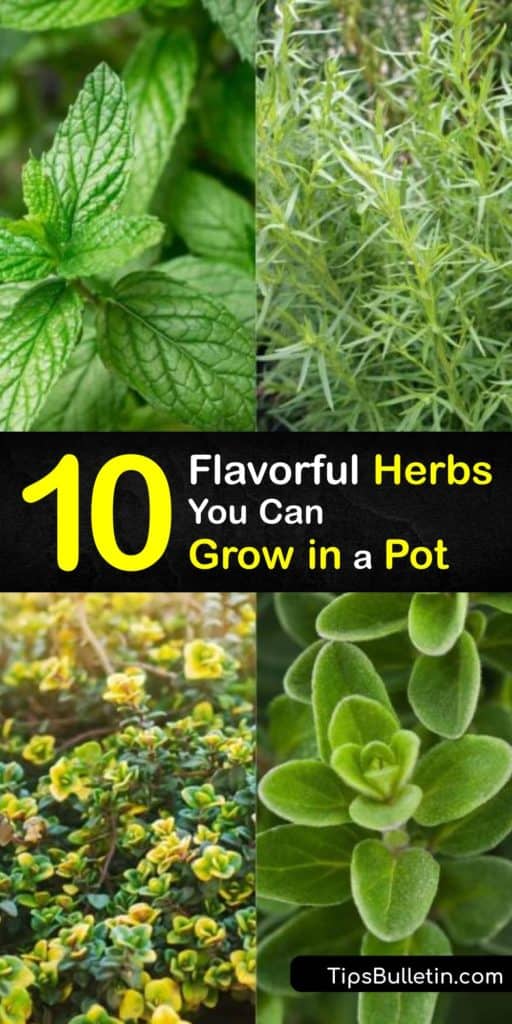 If you enjoyed learning about which herbs to grow in pots and how to care for them, share this article with friends on Pinterest or Facebook who want a container herb garden of their own.