Cats fill our homes with wonder and curiosity. Unfortunately, bladder accidents happen, which means your pet may also fill your home with the strong smell of cat urine. Discover how to destroy that distinctive smell forever with the most effective recipes for homemade cat urine odor remover.
Cats come from the desert, specifically the Near-Eastern and African wildcat populations. Their origins as desert animals mean their kidneys absorb water very well; as such, their urine becomes very concentrated. Cat urine also contains a compound called uric acid, causing the lingering stench in fabrics, carpets, and upholstery.
This stubborn odor seeps into cracks, crevices, and carpet pads and is a real challenge to destroy completely. The trick to cleaning cat urine is to find something that biologically breaks down the uric acid crystals and acts as a home remedy for urine odors and getting cat pee out of walls. We've assembled some incredible tips and tricks to help you do just that.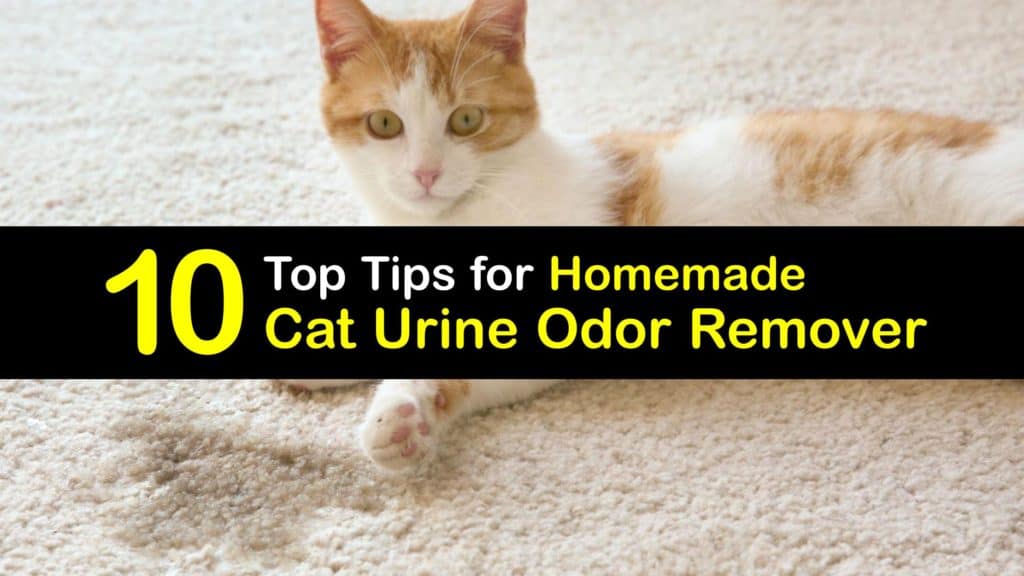 Discover the Best DIY Cat Odor Remover
Discover the quickest, safest ways to destroy pet odor and stop it from coming back. We know you'll fin the best homemade odor eliminator that works ideally for you. This guide is your go-to for accurate, informative pet odor strategies.
What are Enzymatic Cleaners?
The most effective method to dissolve and destroy cat pee smell indoors is with enzymatic cleaners. Non-pathogenic microorganisms in enzyme cleaners break down uric acid crystals and remove the distinct smell of cat pee from any affected area.
Enzymatic cleaners contain a blend of helpful enzymes like proteases, lipases, and amylases. Each enzyme has a unique skill and breaks down different biological stains such as blood, fats, oils, and uric acid. Generally, enzymatic stain remover is safe to use around pets and children and is easy to make if you don't want to spend unnecessary dollars.
Homemade Cat Urine Odor Remover
With a name like "enzymatic cleaner," it's easy to assume it's a fancy product that costs a lot of money and is complicated to use. However, making a DIY cat odor remover with enzymatic properties is simple, inexpensive, and will change how you clean cat urine forever.
Many foods we eat like oranges, lemons, and pineapple contain helpful enzymes in their skins, becoming a very effective homemade cleaner with the proper steps. Citrus rinds are best for this recipe because they're effective and make the house smell wonderful.
Experiment with other kitchen scraps to test their enzymatic properties, too. To make your own powerful cat urine enzyme cleaner, tear the citrus rinds into small pieces, place them in the bottom of the jar, and add the water. Add the baker's yeast and brown sugar, screw the lid on and give it a good shake.
Place your homemade cleaner in a dark cabinet to ferment for about four weeks. Shake the mixture once a day, and open the lid to release any stored gasses.
Venting the fermentation gasses is essential because the jar may explode if the pressure is left unchecked. Once your home remedy for cat pee odor is ready, strain it into a glass spray bottle and keep it on hand for any unfortunate cat or dog urine accidents. Your DIY enzyme cleaner lasts for about a month, so save your citrus rinds to always have a batch ready.
How to Deal with Cat Pee on the Carpet
Many homes have carpets, and many people search for effective ways to pull cat urine smell from the thick fibers without damaging them. The same is true for getting cat pee smell out of your mattress. Expensive carpet cleaning and chemical-laden carpet cleaner products aren't for everyone. Fortunately, all you need is a paper towel and some elbow grease.
Blot as much of the cat pee out of the carpet as possible with a clean paper towel, careful not to push it further into the carpet pad underneath. If the urine spot is already dry, wet the site with water and blot.
Continue to blot with a dry paper towel until there's almost no moisture left. To get cat pee smell out of rugs and carpet, treat the area with your homemade cat urine odor remover, leave the enzymes to attack the uric acid, and watch the smell dissipate until undetectable.
How to Treat Cat Pee on Your Clothes
You're getting ready for the day, and suddenly that distinctive urine odor fills your nostrils; cat pee on clothing is one of the most unwelcome surprises for any pet owner.
There are plenty of sources that recommend white vinegar or hydrogen peroxide, but they aren't enzymatic ingredients. Vinegar may cover the smell for a while, but the uric acid crystals still lurk in the fibers.
Don't throw your favorite jacket or gym bag away yet. Simply pre-soak stained fabric with miracle-working enzymes. Many safe, non-toxic enzymatic pre-soaking products are designed for even the most delicate fabrics.
Always follow the manufacturer's directions for any laundry product, and be prepared for a 24-hour soak in the event of heavy stains and strong pet odor.
Make a Deodorizing Sachet for Your Closet
Get rid of that cat urine odor funk left behind in the closet with these ingenious deodorizing sachets. This easy how-to guide makes one sachet; however, use it to make as many as required. This DIY cat odor remover makes your house smell incredible.
This recipe is as simple as carefully pouring the Himalayan Epsom salt into the center of the fabric and then gathering the sides to tie at the top. Use a simple elastic band, or find a fancy ribbon. Get any old material from the closet, or choose some to match your decor. These adorable deodorizers aren't just for the closet; pop them anywhere in your home and enjoy.
How about Cat Pee on Your Shoes?
If you've spotted a bit of pet urine on your favorite shoes, don't worry, it's an easy fix. Begin by removing the laces and the insoles, then blot the urine. Dampen dry urine with clean water to pull the moisture out more effectively.
Pop your shoes in a plastic grocery bag, cover them in baking soda, and let them sit for 24 hours. Spray your shoes with your homemade cat urine odor remover, and allow them to dry for another 24 hours.
A cat urine stain on your personal property is frustrating. It might seem deeply personal, but it's not. Cats, like most animals, lack the cognitive ability required to be vindictive.
If your cat is peeing on your shoes, it's time to consider why. Check the litter box for cleanliness, assess the cat food, and check the water source. Always consult your vet if the issue persists.
Home Remedy for Cat Pee Odor
Try this inexpensive DIY odor remover if you're looking for an easy way to freshen up shoes and clothes after a deep enzymatic cleaning. One of the easiest home remedies to get rid of cat urine odor is to add two generous drops of cedarwood essential oil to a cup of baking soda. Cedarwood is antimicrobial, antifungal, and smells fantastic.
Pop your DIY deodorizer into an old salt shaker or anything that allows easy sprinkling. Cedarwood oil is safe for use around dogs and cats, but essential oils should never be applied to the skin or consumed orally without proper consultation with your healthcare professional.
DIY Cat Deterrent Spray
Bad habits are hard for people to break; the same is true for pets. If your pet has been repeatedly peeing in the same place, it's time to take safe, natural deterrent strategies into your own hands. What is safe to use, and what best practices ensure your pet's health? We recommend citrus and a little persistence.
Once you've dealt with the cat pee odor, it's time to make the area uninviting. A strong vinegar presence mixed with a bit of concentrated lemon juice from the grocery store is the way to go.
Pour both ingredients into a clean, repurposed spray bottle, and you have a super-effective DIY deterrent spray. Hot chili spray is popular for gardeners; however, we don't recommend it for your household pets. Cats are big groomers, and licking and ingesting the pepper residue is harmful to their digestive system.
Ion-Based Odor Eliminators for Pet Stains
Ion-based odor removers are a unique breed of cleaners. They're not surfactants like dish soap and detergent, yet they're not enzymatic cleaners, either. Ion-based odor eliminators are scientifically engineered to use positive ions to cancel the negative ions caused by dried uric acid crystals in cat pee.
It sounds space-aged, but removing cat urine smell from a badly stained area is an absolute breeze with a few sprays of these types of cleaners. Ion-based sprays are available through your local pet store and are ideal for dry, ground-in pet urine stains.
Professional Carpet Cleaning
If your DIY cat odor remover isn't doing the trick, it's time to consult the professionals. Your local cleaning company has a variety of pet-safe products and professional enzymatic cleaners to make your cat urine nightmare disappear. Many carpet cleaning companies also do upholstery cleaning and can provide invaluable advice for future stain and pet odor removal.
We hope you enjoyed learning about effective odor removal and homemade cat urine odor remover. Cat behavior is a curious thing, and we can't pretend to understand everything they do; sometimes, accidents happen. Instead of getting upset with our pets, it's essential to consider why it's happening and then take steps to change things for the health and happiness of our pets.
Cats typically only go outside the box if they're unwell, though other reasons might include adding a new cat litter brand, or perhaps the litter requires more frequent cleaning.
Some cats won't use the litter box if there's a hood trapping the stinky smells inside. Be aware of your cat's preferences, and it'll save you all kinds of headaches and odors.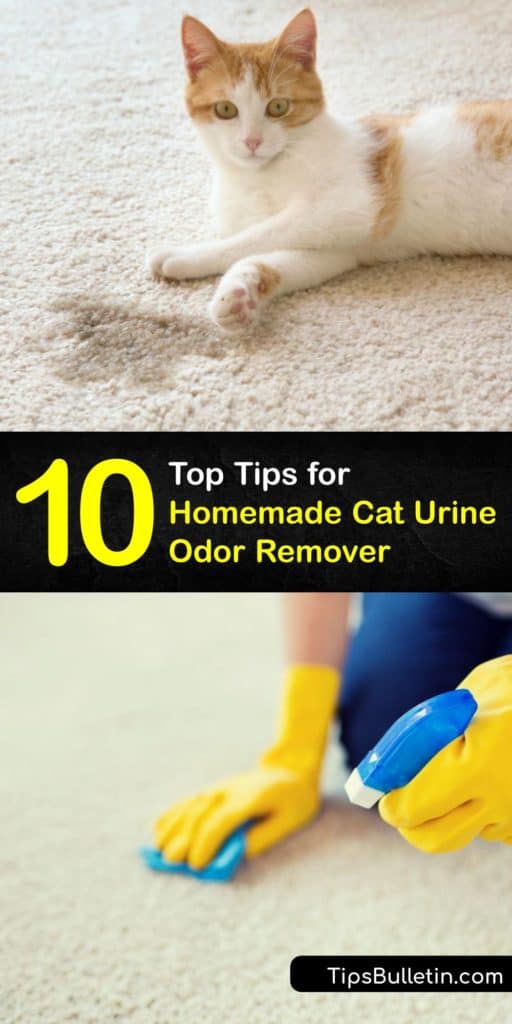 If this article about homemade cat urine odor remover inspired you to tackle a pet smell problem, share it with a friend on Pinterest or Facebook who has a cat and is always looking for odor-fighting tips.