Red raspberries are among the most popular and recognizable fruits, and we use the flavor in many juices, desserts, and candies. If you grow raspberry bushes at home, using a homemade fertilizer for raspberries is an excellent way to produce the best yield for harvest.
If they are well cared for, raspberry bushes live and produce fruit for up to ten years. Because growing raspberries is a long-term hobby, growing the best berries involves knowing how to care for your raspberry bushes and using the best raspberry fertilizer.
Some consider the difference between organic and synthetic fertilizers a matter of preference; however, there are vital differences between these options. Organic fertilizer, usually made from animal or plant-based material, improves the quality of nearby soil and provides nourishment for plants over a longer period. Synthetic fertilizers yield a larger harvest in exchange for contaminating nearby water sources due to runoff.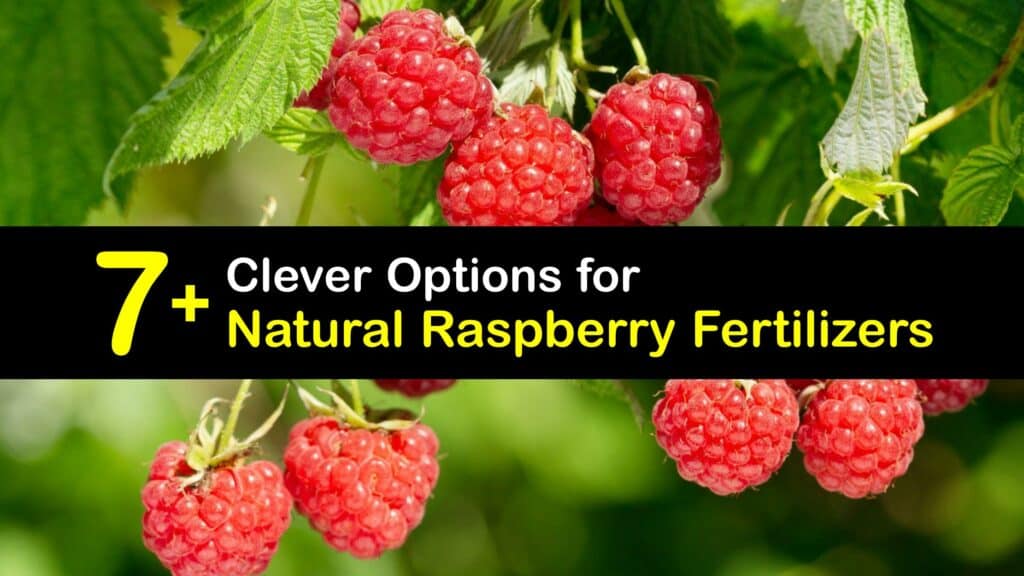 What Makes an Organic Raspberry Bush Fertilizer?
When reviewing commercial fertilizers, the ratios on fertilizer packaging correlate to nitrogen, phosphorus, and potassium proportions in the fertilizer. These three nutrients, among others, are essential for healthy plant growth.
When you practice the best way to grow raspberry bushes from seed or bare roots, raspberries require high levels of nitrogen and potassium for bushes to grow lush foliage and juicy red fruits. When creating organic fertilizers, it's essential to focus on what your bushes require to avoid over-fertilizing.
Fertilizing is particularly important at the best time to transplant raspberries, which is early spring or late fall.
How to Fertilize Raspberries with Coffee Grounds
Whether you're making a raspberry or tomato fertilizer, coffee grounds are a natural fertilizer many have on hand. While blackberry and black raspberry bushes are completely different plants, they both like coffee grounds.
Coffee grounds benefit plants when mixed into garden soil or applied as a liquid fertilizer. The main benefit of using old grounds is the slow release of nitrogen coffee grounds produce.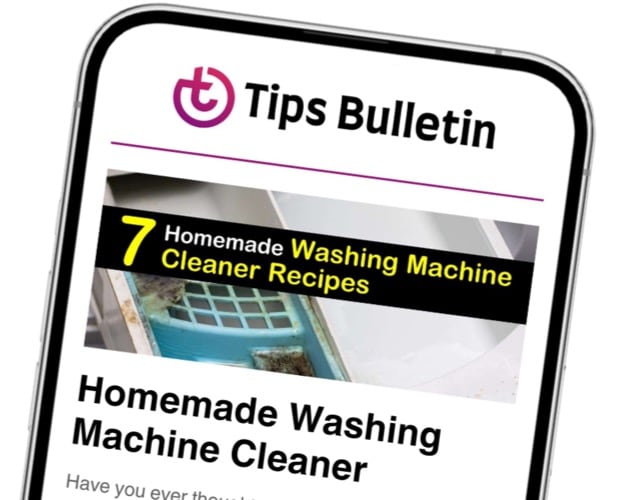 Finally, an email that Transforms Your Home.
Get the latest home and garden tips from our experts, delivered straight to your inbox.
While coffee grounds are acidic, once you use them, they are no longer acidic enough to alter the pH of your soil. To add coffee grounds to your gardening soil, whether as organic grape vine fertilizer or to benefit raspberries, sprinkle a thin layer across the soil and use gardening tools to work the grounds into the soil evenly. There is no need to compare red vs black raspberry plants regarding coffee fertilizer. They have the same requirements.
When using fresh grounds as a natural acid mix fertilizer, monitor the grounds because too much acid in the soil can result in stunted growth for raspberry starts and any young seedlings in your vegetable garden.
Epsom Salt Natural Fertilizer
Yellowing leaves while growing a raspberry patch could signify a nutrient deficiency. Although leaves turning yellow while the veins remain green is a symptom of some viruses, treating your raspberry plants is easy when using Epsom salt to treat magnesium deficiencies.
Dissolve Epsom salt in a water tank sprayer to create a spray for raspberry bushes or as a natural fertilizer for strawberries and other berry plants. Treat your plant's leaves with this spray a few times every two or three weeks. Another option is to dissolve Epsom salt in water and directly soak the soil around your bushes to allow your plant to absorb this natural raspberry fertilizer through its roots.
Is Compost the Best Raspberry Plant Fertilizer?
The dark compost that results from organic matter breaking down works well for fertilizing raspberries. Made from vegetable and fruit scraps, grass clippings, twigs, and other biodegradable materials, compost is loaded with nutrients to help your home garden flourish when used as an organic fertilizer.
Mix your compost with the top soil layers in your garden to embed the dirt with the nutrients and microorganisms from the compost bin. Using compost at the start of the growing season is ideal for soil amendment following a soil test.
DIY Fertilizer for Raspberry Plants Using Grass Clippings
The cut grass from your regular lawn care may seem like an odd choice for raspberry bush food, but the grass is an excellent nitrogen source. When you add these clippings to your garden and allow them to decompose, you provide your garden with nitrogen that aids the growth of vibrant foliage.
After raking grass clippings, evenly layer them around your raspberry bushes and wait for them to break down in the soil. A layer of grass clippings acts as an organic mulch to prevent weeds from sprouting.
Amending Soil with Sulfur
Fruit trees and brambles like raspberries enjoy growing in acidic soil. If a soil test determines that your soil pH is too high, using sulfur is an easy way to adjust the pH. When you apply sulfur to soil, bacteria in the soil create sulfate sulfur, which creates acid in the soil.
Wood ash is not ideal for use around raspberry bushes due to its ability to lower soil pH. If a test of the garden reveals that your soil is too acidic for raspberry bushes, wood ash or lime raises the pH.
Sulfur is not mobile in plants, so using sulfur as a raspberry fertilizer early in your plant's development is crucial. The bonus of using a sulfur powder fertilizer is that one application is sufficient to last for up to a year in the garden.
Manure as a Red Raspberry Fertilizer
Manure from non-meat-eating livestock makes the perfect fertilizer for raspberry plants when diluted in water. Gather manure into a pillowcase to create a liquid fertilizer to feed your raspberry plant.
Place your pillowcase into a large bucket, begin filling with water so that two-thirds of the bucket is water, and fill the rest with manure. Stir the waste at least once a day for two days as the manure steeps in the bucket.
After the manure soaks, pull the pillowcase out and let the moisture drain into the bucket. Add water until the fertilizer is pale brown, and pour your new fertilizer around the base of your bushes.
Avoid Calcium Deficiency with Eggshells
Eggshells may be the best fertilizer for raspberry bushes because of how simple this raspberry bush food is to create. A lack of calcium in your raspberry bushes affects fruit production. Raspberry plants without enough calcium are at risk of being infected by chlorosis.
Mature plants display white spots on their leaves; over time, these leaves become necrotic, and raspberry canes die away. Make a DIY fertilizer for raspberries by soaking crushed eggshells in water to help pull the nitrogen from the shells.
To create eggshell tea, clean and dry at least ten eggshells. After your shells are completely dry, crush the shells using a food processor or by rolling them against the counter.
Boil water and add your crushed eggshells, allowing the shells to boil for at least five minutes before turning off the heat. As you cool your shells, add apple cider vinegar to make releasing the nitrogen from the shells easier.
Add your shell water to a container with a lid and leave the container to sit for two days. When ready to use your organic raspberry bush fertilizer, strain out the shells and water your plants with the remaining water as usual.
Bananas Peels Are Plant Food
Regardless of what type of raspberry plant you grow, whether they are red or black raspberry plants, potassium is an essential nutrient. Potassium in the soil aids your plant's ability to move water, nutrients, and carbohydrates through plant tissue.
Bananas are high in potassium; recycling the peels is the perfect way to avoid waste in the kitchen and boost the potassium intake of your everbearing raspberries. To create an organic raspberry bush fertilizer from banana peels, gather peels in a freezer bag until you have at least six peels.
Place your peels in a plastic container and cover them with water to thaw the frozen peels. Let the banana peels steep in the water for up to a week. Divide your fertilizer water into small jars and dilute each application with a cup of water before watering your bushes with this fertilizer.
Harvesting Raspberries
Follow the harvest guidelines on your raspberry planting guide to determine when it's time to begin harvesting berries. For the best results, save harvesting for a day when the weather is dry and cool.
Depending on the type of berry, you may have red, gold, purple or black raspberries to harvest. Your first harvest of raspberry plants likely comes during the summer of your second year after you plant raspberries.
To harvest your berries, gently grab the raspberry and pull it from the stem. Unlike blackberries, the core remains on the stem when you harvest raspberries. Once you finish harvesting, remove any leaves or debris in your containers, but don't wash the berries unless you're ready to cook with them.
After removing debris or smashed berries, place unwashed raspberries in the refrigerator for three days. If you don't have plans to use your berries quickly, wash, dry, and freeze your berries to store them.
Frozen raspberries hold in the freezer for up to a year without losing flavor. When ready to use your raspberries, remove them from the freezer and combine your frozen berries with ingredients to create a smoothie or thaw the berries under warm water.
Place all ingredients into a large blender and blend until completely smooth. If the smoothie is too watery, add another cup of ice to thicken. Pour into glasses and top with raspberries.
Because raspberries are an addition to your garden that you'll have for many years, knowing how to fertilize raspberries is crucial to ensure you get the best berries possible year after year.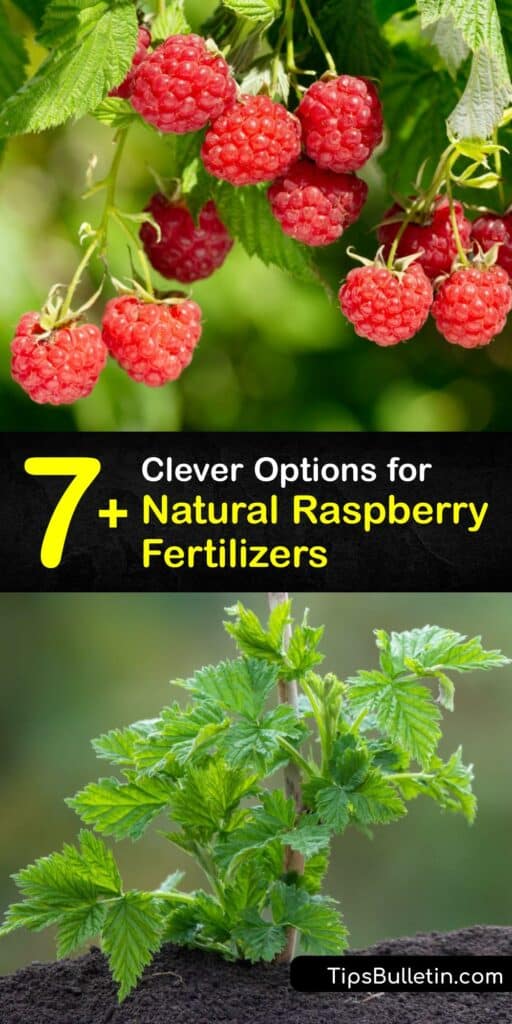 If you benefited from our suggestions on homemade fertilizer for raspberries, please share our tips on how to fertilize raspberries with your fellow gardeners on Facebook and Pinterest.