Porcelain is a ceramic material that is commonly used to remodel the home and is utilized for everyday uses from a porcelain sink to tile floors. With that said, you'll want to be able to clean up that porcelain without having to spend an arm or a leg on cleaning products. Your Google search is over; we've got the perfect homemade porcelain cleaner to help you clean glazed and unglazed porcelain naturally.
Hard water can lead to rust stains, water stains, and porcelain tile discoloration. Grime, soap scum, and moisture build up can lead to mold and mildew growth.
Proper cleaning methods must be applied when cleaning porcelain. The following cleaning tips and cleaner recipes will show you how to clean any porcelain surface in your home and keep it clean.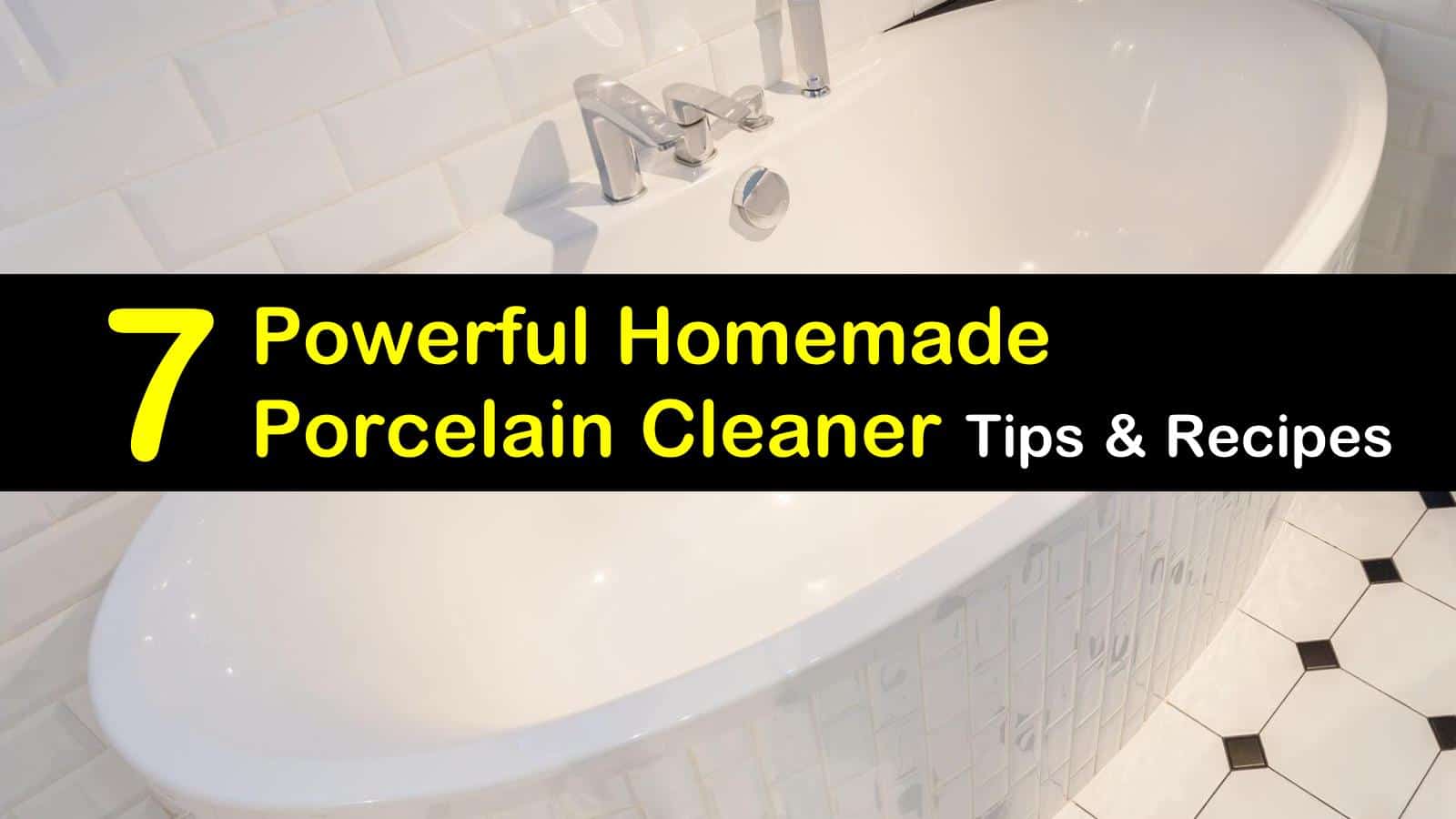 Easy-to-Make Porcelain Cleaners
While you may associate Bar Keepers Friend with cleaning stainless steel, it can also be used for cleaning porcelain tiles or other surfaces. If you'd rather clean porcelain using household items, we have a range of homemade cleaners that you can make to clean porcelain toilets, sinks, tiles, and more.
These cleaners have multiple uses throughout the home and are all quite inexpensive. Stock up on them to use throughout the whole house.
Glazed Porcelain Sink Cleaner
Cleaning a cast-iron porcelain sink is a reasonably easy task to accomplish if you've got the right ingredients. This porcelain sink cleaner can be used in both the bathroom and kitchen sink to remove soap scum and grime.
Begin by making a paste that is similar in texture to Soft Scrub with a small amount of baking soda and water. Use a sponge to rub the paste onto stained areas of the sink. This mixture is particularly effective to clean rust stains from porcelain sink areas or in the tub.
Mix the water and vinegar in a bucket. Rinse the sponge and then use it to wipe the vinegar and water cleaning solution through all areas of the sink. Once the sink is clean, rinse it thoroughly with clean water.
DIY Porcelain Cleaning Solution
Rust stains are the result of hard water and can cause an unsightly stain in the drain area of porcelain sinks, bathtubs, and toilets. The following DIY porcelain cleaning solution is useful for removing rust stains from porcelain.
Pour some table salt onto the rust-stained area of the porcelain. Drizzle some lemon juice over the salt and gently scrub the stain away using a soft sponge. Give the area a good rinsing with clean water.
How to Clean Porcelain Tiles
Many bathrooms are lined with porcelain tiles and are often used on the walls, shower, floor, and sink backsplash. The following method is the best way to clean a porcelain tile and grout to remove mold and mildew build up.
Mix the water, Borax, and dish soap in a bucket. The way to clean porcelain is to dip the sponge into the Borax cleaning solution, squeeze out the excess, and work it into the tiles.
While scrubbing, make sure that you get into all of the crevices and grout lines. Use clean water to rinse the area of all the dirty residue. Dry the tiles and grout using paper towels or an old rag. Your tiles and grout will shine.
Cleaning a Porcelain Bathtub
This method works great as a bath tub cleaner for removing soap scum and that grimy bathtub ring. While special care is needed for cleaning a glazed porcelain bathtub, it can still be done with ease using a little hydrogen peroxide and dish soap.
Saturate a sponge with the hydrogen peroxide and scrub the highly stained area of the tub. Let the peroxide sit on the stain for about five minutes before rinsing it away.
Get the sponge wet with hot water and a few squirts of dish soap. Wipe down the entire surface of the tub to clean away leftover grime and dirt residue. Rinse the whole bathtub using clean water.
Porcelain Toilet Bowl Cleaning Solution
The following method is the best way is to make a toilet bowl cleaner using natural ingredients. It uses the combination of vinegar and Borax to loosen built-up water stains while cleaning away that nasty toilet bowl ring.
Pour the Borax into the toilet bowl and give it a good swish using the toilet brush. Pour in the vinegar and let both ingredients sit in the bowl for about 20 minutes.
Use a toilet brush to scour away the dirty bowl ring and toilet grime. Finish up by flushing away all of the cleaning solution and filth.
Borax and white vinegar is also one of the best ways to get rid of blue stains on the toilet seat. Commercial toilet cleaners are often filled with colorful dyes that stain the ceramic. This homemade cleaner can help eliminate these unwanted stains.
How to Clean Unglazed Porcelain Tile
Unglazed tile has become increasingly popular due to its matte finish. The only downfall is that it has a rougher surface that attracts and holds dirt and debris. The following homemade tile and grout cleaner will remove soap scum and grime from those unglazed tiles without using harsh chemicals.
Mix the water, vinegar, and soap in the bucket and give it a good stir. You can also add a few drops of your favorite essential oil to mask the vinegar smell. Start by using the scrub brush and a little elbow grease to scrub the grout and tile.
Because they are unglazed, the scrubbing action will not damage either the tile or grout. Wet a sponge with the vinegar cleaning solution and wipe down the tiles to remove dirt that has been loosened by the brush, mold, and mildew.
Continue re-wetting the sponge and wiping the surface area until it is clean. Rinse the entire area with clean water.
How to Remove Stains from Porcelain
Even the cleanest of porcelain sinks and tile can become stained from unexpected spills and accidents. Whether you need to get hair dye out of a porcelain sink or have another mess, hydrogen peroxide works well for cleaning surfaces because it is a weak acid that breaks down and dissolves stains.
It is also ideal for removing stains on kitchen countertops and other household surfaces.
Fill the spray bottle with hydrogen peroxide. Make sure that you label the container for safety and future uses. Spray the solution onto the stained porcelain and let it sit for approximately 15 minutes.
Use the sponge to wipe away the stain and follow by giving the area a good rinse with clean water. Wipe the area dry using paper towels.
Glazed porcelain surfaces are meant to have luster and shine. Uncleaned or poorly cleaned porcelain can become permanently stained from hard water build up and mold growth.
Knowing that you can use vinegar, baking soda, and other household items along with the right cleaning methods for cleaning white porcelain can go a long way when it comes to maintaining its beauty.
Recipe for Homemade Porcelain Cleaner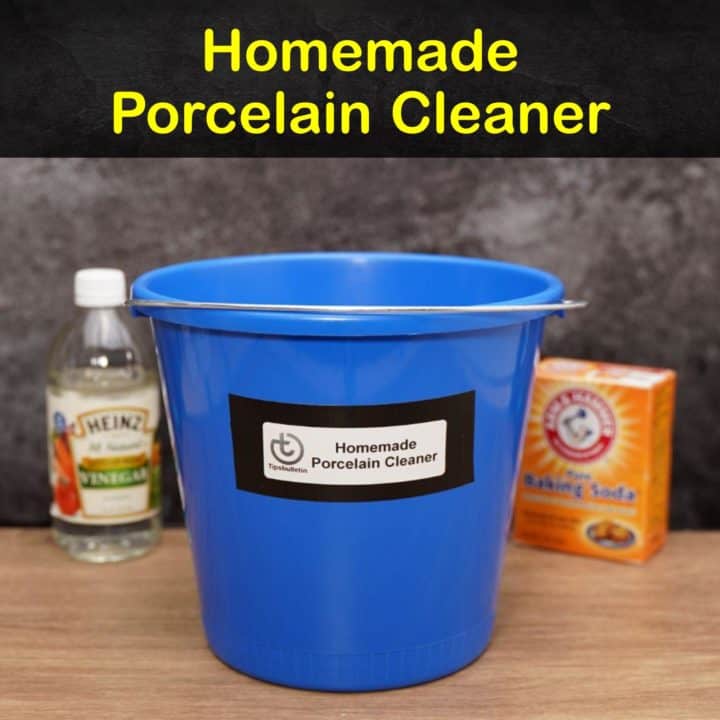 Homemade Porcelain Cleaner
Safe and effective for all porcelain surfaces!
Materials
1/2 cup baking soda
3 tablespoons water
1 cup white vinegar
2 cups water
Tools
Small jar
Nylon scrubbie
Bucket
Measuring cup
Tablespoon
Instructions
Mix the baking soda and three tablespoons of water in the jar to form a paste.
Apply to porcelain surfaces and stains.
While the cleaning paste sits, combine vinegar and water in the bucket.
Use the scrubbie to wipe the porcelain with the liquid.
Rinse well with warm water.
Notes
Baking soda and vinegar are highly effective natural cleaners.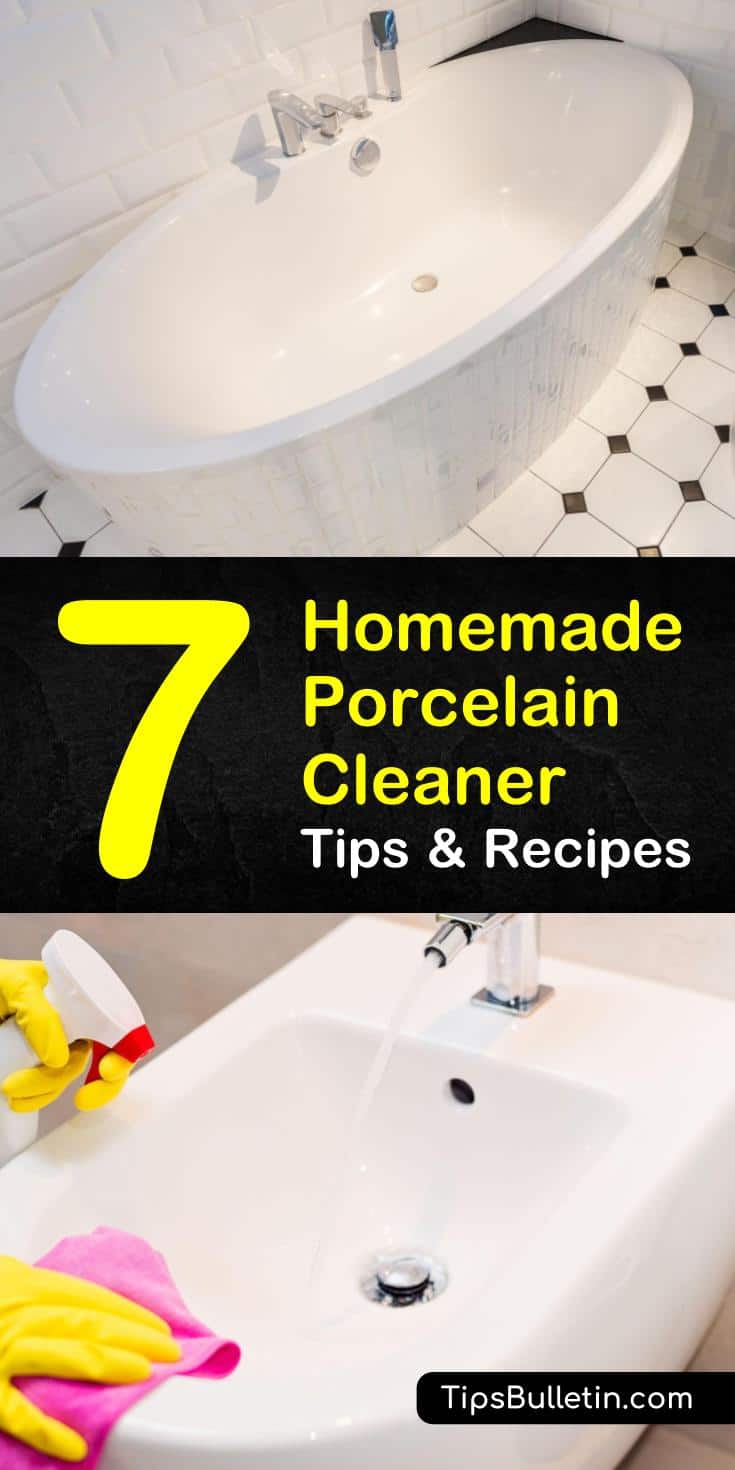 We hope you found a favorite homemade porcelain cleaner among our list of recipes, and we'd love it if you shared these natural cleaner tips for porcelain with your family on Pinterest.