For most homeowners, the last thing they want to do is clean the bathroom. From trying to move around in the small space to inhaling the toxic fumes from the commercial cleaning products that are used, cleaning a bathroom can be challenging.
If you have stubborn rust or other mineral stains, it can be downright frustrating. If you have a slow water leak in your bathtub that has left a rusty streak, learn how to remove rust stains from a bathtub and the rest of your bathroom fixtures with these simple methods.
Those unsightly mineral and rust stains in your tub, toilet, and sink are from the water. The lime, calcium, iron, and magnesium that are naturally occurring in hard water attach to every surface they encounter. Rust stains are difficult to remove with a regular bathroom cleaner, but with the right ingredients and a little elbow grease, you can get rid of the rust around your tub and keep it looking new.  
How to Remove Rust Stains from Porcelain Bathtub
Nobody likes the idea of soaking in a dingy tub. The best way to keep your bathtub clean is to be diligent about preventing the dirt, gunk, and rust from getting out of hand. The combination of cream of tartar and hydrogen peroxide is excellent for removing rust stains from the tub.
Rust Stain Cleaner for Porcelain Bathtub

Three tablespoons cream of tartar
Three tablespoons hydrogen peroxide
Combine the two ingredients until they form a paste that is the consistency of cake frosting. Spread the paste directly over the stain. Allow standing for ten minutes. Using a nylon brush or pumice stone, buff the stained area until the rust is eliminated. You can also treat age-related discoloration with this method. This recipe is appropriate for the best way to clean a toilet that has rust stains, too. 
How to Remove Rust Stains from Fiberglass Tub
Fiberglass is used to coat tubs, showers, and other surfaces that are exposed to water regularly. The regular contact with water can result in unattractive rust stains on your bathtub. This recipe can also be used as a homemade fiberglass boat cleaner.
Removing rust stains from fiberglass tubs takes nothing more than some essential household items and a light touch. If you use too much force or an abrasive cleaner, you can scratch the surface and make the rust stains more visible.
Fiberglass Bathtub Rust Stain Cleaner

Baking soda
Soft nylon brush
Sponge
White cotton cloth
Acetone
To make a homemade fiberglass cleaner that is suitable for your tub or anything made of this material, first, dampen the rust stain with water. Spread a layer of baking soda over the area. Wet the brush with water and gently scrub the baking soda into the stain, forming a paste. Leave the paste on the area for an hour or so.
Dampen the sponge and wipe the baking soda paste off, making sure to remove it completely. You may need to rinse the area with plain water on a clean cloth. If the stain is still visible, soak the white cloth with the acetone.
Rub the stain gently to remove any lingering traces of rust. Once the stain has disappeared, rinse the area with the wet sponge. Dry with a soft cloth.
Even if you don't have rust stains in your jetted tub, baking soda makes an ideal homemade jetted tub cleaner. Make a paste of baking soda and water and scrub around the jets to remove grime and hard water deposits. Add a little vinegar for an extra boost of cleaning power for more challenging stains.
How to Remove Rust Stains from Toilet
Rust and other mineral stains can quickly build-up on the surface of your toilet bowl if it isn't cleaned on a regular basis. While many commercial cleaners on the market will eliminate these stains, there are more natural ways to clean your toilet without using harsh chemicals.
Easy-to-Make Rust Stain Remover for Toilets

Two cups vinegar
Baking soda
Lemon juice
Before you start cleaning the rust stains from your toilet, you want to shut off the main water valve to your toilet, which is located behind the toilet. Then you need to remove as much water from the bowl with a bucket or cup. Next, add the vinegar to the toilet bowl along with a small amount of baking soda.
Using a nylon toilet brush, swish the toilet bowl cleaner around the bowl and let stand for 15 minutes. Using the brush, scrub the stains. If the stains aren't entirely removed, add the lemon juice to help dissolve any of the stains that remain. Turn the water back on and flush.
This solution also works well for cleaning water stains from a toilet that may not be rusty, but are unsightly, nonetheless. Vinegar, lemon juice, and baking soda have myriad uses in the home for cleaning and sanitizing surfaces. 
Sidenote: To remove rust from a concrete surface, use the same base ingredients (white vinegar and lemon juice). Each ingredient is a very powerful natural rust remover.
How to Remove Rust Stains from Sink
If you're dealing with rust stains in your sink, there are two simple ingredients that you can use that won't damage the material and will eliminate the stain. Even better, the parts of this cleaner are ones that you already have in your kitchen.
Removing Rust From Kitchen and Bathroom Sinks

Lemon
Table salt
Old toothbrush
Pour the lemon juice over the stain. Allow it to sit for about ten minutes. Using a clean washcloth, scrub the stain until it is gone. If the stain isn't immediately removed, pour some more lemon juice on the stain, then add some salt over the lemon juice and let stand for 15 minutes. Using an old toothbrush scrub the stain until it disappears. You can also use this mixture as an all-natural shower cleaner recipe.
Stains in the bathtub and shower can occur for several different reasons, but you don't have to live with a stained tub or toilet anymore. With these simple methods and common household ingredients, you can banish the rust stains in your bathtub for good and restore your bathroom to its original brilliance.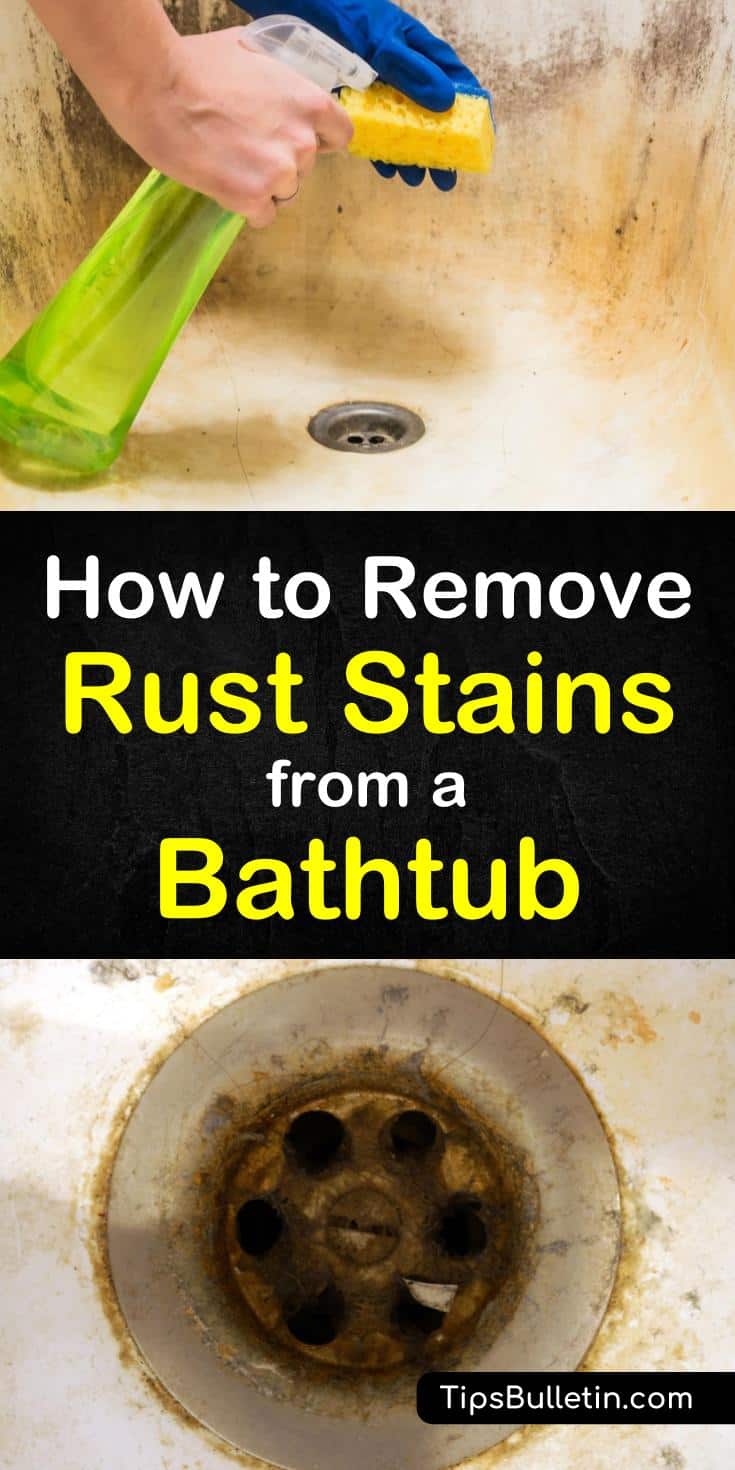 We hope you enjoyed reading about how to remove rust stains from a toilet bowl, bathtub, and sink. If you found any information in this article helpful, please don't hesitate to share it with your family and friends.