Porcelain tiles have been used in home design for centuries, because of their beauty and durability. Porcelain isn't only an excellent choice to have inside the home, but it also works excellent outside because it won't absorb a ton of water. Porcelain is also extremely easy to keep spotless, as long as you spend the time to maintain and clean it on a regular basis.
However, if it hasn't been properly sealed and becomes stained, cleaning it can get tricky and will take more time. Learn how to clean porcelain tile with these simple techniques and homemade tile cleaner recipes.
Porcelain tiles are incredibly durable and come in a wide variety of colors, styles, and textures. They are extremely low maintenance, only requiring you to use a natural bathtub cleaner once a week to keep them looking new. Depending on the kind of porcelain tile you have, either glazed or unglazed, you will need to use different cleaning approaches.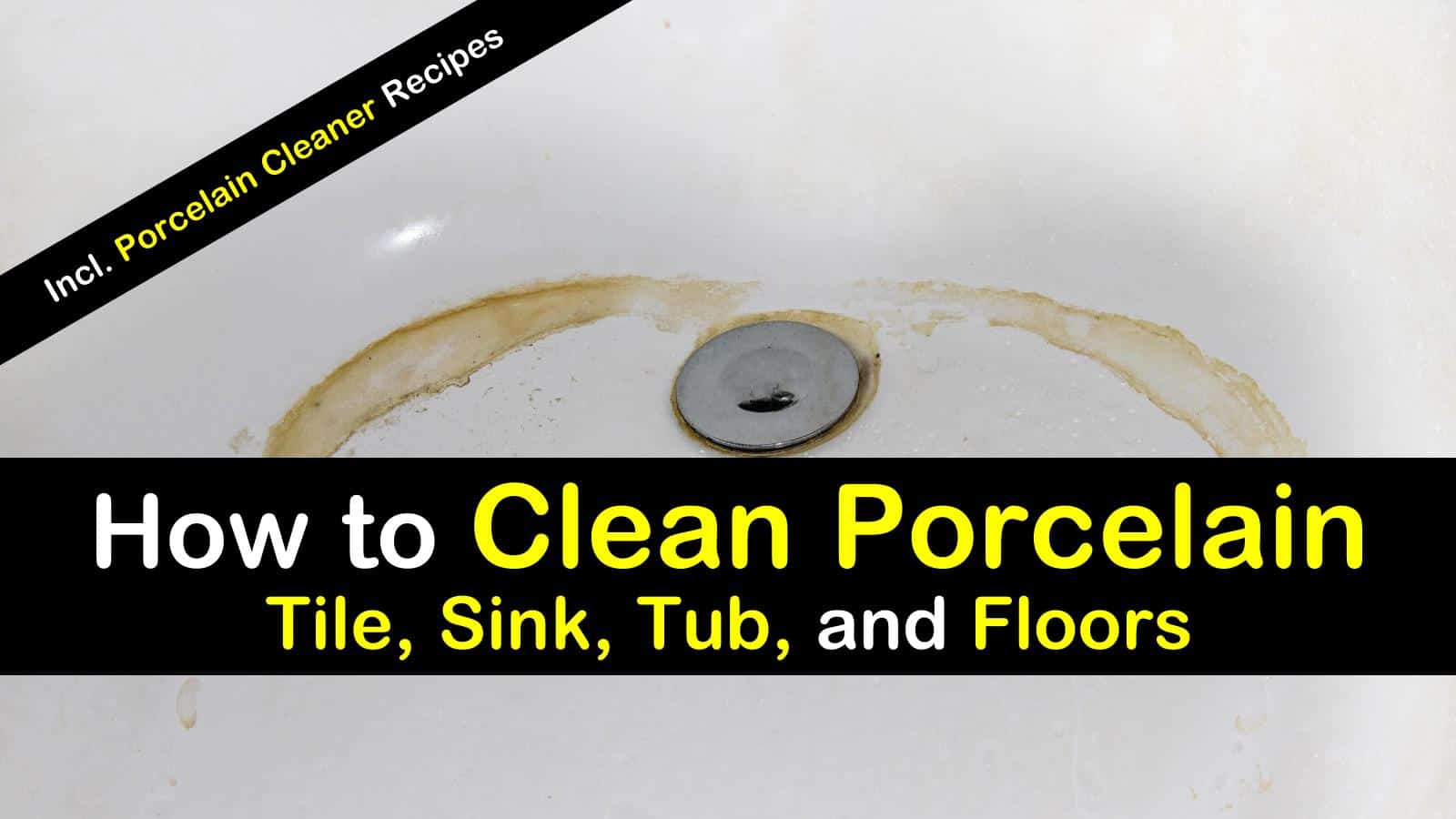 With some patience and a bit of elbow grease, you can make sure your tiles remain clean and stain-free. For an easy, chemical-free way to clean grout, check out these natural grout cleaner recipes and tips.
How to Clean Glazed or Polished Porcelain Tiles
Glazed, or polished porcelain tiles, have a durable, high-gloss finish that is created during the manufacturing process. A glass glaze is applied to the surface of the tile before they bake it.
Taking care of and cleaning glazed tiles is similar to cleaning porcelain tiles or ceramic tiles. Glazed tiles can show scratches more easily on the glossy surface, so you have to take extra care when you clean porcelain tile to prevent scratches and keep the porcelain shiny and clean.
Glazed Porcelain Tile Cleaner
This recipe is the perfect way to clean tile shower floors and walls. After you finish with the shower, you can tackle the bathroom floor and leave the porcelain surfaces sparkling.
To get rid of grime and gunk in your tub, shower, or sink, try this easy-to-make porcelain cleaner. You'll be quite pleased with the excellent results.
Sweep and dust the area thoroughly, being sure to get into the corners where dirt and dust tend to collect. In a bucket, combine the water and the distilled white vinegar, stirring to mix.
The vinegar helps to cut through the dirt without harming the tile surface or leaving behind a residue. Using a large, soft sponge, wipe down the porcelain tiles with this natural cleaning solution for ceramic tile floors, rinsing the sponge often.
Remove the cleaning residue by going back over the surface with clean water and immediately dry with a towel to prevent water spots.
Combine the baking soda and Borax, then add enough water to form a soft paste. To remove stains from porcelain tile, apply the paste to any stains or areas with tough dirt for the perfect DIY tile cleaner.
Rinse the area with clean water and wipe dry. You can also rub the paste into the grout to brighten it and remove stains. Your tile surface will be gleaming before you know it.
Half this recipe to clean your porcelain sinks. Restore shine to porcelain sink by cleaning thoroughly and wiping dry after you are finished. Your sink will like new.
Removing Coffee Stains from Porcelain Tile
If you tend to need a cup or two of coffee in the morning, chances are you're no stranger to coffee stains on your porcelain tile counter and floors. The best way to treat these stains is to clean up spilled coffee immediately.
However, if you don't notice the stain until it has marred your countertop or floor, you can use the power of baking soda to get rid of the stain. To remove coffee stains from your porcelain tiles, sprinkle baking soda over the stain, then dampen it with a clean cloth.
Gently scrub the area until you remove the stain, then rinse with water to clean up the baking soda residue.
How to Clean Unglazed Porcelain Tile
Unlike glazed porcelain tile, unglazed tile doesn't have a protective barrier on its surface. The matte finish of these tiles has made them extremely popular with homeowners for surfaces across the home.
However, because of the rougher finish, these kinds of tiles tend to attract more dirt and hold onto it more firmly, than their glazed counterparts. While this doesn't make these tiles any harder to clean, it does take more time to clean and remove stains from the tile and grout. The way to clean slate floors can also be used to treat unglazed porcelain tile.
Unglazed Porcelain Tile Cleaner
If you don't want your hands to smell strongly of vinegar, you may want to don a pair of rubber gloves when using this recipe to clean unglazed tiles.
In a five gallon bucket, mix the vinegar, dish soap, and water. Using a rag, stir the cleaning solution to mix thoroughly. Using a stiff scrub brush, gently scrub the tile to remove a majority of the dust, dirt, and debris that has collected on the surface of the tile and grout.
Take a clean cloth and dampen it with the porcelain cleaner and wipe down the tiles. The vinegar will help to remove any mold and mildew stains while cleaning the tile. When the cloth becomes dark with stains or begins to dry out, thoroughly rinse it with warm water and start the cleaning process again.
Use a clean rag and clear water to rinse the entire area to remove any of the cleaning residue. If you have stubborn mold and mildew stains, allow the vinegar solution to sit overnight to kill any remaining spores, then rinse with water.
Make your unglazed tile or slate floors shine again with this simple natural cleaning solution for slate floors. This mixture is so gentle that it can be used regularly.
>> More Porcelain Cleaning Tips: How to remove tea stains
Cleaning Textured Porcelain Tile
Textured porcelain tile floors, while beautiful, can add a few additional challenges when it comes to cleaning. To sanitize the bathtub shower start by using a soft-bristled brush to sweep the floor of the shower, being sure to clean in two directions, to better remove dirt in the texture of the tiles.
Combine one of the many commercial cleaning products on the market with hot water. To clean porcelain tile floor, mop the floor, making sure to get in the corners, and allow the solution to stand for ten minutes.
Take a soft, nylon brush and scrub the floor, using the same two direction method that you use when sweeping the floor. Rinse the floor with clean water before the cleaning solution can dry. Finally, wipe the floor with a clean, microfiber cloth to remove residual moisture.
How to Clean Porcelain Tile Flooring
Porcelain is an extremely durable flooring material, that doesn't require you to spend too much time on care and maintenance to keep it looking new for decades.
While the glazed glass protective surface that you find on most porcelain tiles makes them nearly impossible to stain, scratch, or become damaged by water, you still need to give it extra care to keep it clean and free from stains. To keep your porcelain tile floors clean, you need to sweep, vacuum, and mop them on a regular basis.
While you can clean your tile floors with warm water, the best way to mop tile floors is by cleaning porcelain tiles with vinegar to help to kill germs and sanitize the surface. Vinegar has excellent stain removal properties and sanitizes all surfaces while it cleans.
DIY Porcelain Cleaner and Disinfectant for Floors
Mix the white vinegar and warm water in a large bucket. Add the lemon essential oil to the mix. Using a mop, clean porcelain tile floors with the mixture one area at a time, then rinse thoroughly to remove any residue.
If you have tough dirt or stains, you can remove them with baking soda. Working in small sections, sprinkle the baking soda on the floor. Use the mop to rinse the floor with the disinfecting solution.
Afterward, rinse the floor with clean water to remove any residue, and allow it to dry thoroughly. You can let the floor air dry or use a dry mop or towel to remove excess moisture. Your tiles will gleam.
How to Clean a Porcelain Sink
To keep your porcelain sink looking like new, even if its generations old, you need to know how to clean it properly.
Rather than resorting to the harsh commercial products that use toxic chemicals, you can use a mild, homemade cleaning solution that will work to keep your porcelain sink bright, clean, and stain-free.
Two-Step Cleaning
When cleaning a porcelain kitchen sink, you want to make sure you don't use a product that is too abrasive, to avoid scratching the surface of the sink. Baking soda is a mild abrasive that is not only inexpensive but doesn't contain any harsh chemicals.
Start by patting the sink dry. Then, liberally sprinkle the baking soda over the surface. Using a nylon scrub pad, scrub the baking soda into the surface of the sink.
As the baking soda cleans, it will start to form lumps that contain some of the residue that was in the sink. Rinse the sink out and pat dry. Next, use lemon wedges to eliminate any remaining spots or stains in the sink. Allow the lemon juice to stand for at least 30 minutes. Then rinse the sink with warm water.
If you have an old sink that is just beyond repair or cleaning, you can learn about refinishing porcelain kitchen sinks or bathroom sinks. It takes a little time but the results may be worth it.
Removing Stubborn Stains
If you have stubborn stains, this homemade stain remover can take care of the toughest stains, even rust. Combine one tablespoon lemon juice and four tablespoons borax to form a thick paste. Apply the paste to the stain with a sponge or cloth.
Gently rub the area for several minutes. Rinse the area, and apply the paste if the stain is still visible. Rinse the sink thoroughly to remove the residue.
Bring Back Shine with Vinegar
After you've cleaned the sink, and in between cleanings, you can wipe down the surface with distilled white vinegar to make it shine. Apply the vinegar to a sponge.
Rub down any areas that feel scummy or grimy with a nylon scrub pad. If the bottom of the sink has tough grime, plug the drain and pour in enough white vinegar to fill the sink 1/8-inch.
Allow standing for at least 10 minutes. Remove the plug and let the vinegar to run down the drain. Use a sponge to wipe out the sink and then rinse.
How to Clean an Old Porcelain Tub
Porcelain tubs and sinks are a standard fixture in older homes and newer remodels because of their unique charm. Unfortunately, after years of use, they can become discolored and dingy looking.
While porcelain is exceptionally durable, it can become dull if the wrong cleaning products are used, and are susceptible to cracking and chipping.
Avoid accelerating the degradation of the surface by learning how to clean porcelain properly. There are some products that work quite well on porcelain surfaces, while others do not respond as favorably. Be sure that you are using the proper homemade recipes so that your porcelain tub will shine once again.
Cleaning Bathtub Weekly
To gently clean your porcelain bathtub weekly, add two tablespoons of liquid dish soap to one gallon of hot water. Make sure that the dish soap you choose, contains a grease cutting agent.
To clean heave stains us a simple bathtub stain remover.Dip a sponge or soft rag into the mixture and scrub the tub. Finish by rinsing the bathtub with warm water.
Deep Cleaning
If you've recently moved into a home or purchased a vintage tub, you'll want to do a deep clean your tub every month. Baking soda is a safe cleaner because, while slightly abrasive, it is mild and safe to use. Ammonia is great for tackling soap scum build-up and cutting grease.
Homemade Porcelain Tub Cleaner
For a deeper clean, combine baking soda, ammonia, and warm water in a bucket. Soak a non-abrasive sponge in the cleaning solution. Scrub the surface of your porcelain tub, focusing on any areas that may be stained.
Dip the sponge in the solution, scrub, and repeat the process until the bathtub is clean. Rinse the area well. Wipe the surface of the bath with a clean rag to remove the baking soda residue.
Removing Tough Rust Stains
For tough stains, including rust, cover the stained area with table salt. Pour lemon juice over the sale. Using a nylon brush or soft cleaning cloth scrub the mixture.
Allow the mixture to sit on the stain for at least an hour. Pour more lemon juice over the salt and rub the stain again. Rinse the area thoroughly and wipe clean.
How to Repair a Porcelain Sink
While porcelain is an extremely durable material, it isn't immune to chips. Fortunately, you don't have to pay an expensive fee to have a professional take care of your porcelain sink repair, with the right material and a little patience, you can repair the sink yourself.
First, get aporcelain repair kit from your local hardware or online store. You'll need to clean the sink to remove the soap residue build-up. Using masking tape, prep the damaged area. Use the repair kit to fill in the chip. The material needs to sit slightly above the level of the surrounding area.
Allow the stuff to dry for at least three hours. Once the material is dry, lightly sand the filler to the level of the rest of the sink.
Porcelain tiles are an attractive décor choice but can look dull when covered with grime and dirt. Knowing how to maintain your porcelain tile properly will keep it looking new for years to come. To avoid damaging your porcelain, you need to remember never to use abrasive cleaners or harsh, abrasive brushes.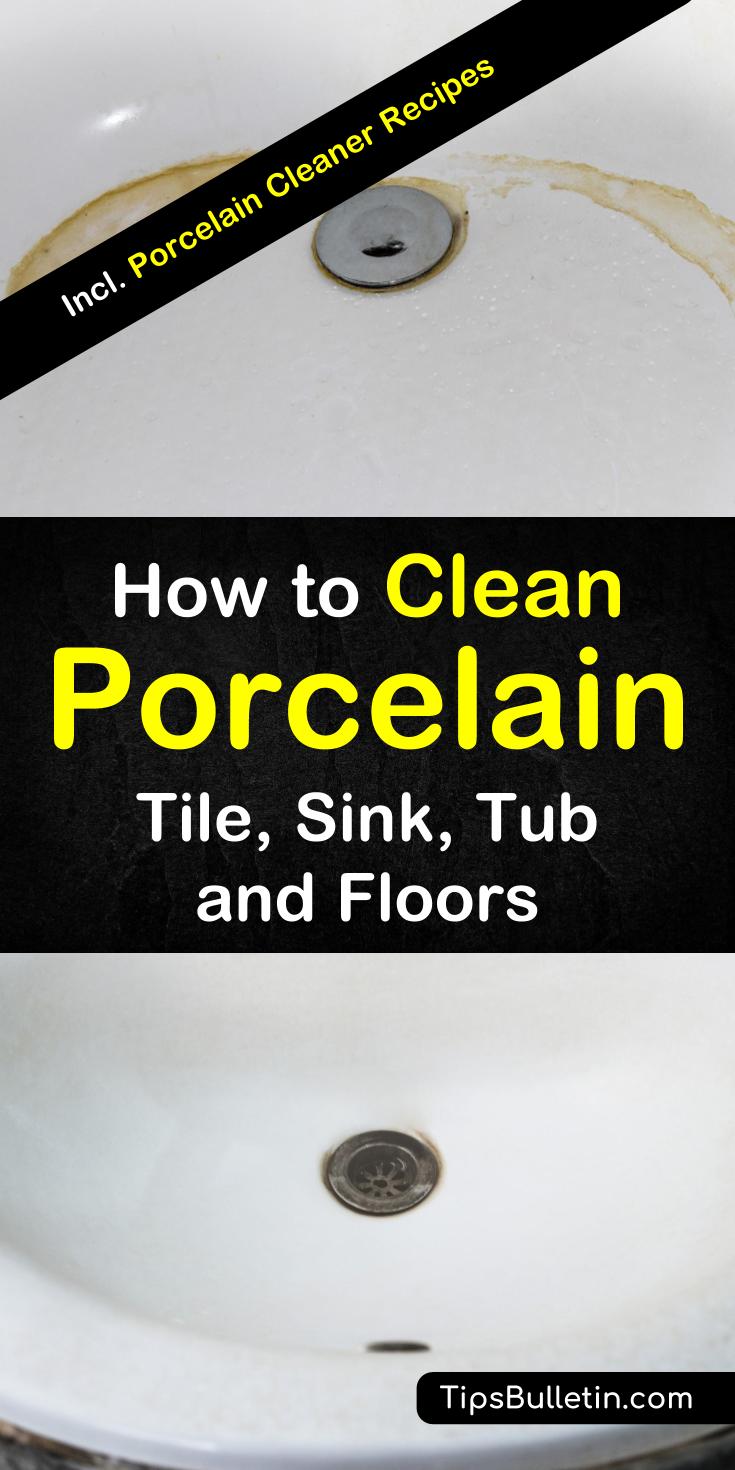 We hope you enjoyed learning how to clean porcelain tile to keep all your porcelain décor looking beautiful. If you liked what you read, please pass this article on to your friends and family.