It's hard to believe that cream cheese is actually cheese. It is so versatile that we use it for everything from cream cheese frosting and baked goods to garlic dip and savory appetizers. With so many uses, how long can cream cheese sit out before it goes bad?
Like other dairy products, cream cheese has a limited shelf life. It is a soft, mild tasting cheese made from fresh milk and cream and its high fat content gives it its rich and smooth texture. The slight tang and sweet flavor make it perfect for smothering on a bagel or spreading on a cracker.
Grocery store cream cheese often comes packaged in a tub or foil wrapper stamped with an expiry date. While this seems like an ideal indication of your cheese's shelf life, it's not always reliable. Factors such as whether it is opened or unopened and how you store it all play a role in the expiration date of cream cheese.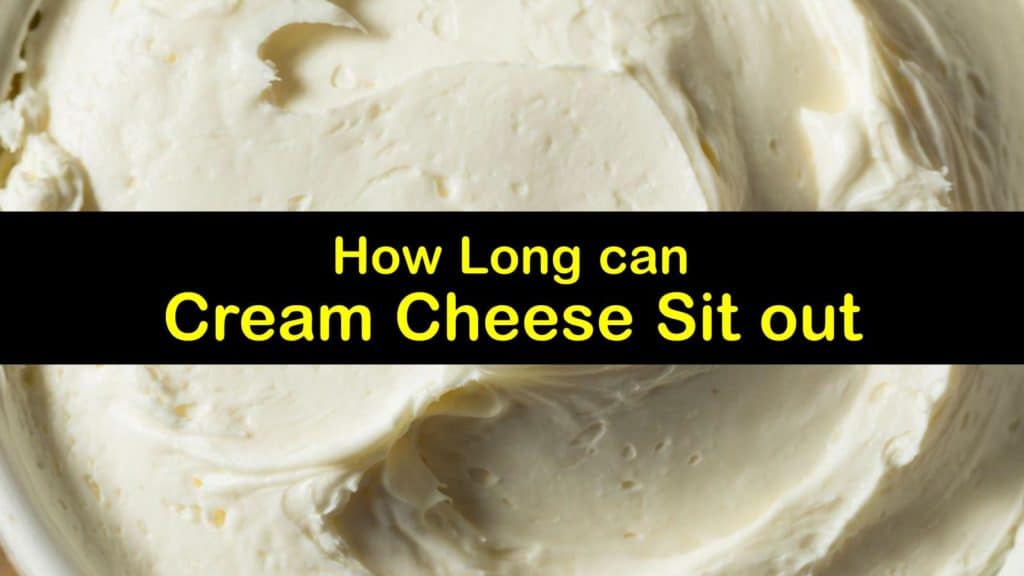 Shelf Life of Cream Cheese and Ways to Store It
While hard cheeses such as Parmesan last relatively long, soft cheeses like cream cheese are only safe sitting at room temp for a limited amount of time. They contain more moisture which shortens their lifespan, especially at room temperature.
How long can cream cheese be left out? Foods that contain dairy are prone to bacterial growth under the right conditions, which sometimes lead to food poisoning, and cream cheese is no exception.
It's vital to practice food safety when storing soft cheese to prevent spoilage. How long can you leave cream cheese out before it is ready for the trash?
How Long Can Cream Cheese be Left Out and When is it Bad?
There are many reasons for leaving cheese to sit out at room temperature, whether you prepare a chipped beef cream cheese spread for a gathering of friends or make a homemade cheesecake for the holidays.
But, how long can cream cheese be left out of the refrigerator, and how can you tell if it's bad?
Cream Cheese Shelf Life
Sometimes, certain foods smell and look okay but still contain harmful salmonella or e. coli, and foodsafety.gov provides safe food storage guidelines to help you. But does cheese grow bacteria, and how long can cream cheese sit out safely?
How long can mozzarella cheese sit out? What about other cheeses? Like most cheese, cream cheese is safe to leave out of the fridge for two to four hours, depending on the room temperature. Any longer, and there is a chance of bacterial growth.
If you plan on leaving it out for the maximum amount of time, we recommend placing the cheese dish in a bowl of ice to keep it as cool as possible and use clean utensils and cookware to prevent cross-contamination.
If you lose track of time and are not sure if the cheese is bad after sitting out or do not remember how long it's been sitting in the fridge, use your senses to check for spoilage.
Bad cream cheese has a sour smell and taste and off-color. Its texture gets lumpy and cracked, and water begins resting on the surface.
How Long Can You Leave Cream Cheese Out of the Fridge?
What's the best way to store cream cheese, and how long can you leave cream cheese out? While it's safe to let the cheese sit on the counter for two to four hours, refrigeration is best. There is a wrong way and a right way to store it.
If you have foil-wrapped cream cheese, avoid re-sealing the end of the package since this does not create a tight seal. Instead, place the cheese in an airtight container before storing it in the refrigerator.
If you purchase cream cheese in a tub with a lid, simply keep it in the coldest part of your fridge, where it is 40 degrees Fahrenheit and use it as needed.
With proper storage, refrigerated, unopened cream cheese lasts three to four weeks beyond the sell by date, and opened cheese lasts seven to ten days.
How Long can Cream Cheese Sit Out While Softening It?
Many baked recipes call for softened cream cheese, but oftentimes we forget to take the cheese out of the fridge ahead of time. What is a good way to soften cream cheese quickly, and how long can cream cheese stay out?
The simplest way to soften cream cheese is to cut it into cubes and spread them on a cutting board. Another way to soften cheese is to use the microwave.
Place the unwrapped cheese on a plate and set it in the microwave. Heat the cheese at half power for five seconds and then flip it over on its side.
Do this with each side of the cheese to cook it for a total of 20 to 25 seconds. Softened cream cheese does not last long, so make sure to use it in a dish right away.
Can cottage cheese go bad after sitting out too long? Yes, it definitely can spoil, so watch the time. If it is out more than two hours, toss it.
Can You Freeze Cream Cheese for Long Term Storage?
Finding a buy-one-get-one-free cheese sale at your local grocery store is always a great find, but it's not always possible to devour all that cream cheese before it spoils. Can cream cheese be frozen? Fortunately, this cheese is easy to freeze.
To freeze unopened cream cheese, leave it in its package or container and wrap it in a sheet of plastic or aluminum foil. Slide it into a freezer bag, seal it shut, and write the date on the top.
If you have leftover cream cheese to freeze, scoop the cheese from the original packaging and put it in an airtight container. Mark the date on the lid and set it in the freezer for up to five months.
Frozen cream cheese loses its texture after freezing since the milk fat separates, so it's not as good if you plan on spreading it on toast. However, it works wonderfully for use in cooked and baked dishes.
To thaw the cheese, take it out of the freezer the night before and set it in the fridge to thaw. Do not allow it to sit out at room temperature or thaw it in hot water. Or, place the container in a cold water bath to speed up the defrosting process.
Prevent Cream Cheese Spoilage by Making Cheesecake
If you have some cream cheese sitting in your refrigerator and are looking for a way to use it before it spoils, why not make cheesecake? This no-bake recipe is not only delicious and easy to prepare but no oven is required.
Combine the cracker crumbs, brown sugar, and melted butter in a bowl, and then press the crust-crumble into the bottom of a springform pan.
Pack it down well using your hands or the back of a cup and set it on the freezer shelf while you make the cheesecake filling.
Pour heavy cream into another bowl, beat it for four to five minutes until it forms stiff peaks, and set it to the side. In a separate bowl, use a hand mixer to blend the cream cheese and granulated sugar at medium speed.
Scrape the sides while mixing until it is smooth and creamy. Add the sour cream, powdered sugar, lemon juice, and vanilla extract to the cream cheese bowl and beat it for an additional three minutes or until the ingredients are smooth without lumps.
Use a spatula to slowly fold the whipped cream into the cheesecake filling. Take several turns with the spatula to combine the two mixtures without deflating the air.
Take the cracker crust out of the freezer and spread the filling over the top. Cover the pan with plastic or aluminum foil and set it in the fridge to chill for six to eight hours.
Use a utensil to loosen the cake from the rim of the pan and remove it with your hands. Cut the cheesecake in slices, top with fruit or whipped cream, and store the leftovers in the refrigerator for up to five days.
There are so many uses for cream cheese. It tastes great as a spread or a dip and is divine as a dessert. However, soft cheeses only last so long sitting at room temperature, and it's essential to store them properly to ensure they are safe to eat.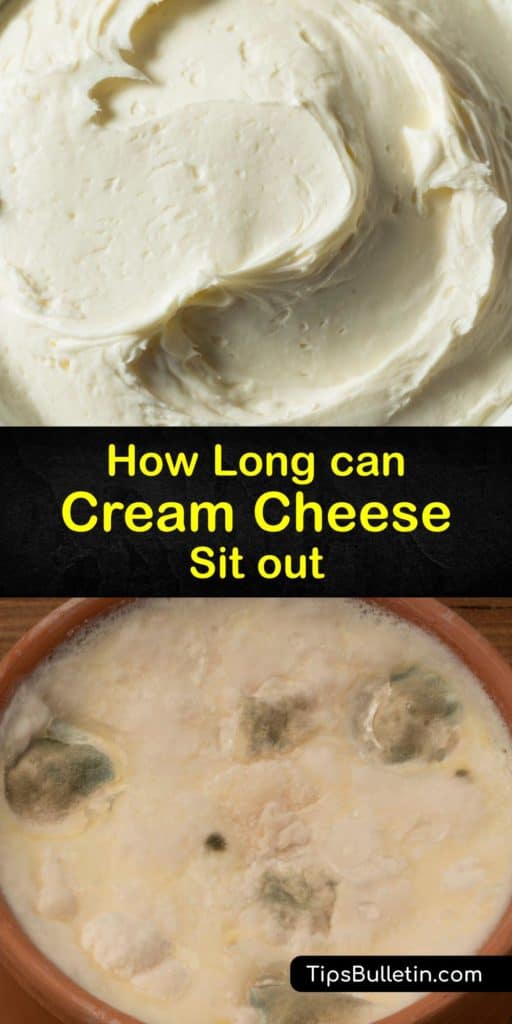 How long can cream cheese sit out on the counter is a question we all had at one time or another, and knowing the answer means you get to enjoy the freshest cheese spread, so why not share our cream cheese storage tips with your social circle on Facebook and Pinterest?