With so many perishable food items stored in our refrigerators, it is hard to know precisely how long each one lasts before spoiling. Cottage cheese is one particular food that most of us eat, but few of us know how long it stays fresh. How long does cottage cheese last?
What are some strategies for keeping cottage cheese fresh? Knowing how to keep cottage cheese fresh is not an exact science. A variety of factors influence how long it takes before the product spoils, like if it is open or unopened or if you let it sit at room temperature too long.
Either way, we love cottage cheese because it is fresh with a slightly acidic flavor that adds both taste and protein to a meal. Home cooks put cottage cheese in cooked dishes and side dishes, and storing it the right way is the only technique guaranteeing that you get the best quality.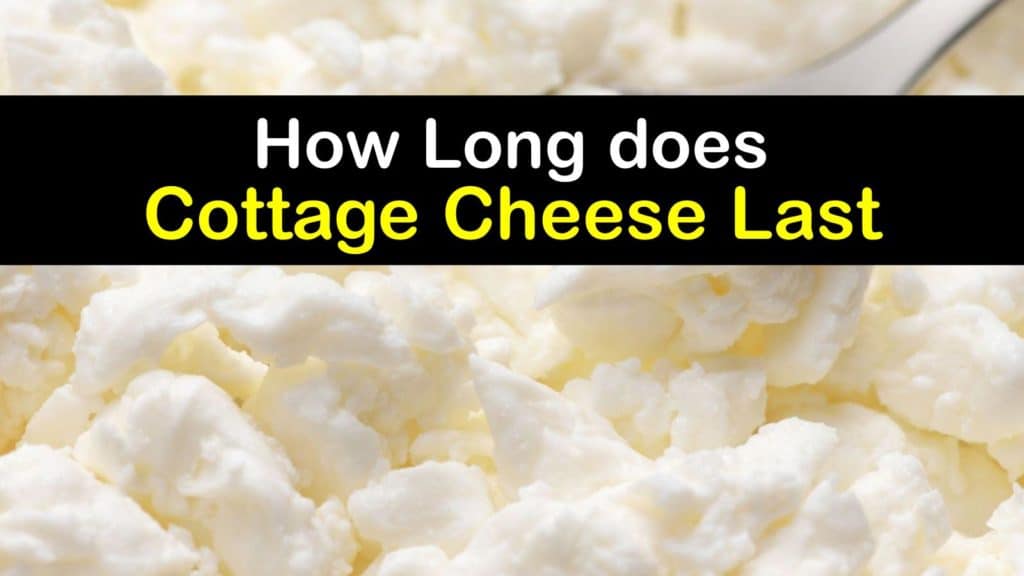 How is Cottage Cheese Made?
Dairy products all go through a similar development process. Cottage cheese is a family member of fresh cheeses that do not include a rind and do not have to be aged to develop flavor.
The process of making cottage cheese starts by adding acid to some pasteurized milk. The acid causes the milk solids to separate from the whey until a curd forms.
Once formed, the curd is cut into pieces so that additional whey drains out. The curds are cooked and pressed before being rinsed and adding salt and preservatives.
Cottage cheese is similar to sour cream and ricotta. However, this cheese-making process is responsible for all the cheeses we love, like brie, cheddar, and mozzarella.
These foods aren't ideal for those with lactose intolerance, but it is a craft that many of us should be more thankful for.
Nutritional Facts about Cottage Cheese
People on low-calorie diets often turn to tangy cottage cheese as a staple in their food rotation. Squarespace even wrote about a cottage cheese diet where people only eat cottage cheese and fruit for three days, although we wouldn't recommend it.
The soft, creamy texture is delicious, and there are tons of added health benefits. One cup of low-fat cottage cheese contains 163 calories, over 28 grams of protein, and less than three grams of fat.
The cheese contains phosphorus, riboflavin, calcium, folate, and vitamin B12. Because it is a high protein and low-calorie food, it helps aid weight loss and grow muscle.
Some other benefits that have been linked to eating cottage cheese are that it prevents insulin resistance, promotes bone strength, and increases antioxidant protection in our blood.
We get it. Cottage cheese is good for us. But let's get to the most important topic. How long does cottage cheese last? Keep reading to discover exactly how to keep cottage cheese fresh and learn signs of spoilage.
How to Keep Cottage Cheese Fresh
Now that you know where cottage cheese comes from, it's time to discover how to keep it fresh and ways to store it. Many of these tips also apply to other types of soft cheeses, like keeping ricotta cheese fresh. How long does goat cheese last? What about cream cheese? Preserve all these cheeses in much the same way.
How Long does Cottage Cheese Last?
Cottage cheese almost always comes with a best before or sell-by date. These dates posted on the original packaging help us practice proper food safety and keep from getting food poisoning.
If you know how to find the expiration date, it is easy to tell when to throw the cheese out. How long does cottage cheese last in the fridge? How long does Swiss cheese last? Cottage cheese and Swiss cheese last for seven to ten days in the refrigerator when unopened.
Unopened cottage cheese may last a couple of days after the posted date.
What about mozzarella cheese? How long does fresh mozzarella last after opening? Like cottage cheese, mozzarella usually only lasts about five to seven days after you open it. From there, it is time to look for signs of spoilage.
How Long does Cottage Cheese Last at Room Temperature?
Like all other dairy products, there is a time limit on how long can Parmesan cheese sit out, as well as how long cottage cheese should sit out at room temperature.
How long does milk last out of the fridge? Don't let cottage cheese or milk sit out longer than two hours. Bacteria grow rapidly between 40°F and 140°F and should be discarded after the two hour mark. How long does cream cheese last out of the fridge? The same guidelines apply to cream cheese – no more than two hours.
Is Your Cottage Cheese Bad?
Once you know how long cottage cheese lasts, you have to learn what signs of spoilage to look for. How can you tell if cheese has gone bad? Dairy products have a sour smell or an off odor when they start to spoil.
If any smells come from your cottage cheese container, it's best to throw it right in the trash.
Another way to tell if your cottage cheese is no longer edible is if it develops a moldy layer on top. Molds in this cheese usually appear green or pink, and if that's the case, ditch the whole container.
Aside from the smell and appearance, you instantly know if it tastes off, like the way to tell if Gouda cheese is bad. Spoiled cottage cheese and many other cheeses have an overwhelming sour flavor and are definitely not something you enjoy putting in your mouth.
Keeping Cottage Cheese Fresh
Storing cottage cheese in a cool area is the only way two extend the shelf life. Always store cottage cheese in the refrigerator. The best place in the fridge is a far back corner instead of close to the door.
Every time you open the front fridge door, some cold air leaves, and the back of your fridge holds on to some of those low temperatures, so it is the safest place for it.
Once you open the container, take what you need and put it back in the fridge right away. Put the lid on as tightly as possible. Some people use a layer of aluminum foil to keep the cheese from absorbing odors from other foods nearby.
Keeping the cottage cheese in its original packaging is fine, but an even better way to store them is to transfer everything into an airtight container or a freezer bag.
How to Freeze Cottage Cheese
Freezing dairy products carries a risk. Dairy, including cheese, tends to separate when frozen, and it becomes watery and unappealing to look at, especially after thawing.
If you want to freeze cottage cheese, it won't hurt anything, but you may want to prepare yourself that the texture will be slightly different. Frozen cheese that is semi-hard or hard fares a little better during the thawing process.
Does mozzarella freeze well? Shredded mozzarella freezes quite well.
What about feta – how long does feta cheese last in the freezer? Freezing feta cheese and many other cheeses is an excellent option to keep them fresh longer.
Thawed cottage cheese is better for sauces, soups, and casseroles. It is not great for eating as is or mixed in with fruits and granola.
Only freeze as much cottage cheese as you plan to use in the future. It is better to store it portioned than to have a huge container that you don't know what to do with.
Ice cube trays or metal muffin tins are a perfect container for freezing smaller portions. Freezer bags are also great options.
When it comes to using frozen cottage cheese, thawing it may or may not be necessary. If you are cooking a hot sauce on the stove, toss the frozen cubes right into the pot.
If you want to whip the cottage cheese into something, thaw it and drain out some of the excess water.
Cooking with Cottage Cheese
Although many people love cottage cheese, we feel that they don't utilize it fully. We love turning cottage cheese into a sauce for pasta that is low fat while still satisfying your pasta craving.
Bring a medium pot of heavily salted tap water to a soft boil and cook the orzo until tender. A few minutes before the orzo pasta is done cooking, add the frozen peas to heat through, and strain them in a colander.
While the orzo and peas cook, add the cottage cheese, scallions, lemon zest, pepper, and salt to a mixing bowl and stir the ingredients. Gently stir the orzo into the cottage cheese mixture and sprinkle freshly grated Parmesan over the top before serving.
A Cheesy Twist on Breakfast
You already know that people stir American and cheddar cheese into their scrambled eggs, but did you ever consider substituting cottage cheese instead?
The cottage cheese gives the eggs a creamier consistency and a delectable flavor. Switch up your ordinary breakfast and cook these delicious cottage cheese eggs.
Heat a non-stick skillet or frying pan over medium heat and lightly grease the pan with butter. Crack the four large eggs into a bowl and whisk in the cottage cheese.
Pour the cheesy eggs into the warm skillet, use a spatula to stir them around, and scrape the pan. Once the fresh eggs are cooked all the way, transfer them to a plate and top them with salt, pepper, and fresh herbs.
Cottage cheese might not be your go-to choice of all the cheeses in the world, but it has a lot of culinary benefits and is incredibly versatile.
Keeping cottage cheese fresh is a way to utilize all the food in your fridge and always have this protein-packed ingredient in your system.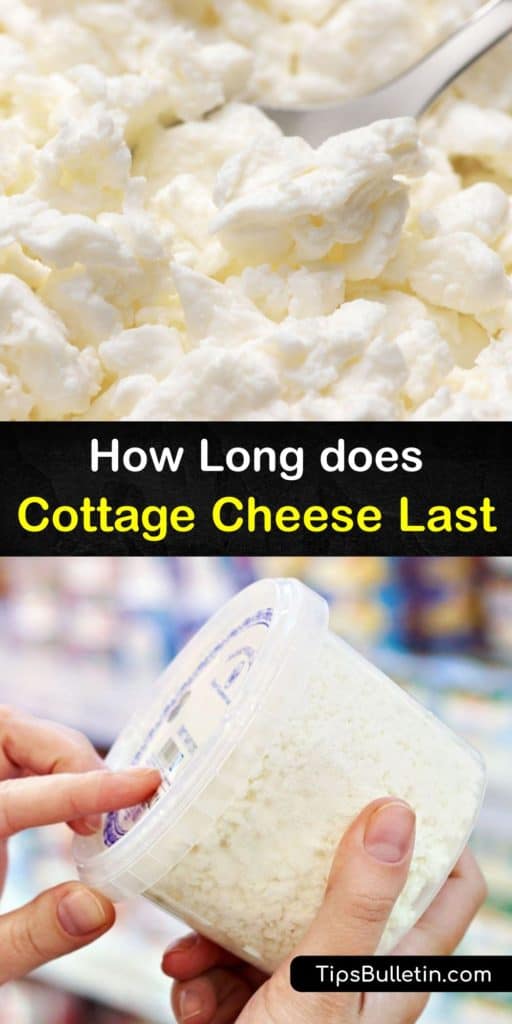 If this article assisted in answering your question about how long does cottage cheese last, share this guide to storing cottage cheese on Facebook and Pinterest.