Macaroni and cheese is one of our absolute favorite comfort foods. If you happen to have some leftovers, you might be wondering, "How long does mac and cheese last?" The answer is, it depends on the ingredients in the recipe and the storage methods used.
When properly refrigerated in an airtight container, mac and cheese stays fresh for three to five days. To extend its shelf life, it's possible to freeze your mac and cheese. Just make sure it's tightly sealed to guard against freezer burn.
Bacteria proliferate at temperatures between 40-140℉. Avoid leaving perishable foods out at room temperature for longer than two hours. In addition, always check your food items for signs of spoilage before consuming them to prevent food poisoning.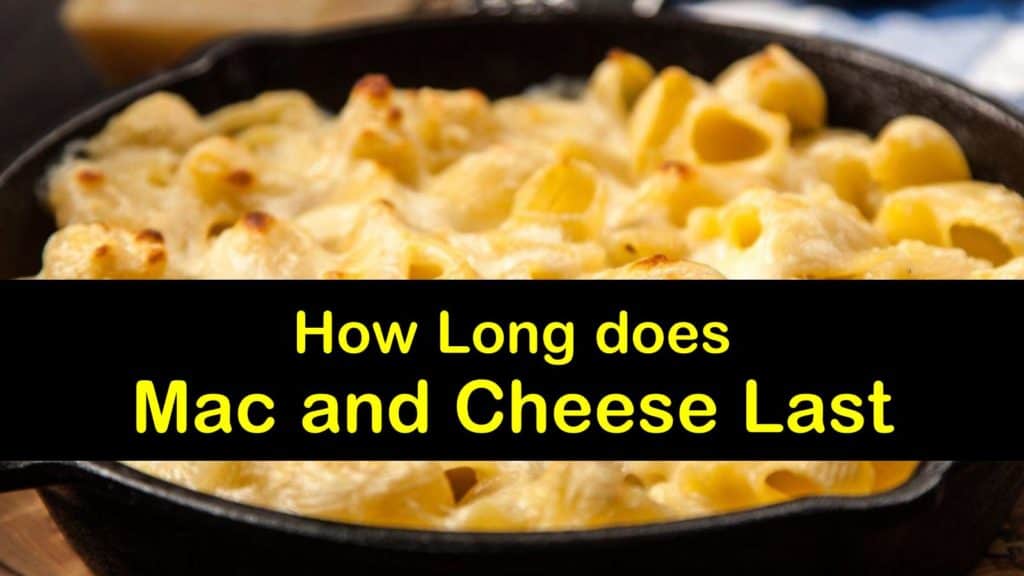 How Long is Mac and Cheese Good for?
Whether you made it from scratch or went for some good old-fashioned Kraft mac and cheese, it always tastes best when it's fresh. Read on to discover the best storage tips for keeping mac and cheese fresh longer.
Have you ever wondered, "How long is mac and cheese good for?" The answer depends on the type of macaroni and cheese. The same holds true for different types of cheese. Does cheddar cheese go bad? What about parmesan?
While fresh homemade mac and cheese only lasts for a few days, shelf-stable boxed products like Velveeta or Kraft macaroni and cheese keep for years when unopened and stored in a cool, dry place.
A prepackaged mac n cheese product lasts for several years because the powdered cheese sauce mix contains preservatives, either artificial or natural, that keep it from breaking down. For the best quality, use these products before their expiration date.
The overall quality of cooked mac and cheese once reheated depends on the type of cheese in the dish. In general, soft cheeses like mozzarella and Gruyere reheat more evenly than hard cheeses like cheddar and parmesan because they have a higher moisture content.
To improve the taste and texture of leftover mac and cheese, try adding a tablespoon or two of milk when reheating. This helps to rehydrate the macaroni noodles and gives the cheese sauce a gooey, delicious quality. This trick works well when reheating macaroni and cheese in the microwave or on the stovetop.
How Long does Mac and Cheese Last in the Refrigerator?
You may be wondering, "How long does mac and cheese last in the fridge?" Although you can expect your leftovers to keep for around three to five days on average, the exact shelf life depends on the ingredients used in the recipe.
If your mac and cheese recipe has additions like bread crumbs or a veggie mix, it might go bad sooner. For the ultimate cheesy comfort food, try combining two classic favorites with this recipe for mac and cheese lasagna.
Preheat your oven to 375℉ and bring a large pot of salted water to a rolling boil. Cook the lasagna noodles for four to six minutes or until al dente. After draining, drizzle them with olive oil to prevent sticking.
In a medium-sized mixing bowl, stir the bread crumbs, parmesan, and olive oil together and set aside. Melt the butter over medium-low heat in a large saucepan.
Stir in the flour and cook for two to three minutes. Incorporate the milk and whisk until smooth. Season with fresh-ground salt and pepper to taste and simmer for five more minutes until it begins to thicken.
Remove your pan from the flame and add the cheddar and mozzarella, keeping a half-cup aside for the topping. Continue stirring until all the cheese melts and a creamy sauce forms.
Spoon a thin layer of cheese sauce into the bottom of a large baking dish. Add a layer of the lasagna noodles, and top with more cheese sauce.
Arrange one-fifth of the bacon and jalapeño slices in an even layer. Continue building layers until you use all the ingredients, finishing with a layer of lasagna noodles.
Cover the baking dish with tented aluminum foil and bake for 20 minutes. Take it out of the oven and remove the aluminum foil. Top your dish with the bread crumbs and remaining cheese and bake uncovered until golden brown.
Tricks for Keeping Mac and Cheese Fresh Longer
When considering how to keep mac and cheese fresh, it's imperative to refrigerate it in an airtight container so it doesn't dry out. Using a sealed container also keeps bacteria and other contaminants out.
Let your cooked mac and cheese cool to room temperature before putting it in the fridge. Excess steam from hot food cooling rapidly may cause refrigerated mac and cheese to get soggy.
Can pasta salad stay in the fridge for the short term? Yes, the fridge is the ideal place for storing fresh pasta salad.
If you're a fan of crockpot cooking, try this mouth-watering recipe for creamy slow cooker mac and cheese.
Spray the inside of your crockpot with cooking oil. Rinse the uncooked pasta, then add it to the crockpot along with the cheeses, milk, and seasonings. Stir well to combine the ingredients, then distribute the butter cubes evenly on top.
Cover the crockpot and cook on low for about one hour. Remove the lid and stir your mac and cheese. If necessary, let it cook longer until the pasta is tender and a creamy sauce forms.
How Long can Mac and Cheese Sit out?
The safest practice is to avoid leaving any perishable food out at room temperature longer than two hours. However, use your discretion to judge the situation. How long does grated parmesan cheese last at room temperature is the same for almost all types of cheeses. Refrigerate within two hours to prevent spoilage.
If you forgot your leftovers on the counter all night, or they've been sitting in the sun or a hot car, throwing them away is probably best. If the container hasn't been out all that long, it may still be fine if there are no signs of spoilage.
Can You Freeze Mac and Cheese?
Freezing mac and cheese is an effective way to extend its shelf life, just like when you freeze macaroni salad. However, the texture will likely change once you defrost it. When dairy products are frozen, the fat separates from the moisture content, causing it to remain clumpy once reheated.
Hard cheeses have less moisture content than soft cheeses and tend to freeze better. Place leftover mac and cheese in a freezer bag and remove excess air. Label it with the date and consume within three months.
How to Tell When Mac and Cheese Goes Bad
Check your cooked mac and cheese for signs of spoilage before consuming. These include a sour smell, a greyish color, or mold growth. If you see visible mold, throw the whole thing away as spores are present throughout.
Don't attempt to freeze spoiled mac and cheese. Freezing temperatures don't kill harmful bacteria.
Macaroni and cheese is many people's go-to comfort food. If you end up with a lot of leftovers, you may wonder, "How long is mac and cheese good for?"
Generally, eat it within three to five days. Freezing mac and cheese extends its shelf life considerably, but the texture may not be the same once reheated.
If you enjoyed these food storage tips for keeping mac and cheese fresh, please share this article about how long does mac and cheese last with your friends and family on Facebook and Pinterest.