Macaroni salad is a classic summery side dish, right up there with potato salad, chicken salad, and egg salad. Its creamy, sweet yet sour dressing and crunchy veggies make it a refreshing yet comforting addition to a BBQ or cookout. However, if a bowl of the stuff has been sitting out in the sun, you might find yourself asking, "How long does macaroni salad last?"
The answer is not long since bacteria multiply rapidly in warm temperatures. The "danger zone" for bacteria on food is between 40 and 140℉. With summer's many relaxed outdoor gatherings, it's no surprise that foodborne illnesses are more common during this season. Follow food safety guidelines to enjoy delicious macaroni salad—in moderate proportions.
Although this mayo-heavy pasta salad contains decent quantities of vitamin A and vitamin C, it's more known for its high level of carbohydrates, fats, and cholesterol. The dish does contain some potassium and iron but is low in other nutrients like calcium.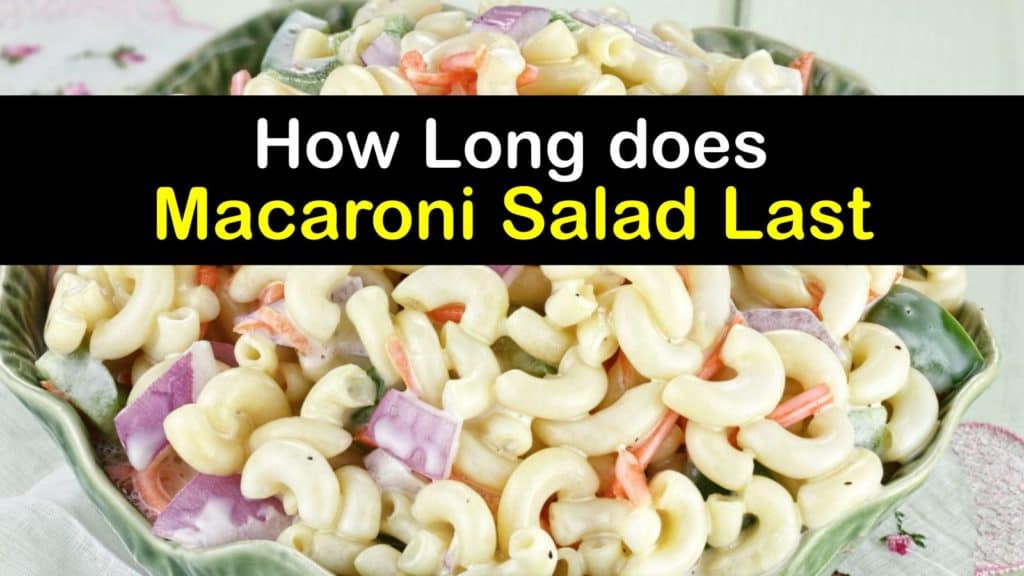 Can You Keep Macaroni Salad in the Refridgerator?
What about potato salad? How long does potato salad last in the fridge? The fridge is the best storage location for macaroni salad and other salad types. Freezing the salad is not the best idea since mayo separates as it thaws.
How to Keep Macaroni Salad Fresh in the Fridge
Can you keep macaroni salad in the refridgerator? Yes—most macaroni salad recipes recommend sticking the bowl in the fridge for at least one hour or overnight to give the flavors time to mix. It's also a great place to keep mac and cheese fresh for the short term, although freezing is another option.
The way to keep pasta salad fresh in the fridge is to wrap the bowl tightly with plastic wrap, or transfer the macaroni to an airtight container. Refrigerate perishable food within two hours of buying or making it.
Remove the salad from the fridge at least 20 minutes before serving it to allow the ingredients to approach room temperature. Before serving, stir the salad well, and season with salt and pepper if necessary.
How long is pasta salad good for in the fridge? Macaroni salad lasts for three to five days in a sealed container in the fridge. You may wonder how to tell if a macaroni salad is fresh. Throw out the salad if it develops an off smell or appearance, including mold growth.
How long does egg salad stay good in the refrigerator? Egg salad lasts about the same amount of time as macaroni salad – three to five days.
How Long Does Macaroni Salad Last at Room Temperature?
How long can chicken salad sit out? What about macaroni or other salads? Chilled foods should sit out for a maximum of two hours at room temperature or outdoors. If the thermometer reads above 90℉, that number drops to one hour. To avoid having to throw out your carefully prepared macaroni salad, follow the government's food safety tips…
Keep cold food chilled before serving it, and transport it to your destination in a cooler with ice or freezer packs. If the salad is sitting outside, place the bowl in the shade and on ice.
Keep containers at buffets small, so guests are more likely to finish the food within two hours. Instead of topping up food as it gets low, replace nearly empty containers with backups that you've stored in the fridge.
How to Make Macaroni Salad
The best macaroni salad is generally homemade. Store-bought salad may be more convenient but lacks that delicious creamy flavor.
Fill a large pot with salted water. Bring it to a rolling boil, then cook the macaroni according to package directions until it's al dente. Drain the pasta well, rinsing it under cold water.
Set it aside, stirring occasionally to prevent clumping. Combine the other salad ingredients in a large bowl.
In a small dish, whisk together the dressing. Add the cooled pasta and sauce to the veggies, then stir well. When does salad dressing go bad? Separately or in pasta salad, this dressing lasts several days in the fridge.
Variations on Macaroni Salad
There are many possible substitutions and additions to this basic macaroni salad recipe. For a lighter salad, replace part of the mayo with sour cream or plain Greek yogurt.
Instead of cider vinegar, try using red or white wine vinegar or lemon juice. When choosing a recipe, always look at the recipe rating to make sure other home cooks have had good luck with it.
Some people mix sweet pickle juice into the dressing or replace the red onion with chopped green onions. Add any of your favorite flavorings and garnishes, such as paprika, fresh parsley, minced garlic, chives, or dill.
If you like, switch up the vegetables—the sky's the limit! Some popular ingredients to include in macaroni salad are grated carrot, peas, and even pineapple.
Transform the dish into a complete meal by incorporating a protein like cheddar cheese cubes, chickpeas, tuna, or ham.
Tips for Making Macaroni Salad
The first step for how to keep macaroni salad fresh in the fridge is to cook the pasta just right. Don't forget to salt the water to give the noodles more flavor.
Cook the macaroni until it's al dente—soft but still with a slight bite. Undercooked noodles make a dry salad, while overcooked ones turn mushy.
Rinsing the cooked macaroni with cold water is essential since it halts the cooking process. Make sure to drain the noodles well and let them cool thoroughly before mixing them with the other ingredients.
As the pasta cools, stir it occasionally to stop it from sticking together. Some people toss the cooling pasta with olive oil to prevent clumping or put it in the fridge to speed up the cooling.
Can you keep macaroni salad in the refridgerator? Yes, but only once the pasta has mostly cooled.
No one enjoys having to throw out a nice salad, whether it's homemade or from the grocery store. However, you don't want to play around with food safety, especially when perishable foods like mayo are involved.
Learn how to keep macaroni salad fresh in the fridge and at room temperature to extend the dish's shelf life. Educate yourself about questions like "How long does macaroni salad last?" to safely serve the salad outside in the summertime.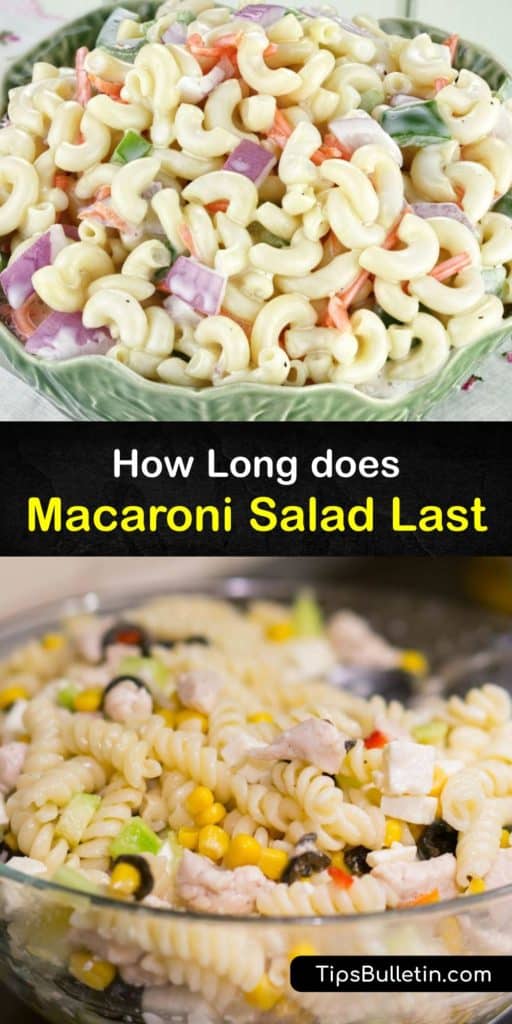 If you found these macaroni salad tips helpful, please share this food storage information with your friends on Pinterest and Facebook.