Bread is one of the most familiar and popular staples in the home, useful for everything from PB&J sandwiches and buttered toast to last-minute garlic bread. It's slightly crusty on the outside, soft on the inside, and extremely versatile. But, how long is bread good for and which is the best way to store it?
Knowing exactly how long bread lasts is confusing, whether it's homemade bread, bakery bread, or a loaf of bread from the grocery store.
Some bread is moist and requires special storage to ensure freshness, while others are firm and crusty and keep just fine in a bread box. The first step in determining how long bread lasts is understanding which kind you have.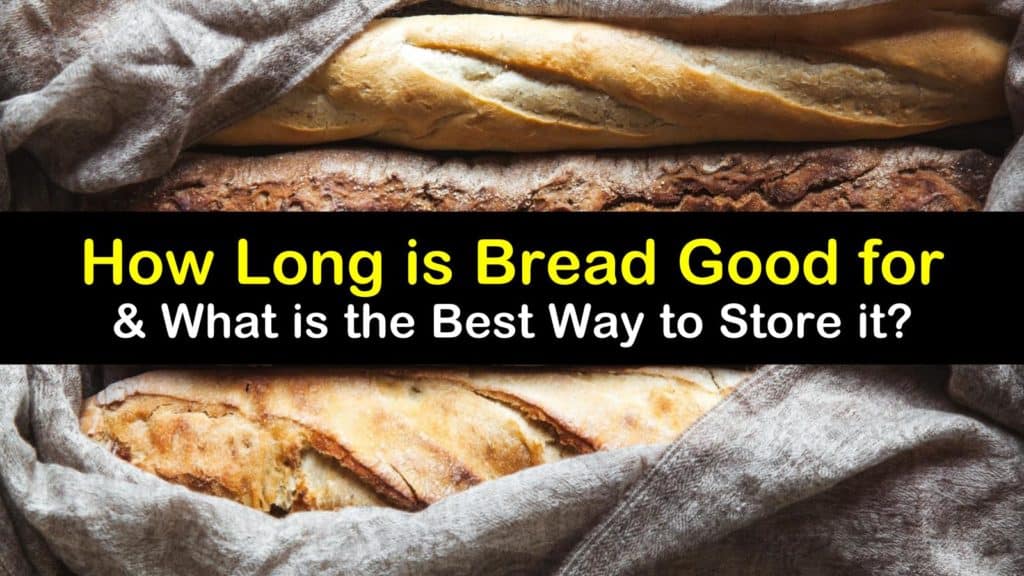 How Long Does Bread Last?
Store bread comes in a plastic bread bag and is the easiest to store long term. On the other hand, fresh bread requires different storage methods and has a shorter shelf life. Learn the proper way to store all kinds of bread and how to tell when it's no longer desirable for eating.
Does bread go bad? Unfortunately, bread does have an expiration date, just like all other food products. As bread gets old, it begins to lose its soft texture, but that doesn't mean it's a complete waste.
Stale bread still has its uses, from breadcrumbs to croutons, and is tasty if you pop it into the toaster and slather it with butter. However, if you discover mold on bread, it is better to toss moldy loaves in the trash or feed old bread to the ducks.
Where is an Ideal Place to Store Bread?
When does bread go bad? It all depends on the bread type and how you store it. Freshly baked bread does not contain preservatives and doesn't last as long as store-bought bread.
Homemade bread and sweetbreads expire faster while sourdough and store bread have the longest shelf life.
When Does Bread Go Bad at Room Temperature?
Most often, we store our bread at room temperature. But, is this the optimal way to store it, and how long does bread last this way? The kitchen counter is the best place to keep most bread if you plan on eating it within a couple of days.
Place fresh bread in a paper bag rather than plastic to prevent moisture build-up. Use the heels to cover the loaf's cut ends as you slice it and store the bag in a cool, dark corner of the kitchen or place it in a bread box.
Keep the store bread in its plastic bag and store it in the same manner as a fresh loaf. This is the best way to store homemade bread and it lasts about three days. Loaves from the store last up to seven, depending on your kitchen's conditions.
How to tell when bread is gone bad? As bread gets old, the outer edges begin to harden. Sometimes, if your kitchen is high in humidity, bread begins to display patches of green mold. These are signs that your bread is no longer edible.
Does Bread Go Bad in the Refrigerator?
Some bread tends to get a stale appearance after sitting in the refrigerator. However, this doesn't mean that it's bad. While it's not ideal for a soft, fresh-tasting sandwich, the fridge is suitable to keep bread if you decide to use it to make French toast, croutons, or breadcrumbs.
To store banana bread, place a sheet of paper towel in the bottom of a storage container, and set the cooled bread on top. Cover it with another sheet of paper towel and put the lid in place.
Wrap any other kind of bread in a large sheet of aluminum foil and set it on the refrigerator shelf. Homemade bread lasts up to eight days in the fridge, and grocery bread lasts up to 12 days.
How Long is Bread Good for in the Freezer?
If you cannot eat your bread in less than a week, we recommend freezing it to prolong its shelf life. It's easy to freeze a whole loaf or slices of bread, and it tastes just as fresh after thawing.
To freeze banana bread, wrap the cooled loaf in a sheet of plastic wrap and then wrap it again with a large section of aluminum foil.
Freeze other bread types by placing slices directly into freezer bags or wrapping a whole loaf in a sheet of heavy-duty foil. Label them with the date and set the bread on the shelf of your freezer. All bread types last three to six months in the freezer.
Ways to Defrost Bread
Now that there are stacks of frozen bread slices and loaves of frozen bread in your freezer, it's time to learn how to defrost them. There are a few different ways to thaw bread, depending on how you plan on eating it.
Remove the desired number of frozen slices, wrap them in a sheet of paper towel, and set them in the microwave on high for increments of ten seconds until thawed. The slices are also easy to thaw in a toaster oven by using the defrost setting.
To thaw a loaf of bread, remove it from the freezer and set it on the kitchen counter to defrost at room temperature for about four hours. For oven-thawing, place the frozen loaf on a cookie sheet in the middle of an oven preheated to 350°F for 40 minutes.
Bread is one of the most useful food items in the kitchen, and it's always a disappointment discovering that your entire loaf of bread is stale or moldy.
Knowing how long bread lasts and the best way to store it for freshness goes a long way to enjoying your favorite sandwiches.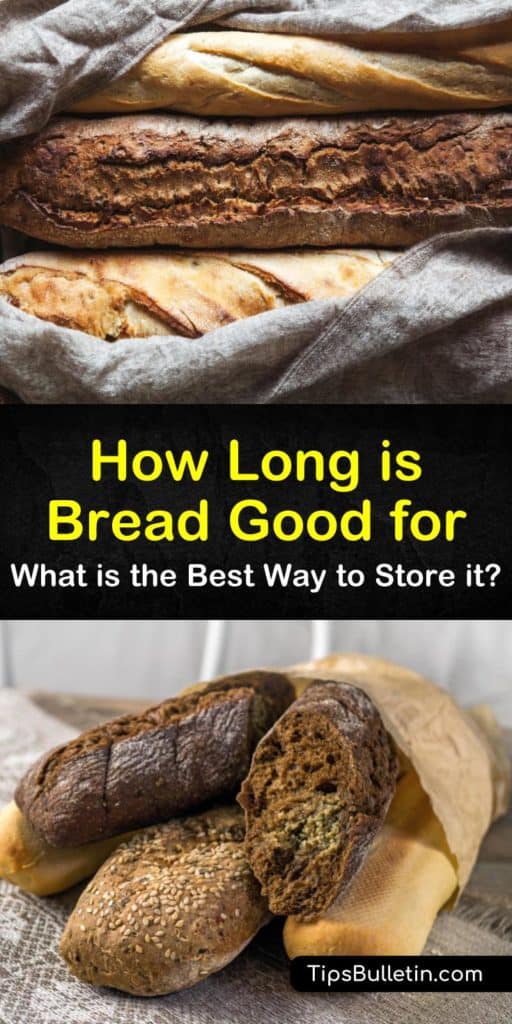 How long is bread good for is a common question, and we'd love it if you'd share our answers on when bread goes bad with your friends and family on Pinterest and Facebook.