Is there anything that makes your mouth water more than a spoonful of smooth and sweet cream cheese? After you toast a fresh bagel and reach in the refrigerator for a block of these delicious dairy products, you might find yourself wondering, how long is cream cheese good for?
An unopened package of cream cheese seems to last for months, but when does cream cheese go bad after it has been opened and sitting in your fridge? It may appear like cream cheese doesn't come from actual dairy products. However, cream cheese is a real soft cheese that tons of people pick up from the grocery store. A foil-wrapped block lasts for a long time when refrigerated.
Regardless of whether the cheese is unopened, your health always comes first, and it is important to follow food safety guidelines and avoid foodborne illness. So, does cream cheese go bad? Read this article to find out how to tell if cream cheese is bad and some of the best ways to avoid spoilage.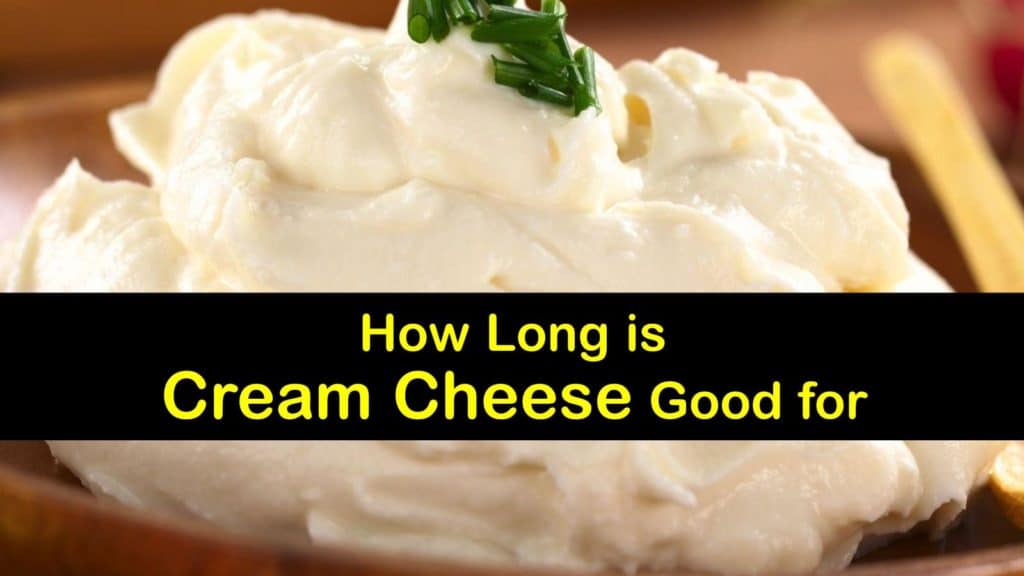 What is Cream Cheese?
Does cream cheese go bad? Before you find the answer to your questions, it's imperative to understand the cheese-making process.
Cream cheese is a fresh cheese, and the FDA defines it as a cheese containing 33 percent fat and 55 percent or less moisture. The consistency is soft and smooth, and the taste has a mild yet tangy flavor.
While most of us buy our cream cheese at the grocery store, the best quality you can receive is by making it at home. Store-bought has added preservatives that extend the shelf life of cream cheese.
While this extended expiry date is ideal for some people, it isn't always the best option. Making cream cheese at home is relatively simple.
All you require is a starter culture, cream, milk, acid, and salt. Adding acid to the dairy makes it curdle, and those curds are strained from the whey and processed until it is smooth and creamy.
Two tablespoons of regular cream cheese provide people with 99 calories, two grams of protein, 10 grams of fat, and ten percent of the daily recommended value of vitamin A, which helps support your tissues and immune system.
The antioxidants within cream cheese defend your body against dangerous free radicals that cause cellular damage.
Although cream cheese isn't the healthiest option for some people, we can't seem to get enough of it, and it leaves us questioning, how long is cream cheese good for?
Does Cream Cheese Go Bad?
It's no secret that cream cheese, like all other dairy products, goes bad at one point or another.
The real question is, how long are we able to safely eat this food without it hurting us or making us sick? There are a few factors to look at that determine how long your cheese lasts, whether you are preserving feta cheese or cream cheese.
How Long is Cream Cheese Good for if Unopened?
How long does cream cheese last? There are a few things that play a role in the life of your cream cheese.
When you bring this product home from the store, never leave it out at room temperature for more than two hours. After this amount of time, the spoiled cream cheese promotes bacterial growth and can make you quite ill.
On the other hand, most people know to store cream cheese in the refrigerator once they are home. Cream cheese wrapped in foil and left unopened lasts for three to four weeks with proper refrigeration.
Cheese that comes in plastic containers also lasts three to four weeks when you refrigerate it. Reduced-fat cream cheese lasts about a week less than regular cream cheese and should be stored in the fridge for only two to three weeks.
How Long does Opened Cream Cheese Last?
Leaving unopened containers of cream cheese in the fridge means that they last longer because they aren't exposed to bacteria yet.
Open containers of cream cheese do not last as long – one to two weeks in the refrigerator. If two weeks have gone by and you're unsure if it is still safe to eat, there are ways to identify spoilage signs and ensure that you're consuming safe food.
When does Cream Cheese Go Bad?
The first thing to look for if you're unsure if you're cream cheese has gone bad is the expiration date. Never eat foods past the expiration date, or you run the risk of getting sick.
Sometimes foods go bad even before they expire. Does cottage cheese go bad the same way as cream cheese? Yes, if your cream cheese or cottage cheese has a sour smell or funny taste, it's better to use caution and throw it away.
Cream cheese is not like hard cheeses where it is safe to cut off signs of mold and eat the rest. If your cream cheese has mold spots, throw it away immediately and don't consume it.
Where to Store Cream Cheese
You already know that the best place to store cream cheese is in the refrigerator, but does cream cheese go bad when you keep it in the freezer? There are mixed reviews about whether it's ideal to store cream cheese in the freezer.
After thawing the frozen cheese, you might notice that the texture is a bit off. Although thawed cream cheese wouldn't necessarily be the best to spread on a bagel, it is fine mixed into a dish with other ingredients.
Can you put cream cheese in the freezer? Yes. If you store their cream cheese in the freezer, ensure that there is as little air exposure as possible. If unopened, keep the cheese in the airtight container and set the whole thing in the freezer.
If already opened, wrap the cheese in a plastic wrapper or foil, and put it in a small freezer bag with all the air removed.
Store the cheese in the freezer for up to two months. Try to use the cream cheese up as soon as possible so you have the best flavor and know that it is still safe to eat.
Making Desserts with Cream Cheese
One of our favorite things about cream cheese is that it is even better when turned into desserts and sweets despite its tanginess and complementary qualities to savory food.
Who doesn't love a good old-fashioned cheesecake? Cream cheese is the main ingredient of this recipe and is one of the best ways to celebrate these dairy products.
Put an oven rack in the middle of your oven and preheat it to 350°F. To make the homemade graham cracker crust, crush the graham crackers by putting them in the standard food processor until they reach a fine consistency.
Pour the graham crackers into a medium mixing bowl and fold in the sugar and melted butter until everything is evenly combined.
Press the crust into a nine-inch springform pan so that it is tightly packed. Bake the crust for eight minutes in the oven, remove it and set aside.
While the crust bakes, beat the cream cheese and sugar until it is smooth and creamy. Add the vanilla, sour cream, and lemon juice and beat it until everything mixes thoroughly.
At medium speed, beat the large eggs one at a time until everything is incorporated. Pour the cheese mix over the crust and use a rubber spatula to smooth it out.
Grab a large roasting pan and pour two inches of hot water inside to create a boiling water bath. Wrap the entire springform pan with aluminum foil and carefully set it in the water.
Place the roasting pan with the cheesecake inside the oven and cook it for 55 to 70 minutes until the center sets. The cheesecake is cooked when it is slightly wobbly. Turn the oven off and crack the door. Let the cheesecake sit in the range for an additional hour.
Remove the springform pan from the oven and place it in the refrigerator for at least four hours before removing the pan and cutting the cheesecake with a knife.
Homemade Cream Cheese Frosting
You don't have to make a homemade cheesecake to enjoy the taste. Cream cheese frosting is a simpler version of dessert without all of the complexity of making a homemade cheesecake.
In a large glass mixing bowl, gently beat the butter and cream cheese until it has no lumps. Slowly beat in the vanilla, salt, and powdered sugar until everything combines. Use the frosting on cakes, cupcakes, cookies, or even eat it straight out of the bowl.
When does cream cheese go bad? We hope this quick read has given you all the information you're looking for on the shelf life of cream cheese, how to store it, and how to use it in delicious recipes.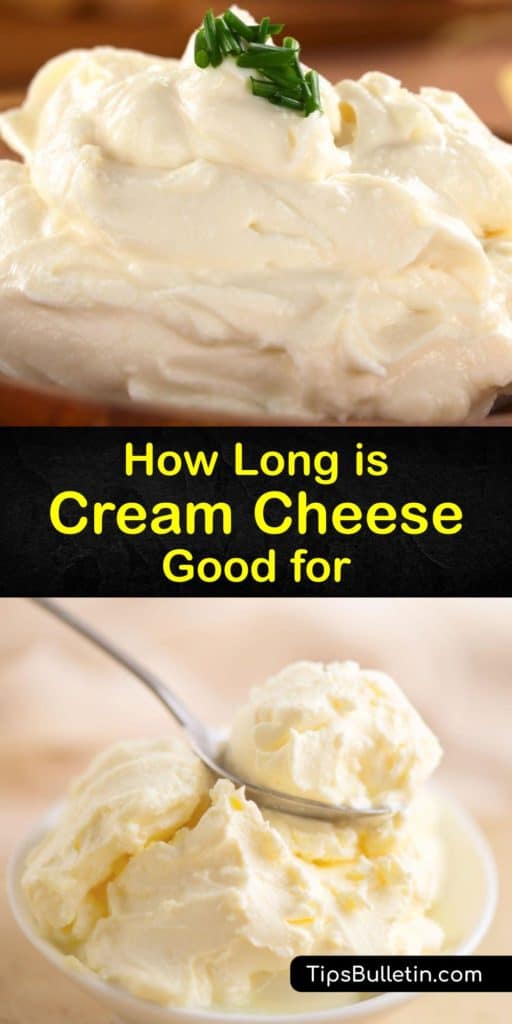 If you found the answer to how long is cream cheese good for, share this information on the shelf life of cream cheese on Facebook and Pinterest.